'The Shape of Water' leads the 2018 BAFTA Film Awards nominees with 12 nominations
The British Academy of Film and Television Arts has revealed the nominations for the 2018 BAFTA Film Awards, the British equivalent of the Oscars, with Guillermo del Toro's fairytale love story The Shape of Water unsurprisingly leading the way with an impressive 12 nominations, including Best Film, Best Director, and Best Leading Actress and Supporting Actress for Sally Hawkins and Octavia Spencer, respectively.
Darkest Hour and Three Billboards Outside Ebbing, Missouri both received nine nominations, while Blade Runner 2049 and Dunkirk are trailing close behind with eight nominations. I, Tonya has five nominations, Call Me by Your Name and Phantom Thread have four nominations, and Film Stars Don't Die in Liverpool, Lady Bird, and Paddington 2 all managed to receive three nominations each.
The 2018 BAFTA Film Awards will be handed out on February 18 at the Royal Albert Hall in London. You can check out the complete list of nominations below.
BEST FILM
CALL ME BY YOUR NAME Emilie Georges, Luca Guadagnino, Marco Morabito, Peter Spears
DARKEST HOUR Tim Bevan, Lisa Bruce, Eric Fellner, Anthony McCarten, Douglas Urbanski
DUNKIRK Christopher Nolan, Emma Thomas
THE SHAPE OF WATER Guillermo del Toro, J. Miles Dale
THREE BILLBOARDS OUTSIDE EBBING, MISSOURI Graham Broadbent, Pete Czernin, Martin McDonagh
OUTSTANDING BRITISH FILM
DARKEST HOUR Joe Wright, Tim Bevan, Lisa Bruce, Eric Fellner, Anthony McCarten, Douglas Urbanski
THE DEATH OF STALIN Armando Iannucci, Kevin Loader, Laurent Zeitoun, Yann Zenou, Ian Martin, David Schneider
GOD'S OWN COUNTRY Francis Lee, Manon Ardisson, Jack Tarling
LADY MACBETH William Oldroyd, Fodhla Cronin O'Reilly, Alice Birch
PADDINGTON 2 Paul King, David Heyman, Simon Farnaby
THREE BILLBOARDS OUTSIDE EBBING, MISSOURI Martin McDonagh, Graham Broadbent, Pete Czernin
OUTSTANDING DEBUT BY A BRITISH WRITER, DIRECTOR OR PRODUCER
THE GHOUL Gareth Tunley (Writer/Director/Producer), Jack Healy Guttman & Tom Meeten (Producers)
I AM NOT A WITCH Rungano Nyoni (Writer/Director), Emily Morgan (Producer)
JAWBONE Johnny Harris (Writer/Producer), Thomas Napper (Director)
KINGDOM OF US Lucy Cohen (Director)
LADY MACBETH Alice Birch (Writer), William Oldroyd (Director), Fodhla Cronin O'Reilly (Producer)
FILM NOT IN THE ENGLISH LANGUAGE
ELLE Paul Verhoeven, Saïd Ben Saïd
FIRST THEY KILLED MY FATHER Angelina Jolie, Rithy Panh
THE HANDMAIDEN Park Chan-wook, Syd Lim
LOVELESS Andrey Zvyagintsev, Alexander Rodnyansky
THE SALESMAN Asghar Farhadi, Alexandre Mallet-Guy
DOCUMENTARY
CITY OF GHOSTS Matthew Heineman
I AM NOT YOUR NEGRO Raoul Peck
ICARUS Bryan Fogel, Dan Cogan
AN INCONVENIENT SEQUEL Bonni Cohen, Jon Shenk
JANE Brett Morgen
ANIMATED FILM
COCO Lee Unkrich, Darla K. Anderson
LOVING VINCENT Dorota Kobiela, Hugh Welchman, Ivan Mactaggart
MY LIFE AS A COURGETTE Claude Barras, Max Karli
DIRECTOR
BLADE RUNNER 2049 Denis Villeneuve
CALL ME BY YOUR NAME Luca Guadagnino
DUNKIRK Christopher Nolan
THE SHAPE OF WATER Guillermo del Toro
THREE BILLBOARDS OUTSIDE EBBING, MISSOURI Martin McDonagh
ORIGINAL SCREENPLAY
GET OUT Jordan Peele
I, TONYA Steven Rogers
LADY BIRD Greta Gerwig
THE SHAPE OF WATER Guillermo del Toro, Vanessa Taylor
THREE BILLBOARDS OUTSIDE EBBING, MISSOURI Martin McDonagh
ADAPTED SCREENPLAY
CALL ME BY YOUR NAME James Ivory
THE DEATH OF STALIN Armando Iannucci, Ian Martin, David Schneider
FILM STARS DON'T DIE IN LIVERPOOL Matt Greenhalgh
MOLLY'S GAME Aaron Sorkin
PADDINGTON 2 Simon Farnaby, Paul King
LEADING ACTRESS
ANNETTE BENING Film Stars Don't Die in Liverpool
FRANCES McDORMAND Three Billboards Outside Ebbing, Missouri
MARGOT ROBBIE I, Tonya
SALLY HAWKINS The Shape of Water
SAOIRSE RONAN Lady Bird
LEADING ACTOR
DANIEL DAY-LEWIS Phantom Thread
DANIEL KALUUYA Get Out
GARY OLDMAN Darkest Hour
JAMIE BELL Film Stars Don't Die in Liverpool
TIMOTHÉE CHALAMET Call Me by Your Name
SUPPORTING ACTRESS
ALLISON JANNEY I, Tonya
KRISTIN SCOTT THOMAS Darkest Hour
LAURIE METCALF Lady Bird
LESLEY MANVILLE Phantom Thread
OCTAVIA SPENCER The Shape of Water
SUPPORTING ACTOR
CHRISTOPHER PLUMMER All the Money in the World
HUGH GRANT Paddington 2
SAM ROCKWELL Three Billboards Outside Ebbing, Missouri
WILLEM DAFOE The Florida Project
WOODY HARRELSON Three Billboards Outside Ebbing, Missouri
ORIGINAL MUSIC
BLADE RUNNER 2049 Benjamin Wallfisch, Hans Zimmer
DARKEST HOUR Dario Marianelli
DUNKIRK Hans Zimmer
PHANTOM THREAD Jonny Greenwood
THE SHAPE OF WATER Alexandre Desplat
CINEMATOGRAPHY
BLADE RUNNER 2049 Roger Deakins
DARKEST HOUR Bruno Delbonnel
DUNKIRK Hoyte van Hoytema
THE SHAPE OF WATER Dan Laustsen
THREE BILLBOARDS OUTSIDE EBBING, MISSOURI Ben Davis
EDITING
BABY DRIVER Jonathan Amos, Paul Machliss
BLADE RUNNER 2049 Joe Walker
DUNKIRK Lee Smith
THE SHAPE OF WATER Sidney Wolinsky
THREE BILLBOARDS OUTSIDE EBBING, MISSOURI Jon Gregory
PRODUCTION DESIGN
BEAUTY AND THE BEAST Sarah Greenwood, Katie Spencer
BLADE RUNNER 2049 Dennis Gassner, Alessandra Querzola
DARKEST HOUR Sarah Greenwood, Katie Spencer
DUNKIRK Nathan Crowley, Gary Fettis
THE SHAPE OF WATER Paul Austerberry, Jeff Melvin, Shane Vieau
COSTUME DESIGN
BEAUTY AND THE BEAST Jacqueline Durran
DARKEST HOUR Jacqueline Durran
I, TONYA Jennifer Johnson
PHANTOM THREAD Mark Bridges
THE SHAPE OF WATER Luis Sequeira
MAKE UP & HAIR
BLADE RUNNER 2049 Donald Mowat, Kerry Warn
DARKEST HOUR David Malinowski, Ivana Primorac, Lucy Sibbick, Kazuhiro Tsuji
I, TONYA Deborah La Mia Denaver, Adruitha Lee
VICTORIA & ABDUL Daniel Phillips
WONDER Naomi Bakstad, Robert A. Pandini, Arjen Tuiten
SOUND
BABY DRIVER Tim Cavagin, Mary H. Ellis, Julian Slater
BLADE RUNNER 2049 Ron Bartlett, Doug Hemphill, Mark Mangini, Mac Ruth
DUNKIRK Richard King, Gregg Landaker, Gary A. Rizzo, Mark Weingarten
THE SHAPE OF WATER Christian Cooke, Glen Gauthier, Nathan Robitaille, Brad Zoern
STAR WARS: THE LAST JEDI Ren Klyce, David Parker, Michael Semanick, Stuart Wilson, Matthew Wood
SPECIAL VISUAL EFFECTS
BLADE RUNNER 2049 Gerd Nefzer, John Nelson
DUNKIRK Scott Fisher, Andrew Jackson
THE SHAPE OF WATER Dennis Berardi, Trey Harrell, Kevin Scott
STAR WARS: THE LAST JEDI Nominees tbc
WAR FOR THE PLANET OF THE APES Nominees tbc
BRITISH SHORT ANIMATION
HAVE HEART Will Anderson
MAMOON Ben Steer
POLES APART Paloma Baeza, Ser En Low
BRITISH SHORT FILM
AAMIR Vika Evdokimenko, Emma Stone, Oliver Shuster
COWBOY DAVE Colin O'Toole, Jonas Mortensen
A DROWNING MAN Mahdi Fleifel, Signe Byrge Sørensen, Patrick Campbell
WORK Aneil Karia, Scott O'Donnell
WREN BOYS Harry Lighton, Sorcha Bacon, John Fitzpatrick
EE RISING STAR AWARD (voted for by the public)
DANIEL KALUUYA
FLORENCE PUGH
JOSH O'CONNOR
TESSA THOMPSON
TIMOTHÉE CHALAMET
Universal has two new projects from M. Night Shyamalan coming our way in 2021 and 2023
M. Night Shyamalan and Universal Pictures seem to be getting along pretty nicely with each other as the studio announced yesterday that it will be continuing its relationship with the director and has dated his next two films from February 26, 2021 and February 17, 2023.
"M. Night Shyamalan continues to create exciting, highly original stories that keep global audiences on the edge of their seats," said Universal Pictures president Peter Cramer. "There is no one like him: he is a master filmmaker working at the height of his powers, and we are honored that he has once again chosen Universal to be the home for his next two incredible projects."
Shyamalan added, "There are wonderful studios out there, but Universal has made it a mandate to release original films. They are the best at finding an audience for new stories with unexpected tones. I believe original films are crucial to the longevity of the theatrical experience."
While any and all details about these two films — with the exception of the release dates, of course — are being kept tightly under wraps for the time being, we can't help but think Shyamalan will be pulling another Split-type secret sequel stunt and has something pretty exciting in store for us, though that's just pure speculation on our part.
Matt Damon and Christian Bale attempt to pull off the impossible in this new 'Ford v Ferrari' trailer
Fresh off its stops at festivals like Telluride and Toronto, 20th Century Fox has released a brand new trailer for James Mangold's Ford v Ferrari and it looks like this thing is shaping up to be one of hell a contender this awards season.
Ford v Ferrari tells "the remarkable true story of the visionary American car designer Carroll Shelby (Matt Damon) and the fearless British-born driver Ken Miles (Christian Bale)," who, believe it or not, does not seem to have undergone any drastic transformations for his role here.
Together, the duo "battled corporate interference, the laws of physics, and their own personal demons to build a revolutionary race car for Ford Motor Company and take on the dominating race cars of Enzo Ferrari at the 24 Hours of Le Mans in France in 1966."
At press time, Ford v Ferrari boasts an impressive 88% approval rating on Rotten Tomatoes based on 43 reviews, and something tells me that percentage isn't going to change too much over the next couple of months. I mean, even the "negative" reviews aren't even that negative!
Jon Bernthal, Caitriona Balfe, Tracy Letts, Josh Lucas, Noah Jupe, Remo Girone, and Ray McKinnon also star in Ford v Ferrari, which hits theaters on November 15.
Phoenix: Put on a happy face and come see Joaquin Phoenix in 'Joker' early and for free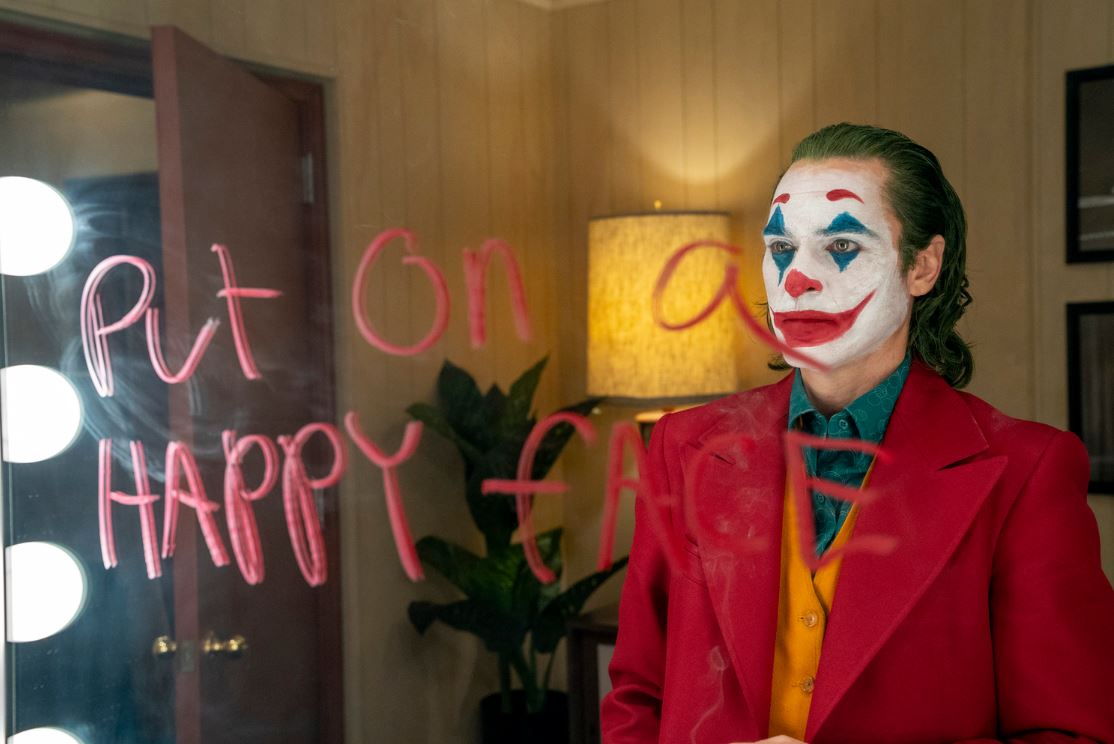 Warner Bros. will release Joker, Todd Phillips' take on the iconic DC villain's origin starring Joaquin Phoenix, on September 6 and they're giving Silver Screen Beat readers in Phoenix a chance to attend an advance screening of the film before it officially opens in theaters.
Our readers in the Phoenix area can click on this link to enter to win passes — good for you and one guest — to attend an advance screening of Joker happening Tuesday, October 1 at Harkins Arizona Mills IMAX at 7:00 p.m.
Winners of this contest will be selected and notified on Saturday, September 29 after 12:00 p.m. PT via email, so good luck! Below is the official trailer for Joker as well as some additional details about the film.
Directed by: Todd Phillips
Cast: Joaquin Phoenix, Robert De Niro, and Zazie Beetz
Opens: Friday, October 4
Rating: R for disturbing violent content and bloody images throughout, pervasive language, and some crude sexual material
Synopsis: Director Todd Phillips Joker centers around the iconic arch nemesis and is an original, standalone fictional story not seen before on the big screen. Phillips' exploration of Arthur Fleck, who is indelibly portrayed by Joaquin Phoenix, is of a man struggling to find his way in Gotham's fractured society. A clown-for-hire by day, he aspires to be a stand-up comic at night…but finds the joke always seems to be on him. Caught in a cyclical existence between apathy and cruelty, Arthur makes one bad decision that brings about a chain reaction of escalating events in this gritty character study.