Bradley Cooper's Oscar hopeful 'A Star Is Born' to receive special one-week IMAX engagement
Similarly to what they did with Christopher Nolan's Oscar-winning World War II epic Dunkirk last December, Warner Bros. announced today that Bradley Cooper's directorial debut A Star Is Born will receive a national engagement in select IMAX theaters in North America beginning this Friday, December 7.
"Securing premium IMAX screens in this competitive holiday window, ten weeks into release, speaks to the quality of the film Bradley Cooper has delivered and the passion audiences have for this story," Warner Bros. president of domestic distribution Jeff Goldstein said in a statement.
Attached to the IMAX release of A Star Is Born will be an exclusive, never-before-seen featurette titled The Road to Stardom, which will offer a behind the scenes look at the making of the film with Cooper and his co-star Lady Gaga.
"We are thrilled to be able to give moviegoers a chance to see A Star Is Born again, or for the first time, in such an experiential format as IMAX," Goldstein added.
Cooper's version of A Star Is Born is a new take on the decades-old love story and follows seasoned musician Jackson Maine (Cooper) as he discovers and falls in love with struggling artist Ally (Gaga), propelling her into the spotlight and helping her career take off. But the personal side of their relationship begins to take a toll as Jackson fights an ongoing battle with his own internal demons.
The film also stars Andrew Dice Clay, Dave Chappelle, and Sam Elliott and features songs that Cooper and Gaga wrote together along with other artists such as Lukas Nelson, Jason Isbell, and Mark Ronson.
We regret to inform you that Neill Blomkamp is no longer directing the 'Robocop' sequel
In a very, very disappointing turn of events, Neill Blomkamp took to Twitter late last night to break the news that he is no longer directing the eagerly awaited sequel to Robocop, which he first signed on to direct for MGM last year.
Blomkamp wrote that he is "off Robocop" due to the fact that he's "shooting [a] new horror/thriller and MGM can't wait" and needs cameras to start rolling on Robocop sooner rather than later. "Excited to watch it in theaters with other fans," he added.
While we can only imagine what a Blomkamp-directed Robocop movie would've looked like at this point, I guess there are a couple of silver linings in this rather unfortunate development, depending on how you look at it.
On one hand, it's good to know that the Robocop sequel, which is said to be based on a script from original Robocop writers Ed Neumeier and Michael Miner, isn't off the table altogether and is still going to get made — let's just keep our fingers crossed MGM finds a suitable replacement that can fill Blomkamp's shoes.
And on the other hand, I'm really looking forward to seeing what this mysterious horror/thriller Blomkamp is working on right now turns out to be. To the best of my knowledge, this project was previously unheard of before and I'm hoping we'll get some more details on it in the very near future.
Off Robocop. I am shooting new horror/thriller and MGM can't wait/ need to shoot Robocop now. Excited to watch it in theaters with other fans. N

— Neill Blomkamp (@NeillBlomkamp) August 15, 2019
Please let Henry Golding show off all of his charm and handsomeness in the 'Snake Eyes' movie
Well, here's something I certainly have mixed feelings about: THR is reporting that Crazy Rich Asians heartthrob Henry Golding is in negotiations to star in Paramount's G.I. Joe spinoff Snake Eyes, which will aim to tell the story of the mysterious sword-wielding ninja commando.
The movie, which was written by Evan Spiliotopoulos and is being directed by Robert Schwentke, will reportedly "center on Snake Eyes seeking revenge for his father's death by joining [the] ninja clan, in the process finding acceptance."
Let me be clear: my reservations with this project have absolutely positively nothing to do with Henry Golding, who is charming and handsome as hell, but the rather the fact that he'll be playing a character who usually just wears a mask that covers his entire and doesn't really have a whole lot to say.
My hope is that Spiliotopoulos' script doesn't stick too close to the source material and will allow Golding to have the opportunity to showcase all of those incredible qualities he has about himself, otherwise it seems like this project will be wasting such an immense talent. (I also just want an excuse to look at and be charmed by Henry Golding for two hours.)
Another thing I'm a little concerned about here is Schwentke's involvement. The dude is more than capable of making a decent movie (e.g. The Captain, Red), but he always seems to fumble these big-budget studio projects (e.g. that godforsaken Divergent: Allegiant movie), but I suppose I'll remain cautiously optimistic about this one for the time being — only because of Golding's involvement, though.
The US trailer for Bong Joon-ho's Palme d'Or-winner 'Parasite' is finally here to infect your mind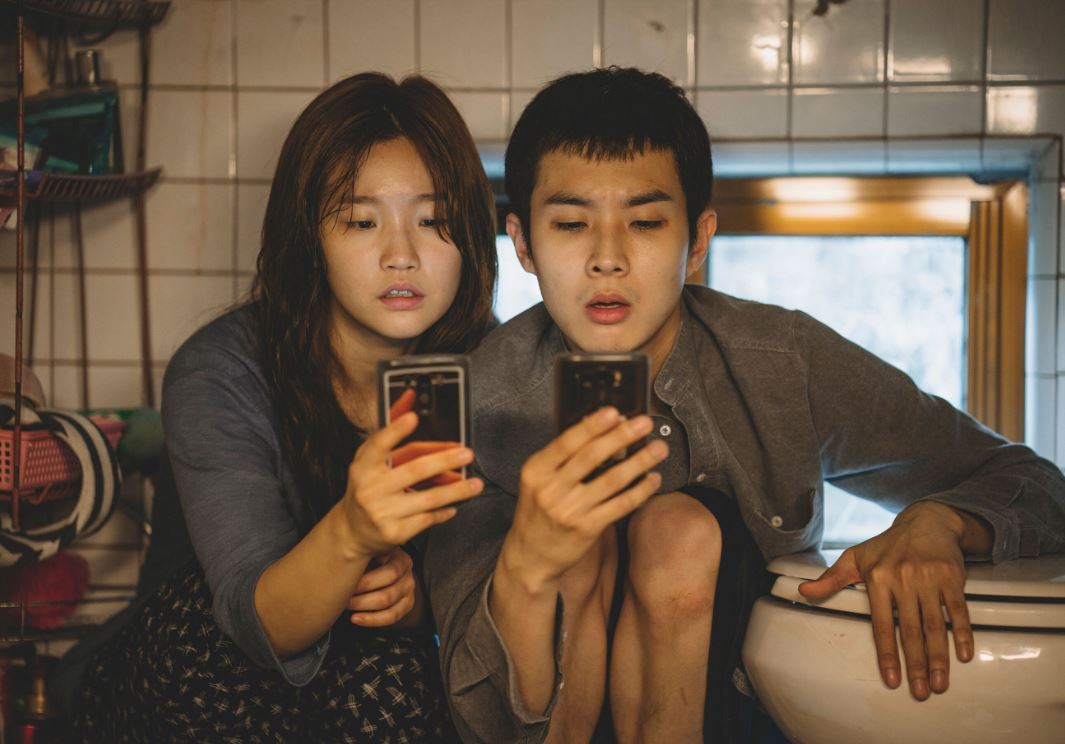 Ever since it premiered at Cannes back in May, I've been hearing nothing but the highest of praise for Bong Joon-ho's Palme d'Or-winner Parasite, which Neon debuted the official US trailer for this morning, and boy oh boy does this thing look like one hell of a rollercoaster ride of a film.
Described as a "pitch-black modern fairytale," Parasite tells the story of the Park and Kim families, who, despite their differences in class, end up crossing paths and forming a symbiotic relationship between themselves.
However, their relationship slowly begins to unravel "when a parasitic interloper threatens the Kims' newfound comfort" and "a savage, underhanded battle for dominance breaks out, threatening to destroy the fragile ecosystem between the Kims and the Parks."
The less you know about Parasite, the better, so if you're sensitive to spoilers, you may want to avoid this particular trailer and check out the Korean one instead, which does a pretty good job of staying fairly ambiguous and doesn't give away nearly as much as the US trailer does.
Parasite reunites Bong with actor Song Kang-ho, who stars in the film alongside Lee Sun-kyun, Cho Yeo-jeong, Choi Woo-shik, Park So-dam, Jang Hye-jin, and Lee Jung-eun. The film is set to hit US theaters on October 11, so mark your calendars accordingly, Bonghive.