New red-band clip from 'Alien: Covenant' teases the Neomorph's grand entrance
With a little more than two weeks to go until Ridley Scott's highly anticipated Alien: Covenant bursts into theaters, 20th Century Fox has unleashed a brand…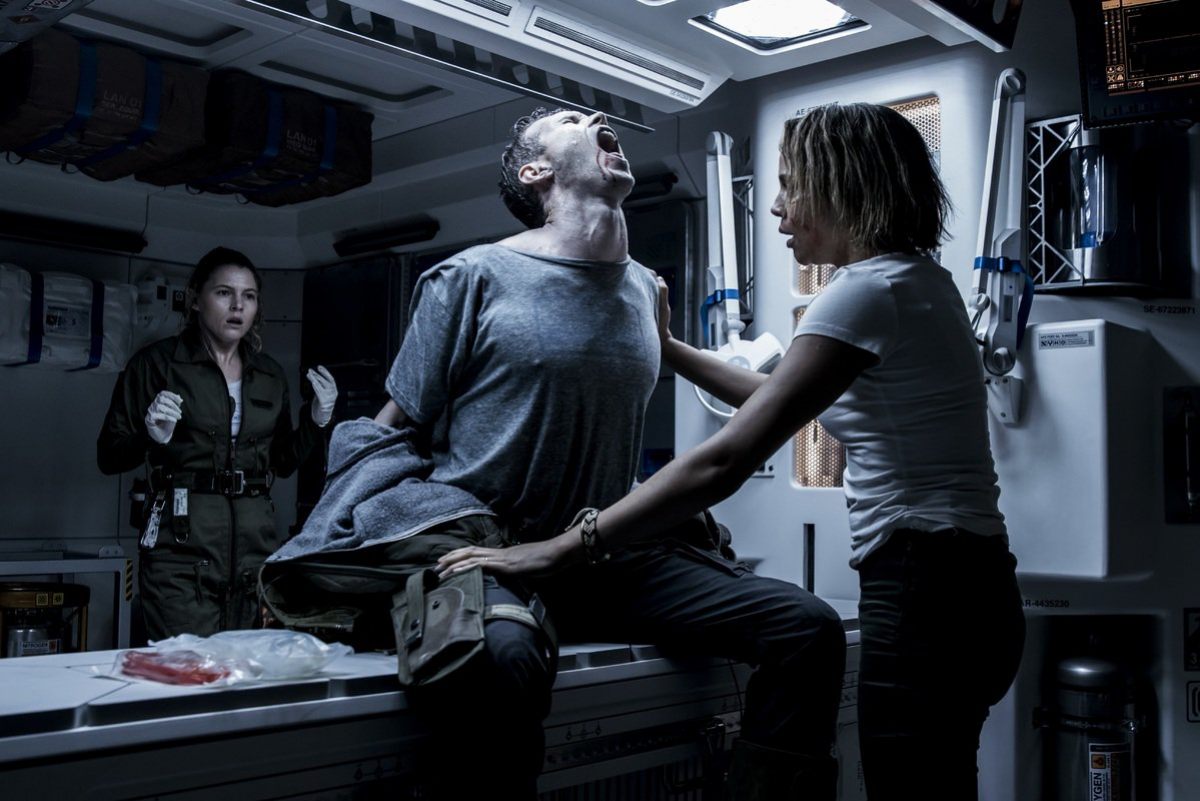 With a little more than two weeks to go until Ridley Scott's highly anticipated Alien: Covenant bursts into theaters, 20th Century Fox has unleashed a brand new clip from the upcoming Prometheus sequel which further reveals the very bloody, terrifying visuals the latest installment in this beloved sci-fi franchise has to offer. Let's take a look, shall we?
The red-band clip features Carmen Ejogo's Karine trapped in a room with an infected man violently convulsing as his eyes roll to the back of his head and his entire body begins to turn paler than the moon. Just like any sane person would do, Karine begs Amy Seimetz's Faris to let her out of the room, but her fellow crew member refuses to do so and runs away as we catch a brief glimpse of the convulsing man's back just before a Neomorph makes its grand entrance and selects a new victim.
Alien: Covenant will take moviegoers along for a ride with the Covenant crew as they embark on a journey to a remote planet on the far side of the galaxy where they discover what appears to be an uncharted paradise. However, they soon learn that it is actually a dark, dangerous world whose sole inhabitant is the synthetic David, the one and only survivor of the doomed Prometheus expedition. When they uncover a threat beyond their imagination, they must attempt a harrowing escape.
Directed by Scott from a screenplay penned by Skyfall and Spectre scribe John Logan, Alien: Covenant features a diverse cast which includes Katherine Waterson alongside Michael Fassbender, Billy Crudup, Danny McBride, Demián Bichir, Carmen Ejogo, Amy Seimetz, Jussie Smollett, Callie Hernandez, Nathaniel Dean, Alexander England, and Benjamin Rigby.
Alien: Covenant will burst into U.S. theaters on May 19, 2017. Be sure to check out the red-band clip above and let us know your thoughts on what you just watched by leaving a note down below in the comments section.
Max Landis is an abusive piece of shit who deserves to be blacklisted in Hollywood
In a bombshell exposé published by The Daily Beast this morning, eight women detailed the emotional, physical, and sexual abuse that they suffered at the hands of Bright and Chronicle screenwriter Max Landis, which is not particularly surprising given the fact that we've heard about this kind of stuff about Landis before—but no one did anything about it.
Before we go any further, a quick warning: the exposé is disturbing, to say the least, and contains graphic descriptions of the aforementioned abuse. Reader discretion is most definitely advised. 
In one part of the story, an ex-girlfriend and former friend of Landis going by the name of Julie (some of the names used in the story are aliases so as to protect the anonymity of the victims) describes how she "didn't realize that I had been raped consistently and deliberately by this man for two years until today, when I wrote it down."
Julie, after detailing some of the emotional abuse Landis inflicted upon her, goes on to say, "He choked me until I passed out and did humiliating, degrading things to me that I still can't manage to write out on paper."
Another ex-girlfriend, Kerry, wrote about how Landis "choked me and told me he wanted to kill me. And I would wind up reassuring him that he wasn't a monster when he felt bad about it. Because I felt bad that he was so sick."
Ani Baker, who also had a romantic relationship with Landis at one point, described a similar event in which Landis snapped, put his hands around her throat, and got very close to her face, saying, "I will fucking kill you. Do you understand what I'm saying? I will fucking kill you."
These are just a few of the very harrowing accounts Landis' victims tell in the exposé and help paint a picture that shows who Landis truly is: a violent sexual abuser. You can read the piece by Daily Beast entertainment reporter by Amy Zimmerman in its entirety here. (Again, please keep in mind that the exposé contains graphic descriptions of abuse and you should only read it at your own discretion.)
Samara Weaving finds herself in a deadly game of hide and seek in the 'Ready or Not' trailer
The first trailer for Ready or Not reveals the latest offering from Matt Bettinelli-Olpin and Tyler Gillett, two-thirds of the filmmaking collective Radio Silence, which has brought us wonderfully fucked-up genre works like the Rosemary's Baby riff Devil's Due and the 10/31/98 segment from the V/H/S anthology.
Ready or Not appears to be equally (if not more) fucked-up than Radio Silence's previous efforts and follows a young bride named Grace (Samara Weaving) as she joins her new husband's (Mark O'Brien) rich, eccentric family for some sort of time-honored tradition.
Little does Grace know, though, that this time-honored tradition is about to turn into a lethal game of hide-and-go-seek that, by the looks of the trailer, will have everyone fighting for their survival—not just Grace.
I don't know about you, but I'm getting some very strong Clue and You're Next vibes from this trailer and everything about it just looks absolutely phenomenal. Plus, there's something about a bunch of rich white people killing each other for the hell of it that I find particularly interesting. Consider me sold.
Ready or Not also stars Adam Brody, Henry Czerny, and Andie MacDowell, and will hit theaters on August 23 via Fox Searchlight. Let me know your thoughts on the trailer by sounding off in the comments section below.
The first official image from Steven Spielberg's 'West Side Story' certainly looks, uh, very beige
20th Century Fox debuted a first look image from Steven Spielberg's adaptation of West Side Story this morning and, uh, it certainly looks very beige. Like, there literally appears to be no other color present in this image other than beige.
I mean, you would think that a Spielberg take (or any take, for that matter) on West Side Story would be colorful and vibrant, but this first look image is pretty damn underwhelming and does nothing but make the movie's entire aesthetic look lifeless and drab as hell.
Also, perhaps I'm suffering from a case of mistaken memory here, but didn't Fox originally say this was going to be a more modern, present-day version of West Side Story? Because that certainly doesn't appear to be the case anymore if it ever was.
Criticisms aside, though, I'm still really looking forward to seeing what Spielberg does here, especially given his passion for the source material and long-standing desire to tackle a musical. Plus, it's great to see him reunite with his Lincoln screenwriter Tony Kushner and tap a lead as wonderful and charming as Ansel Elgort is (do not fucking @ me, Film Twitter).
Pictured left to right in the first look image above we have Jets members Anybodys (Ezra Menas), Mouthpiece (Ben Cook), Action (Sean Harrison Jones); Jets leader Riff (Mike Faist); Baby John (Patrick Higgins); Tony (Ansel Elgort) and Maria (Rachel Zegler); Maria's brother and Sharks leader Bernardo (David Alvarez); and Sharks members Quique (Julius Anthony Rubio), Chago (Ricardo Zayas), Chino (Josh Andrés Rivera), Braulio (Sebastian Serra) and Pipo (Carlos Sánchez Falú).
We still have yet to see the rest of the cast, which includes Ariana DeBose as Anita, Brian d'Arcy James as Officer Krupke, Corey Stoll as Lieutenant Schrank, and Rita Moreno, who won an Oscar for her role as Anita in Robert Wise's 1961 adaptation of West Side Story, as Valentina.
West Side Story will hit theaters on December 18, 2020.