Bo Burnham is glad you think his directorial debut 'Eighth Grade' is horrifying to watch
It's almost hard to believe that Eighth Grade, a movie told from the perspective of Kayla Day (Elsie Fisher), a 13-year-old girl who is finding it seemingly impossible to make it through her last week of eighth-grade alive, is a product of the mind of 27-year-old male comedian Bo Burnham.
Not because Burnham, making his feature film debut, isn't capable of crafting a brilliant story that paints a brutally honest portrait of what it's like to grow up in an age where one's private life, especially for teenagers, is broadcast for the world to see across various social media platforms such as Snapchat, Twitter, and Instagram.
It's the fact that Burnham does it so well, telling this coming-of-age tale from a unique perspective in a way that no other filmmaker probably could. But how did a 27-year-old guy stumble upon the voice of a 13-year-old girl suffering from what seems to be a bad case of social anxiety and loneliness? And how did he manage to tell her story with such incredible love, care, and affection?
We all cover all those questions (and more) in our discussion with Burnham, which picks up below:
You wrote this film from the perspective of an eighth-grade girl. Did you have any hesitations towards that being a 27-year-old dude and all?
I really just wanted to write about the internet and how I felt at the time, which was nervous, and my nerves felt connected to the internet. So, I wrote a ton of stuff with all of these different characters, stumbled upon Kayla and found that I could say everything that I wanted to say through her. So, it was not a conscious decision to write about an eighth-grade girl. I mean, after the fact of realizing I was going to write this I was violently-aware that I was a man in the position of writing this story. Truly.
So, I was proceeding with caution, but I mean, it just felt natural to me. I think on the Internet, we all act like eighth graders, so it makes a lot of sense that a movie about the Internet, when talked purely, would be about an eighth-grader because I think eighth-graders are the only ones being themselves on the internet. We're all just being more immature versions of ourselves and then I watched hundreds of videos of kids talking and the boys talked about Minecraft and the girls talked about their souls. Just at that age, at least, the girls run a little severely more deep and interesting.
The eighth-grade boys' stories are just a little more cloister or closed-off. So, I saw myself in her more; how I feel about myself, how I see myself, and how I see how other people see me. I think girls, for whatever reason, whether it be cultural pressures or whatever, are sort of forced to see themselves in that narrative a lot earlier than boys.  I don't even know what boys are thinking about at that age. I met a lot of them and I still don't know what they are thinking about. The girls can actually have adult conversations and you can actually talk with them. They seem like young adults that are very, very thoughtful, and the boys are just like…well, you know.
In the mall, when Kayla meets Olivia and her friends, some of them immediately kind of dismiss her because she's from somewhat of a different generation. Generations such as Baby Boomers and Gen X seem to have wide swaths of years, but do you think that they are shrinking because of technology?
I do! It feels like it. My girlfriend is 12 years older than me and we feel closer than people four or five years younger than me because I got Facebook when I was 16 or 17 and to have had the ability to have a little bit of a sense of myself before social media. I just think I would've been very different if I had that freshman year of high school only three years earlier. These sort of paradigm-shifting things are happening all the time.
It used to be like the printing press and then 200 years later the Model T and then this and now it's like huge paradigm-shifting, brain-chemistry altering things are happening really, really rapidly. There was a whole decade of people that listened to the Beatles and now it feels like that culture just turns over so quickly. I mean, do we even remember before 2017? When was Obama president? Like 12 years ago? It's a combination of generations getting shorter because time is getting wider or something. The present moment feels very long.
It's weird because references that are "in" right now won't be "in" one year from now. 
Yeah. Culture ages like milk. It's the reason why I think a lot of movies that are being released in this age are nostalgic and set in other time periods: because people hate the current moment. They think that we don't even have a culture. I think they might be right in the sense that our culture is just recycling other images like a weird dishwasher cycle of retro stuff, which is weird and sad and strange.
Retro is kind of "in" right now too. 
But what were the odds? We know what the '90s were, right? We knew what the '80s were? What were the odds? Were they something? What are we now? We don't even have a name for this decade. I don't know. It's a weird moment. To be a kid in it is just wild.
Eighth Grade is so timely and relevant that it feels like it was just written three or four months ago. Are you afraid of it feeling outdated three or four years from now?
It will be dated in six months and I'm fine with that. I'm not afraid of it being dated. Culture is part of the way they interact and in two years they'll look back and go, "What? What were we thinking?" That's totally fine. I have just as much affinity for an iPhone as I do a vinyl record player. But, for some reason, vinyl record players are in every movie and we never see any iPhones.
But would you want to live in a time before all of this technology?
No. I don't think so. I'd probably be happier or something. I'm just so inextricable from and wired with it. It's all I would know. I definitely wouldn't want to write about another time. I'm interested in this time. I mean, eventually, I'd probably want to. But I think the present is a reckoning in a way. This is getting way, way off topic, but it's an interesting time to be alive and to be an American and to be in the culture. Yeah, I'd probably like to be in another time. Is that what we were saying? Go back to cassette players and half the country not hating the other half of the country. That sounds fine.
Was there a time when that wasn't happening?
Maybe. That's probably right. There's just a sense of visibility that's crazy.
This movie feels like your John Hughes moment because it captures the essence of what it means to be a student and young person at this age. 
I think Hughes is a good reference in a sense, because he captured, at the time, something very true, which is that maybe at the crux of the struggle of that time of being a teen in the '80s was, "How do you fit into the ecosystem of the class? How do you feel about your parents and your family?" It was captured so well, that people have just recycled that with different cultural decoration in different decades but I just don't think it's the core issue that kids are dealing with.
For me, the struggle with being a kid now is interior.  If you notice in the movie, Kayla doesn't get bullied. She just gets ignored. She just doesn't get people's attention and that's sort of all that people are giving and withholding from each other. It's this sort of dispassionate attention that goes around like currency.
We almost wish for the days of high school hierarchy and parents that hated us and yelled at us and we slammed the door in their faces. Now, it's like we're these fragile, little ego-people in our own head and our parents are just looking at us like, "Are you okay?" It's just a bunch of kids on their phones, hyperconnected and super lonely. Overstimulated and completely numb, and I think that extends to adults too. I think the bigger American problem of being that there's no sense of community. Even the jocks, the nerds, the cheerleaders, and the dorks. That is a community. So the breakdown of that is sad in a way.
Do you think social media is just another conduit for anxiety for a lot of people? 
Definitely. There's a natural sense of anxiety that I think everyone will have and certain people with certain dispositions will always just because, like they say, to be human is to be anxious or to be self-reflective. But there is a mechanism right now that encourages it and ramps it up in a way that I feel. I feel like I am anxious in part to the degree I am because of the internet. Kayla would be nervous without social media, for sure. But it's not helping.
Eighth Grade feels like a straight-up horror movie at times. Is that something that you were going for? 
I wasn't going for that. I was just trying to be honest. I'm interested in cringe as a high form of empathy. To cringe with something is to feel it—not just to be embarrassed. Eighth grade is horrifying. It is truly just horrifying. I'm glad the movie feels like that at times. I wanted it to feel high-stakes because it feels like high-stakes to Kayla. The tone of the movie, I hope, is truthful.
Phoenix: Put on a happy face and come see Joaquin Phoenix in 'Joker' early and for free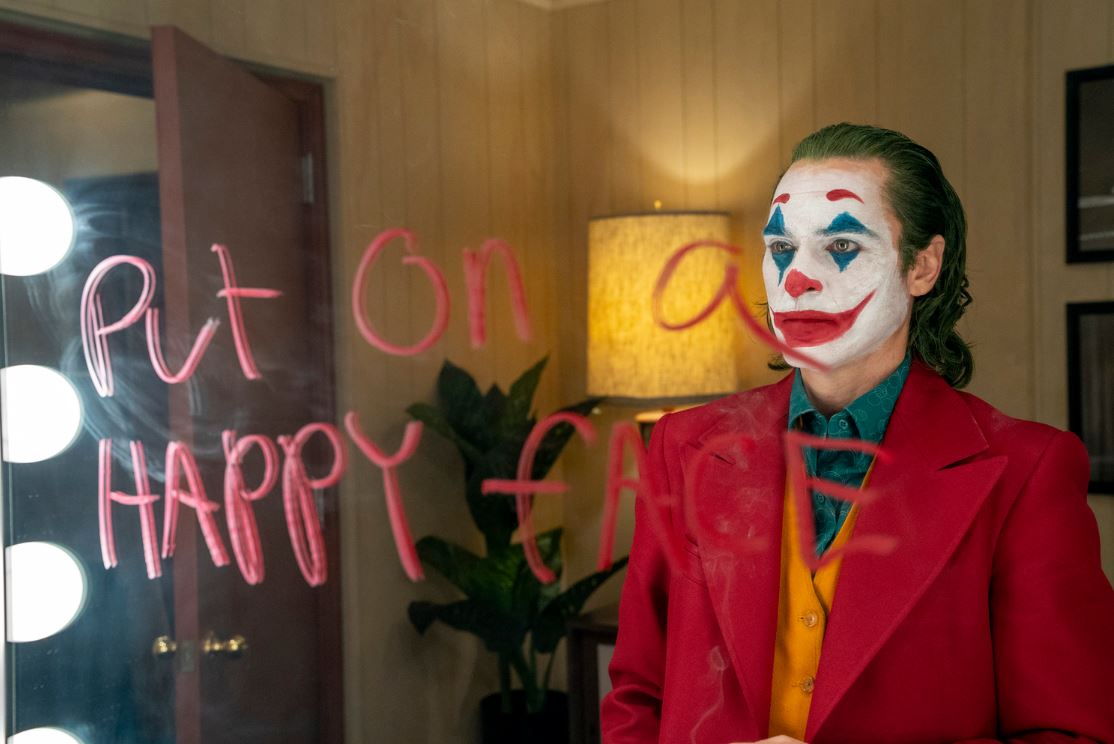 Warner Bros. will release Joker, Todd Phillips' take on the iconic DC villain's origin starring Joaquin Phoenix, on September 6 and they're giving Silver Screen Beat readers in Phoenix a chance to attend an advance screening of the film before it officially opens in theaters.
Our readers in the Phoenix area can click on this link to enter to win passes — good for you and one guest — to attend an advance screening of Joker happening Tuesday, October 1 at Harkins Arizona Mills IMAX at 7:00 p.m.
Winners of this contest will be selected and notified on Saturday, September 29 after 12:00 p.m. PT via email, so good luck! Below is the official trailer for Joker as well as some additional details about the film.
Directed by: Todd Phillips
Cast: Joaquin Phoenix, Robert De Niro, and Zazie Beetz
Opens: Friday, October 4
Rating: R for disturbing violent content and bloody images throughout, pervasive language, and some crude sexual material
Synopsis: Director Todd Phillips Joker centers around the iconic arch nemesis and is an original, standalone fictional story not seen before on the big screen. Phillips' exploration of Arthur Fleck, who is indelibly portrayed by Joaquin Phoenix, is of a man struggling to find his way in Gotham's fractured society. A clown-for-hire by day, he aspires to be a stand-up comic at night…but finds the joke always seems to be on him. Caught in a cyclical existence between apathy and cruelty, Arthur makes one bad decision that brings about a chain reaction of escalating events in this gritty character study.
An eerie new trailer for 'The Lighthouse' is here to send you into a world of nautical madness
One simple question arises in the latest trailer for Robert Eggers' new film The Lighthouse, the "hypnotic and hallucinatory tale" starring Robert Pattinson and Willem Dafoe as two lighthouse keepers driving each other mad, and, quite frankly, it's a pretty good one: "what?"
That one simple question pretty much sums up my feelings about The Lighthouse, which seems to be appealing to my very particular brand of weird with all these peculiar trailers where Robert Pattinson and Willem Dafoe go at each other's throats and talk about spilling beans and shit.
Needless to say, all of the raves The Lighthouse has received over the past few months following its debuts at festivals like Cannes and, most recently, TIFF have also piqued my interest — right now the film boasts an impressive 94% on Rotten Tomatoes, based on 70 reviews.
I suppose we'll find out what all the buzz is about when The Lighthouse hits theaters October 18.
'Joker' just won the Golden Lion award at the 2019 Venice Film Festival, because of course it did
In its continuing effort to be the most bonkers fucking film festival on the planet, the Venice Film Festival jury has just selected Todd Phillips' Taxi Driver/King of Comedy riff Joker as the recipient of this year's Golden Lion award, while convicted rapist Roman Polanski received the second-place Grand Jury Prize for An Officer and a Spy.
Haifaa Al-Mansour and Shannon Murphy, the only two women directors who were selected to compete at Venice this year, both went home empty-handed, though Murphy's Babyteeth star Toby Wallace did pick up the festival's Young Actor award.
The complete list of 2019 Venice Film Festival winners is as follows:
Golden Lion
Joker; dir: Todd Phillips
Grand Jury Prize
An Officer And A Spy: dir: Roman Polanski
Silver Lion, Best Director
Roy Andersson; About Endlessness
Volpi Cup, Best Actress
Ariane Ascaride; Gloria Mundi
Volpi Cup, Best Actor
Luca Marinelli, Martin Eden
Best Screenplay
Yonfan; No. 7 Cherry Lane
Special Jury Prize
La Mafia Non E Più Quello Di Una Volta; dir: Franco Moresco
Marcello Mastroianni Award for for Best New Young Actor or Actress
Toby Wallace, Babyteeth
HORIZONS
Best Film
Atlantis; dir: Valentyn Vasyanovych
Best Director
Theo Court; Blanco En Blanco
Special Jury Prize
Verdict; dir: Raymund Ribay Guttierez
Best Actress
Marta Nieto; Madre
Best Actor
Sami Bouajila; A Son
Best Screenplay
Jessica Palud, Revenir
Best Short Film
Darling; dir: Saim Sadiq
LION OF THE FUTURE — LUIGI DE LAURENTIIS VENICE AWARD FOR A DEBUT FILM
You Will Die At 20; dir: Amjad Abu Alala
VENICE VIRTUAL REALITY
Best VR
The Key; dir: Céline Tricart
Best VR Experience
A Linha; dir: Ricardo Laganaro
Best VR Story
Daughters Of Chibok; dir: Joel Kachi Benson
VENICE CLASSICS
Best Documentary on Cinema
Babenco; dir: Barbara Paz
Best Restoration
Ecstasy; Gustav Machaty