Queen biopic 'Bohemian Rhapsody' to host world premiere at London's Wembley Stadium
20th Century Fox and Regency Enterprises announced Monday that the world premiere for Bohemian Rhapsody, the upcoming biopic about British rock band Queen, its rise to stardom, and the life of lead singer Freddie Mercury, will be held at London's SEE Arena—part of the same venue where Queen delivered their iconic Live Aid performance in 1985.
In attendance at the premiere, which will be open to the public and will benefit the Mercury Phoenix Trust, which supports HIV/AIDS initiatives globally, will be Bohemian Rhapsody cast members Rami Malek, Lucy Boynton, Gwilym Lee, Ben Hardy, Joe Mazzello, Allen Leech, Aidan Gillen, Mike Myers and producers Graham King and Jim Beach. Queen legends Brian May and Roger Taylor will also be in attendance.
"We're delighted to be at The SSE Arena, Wembley giving Queen fans the chance to share in what is going to be a fantastic event. The venue is perfect for showcasing the show-stopping performances in the film," said Chris Green, Fox's U.K. theatrical managing director, in a statement.
Bohemian Rhapsody was rocked by behind the scenes troubles last year, which ultimately led to the firing of director Bryan Singer, who was frequently absent from the set of the film and would reportedly butt heads with Malek over creative differences whenever he did report to work. However, despite being replaced by Dexter Fletcher, who ended up finishing the film, Singer will be the only credited director on the project.
The world premiere for Bohemian Rhapsody is scheduled to take place October 23, just two weeks before the film opens nationwide on November 2.
It's about time Rotten Tomatoes finally decided to do something about its troll problem
It's no secret that Rotten Tomatoes has a troll problem. It seemingly began back in 2017 when Star Wars: The Last Jedi was released and thousands upon thousands of (fake) negative audience reviews for the film flooded the site from people who dubbed it "SJW propaganda" or some other dumb shit like that.
Since then, a number of other movies have been review bombed on Rotten Tomatoes, including Black Panther, which was targeted by white nationalist alt-right trolls for obvious reasons, and Captain Marvel, which was targeted by a bunch of very sad men who were upset over Brie Larson saying she wanted the film's press tour to be more inclusive.
In an effort to prevent any future films from being review bombed, Rotten Tomatoes finally announced today that it will be introducing "verified ratings" and "verified reviews" from users they can confirm actually bought tickets to the movie that they're either rating or reviewing.
"We believe an Audience Score made up of these Verified Ratings is the most trustworthy measure of user sentiment we can offer right now – one that gives entertainment fans a genuine audience assessment of a movie they're considering watching, and one which puts significant roadblocks in front of bad actors who would seek to manipulate the Audience Score," the site wrote in a blog post.
For now, users can only verify their rating or review if they purchased their tickets through Fandango, which acquired Rotten Tomatoes from Warner Bros. in 2016 and will benefit greatly from this change, but the site says theater chains like AMC, Regal, and Cinemark "have signed up to participate in our verification program and we plan to introduce other ticket providers as well."
The new verified ratings and reviews will go into effect this weekend for new releases like Aladdin, Brightburn, and Booksmart, the latter of which you should definitely go see because it's probably the best thing you'll watch so far this year.
Linda Hamilton is back and ready to kick some robot ass in the 'Terminator: Dark Fate' trailer
Gentle reader, I regret to inform you that the long-awaited first trailer for Terminator: Dark Fate arrived early this morning and, as much as I hate to say this, I have an obligation to break it you: this thing just doesn't look very good at all.
Sure, it's cool to see Linda Hamilton back as Sarah Connor firing giant machine guns and rocket launchers at seemingly indestructible robots and tracking down her old buddy T-800 Model 101, played by Arnold Schwarzenegger, who now lives in a cabin in the middle of the woods for whatever reason.
Beyond that, though, there's not much to be particularly excited about here. The slowed-down cover of Bjork's "Hunter" sucks, the set pieces look incredibly lame and uninspired, and the CGI is…well, just take a look at what they did to poor Gabriel Luna in this shot:
It's a first trailer, so take it all with a grain of salt, but the special effects for 'Terminator: Dark Fate' are clearly not complete. pic.twitter.com/hlWP3GPxvW

— Lights, Camera, Pod (@LightsCameraPod) May 23, 2019
That looks pretty fucking bad, right? My dude looks like a straight up cartoon character there.
Keep in mind, Terminator 2: Judgement Day came out in 1991 (28 years ago!) and yet the visual effects work in these movies has somehow managed to get significantly worse since then. I mean, how does that even happen? It's truly baffling.
Either way, this is a Terminator movie we're talking about here, so of course I'm still going to Dark Fate when it hits theaters later this year on November 2, but I'm going to do so with great concern. Consider me cautiously optimistic at this point.
Frame this terrible new 'Spider-Man: Far From Home' poster and hang it up on my wall immediately
I don't know what the hell is going on over at the Sony Pictures marketing department, but some graphic designer who is probably severely underpaid keeps making these god-awful movie posters and for whatever reason the studio is always just like, "Yeah, that looks good enough. Send it out."
I mean, just take a gander at this new one-sheet they put out for Spider-Man: Far From Home earlier today: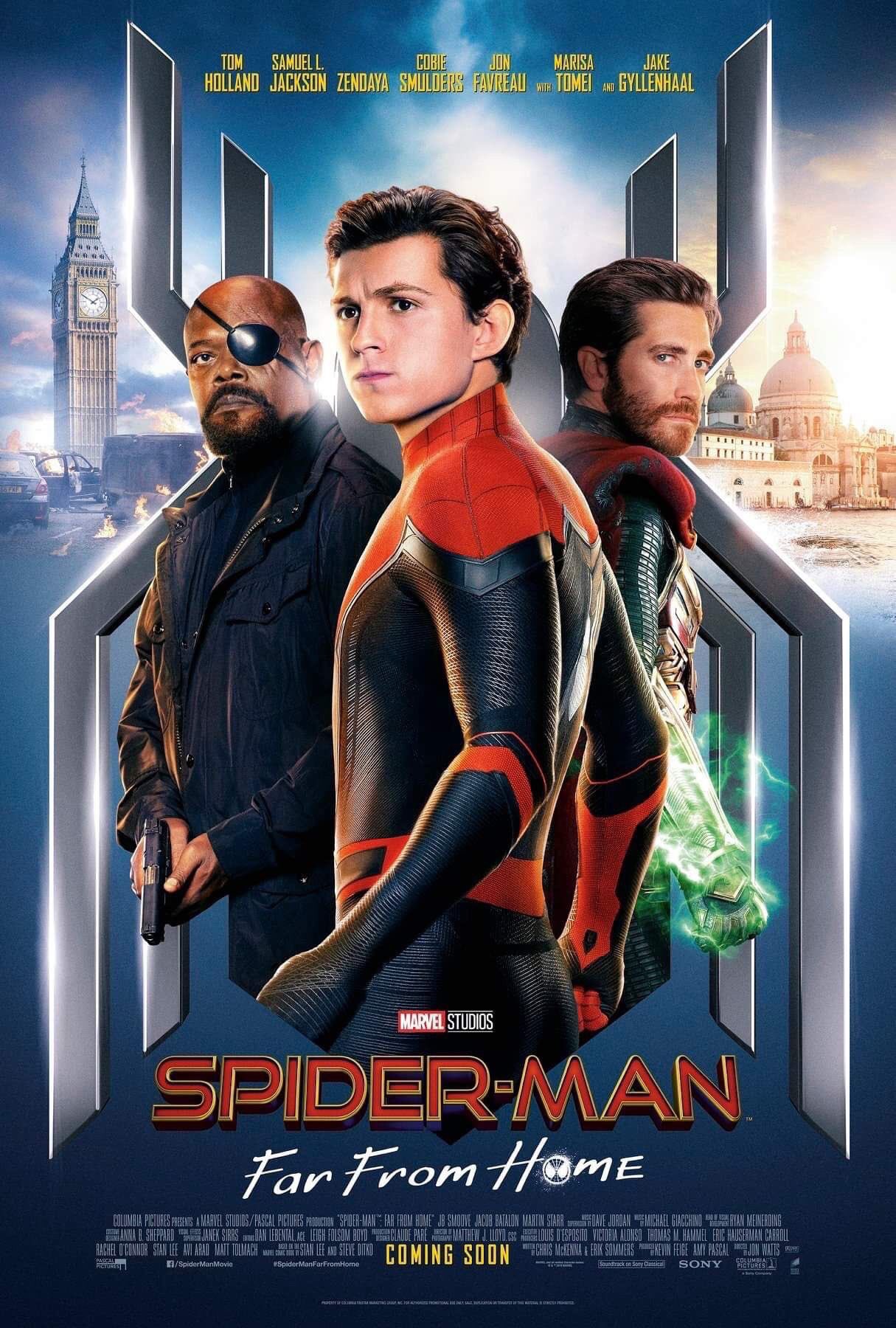 Now, I love the Spider-Man franchise as much as the next guy and I love Tom Holland as Spider-Man and I hate to clown on things I love, but holy shit that poster is hilariously bad and I want it framed and put on the wall in front of my desk immediately so I can look up and laugh at it whenever I want.
All jokes aside, though, a poster is not indicative of a movie's quality and I'm sure Far From Home is going to be just fine. Remember that very unfortunate international poster Sony released for Spider-Man: Homecoming back in 2017? Yeah, sorry I had to bring that up.
But, the point is, that poster looked like complete and utter shit and yet the movie turned out to be great and was critically acclaimed and went on to make a ton of money at the box office, and I'm sure that will also be the case for Far From Home when it hit theaters on July 2.