Weekend box office: 'The Boss Baby' crushes 'Ghost in the Shell' with $49 million opening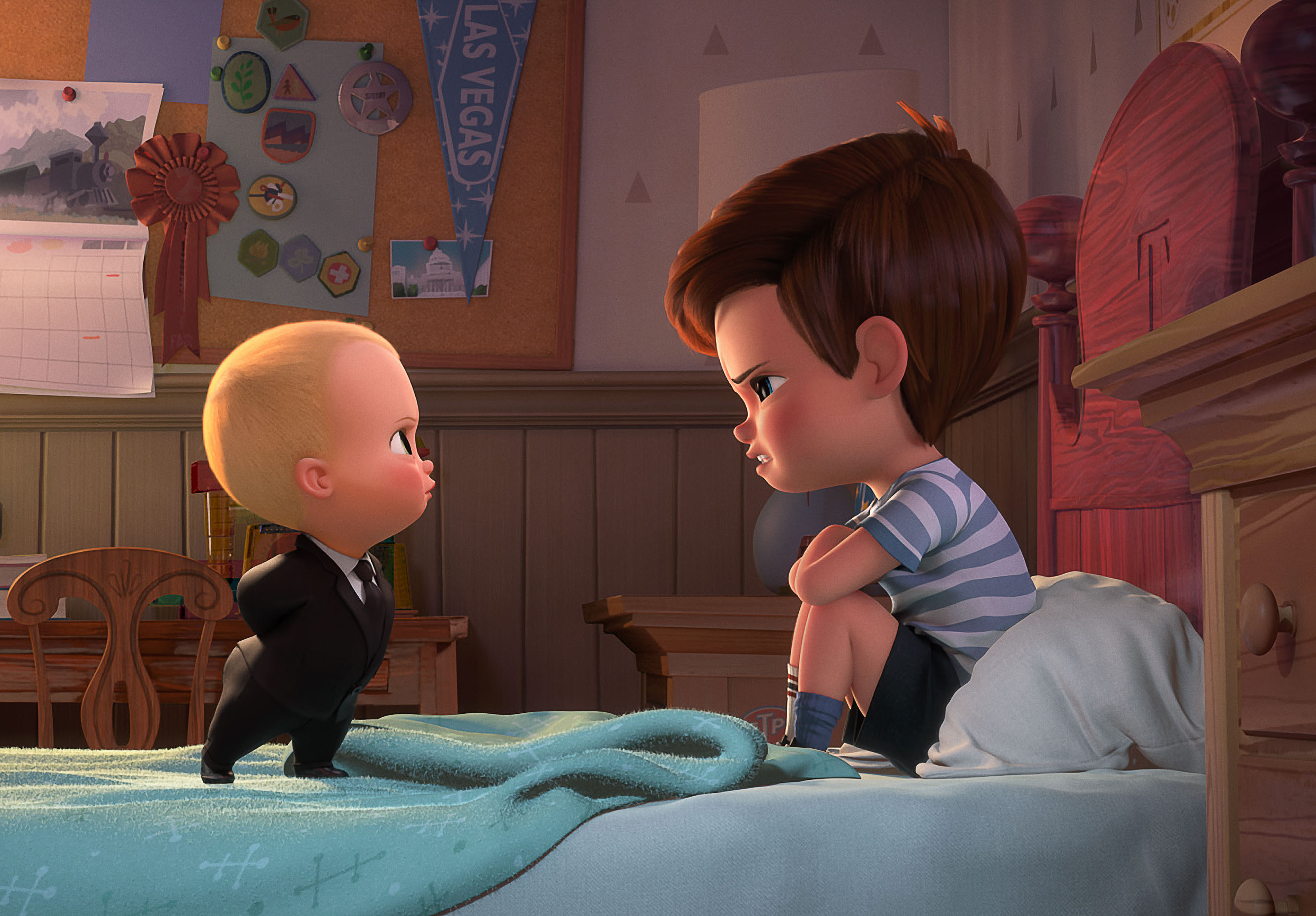 Who would have guessed that a silly animated movie starring Alec Baldwin as a talking baby who also happens to be a boss, appropriately titled The Boss Baby, would have the potential to crush the live-action adaptation of Ghost in the Shell, which features a "bankable" Scarlett Johansson, at the box office? No one was prepared for this, no one saw it coming, and no one could have ever predicted it.
I'm just kidding. The day that an animated movie, especially one titled The Boss Baby, doesn't make $49 million during its opening weekend is the same day that I say La La Land deserved to win Best Picture over Moonlight, which will never happen (as much as I loved the former). The DreamWorks Animation comedy was powerful enough to not only beat out the weekend's only other wide-release newcomer but Disney's live-action version of Beauty and the Beast, as well, which has been sitting at the top of the box office for quite some time now. However, with Smurfs: The Lost Village hitting theaters next weekend, it appears The Boss Baby's success won't stick around for too long.
Amid claims of Hollywood whitewashing and mostly negative reviews from critics, Ghost in the Shell opened to a disappointing $19 million on a massive $110 million production budget. If Paramount, a studio which has taken a number of blows at the box office over the past year or so including last summer's Ben-Hur and Martin Scorsese's Oscar-nominated Silence, looks to recuperate, it will have to hope for a good turn-out overseas where it has already earned $40.1 million. An early marketing campaign and big-name lead actress weren't enough to pull this live-action adaptation of a Japanese manga out of the dirt.
Though it opened in a limited release this weekend, The Zookeeper's Wife struck a chord with many moviegoers and earned an impressive $3.3 million from just 541 theaters this weekend. The Jessica Chastain-led film is expected to expand from anywhere between 800 to 1000 theaters over the course of the next couple of weeks. Also still doing well at the box office this weekend is the delightful Power Rangers reboot which garnered a respectable $14.5 million in its second weekend, while Kong: Skull Island was able to pull $8.8 million in its fourth weekend.
With the exception of The Fate of the Furious opening the week after next, April looks to be a bit of a boring month. However, things will certainly pick-up in May with the arrival of the likes of Guardians of the Galaxy Vol. 2, Alien: Covenant, Pirates of the Caribbean: Dead Men Tell No Tales, and Baywatch. Here's to hoping this summer movie season is an exceptional one.
A new 'It Chapter Two' trailer finds the Losers Club facing off against Pennywise one last time
Warner Bros. has released the final trailer for It Chapter Two, the eagerly awaited follow-up to Andy Muschietti's 2017 critically acclaimed box office smash based on Stephen King's iconic horror novel of the same name.
Set 27 years after the events of the first movie, It Chapter Two stars Jessica Chastain as Beverly, James McAvoy as Bill, Bill Hader as Richie, Isaiah Mustafa as Mike, Jay Ryan as Ben, James Ransone as Eddie, and Andy Bean as Stanley as they return to Derry to confront Pennywise (Bill Skarsgård) one last time.
"Something happens to you when you leave this town. The farther away, the hazier it all gets," we hear an adult Mike say as the trailer shows a flashback from the 2017 film. "But me — I never left. I remember all of it."
Jaeden Martell, Wyatt Oleff, Jack Dylan Grazer, Finn Wolfhard, Sophia Lillis, Chosen Jacobs, and Jeremy Ray Taylor will all reprise their roles as the original members of the Losers Club from the first movie.
Muschietti directed It Chapter Two from a screenplay written by Gary Dauberman, based on King's best-selling 1986 book. Barbara Muschietti, Dan Lin and Roy Lee are producers, with Marty Ewing, Seth Grahame-Smith, and David Katzenberg serving as executive producers.
It Chapter Two will float into theaters on September 6.
With their case diminishing, prosecutors drop sexual assault charges against Kevin Spacey
With their case against Kevin Spacey diminishing, Nantucket prosecutors asked Wednesday for charges to be dropped against the actor, who had been facing a felony charge for the alleged sexual assault of the teenage son of a former Boston TV news anchor in 2016.
In a document filed in the Nantucket District Court, Cape & Islands District Attorney Michael O'Keefe said he was filing a "nolle prosequi," which, in a criminal case, is an admission that the charges against the defendant cannot be proven. O'Keefe cited the "unavailability of the complaining witness" as his reason for the dismissal of the case.
O'Keefe's decision to drop the charges against Spacey is not a particularly surprising one. During an evidentiary hearing last week, Spacey's accuser refused to testify about what happened to a missing cellphone containing text messages — and possibly video — the night the alleged assault took place.
When asked if he knew that he could be charged with a felony should an investigation find that he had tampered with or destroyed evidence on the phone, Spacey's accuser invoked the Fifth Amendment and was unwilling to continue his testimony, according to The New York Times.
The accuser's lawyer, Mitchell Garabedian, said in a statement that the accuser and his family "have shown an enormous amount of courage under difficult circumstances," and added that he will not be commenting on the case any further at this time.
Spacey's lawyer, Alan Jackson, did not immediately respond to a request for comment.
In December, just moments before the news of the felony charge against Spacey broke, the actor posted to YouTube a bizarre video in which he appears as his character Frank Underwood from the Netflix series House of Cards and says he is "certainly not going to pay the price for the thing I didn't do."
Jennifer Lopez and Constance Wu lead a band of grifting strippers in the 'Hustlers' trailer
STX Films has released the first trailer for Hustlers, the upcoming stripper comedy featuring an all-star cast that includes the likes of Constance Wu, Jennifer Lopez, Julia Stiles, Keke Palmer, Lili Reinhart, Mercedes Ruehl, and Cardi B.
Written and directed by Lorene Scafaria, the film follows a group of savvy former strip club employees who come together to turn the tables on their unsuspecting, money-grubbing Wall Street clients.
"These Wall Street guys — you see what they did to this country? They stole from everybody," Lopez's character says. "Hard-working people lost everything and not one of these douchebags go to jail. The game is rigged and it does not reward people who play by the rules. It's like robbing a bank; except you get the keys."
Scafaria based Hustlers on Jessica Pressler's 2015 New York Magazine article titled "Hustlers at Scores," which tells the real-life story of a band of New York City strippers scamming their wealthy clients out of thousands of dollars before eventually being caught by authorities.
In addition to starring in the film, Lopez also serves as a producer on Hustlers alongside Elaine Goldsmith Thomas, Jessica Elbaum, Benny Medina, Will Ferrell, and Adam McKay. The film is a co-production between STX and Annapurna.
Hustlers will open in theaters on September 13.