'Call Me by Your Name' review: Luca Guadagnino's intoxicating gay love story is one for the ages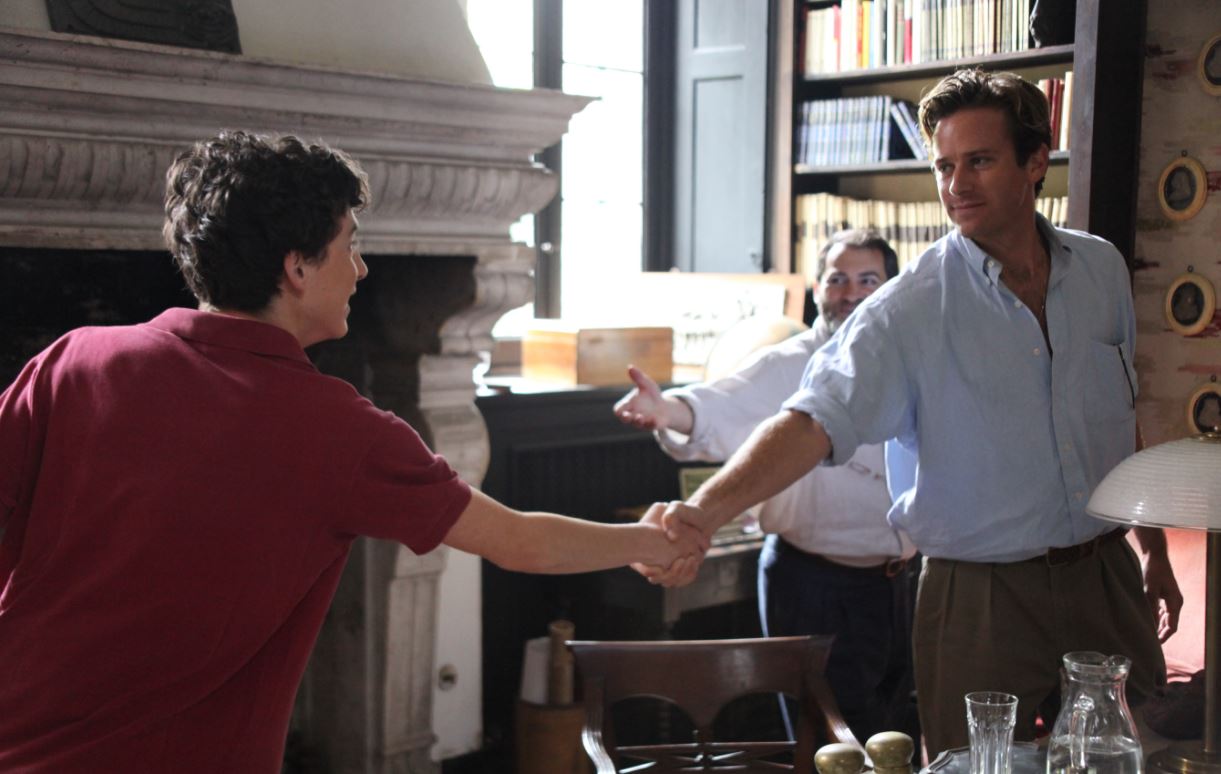 From the moment the opening credits appear in Luca Guadagnino's intoxicating new film Call Me by Your Name (scored to the sweet, melodious sounds of "Hallelujah Junction – 1st Movement" by John Adams), you know you're in for a very special treat; a treat that will leave you thinking about the film you've just watched for hours upon end, like it did for me. It's lush, erotic, riveting and, above all, simply delightful.
Based on the acclaimed first novel by André Aciman, and adapted for the screen by James Ivory (who cameos in the film, alongside producer Peter Spears), Call Me by Your Name transports its viewer to a sun-soaked Northern Italy in 1983 and follows Elio Perlman (Timothée Chalamet), an awkward, horny, not-so-average 17-year-old who enjoys transcribing music, reading books, swimming at the local river, and going out at night, as he describes to Oliver (Armie Hammer) in one scene. The latter is a chiseled, charming 24-year-old American graduate student staying at Elio's parent's (Michael Stuhlbarg, Amira Casar) gorgeous 17th-century villa as the annual summer intern tasked with helping Mr. Perlman, a professor specializing in Greco-Roman culture.
Elio appears dumbstruck by Oliver's charisma early on in the film, invoking feelings of fascination, or perhaps even obsession, drawing him closer to the tall, sophisticated blond man that just seemingly waltzed into his own tiny little lazy world, surrounded by the walls of his parent's villa. However, soon enough, we realize Elio isn't the only one plagued with these feelings—Oliver feels just the same—and they share an amorous kiss on the side of a dirt road, surrounded by towering green grass and no one but themselves.
"No, no, no. I know myself," Oliver says after pushing Elio away when he comes in for a second kiss. "We've been good. We haven't done anything to be ashamed of and that's a good thing. I want to be good, OK?" Though, Elio doesn't take this too seriously, as he places his hand on Oliver's crotch, grabs it a few times, and asks him, "Am I offending you?" It's a cutesy, playful moment, and is really just the beginning Guadagnino's masterful tale of first love.
Oh, how wonderful it is to watch Sayombhu Mukdeeprom's (who also shot Guadagnino's upcoming Suspiria remake) stunning 35mm cinematography as he captures a summer that will change the lives of Elio and Oliver forever; riding bike rides around the town square, indulging in luscious breakfasts under the sun, engaging in secret meetings on the villa's balcony, smoking cigarettes while discussing European history, and, yes, for those of you who've read the book, making love to peaches. It's a relaxing, peaceful, spellbinding film with no real antagonist other than time and Oliver's impending departure.
Chalamet, a young, new, fresh face in the world of Hollywood, who also appears in this year's Lady Bird and Hostiles, delivers what is undoubtedly the best performance of the year in Call Me by Your Name as Elio, while Hammer, perhaps best known for his work in The Social Network and The Man from U.N.C.L.E., proves just how much range he truly has an actor in the role of Oliver; the two are an impressive dynamic duo, and it's hard to even imagine anyone else playing as their characters. And, just when you've thought Stuhlbarg's wise Mr. Perlman has stolen the show with a riveting, heartfelt speech to his son during the final act of the film, Chalamet swoops in with a silent, delicate close-up under the end-credits that will, undeniably, give you chills, if not tears.
Call Me by Your Name is a modern gay love story for the ages.
'Crazy Rich Asians' review: Jon M. Chu's delightful rom-com is a party with a first-rate guest list
As of the moment as an Instagram feed, Crazy Rich Asians revisits Jane Austen's timeless universal truth about a man in possession of a fortune being in want of a wife. The man in question is Nick Young (Henry Golding), the exquisitely eligible scion of a Singapore real estate family. The scale of his fortune is suggested by the first scene, in which his mother, insulted by the manager of a fancy London hotel, buys it out from under him.
There's no doubt in Nick's mind about whom he wants to marry: Rachel Chu (Constance Wu), an economics professor at N.Y.U. originally from Queens. She and Nick, who have been together for a year, are clearly a perfect match. At least in Manhattan. But when they travel back to Singapore for a wedding, Rachel finds herself subjected to the disapproving scrutiny of the older generation and vicious sniping from potential rivals.
Every romantic comedy depends on obstacles to the central couple's ultimate happiness. "Crazy Rich Asians," a busy, fizzy movie winnowed from Kevin Kwan's sprawling, dishy novel, sets up a series of clashes — between tradition and individualism, between the heart's desire and familial duty, between insane wealth and prudent upward mobility — that are resolved with more laughter than tears. There are squalls of intrigue and a melodramatic cloudburst or two, but nothing that threatens to spoil the festivities.
The venue is fabulous — if there is any part of Singapore that is less than dazzlingly picturesque, we don't see it here — the music is great, and the food includes homemade dumplings, street-stall delicacies and lavish banquet dishes. But the key to this party is surely the guest list. It has been noted that this is the first Hollywood movie in a long time with a mostly Asian and Asian-American cast, and if anything this observation understates the diversity of the performers onscreen, in terms of both their origins and their pop-cultural affiliations. They include Michelle Yeoh, one of the great international movie stars of the past quarter-century; Ken Jeong, a staple of naughty American comedy for almost as long; and Awkwafina, a hip-hop artist, actress and web celebrity of more recent vintage.
That's only a small sampling. Mr. Kwan's book, a best-seller that has spawned two sequels since it was published in 2013, runs to more than 500 pages and includes footnotes, genealogical charts and a telephone directory's worth of names. Its digressions and tangents would easily fill up a television season or two, and the movie, directed by Jon M. Chu, can feel a bit rushed and cramped. There's too much and also not enough.
Still, it's hard not to have fun, though not always for poor Rachel. After a pleasant excursion with the soon-to-be newlyweds, Nick's boyhood friend Colin (Chris Pang) and his fiancée, Araminta (Sonoya Mizuno), the family drama and the peripheral silliness kick into high gear. Rachel meets an ex-girlfriend of Nick's, Amanda (Jing Lusi), who is less of an ally than she seems. More simpatico is Astrid (Gemma Chan), Nick's ultraglamorous cousin, whose marital troubles provide the most developed secondary plot. Her husband, Michael (Pierre Png), is, like Rachel, an outsider; his insecurity about his wife's money and status turns their marriage into a potential cautionary tale.
A more serious intimation of trouble arrives every time Nick's mother, Eleanor (Ms. Yeoh), looks in Rachel's direction. (His father is away on a business trip.) Her judgment seems severe and unfair, but she also possesses an undeniable grandeur, a seriousness about family, power and her own identity that is noble as well as cruel. While there is never any real doubt that "Crazy Rich Asians" will come down on the side of free choice and true love, it does pay lip service to the gravity and durability of other values.
Mostly, the movie is committed to the value of a good time. It is an unabashed celebration of luxury and money, with hints of class conflict that have more to do with aspiration than envy or anger, set in an Asia miraculously free of history or politics. Comic relief is provided by Peik Lin Goh (Awkwafina), Rachel's nutty friend, and her nutty parents (Mr. Jeong and Koh Chieng Mun), whose nouveau riche tackiness stands in contrast to the aristocratic hauteur of the Young family. Not everyone in that clan is as regal as Eleanor or as blandly agreeable as her son. There are a gaggle of funny aunties and a witty gay cousin (Nico Santos), who is no less amusing for being a rather tiresome stereotype.
You could also view that character as a self-conscious throwback — part of the film's sly and appealing old-fashionedness. Without betraying any overt nostalgia, "Crazy Rich Asians" casts a fond eye backward as well as Eastward, conjuring a world defined by hierarchies and prescribed roles in a way that evokes classic novels and films. Its keenest romantic impulse has less to do with Nick and Rachel's rather pedestrian love story than with the allure of endless luxury and dynastic authority. Which I guess is pretty modern after all.
'A Prayer Before Dawn' review: Rising star Joe Cole leads this utterly ferocious Thai prison drama
If you wanted to know how it feels to be the only foreign inmate in a Bangkok prison, then A Prayer Before Dawn is about as close as you could get – without walking into a Thai police station with your pockets full of heroin.
As heroin addict and Thai boxer Billy Moore – upon whose memoir this film is based – Brit up-and-comer Joe Cole ('Peaky Blinders') is the audience's suffering avatar. He's hurled into the heat, the overcrowding, the ever-simmering threat of violence, all represented by real ex-convicts, many of whom are covered from head to toe in fearsome tattoos. Director Jean-Stephane Sauvaire has an unblinking documentarian's eye, presenting extremity without sinking into exploitation. He films in long, painful takes, whether it's Billy being pummelled in the ring, getting his next hit, or just trying to navigate his way along the serrated edge of Bangkok prison culture – a stranger in the strangest, deadliest of lands, who neither speaks the language or knows the customs.
It is tough viewing, though not as tough as it must have been for Cole to recreate Billy's delirious, drug-induced decline and eventual redemption. It is not merely an almost recklessly selfless performance, but also a surprisingly sensitive one, cracking Moore's carapace to reveal the vulnerability beneath – of a lonely, unloved and desperately weak man whose only lifeline is the sport he loves. Light on dialogue and heavy on expression both physical and emotive, he keeps you watching even if what you're seeing makes you want to hide your eyes and cower.
'BlackKkKlansman' review: Spike Lee's timely new film seizes the moment (and the American past)
Spike Lee's BlacKkKlansman, which arrived in Cannes yesterday to a rapturous reception, is a tonal roller coaster, and therein lies much of its unique power. It's alternatingly comic, heroic, tragic, horrifying, ridiculous, dead serious, clear-eyed, and confused; it shifts into moments of documentary and even essay film, but it's also one of Lee's more entertaining and vibrantly constructed works. I don't know that I've ever seen a movie exploit its tonal mismatches so voraciously and purposefully.
Based on a crazy true story (or, as an opening title puts it, "some fo' real, fo' real sh*t"), BlacKkKlansman follows the efforts of Ron Stallworth (John David Washington), an African American detective in the Colorado Springs police force who infiltrated the Ku Klux Klan in the mid 1970s, passing as white over the phone, with fellow cop Flip Zimmerman (Adam Driver) posing as Stallworth's white avatar at actual Klan meetings. Lee seizes every opportunity in that startling setup to play with the notions of identity and belonging that have always fueled his work.
Before his Klan investigation, Ron's first assignment is to go undercover at a Stokely Carmichael speech. ("They say he's a damn good speaker, so we don't want this Carmichael getting into the minds of the good Negroes of Colorado Springs," his fellow officers tell him.) There, he meets and falls for local college activist leader Patrice (Laura Harrier), and even as he woos her, he tries and fails to stop her from using the word pig to describe cops. Ron remains loyal to the force, but he's also moved by Patrice's passion and righteousness. In some ways, the investigation of the Klan might be Ron's attempts to reconcile this tension between his dedication to police work and his growing activism.
This awakening awareness of identity goes beyond just Ron: Flip repeatedly gets asked by Klan members if he's a Jew. He later confides to Ron that, while he is Jewish, he wasn't raised with any real religion or sense of difference. "I never thought about it before," he says, but now, thanks to these constant accusations and hatred, "I'm thinking about it all the time."
Indeed, identity throughout BlacKkKlansman can be a disorienting, ever-shifting thing — acted upon by one's allies as well as one's enemies. The movie embraces this aesthetically as well. Lee adopts contrasting styles for each of the tribes that Ron moves through in the movie — the police, black activists, and the Klan. The Klan are usually shown as a bunch of bozos, a dangerous but also often hilariously incompetent collection of ignorant brutes and slack-jawed yokels. Meanwhile, Patrice and her fellow activists are often presented in essayistic, almost agitprop fashion: During Carmichael's speech, in which he talks about white standards of beauty and the racially disturbing aspects of Tarzan movies, the edges of the frame go dark and we see his listeners in soft spotlights, highlighting their features; when Patrice and Ron argue over depictions of heroism in blaxploitation movies, the screen fills with movie posters and clips. (Among other things, BlacKkKlansman stands as an urgent essay on cinema's depictions of blackness and racism over the decades.)
Later, Lee intercuts between a speech by Harry Belafonte about the 1916 lynching in Waco, Texas, of Jesse Washington and one delivered by KKK Grand Wizard David Duke (Topher Grace, giving another of his insincere, aw-shucks nice-guy performances, which in this context is both chilling and surreal). "Give us true white men," Duke declares, while Belafonte goes through every agonizing detail of the horrors visited upon Washington's body. It's a terrifying juxtaposition, and watching it, I got the sense that Lee had laid a kind of brilliant trap for us with his earlier, satirical depiction of the Klan: Laugh all you want, he seems to say; you laughed at Trump, too, and look where that got us.
As you might expect, Trump and our current predicament hang heavily over this film, and the script (credited to Lee, David Rabinowitz, Charlie Wachtel, and Kevin Willmott, based on Ron Stallworth's own book) goes out of its way to make the connections. At one point, Duke declares, "It's time for America to show its…" — briefly struggling to find the right word — "greatness again." That's one of the subtler references, and while most movies about the past botch this sort of call-and-response with the present, Lee generally achieves this with panache; he's rarely self-important about it. He knows he's making obvious points, and he embraces it with a combination of exuberance and despair.
And within this heavy-handedness can lie a kind of ambiguity. Without giving too much away, I must report that some of the film's close-to-final scenes have an almost utopian, wish-fulfilment quality to them, with bits that are sure to get roaring audience responses. But Lee then quickly cuts to images of such raw, disturbing power so that any momentary sense of triumph is sure to catch in our throats. BlacKkKlansman resists closure, reconciliation, or catharsis, and Lee has no interest in keeping this thing formally unified. What use is that kind of unity in a society that's falling apart?