The spooky new trailer for 'The Chilling Adventures of Sabrina' is even better than the first
Witches, and warlocks, and demons, oh my! The fine folks over at Netflix have debuted a spooky new trailer for The Chilling Adventures of Sabrina, which appears to be very much my shit and cannot get here soon enough. Who would've guessed this thing would look as good as it does?
A far cry from the beloved, lighthearted 90s sitcom starring Melissa Joan Hart, this new rendition of Sabrina the Teenage Witch is a dark coming-of-age story that finds the titular character (Kiernan Shipka) wrestling to reconcile her dual half-witch, half-mortal nature with plenty of horror, occult, and, of course, witchcraft sprinkled in.
Sabrina comes courtesy of the team behind Riverdale, a guilty pleasure of mine, which is probably the reason why I'm so excited to see what they've done with this new series. Roberto Aguirre-Sacasa scripted the show and executive produces alongside Greg Berlanti, Sarah Schechter, Jon Goldwater, and Lee Toland Krieger.
The town Sabrina takes place in is called Greendale, which is a neighboring town to Riverdale (and the same place where Jason Blossom attempted to fake his own death), so chances are we'll be seeing a Sabrina/Riverdale crossover happen eventually. Honestly, I'm down for that! Just don't do another one of those insufferable musical episodes, please and thank you.
The Chilling Adventures of Sabrina also stars Ross Lynch, Jaz Sinclair, Lachlan Watson, Lucy Davis, Miranda Otto, Richard Coyle, and Michelle Gomez, and will hit Netflix on October 26. You can check out the newly released trailer below.
The US trailer for Bong Joon-ho's Palme d'Or-winner 'Parasite' is finally here to infect your mind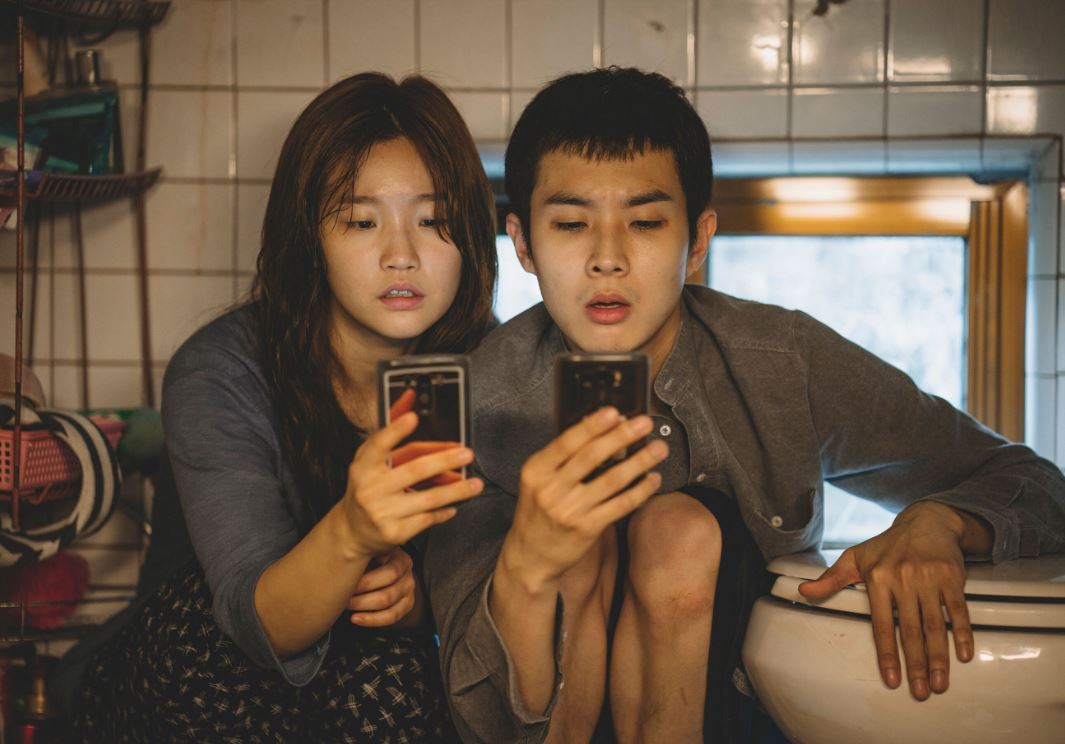 Ever since it premiered at Cannes back in May, I've been hearing nothing but the highest of praise for Bong Joon-ho's Palme d'Or-winner Parasite, which Neon debuted the official US trailer for this morning, and boy oh boy does this thing look like one hell of a rollercoaster ride of a film.
Described as a "pitch-black modern fairytale," Parasite tells the story of the Park and Kim families, who, despite their differences in class, end up crossing paths and forming a symbiotic relationship between themselves.
However, their relationship slowly begins to unravel "when a parasitic interloper threatens the Kims' newfound comfort" and "a savage, underhanded battle for dominance breaks out, threatening to destroy the fragile ecosystem between the Kims and the Parks."
The less you know about Parasite, the better, so if you're sensitive to spoilers, you may want to avoid this particular trailer and check out the Korean one instead, which does a pretty good job of staying fairly ambiguous and doesn't give away nearly as much as the US trailer does.
Parasite reunites Bong with actor Song Kang-ho, who stars in the film alongside Lee Sun-kyun, Cho Yeo-jeong, Choi Woo-shik, Park So-dam, Jang Hye-jin, and Lee Jung-eun. The film is set to hit US theaters on October 11, so mark your calendars accordingly, Bonghive.
I refuse to watch anything else but the trailer for Greta Gerwig's 'Little Women' for the rest of the day
Stop whatever it is that you're doing because the first trailer for Greta Gerwig's star-studded adaptation of Little Women has finally arrived and it's as lovely and beautiful as could probably imagine. Give Greta all the Oscars right now, Academy.
Based on Louis May Alcott's beloved novel of the same name, Little Women follows the lives of the March sisters — Jo (Saoirse Ronan), Meg (Emma Watson), Amy (Florence Pugh), and Beth (Eliza Scanlan) — as they navigate their journies from childhood to womanhood in Civil War-era America.
Rounding out the film's ensemble cast is Timothée Chalamet as their neighbor Laurie, Laura Dern as Marmee, Meryl Streep as Aunt March, James Norton as John Brooke, and Tracy Letts and Bob Odenkirk in unspecified roles. I don't know about you, but I definitely smell a SAG Ensemble win in this film's future.
"This feels like [an] autobiography," Gerwig told Vanity Fair in June, adding that Little Women might be even more personal her than Lady Bird — a film she literally based on her own life — was. "When you live through a book, it almost becomes the landscape of your inner life. It becomes part of you, in a profound way."
Little Women will open in theaters on December 25. Until further notice, consider this the unofficial Little Women fansite.
Faith and personal integrity go head to head with fascism in this gorgeous 'A Hidden Life' trailer
Yeah, yeah, I know I said I wasn't going to watch anything else but the Little Women trailer today, but Fox Searchlight just so happened to have dropped the trailer for Terrence Malick's A Hidden Life this morning and, well, sometimes you've just gotta make compromises.
Based on the true story of Austrian farmer Franz Jägerstätter (August Diel), A Hidden Life is an intimate epic about a man who refused to fight for the Nazis during World War II and was subsequently threatened with execution for defying Adolf Hitler's regime.
Say what you will about Malick, but there's no denying that with all of the fascist bullshit plaguing society today that his latest looks timely as hell and appears to be some of his best work since 2011's Tree of Life — a sentiment echoed by many critics who saw the film at Cannes back in May.
Speaking of film festivals, the Toronto International Film Festival announced today that A Hidden Life will be among the nine films screening in this year's Masters section, marking Malick's first time at TIFF in that particular category.
After a brief run on the fall festival circuit, A Hidden Life will open in theaters on December 13.