Don't miss out on these Netflix titles before they disappear in September
It's time to create your monthly binge-watch list once again. Netflix has announced what will be coming and going on your favorite streaming service in September 2016. Don't worry, Stranger Things isn't going anywhere. After reviewing the list of movies and series leaving Netflix in September multiple different times, it's safe to say that it is truly nothing to get worked up over. The majority of your favorite titles aren't going anywhere.
The list of titles arriving next month is quite an exceptional one, including acclaimed films such as Jaws, Saving Private Ryan, and Zootopia. Are you a fan of hilariously bad movies? The 2006 remake of The Wicker Man starring Nicholas Cage is the right movie for you. Interested in seeing what's in-store for your Netflix next month? We've gathered the complete list of titles coming and going on Netflix in September, which you can read below.
Coming in September 2016
Avail 9/1/16
The Amityville Horror (2005)
Babel (2006)
Bayou Maharajah: The Tragic Genius of James Booker (2013)
Bill & Ted's Bogus Journey (1991)
Bratz: The Movie (2007)
Burn, Burn, Burn (2015)
Cats & Dogs (2001)
Crashing: Season 1
Defiance (2008)
Easy Fortune Happy Life (2009)
Europe's Last Great Wilderness (2015)
The Fierce Wife (2010)
Footloose (1984)
Full Out (2015)
Game Winning Hit: Season 1
Heartland: Season 7
Hellevator: Season 1
Hoot (2006)
Hope Floats (1998)
I Am the Ambassador: Season 1 ­
Indochina's Wild Heart (2015)
The IT Crowd: Series 5
Jaws (1975)
Jaws 2 (1978)
Jaws 3 (1983)
Jaws: The Revenge (1987)
Joyful Noise (2012)
Keepers of the Game (2016)
Last Holiday (2006)
Lucky Days: Season 1
Man on Wire (2008)
Milk Money (1994)
Practical Magic (1998)
Road Trip (2000)
Sam Kinison: Breaking the Rules (2000)
Saving Private Ryan (1998)
Scary Movie 2 (2001)
Shameless (U.S.): Season 5­6
Stomp the Yard (2007)
Sweeney Todd (2007)
Top Gun (1986)
True Grit (1969)
U­571 (2000)
The Wicker Man (2006)
Wild Madagascar (2015)
The Womanizer: Season 1
The Year of Happiness and Love: Season 1
Avail 9/2/16
Baby Daddy: Season 5
Chef's Table: France ­
Kazoops!: Season 1 ­
Kulipari: An Army of Frogs
Narcos: Season 2 ­
Young & Hungry: Season 4
Avail 9/6/16
Crash (2004)
The Finest Hours (2016)
Hard Target 2 (2016)
Honey 3 (2016)
R.L. Stine's Mostly Ghostly: One Night in Doom House (2016)
Avail 9/7/16
The Blacklist: Season 3
Galavant: Seasons 1­2
Avail 9/10/16
Supergirl: Season 1
Avail 9/13/16
Extremis (2016) ­
Hawaii Five­0: Season 6
London Has Fallen (2016)
Avail 9/14/16
Goldie & Bear: Season 1
Avail 9/15/16
Sample This (2012)
The Walking Dead: Season 6
Avail 9/16/16
Cedric The Entertainer: Live from the Ville
Raiders!: The Story of the Greatest Fan Film Ever Made (2015)
The White Helmets (2016)
Avail 9/17/16
3 Days to Kill (2014)
Luther: Season 4
Penny Dreadful: Season 3
Avail 9/19/16
Call the Midwife: Series 5
Gotham: Season 2
Avail 9/20/16
Colliding Dreams (2016)
New Girl: Season 5
Zootopia (2016)
Avail 9/22/16
Bones: Season 11
Easy: Season 1
Wallander: Series 4
Avail 9/23/16
Audrie & Daisy (2016)
Iliza Shlesinger: Confirmed Kills
Last Man Standing: Season 5
Longmire: Season 5 ­
VeggieTales in the House: Season 4
Avail 9/24/16
Portlandia: Season 6
River (2016)
Avail 9/25/16
Family Guy: Season 14
Margaret Cho: PsyCHO (2015)
Avail 9/28/16
The Fosters: Season 4 (Part A)
The Imitation Game (2014)
Avail 9/30/16
Amanda Knox (2016)
Marvel's Luke Cage: Season 1
Scream: Season 2
Leaving in September 2016
Leaving 9/1/16
2 Fast 2 Furious (2003)
A Walk to Remember (2002)
Anywhere but Here (1999)
Avengers Confidential: Black Widow & Punisher (2014)
The Bridge on the River Kwai (1957)
Call Me Crazy: A Five Film (2013)
The Color Purple (1985)
Crocodile Dundee (1986)
Days of Thunder (1990)
Defending Your Life (1991)
Double Jeopardy (1999)
Everybody Loves Raymond: Seasons 1­9
Exporting Raymond (2010)
Flight of the Intruder (1991)
Girl Rising (2013)
Hachi: A Dog's Tale (2009)
Hardball (2001)
The Haunting (1999)
Nick Cannon: Mr. Showbiz (2011)
Our Man in Tehran (2013)
Primal Fear (1996)
Roboshark (2015)
Roman Holiday (1953)
S.W.A.T. (2003)
Sins of My Father (2009)
Spanglish (2004)
Traffic (2000)
The Weather Man (2005)
The Wood (1999)
Zoolander (2001)
Leaving 9/4/16
Melissa & Joey: Season 1­4
Shanghai Knights (2003)
Leaving 9/5/16
Gabe the Cupid Dog (2012)
Leaving 9/6/16
Hollywood Homicide (2003)
My Babysitter's a Vampire: The Movie (2010)
Leaving 9/9/16
The Emperor's New Groove (2000)
Lilo & Stitch (2002)
Leaving 9/11/16
Fringe: Seasons 1­5
How to Train Your Dragon 2 (2014)
Leaving 9/15/16
Bob Saget: That's What I'm Talkin' About (2013)
Leaving 9/16/16
Gridiron Gang (2006)
The Kids Are All Right (2010)
Leaving 9/17/16
Gimme the Loot (2012)
Simon Killer (2012)
Leaving 9/20/16
Something, Anything (2014)
Leaving 9/23/16
The Lost Medallion (2013)
Leaving 9/24/16
The Forbidden Kingdom (2008)
Leaving 9/25/16
Alias: Seasons 1­5
Jobs (2013)
Leaving 9/28/16
Open Water (2004)
Open Water 2: Adrift (2006)
Leaving 9/30/16
666 Park Avenue: Season 1
Another Gay Movie (2006)
The Aviators (2008)
League of Super Evil: Season 1
We Were Soldiers (2002)
Wolf (2013)
With the launch of its streaming service around the corner, Disney bans ads from Netflix
With the launch of its streaming service Disney+ just around the corner, Disney has made the decision to longer accept advertising from Netflix on many of its entertainment networks, including television channels such as ABC and Freeform, according to The Wall Street Journal.
"The direct-to-consumer business has evolved, with many more entrants looking to advertise in traditional television and across our portfolio of networks," Disney said in a statement. "While the initial decision was strictly advertising-based, we reevaluated our strategy to reflect the comprehensive business relationships we have with many of these companies, as direct-to-consumer is one element."
However, Disney's decision to bar ads from rival streaming services will not impact all of its networks, as the company will still continue to accept ads from Netflix on its various ESPN channels because the streamer does not compete with Disney in any way in live sports.
Disney+, which launches November 12, will feature dozens of movies and shows from Disney, Pixar, Marvel, Star Wars, National Geographic, and 20th Century Fox, which Disney acquired in a massive $71.3 billion deal earlier this year.
In addition to the likes of Netflix, Hulu, and Amazon Prime, Disney+ will have plenty of other competition in the streaming game, including Apple's Apple TV+, which debuts November 1, and HBO's HBO Max, which is expected to arrive on the market early next year.
Netflix renews 'Stranger Things' for season 4, signs the Duffer Brothers to multi-year overall deal
In a move that should surprise absolutely no one, Netflix announced Monday that they have renewed Stranger Things for a fourth season and signed series creators and showrunners the Duffer Brothers to a multi-year film and series overall deal.
"The Duffer Brothers have captivated viewers around the world with Stranger Things and we're thrilled to expand our relationship with them to bring their vivid imaginations to other film and series projects our members will love," said Netflix chief Ted Sarandos. "We can't wait to see what the Duffer Brothers have in store when they step outside the world of The Upside Down."
The series, which has picked up 30 Emmy Award nominations and six wins since its debut in 2016, is produced by Monkey Massacre Productions & 21 Laps Entertainment. The Duffer Brothers serve as executive producers on the show alongside Shawn Levy and Dan Cohen of 21 Laps Entertainment and Iain Paterson.
Adds the Duffer Brothers: "We are absolutely thrilled to continue our relationship with Netflix. Ted Sarandos, Cindy Holland, Brian Wright, and Matt Thunell took a huge chance on us and our show — and forever changed our lives. From our first pitch meeting to the release of Stranger Things 3, the entire team at Netflix has been nothing short of sensational, providing us with the kind of support, guidance, and creative freedom we always dreamed about. We can't wait to tell many more stories together — beginning, of course, with a return trip to Hawkins!"
Season 4 of Stranger Things is expected to arrive on Netflix in 2020.
Hallelujah: HBO is renewing Danny McBride's 'The Righteous Gemstones' for a second season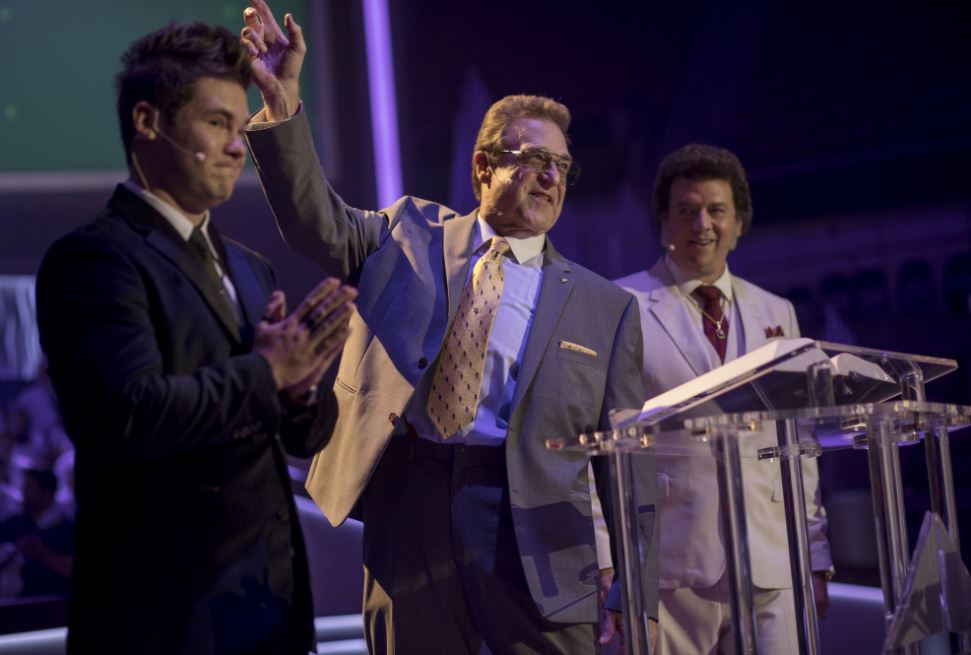 Danny McBride's new series The Righteous Gemstones isn't even halfway through its debut series — episode four just aired this past weekend — and yet HBO has already opted to renew it for a second season, the network announced Monday morning.
"Danny, Jody [Hill] and David [Gordon Green] are among our favorite collaborators and we're thrilled that their take on a family comedy has been met with such enthusiasm," said HBO programming executive vice president Amy Gravitt. "We cannot wait to share the next steps in the Gemstone family's epic journey."
Written, created, and executive produced by McBride, The Righteous Gemstones follows "the world famous Gemstone televangelist family, which has a long tradition of deviance, greed, and charitable work, all in the name of the Lord Jesus Christ."
The series features one hell of an ensemble cast that includes the likes of McBride along with John Goodman, Adam DeVine, Edi Patterson, Tony Cavalero, Cassidy Freeman, Skyler Gisondo, Gregalan Williams, Tim Baltz, Dermot Mulroney, and Walton Goggins.
Between Eastbound & Down, Vice Principals, and now Righteous Gemstones, McBride, Hill, and Gordon Green produce some pretty spectacular shit for HBO under their Rough House Pictures banner and I'm thrilled to see a show like Gemstones get renewed for another season. Hallelujah, baby.