Warner Bros. developing a 'Crazy Rich Asians' sequel with director Jon M. Chu set to return
It's only been a little more than a week since Jon M. Chu's all-Asian romantic comedy Crazy Rich Asians first debuted in theaters, but Warner Bros. is already starting to get development on a sequel to the film underway with the creative team from the first movie expected to reunite.
According to The Hollywood Reporter, the studio is likely to get cameras rolling on the sequel after Chu finishes shooting the long-in-development film adaptation of Lin-Manuel Miranda's musical In the Heights, which is due out in the summer of 2020.
Warners is planning to bring back Peter Chiarelli and Adele Lim, who wrote the first Crazy Rich Asians, as well as producers Nina Jacobson, Brad Simpson, and John Penotti. Casting details have yet to be confirmed, but the main cast from the first film are all likely to return.
Based on Kevin Kwan's best-selling book of the same name, Crazy Rich Asians follows New Yorker Rachel Chu (Constance Wu) as she accompanies her longtime boyfriend, Nick Young (Henry Golding), to his best friend's wedding in Singapore. However, Rachel is unprepared to learn that Nick has neglected to mention a few key details about his life. Not only is he the scion of one of the country's wealthiest families, but also one of its most sought-after bachelors.
The film, which grossed more than $35 million over the course of its five-day launch last week, features an all-star international cast that also includes Gemma Chan, Lisa Lu, Awkwafina, Ken Jeong, Michelle Yeoh, Sonoya Mizuno, Chris Pang, Jimmy O. Yang, Ronny Chieng, Remy Hii, and Nico Santos.
Disney drops 'Fox' name from 20th Century Studios and Searchlight Pictures in rebranding effort
Nearly a year after acquiring 21st Century Fox in a massive $71.3 billion dollar deal last March, the Walt Disney Company made the decision today to drop the "Fox" brand from two iconic Hollywood film studios: 20th Century Fox and Fox Searchlight Pictures.
As of today, 20th Century Fox will be known as 20th Century Studios, while Fox Searchlight Pictures has simply been rebranded Searchlight Pictures. The move isn't particularly surprising and was inevitable ever since last year's acquisition, but is still notable given 20th Century's 84-year history with the "Fox" brand attached to it.
While Disney wouldn't offer comment on its rebranding efforts, the change likely had to do with the fact that the company didn't want consumers to confuse its properties as being associated with Lachlan Murdoch's Fox Corporation, which operates the conservative media empire Fox News.
Despite the changes today, though, Disney will make minimal revisions to the iconic logos for the two studios. "The most notable change is that the word 'Fox' has been removed from the logo marks," reports Variety. "Otherwise, the signature elements — swirling klieg lights, monolith, triumphal fanfare — will remain the same."
Quentin Tarantino says he has written and will direct five half-hour episodes of 'Bounty Law'
Once Upon a Time in Hollywood director Quentin Tarantino has confirmed that he's bringing full five episodes of Bounty Law — the fictional Western series starring Leonardo DiCaprio's Rick Dalton — to the small screen.
During a recent interview with Deadline, the Oscar-winning filmmaker said that he will be directing five half-hour episodes of the show that have already been written, though it might be a while before we actually get to see them.
"It will take me a year and a half," Tarantino said. "[Bounty Law] got an introduction from Once Upon a Tim in Hollywood, but I don't really consider it part of that movie even though it is. This is not about Rick Dalton playing Jake Cahill. It's about Jake Cahill."
As for his inspiration for Bounty Law, Tarantino added: "Where all this came from was, I ended up watching a bunch of Wanted, Dead or Alive, and The Rifleman, and Tales of Wells Fargo, these half-hour shows to get in the mindset of Bounty Law, the kind of show Rick was on. I'd liked them before, but I got really into them."
Whether or not DiCaprio will reprise his role as Rick Dalton for Bounty Law remains to be seen, but I can't imagine why he wouldn't. After all, Dalton is the star of the show and it really wouldn't be the same without his involvement.
'The Lovebirds' trailer finds Kumail Nanjiani and Issa Rae trying to solve a bizarre murder case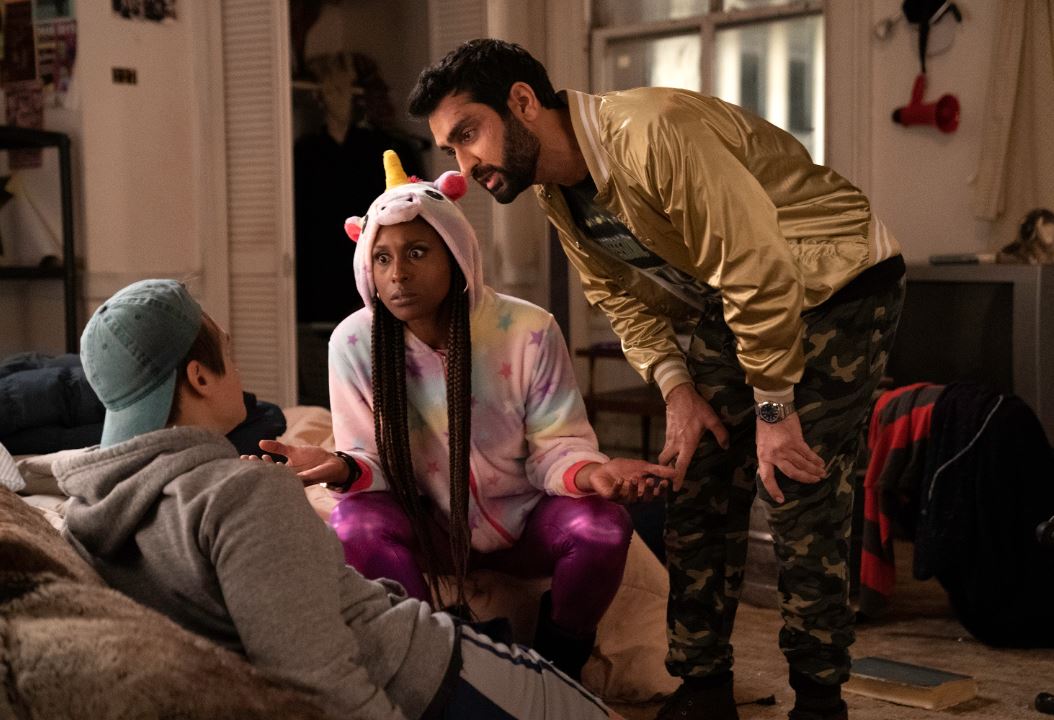 "Every happy couple has one moment that defines their relationship," is the tagline for The Lovebirds, the upcoming rom-com starring Kumail Nanjiani and Issa Rae which is set to have its world premiere at SXSW in March.
For Jibran (Nanjiani) and Leilani (Rae), that moment seems to be when they realize they've been caught up in a bizarre murder mystery and need to work to clear their names and solve the crime before the night is over.
The film, which was written by Aaron Abrams and Brendan Gall, reunites Nanjiani with The Big Sick director Michael Showalter and also stars Paul Sparks, Anna Camp, and Kyle Bornheimer.
If Steve Carell and Tina Fey in Date Night was your kind of thing, it appears The Lovebirds will be right up your alley as well. I mean, who can resist a little crime-infused romantic comedy?
The Lovebirds hits theaters April 3.