David Gordon Green says he almost recreated the ending of the original 'Halloween' for his sequel
When David Gordon Green and Danny McBride first conceived their idea of bringing a new, wholly-unique direct sequel to John Carpenter's 1978 horror classic Halloween to the big screen, they envisioned opening it with a recreation of the climax of the original—and they almost managed to pull it off.
"Even in the script going into production, we were going to refilm the end of the original film from a different perspective," Green told Bloody Disgusting at the Halloween press junket in Los Angeles this past weekend, going into specific detail as to how the sequence would've played out had it been shot and edited into the sequel.
"We had this very complicated overhead view of Loomis shooting the gun, Michael going over and then the apprehension, assuming everybody was going to need a little bit to get back up to speed with where we are and we haven't seen the movie in a long time or we've never seen the movie, had to invite everyone to the party and that kind of thing," he said. "We kept pushing it off."
"We had all these ideas," he continued, adding that they had cast body doubles for several characters from the original, including a young Laurie Strode, who would've been recreated using a blend of Jamie Lee Curtis and a double who looked similar to Curtis' 19-year-old self. Donald Pleasance, who played Dr. Loomis and died in 1995, would have appeared in the film via the usage of a body double, who was actually the film's art director, and some computer-generated imagery.
"There was that conversation," Green said. "There was the conversation of utilizing footage from the original film and digitally altering it so we got some other interesting elements. All this stuff starts to cost money and when you look at what we're trying to do, do you need the gimmick? Do you need the exposition? Do you need the setup?"
The crew even went as far as rebuilding the bedroom the ending of the original Halloween takes place in, but, as Green pointed out, their budget and schedule were getting tighter by the minute, and they needed to finish the film on time. But it wasn't until Green talked to Carpenter himself that he realized they didn't need the sequence after all.
"So we turned the set of the house into Laurie's bedroom," he added. "So the scene in the climax with all the mannequins is to the square inch a rebuild of that room. The closet's in the same place, the balcony's in the same place. All those things landed so it became, out of cost necessity, this incredible subconscious (because I don't think anybody would pick that up) rebuild of an environment from the original film."
The new Halloween sees Curtis reprise her iconic role as Laurie Strode one last time as she comes to her final confrontation with Michael Myers, the masked figure who has haunted her since she narrowly escaped his killing spree on Halloween night four decades ago. The film also stars Judy Greer, Andi Matichak, Will Patton, Virginia Gardner, and Nick Castle, and opens in theaters on October 19.
'Big Little Lies' star Zoe Kravitz to take on the role of Catwoman in Matt Reeves' 'The Batman'
Zoe Kravitz is headed to Gotham as the Big Little Lies star has been set to play the iconic role of Catwoman in Matt Reeves' upcoming The Batman, Silver Screen Beat has learned.
Kravitz joins a cast that already includes the likes of Robert Pattinson as the titular Caped Crusader, Jeffrey Wright as Commissioner Gordon, and Jonah Hill as the yet-to-be-named villain. Reeves is expected to round out the rest of the cast before the year's end in anticipation of an early 2020 production start.
Other actresses including Ana de Armas, Ella Balinska, and Eiza Gonzalez went through what was described as a "rigorous testing process," for the role of Catwoman last month, according to The Hollywood Reporter, but it was ultimately Kravitz — who read opposite Pattinson — that was seen as the right fit for the job.
Reeves, who first boarded The Batman in early 2017 following the unsurprising departure of Ben Affleck, is directing the film from a script he wrote, in addition to producing along with his Planet of the Apes collaborator Dylan Clark.
Kravitz, still riding high off a well-reviewed performance in HBO's second season of the star-studded drama Big Little Lies this past summer, can be seen next in Hulu's High Fidelity, which is due out later this year.
The Batman is slated to be released by Warner Bros. June 25, 2021.
Dwayne Johnson, Emily Blunt set sail on an Amazonian adventure in Disney's 'Jungle Cruise' trailer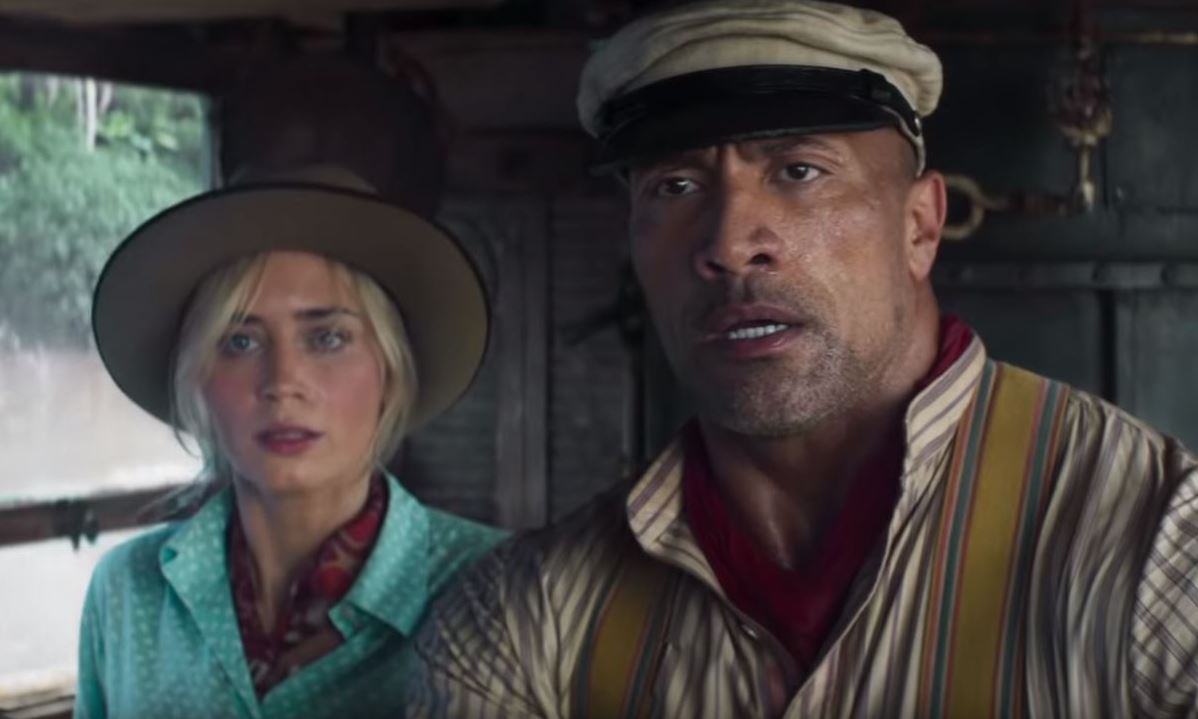 Disney has released the first trailer for Dwayne Johnson and Emily Blunt's Jungle Cruise, which finds the beloved Disneyland ride of the same name brought to life in the vein of such films as Indiana Jones and The African Queen.
The film, directed by Jaume Collet-Serra, follows a charismatic riverboat captain (Johnson) and a determined explorer on a research mission (Blunt) as they set sail on an adventure-filled expedition through the Amazon-jungle in hopes of finding a tree that is believed to possess healing powers.
"We were just so moved, so honored to be in a movie like this because we both grew up just madly in love with Indiana Jones and obsessed with those kinds of movies," Blunt said at the D23 Expo in August. "To be part of something like this, with this same spirit, makes my heart race."
Added Johnson, "We wanted to make a movie that was big, that was epic, that had romance, big comedy, big action. But most important; it's got me."
In addition to Johnson and Blunt, the film's ensemble cast also includes Jack Whitehall, Edgar Ramirez, Jesse Plemons, and Paul Giamatti.
John Davis, John Fox, Johnson, Hiram Garcia, Dany Garcia, and Beau Flynn produced the film, with Doug Merrifield serving as executive producer.
Jungle Cruise will sail into theaters on July 24, 2020.
Disney-Pixar's 'Onward' trailer finds Tom Holland, Chris Pratt summoning their dead father's legs
Disney and Pixar have released a new trailer for Onward, the upcoming animated feature starring Tom Holland and Chris Pratt as two teenage elf brothers, Ian and Barley Lightfoot, who embark on an extraordinary quest to discover if there is still a little magic out there.
And by magic, we're talking like actual, literal magic. Set in a suburban fantasy world, Onward follows Ian and Barley as they try to summon their dead father back to life. Having never encountered magic before, though, the spell doesn't completely work and only summons half their father — the bottom half, that is.
So, with their dad's legs in tow, the boys set out on a road trip to try to find out how to bring the rest of him back to life, encountering all sorts of creatures, magical spells, and mysterious lands along the way.
The film, which was directed by Dan Scanlon and produced by Kori Rae, features a star-studded voice cast that also includes the likes of Julia Louis-Dreyfus as Ian and Barely's mom, Laurel Lightfoot, and Octavia Spencer as the voice of the Manticore.
Onward will hit theaters on March 6, 2020.