Exclusive: 'Hellboy' reboot will show a much 'darker' and 'more gruesome' version of the character
Earlier this evening, it was announced that Millennium Films is in negotiations with producers Larry Gordon and Lloyd Levin to "reboot and relaunch" the iconic Hellboy property sans Guillermo Del Toro with Neil Marshall, perhaps best known for The Descent and Game of Thrones, directing, while Stranger Things star David Harbour would take on the role of the title character, created by Mike Mignola.
In an effort to learn more about Hellboy: Rise of the Blood Queen, which is the reboot's working title, we reached out to Andrew Cosby, who has been working on the film's screenplay alongside Christopher Golden and Mignola, who was generous enough to provide us with a few brief details about the script, and what they're aiming for as far as tone and direction go.
"I can't really talk about specifics with regard to the story, which they're keeping a pretty tight lid on at the moment, but I can say that this is a darker, more gruesome version of Hellboy," Cosby said. "Neil said from the very beginning that he wanted to walk a razor's edge between horror and comic book movie, which was music to my ears, because that's what I was shooting for in the script, and precisely what Mignola does so well with the comics."
Mignola created Hellboy in 1993 and later adapted his beloved comics and graphic novels for the screen for Del Toro's live-action films starring Ron Perlman as the gigantic red, cigar-smoking beast with an oversized red hand made entirely of stone. The dynamic duo of Del Toro and Perlman were expected to team up yet again for Hellboy III: Dark Worlds, but development on the sequel ultimately fell through and was soon canceled by the studio.
"Honestly, everyone has just been working overtime to bring that Mignola magic to the big screen," Cosby continued. "The script is done, but work will continue as we move forward, always trying to make it the best it can be."
Universal has two new projects from M. Night Shyamalan coming our way in 2021 and 2023
M. Night Shyamalan and Universal Pictures seem to be getting along pretty nicely with each other as the studio announced yesterday that it will be continuing its relationship with the director and has dated his next two films from February 26, 2021 and February 17, 2023.
"M. Night Shyamalan continues to create exciting, highly original stories that keep global audiences on the edge of their seats," said Universal Pictures president Peter Cramer. "There is no one like him: he is a master filmmaker working at the height of his powers, and we are honored that he has once again chosen Universal to be the home for his next two incredible projects."
Shyamalan added, "There are wonderful studios out there, but Universal has made it a mandate to release original films. They are the best at finding an audience for new stories with unexpected tones. I believe original films are crucial to the longevity of the theatrical experience."
While any and all details about these two films — with the exception of the release dates, of course — are being kept tightly under wraps for the time being, we can't help but think Shyamalan will be pulling another Split-type secret sequel stunt and has something pretty exciting in store for us, though that's just pure speculation on our part.
Matt Damon and Christian Bale attempt to pull off the impossible in this new 'Ford v Ferrari' trailer
Fresh off its stops at festivals like Telluride and Toronto, 20th Century Fox has released a brand new trailer for James Mangold's Ford v Ferrari and it looks like this thing is shaping up to be one of hell a contender this awards season.
Ford v Ferrari tells "the remarkable true story of the visionary American car designer Carroll Shelby (Matt Damon) and the fearless British-born driver Ken Miles (Christian Bale)," who, believe it or not, does not seem to have undergone any drastic transformations for his role here.
Together, the duo "battled corporate interference, the laws of physics, and their own personal demons to build a revolutionary race car for Ford Motor Company and take on the dominating race cars of Enzo Ferrari at the 24 Hours of Le Mans in France in 1966."
At press time, Ford v Ferrari boasts an impressive 88% approval rating on Rotten Tomatoes based on 43 reviews, and something tells me that percentage isn't going to change too much over the next couple of months. I mean, even the "negative" reviews aren't even that negative!
Jon Bernthal, Caitriona Balfe, Tracy Letts, Josh Lucas, Noah Jupe, Remo Girone, and Ray McKinnon also star in Ford v Ferrari, which hits theaters on November 15.
Phoenix: Put on a happy face and come see Joaquin Phoenix in 'Joker' early and for free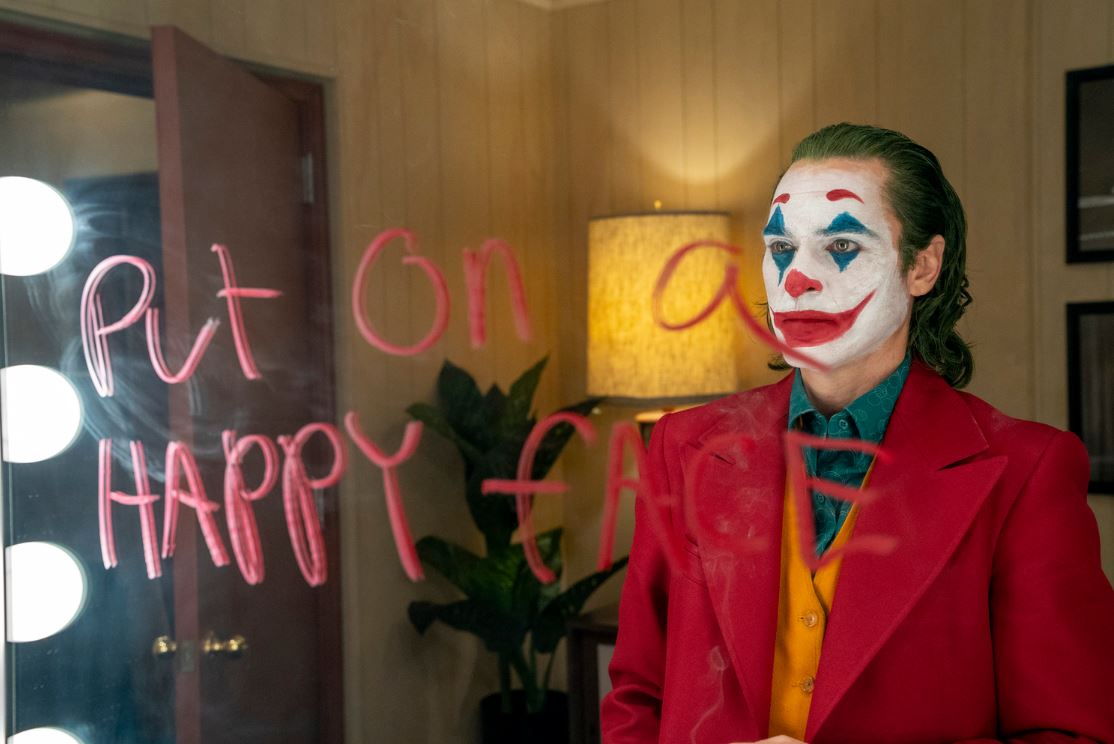 Warner Bros. will release Joker, Todd Phillips' take on the iconic DC villain's origin starring Joaquin Phoenix, on September 6 and they're giving Silver Screen Beat readers in Phoenix a chance to attend an advance screening of the film before it officially opens in theaters.
Our readers in the Phoenix area can click on this link to enter to win passes — good for you and one guest — to attend an advance screening of Joker happening Tuesday, October 1 at Harkins Arizona Mills IMAX at 7:00 p.m.
Winners of this contest will be selected and notified on Saturday, September 29 after 12:00 p.m. PT via email, so good luck! Below is the official trailer for Joker as well as some additional details about the film.
Directed by: Todd Phillips
Cast: Joaquin Phoenix, Robert De Niro, and Zazie Beetz
Opens: Friday, October 4
Rating: R for disturbing violent content and bloody images throughout, pervasive language, and some crude sexual material
Synopsis: Director Todd Phillips Joker centers around the iconic arch nemesis and is an original, standalone fictional story not seen before on the big screen. Phillips' exploration of Arthur Fleck, who is indelibly portrayed by Joaquin Phoenix, is of a man struggling to find his way in Gotham's fractured society. A clown-for-hire by day, he aspires to be a stand-up comic at night…but finds the joke always seems to be on him. Caught in a cyclical existence between apathy and cruelty, Arthur makes one bad decision that brings about a chain reaction of escalating events in this gritty character study.