'Game of Thrones' will return for its eighth and final season on April 14, new teaser reveals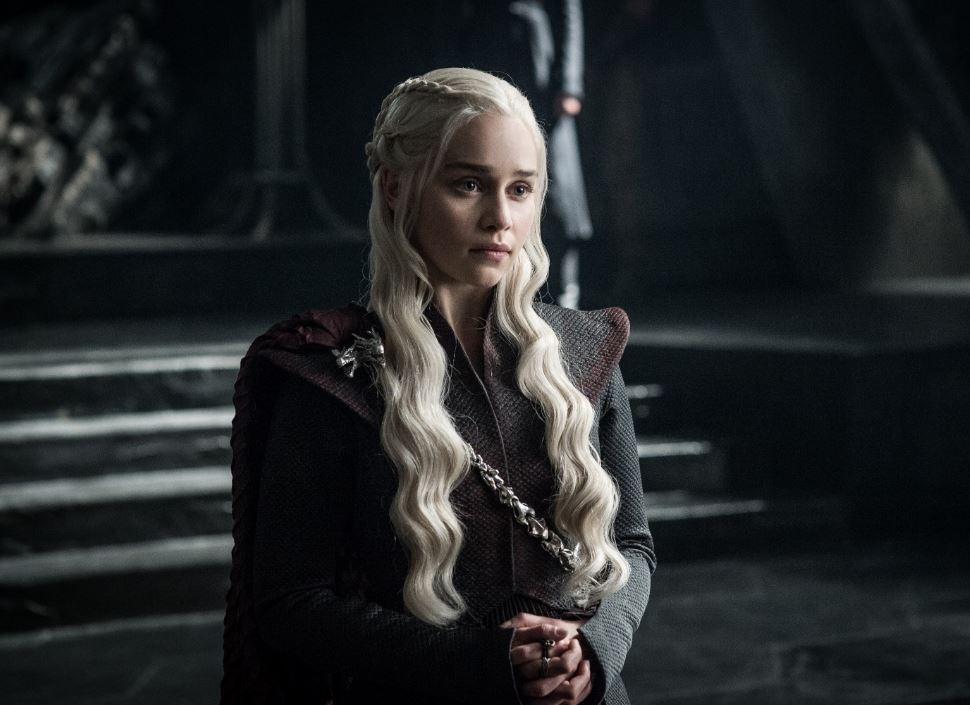 Ahead of the premiere of the third season of True Detective on Sunday, HBO aired a new Game of Thrones teaser which reveals April 14 as the debut date for the show's upcoming six-episode eighth season.
The teaser, which was directed by David Nutter, who won an Emmy in 2015 for the season five finale of Game of Thrones, features an original score by Ramin Djawadi, who also picked up an Emmy for his work on the show in 2018 for the season seven finale.
Showrunners David Benioff and D.B. Weiss, who wrote the scripts for season eight with Bryan Cogman and Dave Hill, also directed several episodes of the forthcoming season along with Nutter and Miguel Sapochnik.
While the eighth season of Game of Thrones will ultimately also be its last, HBO isn't done with the property altogether, as the network has an assortment of different plans for the show tucked up their sleeves.
One of those plans is a spinoff series, which will be set thousands of years before the events of Game of Thrones and will chronicle the world's descent from the so-called "Golden Age of Heroes" into its darkest period in history.
"We're just starting the search for director [and] casting director," HBO programming president Casey Bloys said in November, adding that he hopes the spinoff which is based on a story created by Jane Goldman and Thrones creator George R.R. Martin, will begin shooting this year.
Season eight of Game of Thrones will air at 9:00 p.m. ET/PT on HBO.
'Once Upon a Time in Hollywood' teaser trailer reveals Tarantino's star-studded ninth film
Yes, the first trailer for Quentin Tarantino's Once Upon a Time in Hollywood is finally here. Yes, it's fucking incredible and everything I was hoping it would be. Yes, I take back everything I said about that god-awful poster Sony released a few days ago. No, I will not stop clicking the replay button.
It's the summer of 1969 in good ol' Los Angeles, California where Western TV star Rick Dalton (Leonardo DiCaprio) and his longtime stunt double Cliff Booth (Brad Pitt) are struggling to navigate their way through a Hollywood that they hardly recognize anymore. But Rick has a very famous next-door neighbor: actress Sharon Tate (Margot Robbie).
While we don't get to see much of Robbie in this trailer, we do get a hell of a lot of DiCaprio and Pitt, who appear to be having a blast in their respective roles, especially the latter, who we see getting a Kung Fu lesson from Bruce Lee (Mike Moh) at one point—that line about manslaughter damn near killed me!
With a cast that also includes the likes of Al Pacino, Damian Lewis, Dakota Fanning, Nicholas Hammond, Luke Perry, Clifton Collins, Keith Jefferson, and Emile Hirsch, it's tough not to be excited for Tarantino's latest, which may have just skyrocketed to the top of my most anticipated for the rest of the year list thanks to this trailer.
Once Upon a Time in Hollywood will hit theaters on July 26. You can check out the newly released trailer below.
The first full-length trailer for 'Toy Story 4' reveals the adventures of Woody and Forky
If you had told me a couple years ago that a fourth Toy Story movie following the adventures of a Woody stuck in an existential crisis and a depressed, suicidal spork was coming out, I probably would've laughed in your face. Wait, no. I definitely would've laughed in your face!
However, as evidenced by the first full-length trailer for Toy Story 4, that's exactly the case here, and I can't believe just how fucking weird and emotional this thing looks. Like, Toy Story 3 was already weird and emotional enough with the whole "toys making peace with death" trope. I don't know if I'll be able to handle whatever the hell Pixar has in store with this sequel.
Toy Story 4 seems to pick up shortly after the events of the previous film follows the gang (including Forky, voiced by Tony Hale) as they embark on a road trip adventure with Bonnie and her family. However, things take a turn for the worst when Woody and Forky end up on an unexpected detour, leading them down a shocking path of surprises.
Look, I'm not gonna lie and say I'm not excited for Toy Story 4, because I am, but I also can't help but continue to question the necessity for this sequel, especially when it seems to be recycling the same narrative arcs from both the second and third films. Plus, we can all pretty much agree that Toy Story 3 felt like the perfect ending to this trilogy, right?
I guess we'll find out if Toy Story 4 can do the rest of the trilogy justice when it opens in theaters on June 21.
Thor and the gang meet Captain Marvel in what is probably the final 'Avengers: Endgame' trailer
Well, here's something we weren't exactly expecting this morning: Marvel Studios just dropped a new trailer for Avengers: Endgame (a title I'm still not particularly fond of, but whatever) and it reveals the latest addition to the Avengers' superhero entourage: Captain Marvel.
Indeed, our latest look at the upcoming next chapter in the Marvel Cinematic Universe begins with the Avengers trying to navigate the devastating course of events set in motion by Thanos that fractured their ranks and wiped out a pretty good chunk of the universe.
However, in an effort to not be pushed around by a guy with a giant thumb for a head, the remaining Avengers begin recruiting all the help they can get, mapping out their plans, and figuring out a way to bring back their fallen comrades so that they can take down Thanos once and for all.
That brief interaction we see between Thor and Captain Marvel at the end of the trailer, though, was a perfect way to top this thing off and could be proof that she might just be the universe's one and only saving grace. Whether or not that's true, we'll just have to wait and see.
Avengers: Endgame will hit theaters on April 26.