'Game of Thrones' will return for its eighth and final season on April 14, new teaser reveals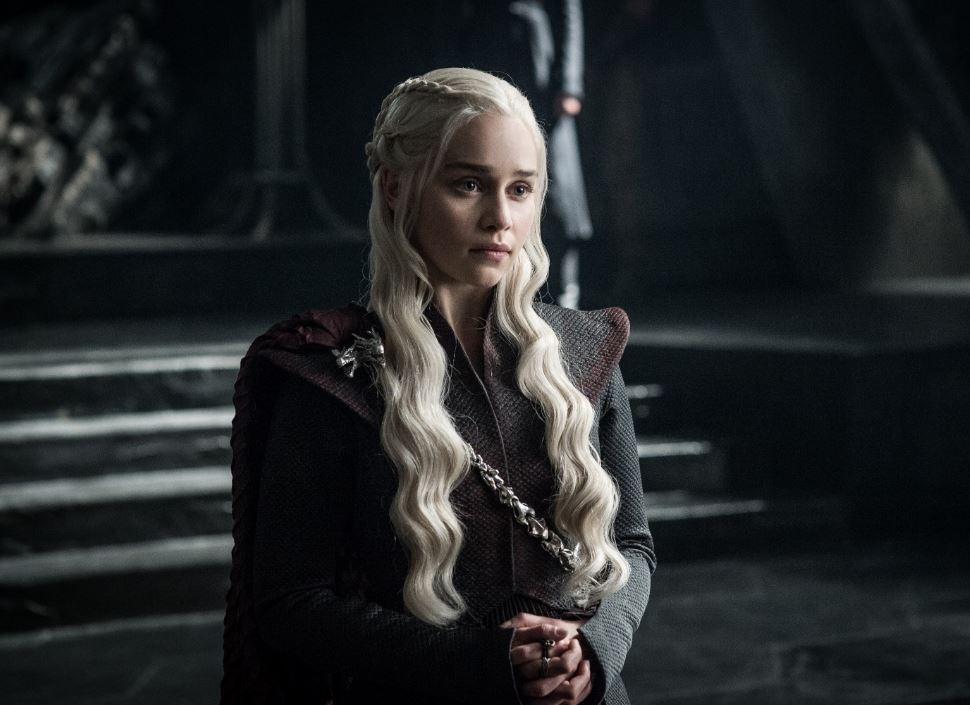 Ahead of the premiere of the third season of True Detective on Sunday, HBO aired a new Game of Thrones teaser which reveals April 14 as the debut date for the show's upcoming six-episode eighth season.
The teaser, which was directed by David Nutter, who won an Emmy in 2015 for the season five finale of Game of Thrones, features an original score by Ramin Djawadi, who also picked up an Emmy for his work on the show in 2018 for the season seven finale.
Showrunners David Benioff and D.B. Weiss, who wrote the scripts for season eight with Bryan Cogman and Dave Hill, also directed several episodes of the forthcoming season along with Nutter and Miguel Sapochnik.
While the eighth season of Game of Thrones will ultimately also be its last, HBO isn't done with the property altogether, as the network has an assortment of different plans for the show tucked up their sleeves.
One of those plans is a spinoff series, which will be set thousands of years before the events of Game of Thrones and will chronicle the world's descent from the so-called "Golden Age of Heroes" into its darkest period in history.
"We're just starting the search for director [and] casting director," HBO programming president Casey Bloys said in November, adding that he hopes the spinoff which is based on a story created by Jane Goldman and Thrones creator George R.R. Martin, will begin shooting this year.
Season eight of Game of Thrones will air at 9:00 p.m. ET/PT on HBO.
Matt Damon and Christian Bale attempt to pull off the impossible in this new 'Ford v Ferrari' trailer
Fresh off its stops at festivals like Telluride and Toronto, 20th Century Fox has released a brand new trailer for James Mangold's Ford v Ferrari and it looks like this thing is shaping up to be one of hell a contender this awards season.
Ford v Ferrari tells "the remarkable true story of the visionary American car designer Carroll Shelby (Matt Damon) and the fearless British-born driver Ken Miles (Christian Bale)," who, believe it or not, does not seem to have undergone any drastic transformations for his role here.
Together, the duo "battled corporate interference, the laws of physics, and their own personal demons to build a revolutionary race car for Ford Motor Company and take on the dominating race cars of Enzo Ferrari at the 24 Hours of Le Mans in France in 1966."
At press time, Ford v Ferrari boasts an impressive 88% approval rating on Rotten Tomatoes based on 43 reviews, and something tells me that percentage isn't going to change too much over the next couple of months. I mean, even the "negative" reviews aren't even that negative!
Jon Bernthal, Caitriona Balfe, Tracy Letts, Josh Lucas, Noah Jupe, Remo Girone, and Ray McKinnon also star in Ford v Ferrari, which hits theaters on November 15.
An eerie new trailer for 'The Lighthouse' is here to send you into a world of nautical madness
One simple question arises in the latest trailer for Robert Eggers' new film The Lighthouse, the "hypnotic and hallucinatory tale" starring Robert Pattinson and Willem Dafoe as two lighthouse keepers driving each other mad, and, quite frankly, it's a pretty good one: "what?"
That one simple question pretty much sums up my feelings about The Lighthouse, which seems to be appealing to my very particular brand of weird with all these peculiar trailers where Robert Pattinson and Willem Dafoe go at each other's throats and talk about spilling beans and shit.
Needless to say, all of the raves The Lighthouse has received over the past few months following its debuts at festivals like Cannes and, most recently, TIFF have also piqued my interest — right now the film boasts an impressive 94% on Rotten Tomatoes, based on 70 reviews.
I suppose we'll find out what all the buzz is about when The Lighthouse hits theaters October 18.
Deck the halls with…bloody murder? The trailer for Blumhouse's remake of 'Black Christmas' is here
We were pretty jazzed to hear earlier this year that Blumhouse had begun production on a remake of Bob Clark's 1974 slasher classic Black Christmas and now, just a few months later, we're pleased to inform you that we have an official trailer for the film to accompany that incredible one-sheet they dropped a few months back.
Imogen Poots stars here as Riley Stone, leader of the Mu Kappa Epsilon sisters, who are preparing to throw a Christmas party as Hawthorne College quiets down for winter break. However, it isn't long before one of them disappears at the hands of a black-masked stalker, who begins killing off sorority sisters around the campus one by one.
With the body count at Hawthorne rising, Riley and the Mu Kappa Epsilon sisters begin questioning whether they can trust any of the men in their lives, including their own boyfriends, crushes, and professors. "Whoever the killer is, he's about to discover that this generation's young women aren't about to be anybody's victims," the film's synopsis reads.
As excellent as director Sophia Takal's update on Black Christmas looks, the trailer does seem to reveal quite a few different plot developments and twists, so if you're sensitive to spoilers, it's probably best to avoid the trailer for now so you don't unintentionally ruin anything for yourself.
Black Christmas hits theaters on Friday, December 13, so mark your calendars accordingly, folks.