Harrison Ford did punch Ryan Gosling in the face while shooting a scene for 'Blade Runner 2049'
We haven't talked about Ryan Gosling being punched in the face by Harrison Ford on the set of Blade Runner 2049 in awhile but, with Denis Villeneuve's sequel just weeks away from hitting theaters, we figured that now would be the best time to revisit this very important, relevant topic. Oh, and did we mention that Ford has now admitted to hitting Gosling in the kisser? That too.
"I punched Ryan Gosling in the face," Ford said during an interview for his GQ cover story. "Ryan Gosling's face was where it should not have been." In an effort to provide some more insight on those extremely straightforward remarks, he continued, "His job was to be out of the range of the punch. My job was also to make sure that I pulled the punch. But we were moving, and the camera was moving, so I had to be aware of the angle to the camera to make the punch look good. You know, I threw about a hundred punches in the shooting of it, and I only hit him once."
Well, that certainly clears things up. Assuming Ford's claims are accurate, then the punch was almost definitely Gosling's fault. However, Ford obviously felt bad about the whole thing and so, in order to make amends, he visited Gosling's dressing room with a bottle of scotch, poured him a glass, and promptly exited the room, without saying a word.
When asked about this, Ford responded, "What? Did he fucking expect the whole bottle?"
Disney drops 'Fox' name from 20th Century Studios and Searchlight Pictures in rebranding effort
Nearly a year after acquiring 21st Century Fox in a massive $71.3 billion dollar deal last March, the Walt Disney Company made the decision today to drop the "Fox" brand from two iconic Hollywood film studios: 20th Century Fox and Fox Searchlight Pictures.
As of today, 20th Century Fox will be known as 20th Century Studios, while Fox Searchlight Pictures has simply been rebranded Searchlight Pictures. The move isn't particularly surprising and was inevitable ever since last year's acquisition, but is still notable given 20th Century's 84-year history with the "Fox" brand attached to it.
While Disney wouldn't offer comment on its rebranding efforts, the change likely had to do with the fact that the company didn't want consumers to confuse its properties as being associated with Lachlan Murdoch's Fox Corporation, which operates the conservative media empire Fox News.
Despite the changes today, though, Disney will make minimal revisions to the iconic logos for the two studios. "The most notable change is that the word 'Fox' has been removed from the logo marks," reports Variety. "Otherwise, the signature elements — swirling klieg lights, monolith, triumphal fanfare — will remain the same."
Quentin Tarantino says he has written and will direct five half-hour episodes of 'Bounty Law'
Once Upon a Time in Hollywood director Quentin Tarantino has confirmed that he's bringing full five episodes of Bounty Law — the fictional Western series starring Leonardo DiCaprio's Rick Dalton — to the small screen.
During a recent interview with Deadline, the Oscar-winning filmmaker said that he will be directing five half-hour episodes of the show that have already been written, though it might be a while before we actually get to see them.
"It will take me a year and a half," Tarantino said. "[Bounty Law] got an introduction from Once Upon a Tim in Hollywood, but I don't really consider it part of that movie even though it is. This is not about Rick Dalton playing Jake Cahill. It's about Jake Cahill."
As for his inspiration for Bounty Law, Tarantino added: "Where all this came from was, I ended up watching a bunch of Wanted, Dead or Alive, and The Rifleman, and Tales of Wells Fargo, these half-hour shows to get in the mindset of Bounty Law, the kind of show Rick was on. I'd liked them before, but I got really into them."
Whether or not DiCaprio will reprise his role as Rick Dalton for Bounty Law remains to be seen, but I can't imagine why he wouldn't. After all, Dalton is the star of the show and it really wouldn't be the same without his involvement.
'The Lovebirds' trailer finds Kumail Nanjiani and Issa Rae trying to solve a bizarre murder case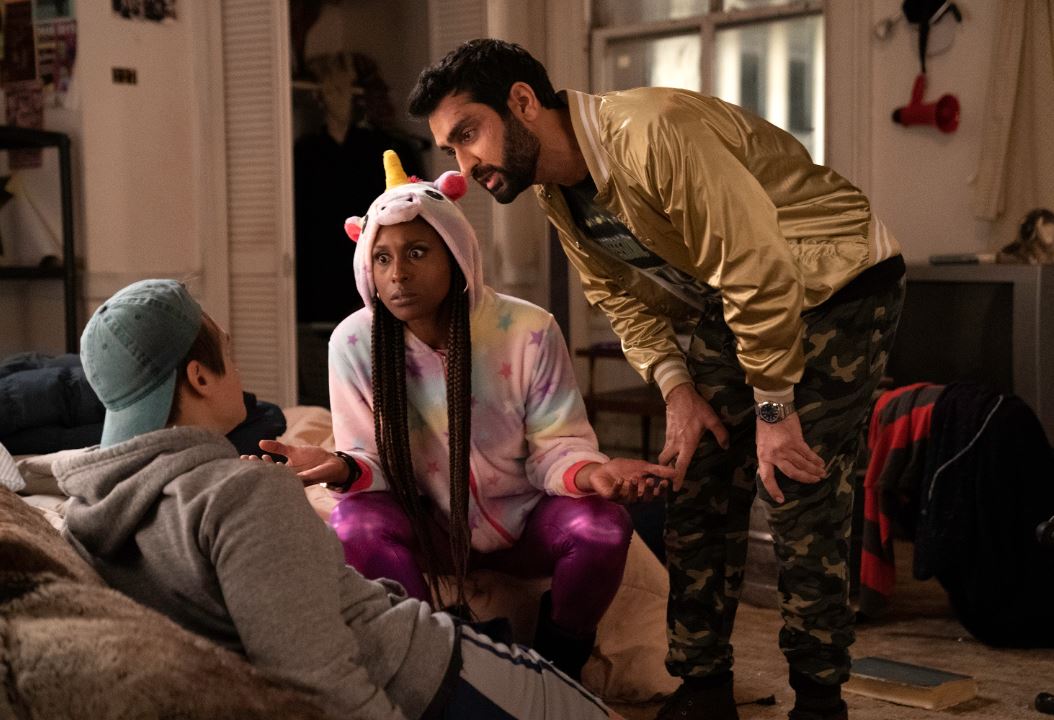 "Every happy couple has one moment that defines their relationship," is the tagline for The Lovebirds, the upcoming rom-com starring Kumail Nanjiani and Issa Rae which is set to have its world premiere at SXSW in March.
For Jibran (Nanjiani) and Leilani (Rae), that moment seems to be when they realize they've been caught up in a bizarre murder mystery and need to work to clear their names and solve the crime before the night is over.
The film, which was written by Aaron Abrams and Brendan Gall, reunites Nanjiani with The Big Sick director Michael Showalter and also stars Paul Sparks, Anna Camp, and Kyle Bornheimer.
If Steve Carell and Tina Fey in Date Night was your kind of thing, it appears The Lovebirds will be right up your alley as well. I mean, who can resist a little crime-infused romantic comedy?
The Lovebirds hits theaters April 3.