Disney has officially reinstated James Gunn as director of 'Guardians of the Galaxy Vol. 3'
In what is further proof that we're truly living in the weirdest fucking timeline, Deadline is reporting that Disney has reinstated James Gunn as director of Guardians of the Galaxy Vol. 3 after firing him last summer over some dumb shit he wrote on Twitter nearly a decade ago.
The studio's decision to rehire Gunn "was one that was mulled and actually made months ago, following conversations with Disney studio leadership and the team at Marvel Studios," with studio president Alan Horn being particularly pleased with Gunn's apology and overall handling of the situation.
What makes this whole story even weirder is the fact that Gunn is still onboard as the writer and director of DC's Suicide Squad sequel, and I'm being told he'll begin shooting that movie first and will begin production on Guardians 3 shortly thereafter.
The fact is, though, Gunn never should've been fired from Guardians 3 in the first place. Those tweets that "resurfaced" were part of a targeted smear campaign by right-wing blogger and all around piece of shit Mike Cernovich, perhaps best known for having promoted the fake "Pizzagate" conspiracy theory during the 2016 presidential election.
Gunn was targeted for a number of different reasons, but mostly because of his outspoken criticism of President Donald Trump and other high-profile Republican figures. Some even saw his firing as revenge for what happened to Ambien tweeter Roseanne Barr in a similar situation just a few months earlier. Expect, like, Gunn just wrote some really stupid jokes. Barr was straight-up being racist as hell.
Anyway, the fact that Disney gave into the so-called "outrage" manufactured by Cernovich and the conservative media so easily is concerning, to say the least, but their decision to reinstate Gunn is a good one, and hopefully a sign that they won't give in to any future bad-faith attacks.
I want this terrible new poster for 'Spider-Man: Far From Home' to be framed and hung up on my wall
I don't know what the hell is going on over at the Sony Pictures marketing department, but some graphic designer who is probably severely underpaid keeps making these god-awful movie posters and for whatever reason the studio is always just like, "Yeah, that looks good enough. Send it out."
I mean, just take a gander at this new one-sheet they put out for Spider-Man: Far From Home earlier today: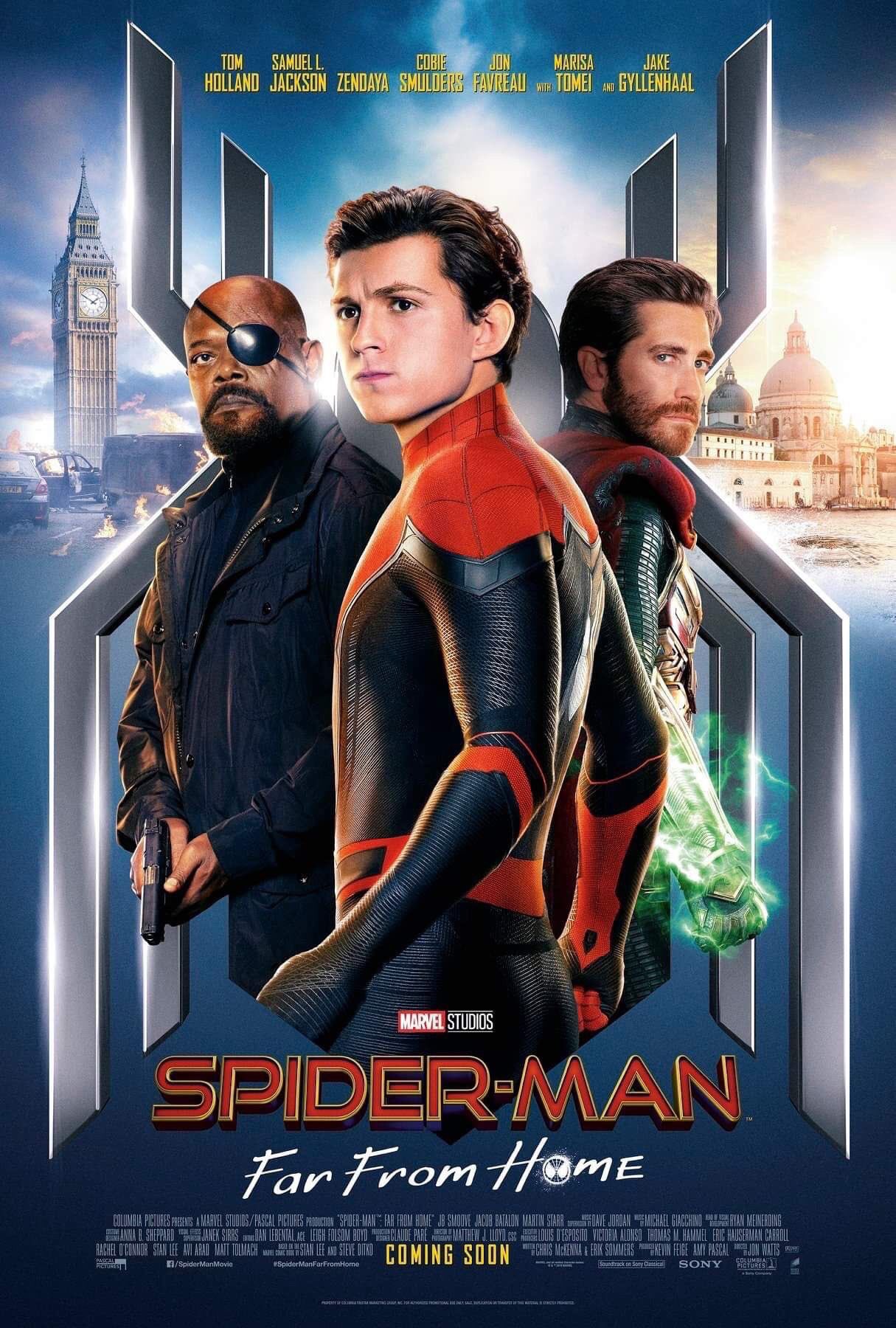 Now, I love the Spider-Man franchise as much as the next guy and I love Tom Holland as Spider-Man and I hate to clown on things I love, but holy shit that poster is hilariously bad and I want it framed and put on the wall in front of my desk immediately so I can look up and laugh at it whenever I want.
All jokes aside, though, a poster is not indicative of a movie's quality and I'm sure Far From Home is going to be just fine. Remember that very unfortunate international poster Sony released for Spider-Man: Homecoming back in 2017? Yeah, sorry I had to bring that up.
But, the point is, that poster looked like complete and utter shit and yet the movie turned out to be great and was critically acclaimed and went on to make a ton of money at the box office, and I'm sure that will also be the case for Far From Home when it hit theaters on July 2.
A bunch of new details about Christopher Nolan's new movie 'Tenet' have just emerged
All aboard the hype train: Warner Bros. announced today that production is officially underway on Christopher Nolan's new movie Tenet, which really isn't a particularly exciting title, but, hey, we'll take it. I'm just looking forward to seeing what Nolan has in store for us following the masterpiece that was Dunkirk in 2017.
According to a press release, Tenet is "an action epic evolving around the world of international espionage" that is being shot on location across seven different countries. A Christopher Nolan spy movie? That's all I needed to know. I'm in, baby.
In addition to John David Washington, Robert Pattinson, and Elizabeth Debicki, the cast also now includes the likes of Dimple Kapadia, Aaron Taylor-Johnson, Clémence Poésy, Kenneth Branagh, and, of course, with this being a Nolan movie and all, Michael Caine.
Behind the scenes, Nolan is reteaming with DP Hoyte van Hoytema, production designer Nathan Crowley, costume designer Jeffrey Kurland, and VFX supervisor Andrew Jackson, while working with editor Jennifer Lame and Oscar-winning composer Ludwig Göransson for the first time.
Nolan has obviously assembled some of Hollywood's best both in front of and behind the camera for his latest project and, as you could probably imagine, I'm hype as fuck and can't wait to see how this thing turns out when it hits theaters next year on July 17.
Phoenix: Here's your chance to see 'Godzilla: King of the Monsters' early and for free
Dying to see some monster on monster action? Then you'll be pleased to learn that Warner Bros. is giving several of our very lucky Silver Screen Beat readers in Phoenix a chance to attend a free advance screening of Godzilla: King of the Monsters next week.
All you have to do is click on this link to enter to win passes (good for you and one guest) to see Godzilla: King of the Monsters at Harkins Arizona Mills in big, beautiful IMAX on Tuesday, May 28 at 7:00 p.m.
The sweepstakes are currently underway and winners will be selected and notified via email by 12:00 p.m. on Monday, May 27, so good luck! Below is the official trailer for Godzilla: King of the Monsters as well as some additional details about the film.
Directed by: Mike Dougherty
Cast: Millie Bobbie Brown, Vera Farmiga, Kyle Chandler, Charles Dance, O'Shea Jackson Jr., Sally Hawkins, and Ken Watanabe
Opens: Friday, May 31
Rating: PG-13 for sequences of monster action violence and destruction, and for some language
Synopsis: The new story follows the heroic efforts of the crypto-zoological agency Monarch as its members face off against a battery of god-sized monsters, including the mighty Godzilla, who collides with Mothra, Rodan, and his ultimate nemesis, the three-headed King Ghidorah. When these ancient super-species—thought to be mere myths—rise again, they all vie for supremacy, leaving humanity's very existence hanging in the balance.