James Wan's 'Aquaman' has finally found its Black Manta and Queen Atlanna
In what seems to be serving as a bit of a distraction from Ben Affleck's recent departure as a director on the upcoming standalone Batman movie, Warner Bros. has revealed a slew of new casting details for James Wan's Aquaman movie starring Jason Momoa as the king of the underwater seas.
According to The Hollywood Reporter, Yahya Abdul-Mateen II, perhaps best known for his role as Cadillac in Netflix's hit series The Get Down, has been cast as Black Manta, a ruthless treasure hunter and mercenary and longtime enemy of Arthur Curry. The original report notes that Wan and the studio have met with numerous actors for the role over the past couple of weeks and eventually decided to settle on Abdul-Mateen some time over the weekend. Manta first appeared in Aquaman #35 in 1967.
In other casting news from THR, it appears Nicole Kidman, who recently earned an Oscar nomination for her performance in Lion, is in early talks to play Aquaman's mother, Queen Atlanna, with an official offer for the role having been extended to the actress and her agents on Monday. If the deal goes through, this will be Kidman's second appearance in a DC comic book movie—she previously starred in Joel Schumacher's Batman Forever as Dr. Chase Meridian, a psychologist working in Gotham City.
Amber Heard and Patrick Wilson were previously cast in Aquaman as Mera, Queen of Atlantis, and Ocean Master, the half-brother of Arthur Curry whose real name is Orm Curry. Chances are that we won't see any of the characters mentioned above in next year's Justice League, but you can certainly expect to see Momoa star as the reluctant ruler of Atlantis alongside Ben Affleck as Batman, Henry Cavill as Superman, Gal Gadot as Wonder Woman, Ezra Miller as The Flash, and Ray Fisher as Cyborg.
Aquaman is scheduled to hit theaters on October 5, 2018, in both 3D and IMAX.
Dwayne Johnson, Emily Blunt set sail on an Amazonian adventure in Disney's 'Jungle Cruise' trailer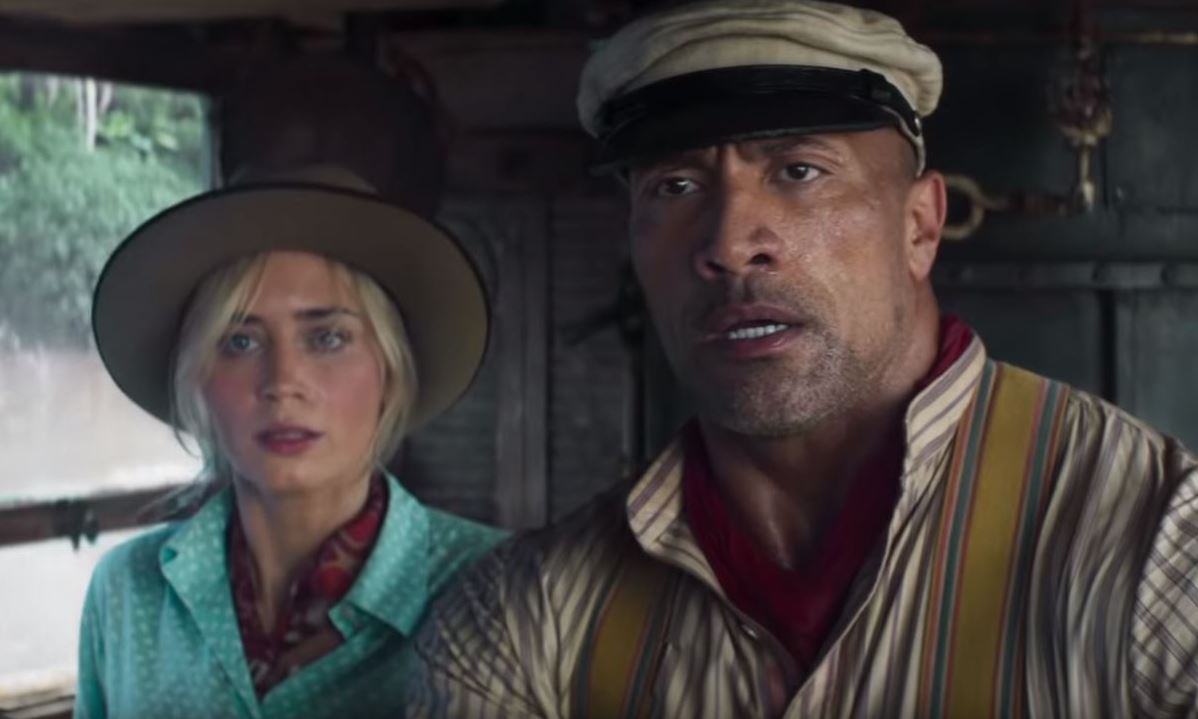 Disney has released the first trailer for Dwayne Johnson and Emily Blunt's Jungle Cruise, which finds the beloved Disneyland ride of the same name brought to life in the vein of such films as Indiana Jones and The African Queen.
The film, directed by Jaume Collet-Serra, follows a charismatic riverboat captain (Johnson) and a determined explorer on a research mission (Blunt) as they set sail on an adventure-filled expedition through the Amazon-jungle in hopes of finding a tree that is believed to possess healing powers.
"We were just so moved, so honored to be in a movie like this because we both grew up just madly in love with Indiana Jones and obsessed with those kinds of movies," Blunt said at the D23 Expo in August. "To be part of something like this, with this same spirit, makes my heart race."
Added Johnson, "We wanted to make a movie that was big, that was epic, that had romance, big comedy, big action. But most important; it's got me."
In addition to Johnson and Blunt, the film's ensemble cast also includes Jack Whitehall, Edgar Ramirez, Jesse Plemons, and Paul Giamatti.
John Davis, John Fox, Johnson, Hiram Garcia, Dany Garcia, and Beau Flynn produced the film, with Doug Merrifield serving as executive producer.
Jungle Cruise will sail into theaters on July 24, 2020.
Disney-Pixar's 'Onward' trailer finds Tom Holland, Chris Pratt summoning their dead father's legs
Disney and Pixar have released a new trailer for Onward, the upcoming animated feature starring Tom Holland and Chris Pratt as two teenage elf brothers, Ian and Barley Lightfoot, who embark on an extraordinary quest to discover if there is still a little magic out there.
And by magic, we're talking like actual, literal magic. Set in a suburban fantasy world, Onward follows Ian and Barley as they try to summon their dead father back to life. Having never encountered magic before, though, the spell doesn't completely work and only summons half their father — the bottom half, that is.
So, with their dad's legs in tow, the boys set out on a road trip to try to find out how to bring the rest of him back to life, encountering all sorts of creatures, magical spells, and mysterious lands along the way.
The film, which was directed by Dan Scanlon and produced by Kori Rae, features a star-studded voice cast that also includes the likes of Julia Louis-Dreyfus as Ian and Barely's mom, Laurel Lightfoot, and Octavia Spencer as the voice of the Manticore.
Onward will hit theaters on March 6, 2020.
Phoenix: See Benedict Cumberbatch as Thomas Edison in 'The Current War' early and for free
101 Studios will release The Current War, the epic story of the cutthroat competition that literally lit up the modern world, on October 25 and they're giving Silver Screen Beat readers in Phoenix a chance to attend an advance screening of the film before it officially opens in theaters.
Our readers in the Phoenix area can click on this link right now to claim their free passes — good for you and one guest — to an advance screening of The Current War happening at Harkins Scottsdale 101 on Tuesday, October 22 at 7:00 p.m.
Keep in mind that these free passes are distributed on a first-come, first-served basis, so be sure to claim yours as soon as possible before they run out. Below is the official trailer for The Current War as well as some additional details about the film.
Directed by: Alfonso Gomez-Rejon
Cast: Benedict Cumberbatch, Michael Shannon, Katherine Waterston, Tom Holland, Tuppence Middleton, Matthew Macfayden, and Nicholas Hoult
Opens: Friday, October 25
Rating: PG-13 for some disturbing/violent images, and thematic elements
Synopsis: Benedict Cumberbatch is Thomas Edison, the celebrity inventor on the verge of bringing electricity to Manhattan with his radical new DC technology. On the eve of triumph, his plans are upended by charismatic businessman George Westinghouse (Michael Shannon), who believes he and his partner, the upstart genius Nikolai Tesla (Nicholas Hoult), have a superior idea for how to rapidly electrify America: with AC current. As Edison and Westinghouse grapple for who will power the nation, they spark one of the first and greatest corporate feuds in American history, establishing for future Titans of Industry the need to break all the rules.