'Justice League' will be the shortest entry in the DCEU with a confirmed 121 minute runtime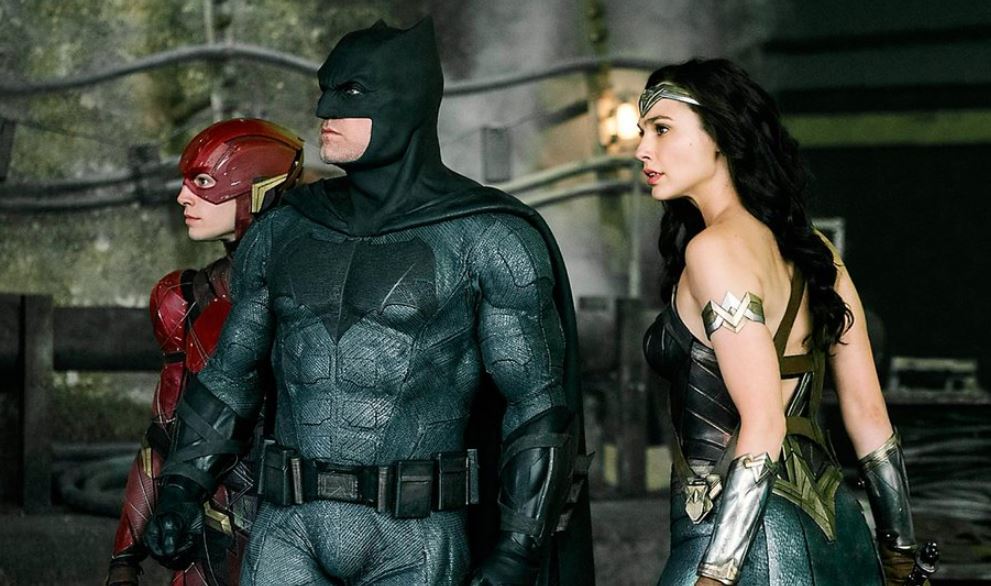 Following the events of last year's very unfortunate Batman v Superman: Dawn of Justice, the next chapter in the DC Extended Universe follows Bruce Wayne and Diana Prince as they work quickly to find and recruit a team of metahumans to stand against a newly awakened threat—and they'll do it all in just two hours.
According to Manabyte, three separate sources, including several theater chains, have confirmed that the final runtime for Justice League is 121 minutes (or 2 hours and 1 minute). If this number is accurate, Justice League will push Suicide Squad, which was 123 minutes, aside to become the shortest entry in the DCEU to date.
To put this all into perspective, Batman v Superman: Dawn of Justice is the longest film in the cinematic universe, clocking in at 151 minutes, while Man of Steel and Wonder Woman aren't too far behind it with 143 minutes and 141 minutes, respectively.
Justice League features an ensemble cast that includes Ben Affleck, Gal Gadot, Ezra Miller, Jason Momoa, Ray Fisher, Amy Adams, J.K. Simmons, Amber Heard, and Jesse Eisenberg, and will open in theaters next month on November 17, 2017. We'll keep you posted on any other updates that come across our desk.
'Transparent' creator Jill Soloway will replace Bryan Singer as writer-director on 'Red Sonja'
Bryan Singer, in addition to being a pretty bad director, is also a pretty shitty and terrible person, as you probably already know. Earlier this year, The Atlantic published an exposé detailing new sexual misconduct claims against the Bohemian Rhapsody helmer made by several men who claim he sexually assaulted them when they were underage—the youngest being just 13-years-old.
That being said, it was pretty shocking when Millennium Films CEO Avi Lerner referred to the exposé as "agenda driven fake news" and said that he would not be removing Singer from his post as writer-director on the studio's long-in-the-works Red Sonja, a female-centered superhero film that would reportedly earn Singer a whopping $10 million paycheck.
Fast forward a few months later, and it appears Lerner had a change of heart after all, as Deadline is reporting that Millennium has finally removed Singer from the project and replaced him with Transparent creator Jill Soloway, who is now set to write and direct the project that has been stuck in development hell for more than a decade now at this point.
"I can't wait to bring Red Sonja's epic world to life," Soloway said in a statement to Deadline. "Exploring this powerful mythology and evolving what it means to be a heroine is an artistic dream come true."
However, as exciting as it is to finally see Red Sonja get back off the ground and into development with someone that isn't a dude at the helm, don't expect to see the movie hit theaters anytime soon, as the original report notes that it still "has to be scripted, cast and prepped" and "it is likely Soloway will direct something before it."
'Halloween 2' will begin shooting this fall with Jamie Lee Curtis and David Gordon Green returning
Earlier this month, we brought you a report about how Jamie Lee Curtis and Jason Blum had met up to probably discuss the development of another Halloween movie and it sounds like our speculation was right on point: The Shape isn't dead after all.
According to Collider, Halloween 2 is indeed happening and is set to begin production this fall. Curtis will, of course, be reprising her iconic role as Laurie Strode, while Judy Greer and Andi Matichak will also be back to play her daughter and granddaughter, respectively.
David Gordon Green, who directed and co-wrote last year's Halloween along with Danny McBride and Jeff Fradley, wrote the script for the sequel and is being eyed for a return to the director's chair as well. It's unclear as to what happened to the screenplay Scott Teems was reportedly working on earlier this year.
Last year's Halloween was initially intended to be a one-off (the first synopsis for the film described it as Laurie Strode's "final confrontation" with Michael Myers), but with it's $255 million worldwide box office haul and open-ended conclusion, a sequel seemed all but likely to happen.
Halloween 2 is expected to hit theaters on October 16, 2020. We'll bring you the official announcement from Blumhouse as soon as it comes across our desk.
Paul Thomas Anderson and Thom Yorke's short film 'Anima' is coming to Netflix next week
"In a short musical film directed by Paul Thomas Anderson, Thom Yorke of Radiohead scores and stars in a mind-bending visual piece. Best played loud."
That's the incredibly intriguing official logline for Anima, the latest and rather unexpected collaboration between director Paul Thomas Anderson and Radiohead frontman Thom Yorke, which is set to be released along with Yorke's upcoming album of the same name later this month.
Despite the teaser trailer released by Netflix today, we still don't know a whole lot about Anima other than the fact that it's being described as a "one-reeler," an outdated industry term that refers to "a motion picture, especially a cartoon or comedy, of 10-12 minutes duration and contained on one reel of film; popular especially in the era of silent films."
This whole thing is beyond exciting (to say the least), especially given the surprise nature of it all, and although it hasn't even been two years since we got the lush masterpiece that is Phantom Thread, it certainly feels like we're long overdue for some new PTA and Anima seems like it'll be just what we need to hold us over until his next feature.
Anima will hit select IMAX theaters (!) and Netflix on June 26 and 27, respectively.