'Justice League' will be the shortest entry in the DCEU with a confirmed 121 minute runtime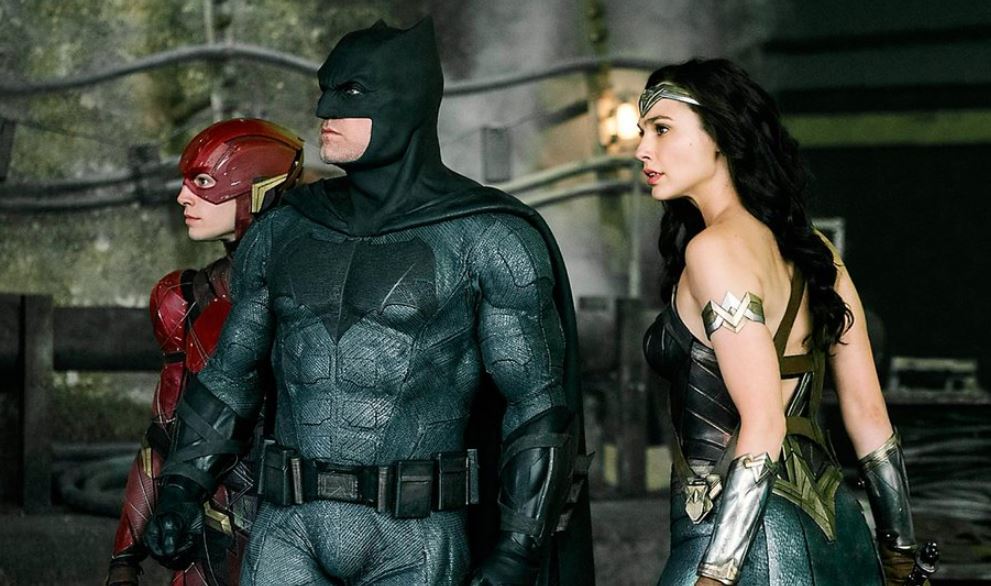 Following the events of last year's very unfortunate Batman v Superman: Dawn of Justice, the next chapter in the DC Extended Universe follows Bruce Wayne and Diana Prince as they work quickly to find and recruit a team of metahumans to stand against a newly awakened threat—and they'll do it all in just two hours.
According to Manabyte, three separate sources, including several theater chains, have confirmed that the final runtime for Justice League is 121 minutes (or 2 hours and 1 minute). If this number is accurate, Justice League will push Suicide Squad, which was 123 minutes, aside to become the shortest entry in the DCEU to date.
To put this all into perspective, Batman v Superman: Dawn of Justice is the longest film in the cinematic universe, clocking in at 151 minutes, while Man of Steel and Wonder Woman aren't too far behind it with 143 minutes and 141 minutes, respectively.
Justice League features an ensemble cast that includes Ben Affleck, Gal Gadot, Ezra Miller, Jason Momoa, Ray Fisher, Amy Adams, J.K. Simmons, Amber Heard, and Jesse Eisenberg, and will open in theaters next month on November 17, 2017. We'll keep you posted on any other updates that come across our desk.
Brad Pitt, Emma Stone in talks to join 'Babylon' as Damien Chazelle's latest lands at Paramount
After months-long negotiations, Paramount has finally reached a deal to acquire Damien Chazelle's Babylon, the Oscar-winning La La Land director's eagerly awaited new project set in the Golden Age of Hollywood.
While specific plot details are being kept tightly under wraps, sources tell Silver Screen Beat that the film is a Roaring Twenties-era drama that examines Hollywood's transition from silent films to talkies and features characters both fictional and not.
Emma Stone — who has been attached to the project ever since Chazelle began shopping it to studios this past summer — is expected to play iconic Hollywood "it" girl Clara Bow in the film, while Brad Pitt is in talks to join as a fictional character said to be inspired by silent film star John Gilbert.
Despite quickly garnering attention upon arriving on the market, studios were hesitant to move on Babylon due to the film's rather lengthy 180-page script and estimated $80-$100 million budget.
However, sources say Paramount execs were able to convince Chazelle to rework and cut more than 30 pages of the script, which significantly reduced the budget of the project and made it feel like a less risky investment for the studio.
Babylon is scheduled for a December 25, 2021 limited release and will expand wide January 7, 2022.
French actress Valentine Monnier accuses Roman Polanski of violently raping her in 1975
Roman Polanski, the Oscar-winning Polish filmmaker who fled the United States in the 1970s after admitting to drugging and raping a 13-year-old girl, is facing a new allegation of sexual misconduct.
In an interview with the Le Parisien newspaper, French actress Valentine Monnier claims Polanski raped her at a ski chalet in Gstaad, Switzerland in 1975 when she was 18-years-old, describing the alleged encounter as "extremely violent."
"He hit me, he beat me until I surrendered, then he raped me, inflicting upon me all the vicissitudes. I had just turned 18 and my first relationship had been just a few months ago. I thought I was dying," the actress said.
Polanski, who has been living in exile in France since 1978, cannot face any type of legal action over Monnier's allegation due to the country's 20-year statute of limitations.
"I denounce this crime knowing that there can't be any punishment, in an attempt to end exceptions, impunity," Monnier added. "Public figures are being considered as models. By idolizing the guilty ones, we prevent people from realizing the serious consequences of their acts."
Polanski's lawyer, Hervé Temime, said in a statement that his client "firmly denies all accusations of rape," and pointed out the timing of Monnier's allegation, which comes a week before the release of Polanski's new film J'accuse (An Officer and a Spy). 
John Boyega to star in Netflix thriller 'Rebel Ridge' from 'Green Room' director Jeremy Saulnier
Star Wars actor John Boyega has been tapped to play the lead role in Netflix's Rebel Ridge, the latest thriller from Green Room director Jeremy Saulnier, Silver Screen Beat can confirm.
Boyega, who will reprise his role as Finn in Star Wars: The Rise of Skywalker next month, is set to play an ex-marine who is forced to go up against a group of corrupt, racist cops.
The film is described as a high-velocity thriller that explores systemic American injustices through bone-breaking action sequences, suspense, and dark humor, according to Variety.
In addition to serving as writer-director, Saulnier is producing the film along with Anish Savjani, Neil Kopp, Vincent Savino. Macon Blair — a frequent Saulnier collaborator — is executive producing.
Rebel Ridge marks the second project between Saulnier and Netflix following last year's action-thriller Hold the Dark starring Jeffrey Wright and Alexander Skarsgard.