Behind the sounds of 'Blade Runner 2049' with Oscar-winning sound editor Mark Mangini
Denis Villeneuve's unforgettable Blade Runner 2049 is one of the greatest sci-fi films in recent memory, and I was thrilled to see it earn five, very well-deserved Academy Award nominations earlier this month, including Best Sound Editing and Best Sound Mixing. The film's sound design is simply remarkable, and I was beyond excited to be able to chat with Oscar-winning supervising sound editor Mark Mangini this week about how he and his team created each and every sound in the film from scratch, all 2,850 of them, among other things. My conversation with Mark begins below:
First of all, congratulations on your fifth Oscar nomination! How did it feel to wake up on nominations morning and learn that you've been nominated for yet another Oscar?
There's no such thing as "yet another Oscar!" Like each of my children, they are all special and loved. I went to bed with the same nerves and self-doubt I've felt with every one of my previous nominations. It always feels like it's the first time, with an insane mix of excitement and fear. My wife Ann woke up at 5 a.m. and watched it live-streaming on her mobile phone in bed while I pretended to be sleeping and not caring. She screamed so loud when they announced my name that she woke up our son, Rio, who jumped into bed with us and we all had a huge family hug.
How exactly did you get involved with Blade Runner 2049?
The filmmakers had just watched Mad Max: Fury Road while they were shooting Blade Runner 2049 in Budapest, Hungary. They saw a style or approach in that film (which I won an Oscar for in 2016) that they felt suited their film. I got a call in London the next day and flew to Budapest to meet with Denis Villeneuve on the set while he was filming. I had to pitch my ideas in front of his entire crew…without ever having read the script! I guess he liked them.
With a film like Blade Runner 2049, I'm assuming that you and your team had to start from scratch when it came to building the sound design in that film. How did you know where to start?
We did, indeed, start from scratch. We wanted Blade Runner 2049 to occupy its own unique sonic universe. It is 30 years hence, and we felt it required a fresh approach while being "loyal" to the original. We listened to Ridley's Blade Runner a great deal to deconstruct what made it tick. We then embarked on a nine month journey to create our own textures in the spirit of the first film, without ever copying or even using a single sound from it. "Starting from scratch" is, quite literally, what we did. There is very little in this film that was recorded on set. Every single sound from the smallest irradiated bee buzz to the biggest sonic boom was created, designed, and edited for this film. No library sound at all. 2,850 original compositions.
In that regard, I think good science fiction sound has a special challenge to do what we call "world building." Nothing exists and it all has to be manufactured. Traditional and historical films have the benefit of living in a sonic universe we all understand and have heard before. They are familiar to our ears. Our film, and most good science fiction, have to go that extra mile to create a sonic "believability" to everything the audience hears it for the first time.
Did you use Ridley Scott's original Blade Runner as a reference while building the sound design for Blade Runner 2049?
Yes, but only as a reference. What Ridley and his sound team did so brilliantly was immerse the audience in these quasi-musical textures as atmosphere throughout the film. Almost anywhere you go in the original, you are surrounded by these ambient mood-textures that aren't music and aren't sound design. They work on a meta-level that displaces the audience to a very foreign or unknown place. We don't know if these sounds are sculptural, architectural, or even musical. They work to create this other "world" that doesn't exist except in the mind of the filmmakers.
Around awards season, I get a lot of people asking me to explain the difference between sound editing and sound mixing. As a sound designer, how would you explain the difference between the two?
I am so glad you asked this. The sound disciplines are not well understood outside the small circle of its practitioners. Here's a couple of ways of looking at the differences using disciplines all filmmakers understand as an analogy:
The relationship between the sound editor and the sound mixer closely tracks the relationship between the cinematographer and the film editor. The sound editor creates the sound content for a film (the thousands of individual sounds one hears in a film) and the Sound Mixer organizes all that sound content (those thousands of pieces) by mixing it into a seamless and beautiful final soundtrack. So too does the director of photography create the visual content by filming thousands of individual pieces or shots that require the skills of the film editor to organize all those individual pieces into a seamless and cohesive whole, final film.
Another comparison might be illustrated by the relationship between writer and actor. The writer creates the content: the story, the words, the script. The writer creates what you will experience. But it is the actor that brings this content to life through his or her interpretation of that content. Remember, the words in and of themselves are not a performance. The actor takes the content provided by the writer and interprets them, arranges them for the screen, and creates living, breathing performances. The writer determines what the actor will perform, while the actor determines how that content will be interpreted for the screen.
2017 was a fantastic year for sound design in film. In addition to Blade Runner 2049, some of the other films that stick out in my mind are Phantom Thread, Call Me by Your Name, and mother! What were some of your personal favorites?
I love that you chose very non-traditional movies for their deft use of sound. I, too, loved movies one would not expect. I really liked Three Billboards and All the Money in the World this year. Both used sound as an effective narrative tool: sound that told the story without bludgeoning or forcing itself on the audience. It's a shame that nuance isn't as appreciated in our discipline as it might be in others. All too often sound is judged but its density and loudness; two techniques which are often the hallmarks of filmmakers bereft of better storytelling ideas. Our awards are given for best sound. Not most sound. Billboards and All the Money both constantly engaged the audience with sound to create mood, geography, displacement, and engagement for the audience. They did it with beautiful subtlety as well as high craft, recording and choosing unique and memorable sounds while never bludgeoning or coercing the audience to react to them.
'Big Little Lies' star Zoe Kravitz to take on the role of Catwoman in Matt Reeves' 'The Batman'
Zoe Kravitz is headed to Gotham as the Big Little Lies star has been set to play the iconic role of Catwoman in Matt Reeves' upcoming The Batman, Silver Screen Beat has learned.
Kravitz joins a cast that already includes the likes of Robert Pattinson as the titular Caped Crusader, Jeffrey Wright as Commissioner Gordon, and Jonah Hill as the yet-to-be-named villain. Reeves is expected to round out the rest of the cast before the year's end in anticipation of an early 2020 production start.
Other actresses including Ana de Armas, Ella Balinska, and Eiza Gonzalez went through what was described as a "rigorous testing process," for the role of Catwoman last month, according to The Hollywood Reporter, but it was ultimately Kravitz — who read opposite Pattinson — that was seen as the right fit for the job.
Reeves, who first boarded The Batman in early 2017 following the unsurprising departure of Ben Affleck, is directing the film from a script he wrote, in addition to producing along with his Planet of the Apes collaborator Dylan Clark.
Kravitz, still riding high off a well-reviewed performance in HBO's second season of the star-studded drama Big Little Lies this past summer, can be seen next in Hulu's High Fidelity, which is due out later this year.
The Batman is slated to be released by Warner Bros. June 25, 2021.
Dwayne Johnson, Emily Blunt set sail on an Amazonian adventure in Disney's 'Jungle Cruise' trailer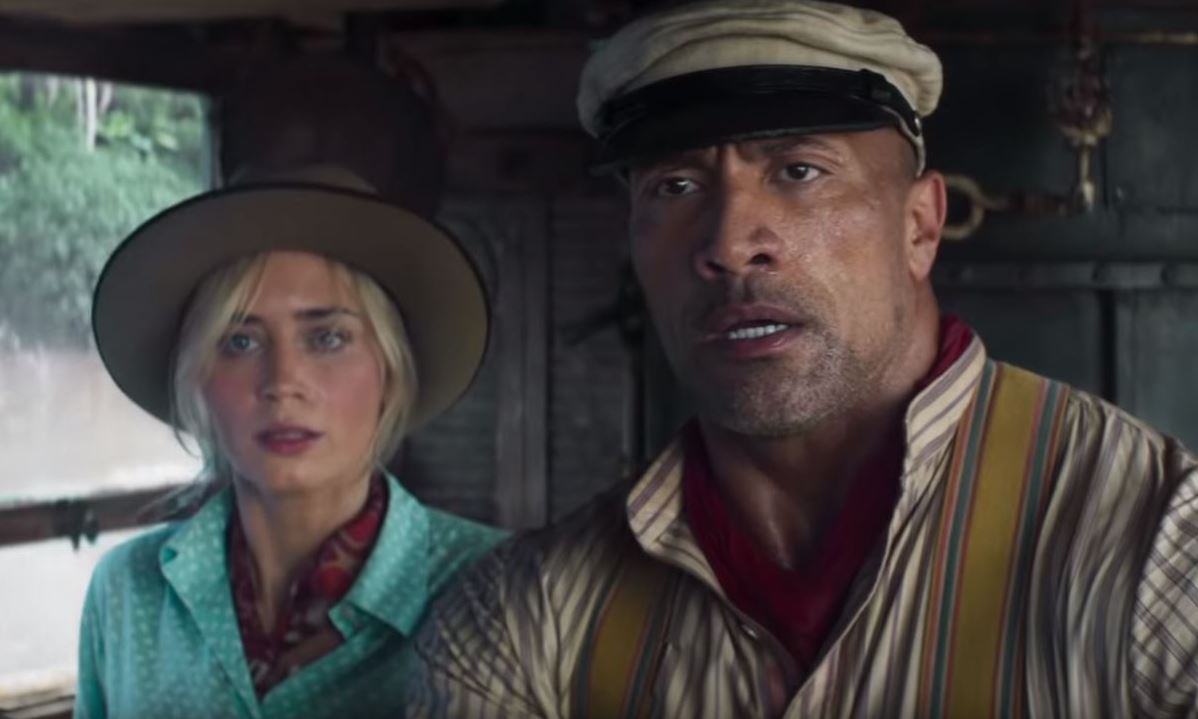 Disney has released the first trailer for Dwayne Johnson and Emily Blunt's Jungle Cruise, which finds the beloved Disneyland ride of the same name brought to life in the vein of such films as Indiana Jones and The African Queen.
The film, directed by Jaume Collet-Serra, follows a charismatic riverboat captain (Johnson) and a determined explorer on a research mission (Blunt) as they set sail on an adventure-filled expedition through the Amazon-jungle in hopes of finding a tree that is believed to possess healing powers.
"We were just so moved, so honored to be in a movie like this because we both grew up just madly in love with Indiana Jones and obsessed with those kinds of movies," Blunt said at the D23 Expo in August. "To be part of something like this, with this same spirit, makes my heart race."
Added Johnson, "We wanted to make a movie that was big, that was epic, that had romance, big comedy, big action. But most important; it's got me."
In addition to Johnson and Blunt, the film's ensemble cast also includes Jack Whitehall, Edgar Ramirez, Jesse Plemons, and Paul Giamatti.
John Davis, John Fox, Johnson, Hiram Garcia, Dany Garcia, and Beau Flynn produced the film, with Doug Merrifield serving as executive producer.
Jungle Cruise will sail into theaters on July 24, 2020.
Disney-Pixar's 'Onward' trailer finds Tom Holland, Chris Pratt summoning their dead father's legs
Disney and Pixar have released a new trailer for Onward, the upcoming animated feature starring Tom Holland and Chris Pratt as two teenage elf brothers, Ian and Barley Lightfoot, who embark on an extraordinary quest to discover if there is still a little magic out there.
And by magic, we're talking like actual, literal magic. Set in a suburban fantasy world, Onward follows Ian and Barley as they try to summon their dead father back to life. Having never encountered magic before, though, the spell doesn't completely work and only summons half their father — the bottom half, that is.
So, with their dad's legs in tow, the boys set out on a road trip to try to find out how to bring the rest of him back to life, encountering all sorts of creatures, magical spells, and mysterious lands along the way.
The film, which was directed by Dan Scanlon and produced by Kori Rae, features a star-studded voice cast that also includes the likes of Julia Louis-Dreyfus as Ian and Barely's mom, Laurel Lightfoot, and Octavia Spencer as the voice of the Manticore.
Onward will hit theaters on March 6, 2020.