Behind the sounds of 'Blade Runner 2049' with Oscar-winning sound editor Mark Mangini
Denis Villeneuve's unforgettable Blade Runner 2049 is one of the greatest sci-fi films in recent memory, and I was thrilled to see it earn five, very well-deserved Academy Award nominations earlier this month, including Best Sound Editing and Best Sound Mixing. The film's sound design is simply remarkable, and I was beyond excited to be able to chat with Oscar-winning supervising sound editor Mark Mangini this week about how he and his team created each and every sound in the film from scratch, all 2,850 of them, among other things. My conversation with Mark begins below:
First of all, congratulations on your fifth Oscar nomination! How did it feel to wake up on nominations morning and learn that you've been nominated for yet another Oscar?
There's no such thing as "yet another Oscar!" Like each of my children, they are all special and loved. I went to bed with the same nerves and self-doubt I've felt with every one of my previous nominations. It always feels like it's the first time, with an insane mix of excitement and fear. My wife Ann woke up at 5 a.m. and watched it live-streaming on her mobile phone in bed while I pretended to be sleeping and not caring. She screamed so loud when they announced my name that she woke up our son, Rio, who jumped into bed with us and we all had a huge family hug.
How exactly did you get involved with Blade Runner 2049?
The filmmakers had just watched Mad Max: Fury Road while they were shooting Blade Runner 2049 in Budapest, Hungary. They saw a style or approach in that film (which I won an Oscar for in 2016) that they felt suited their film. I got a call in London the next day and flew to Budapest to meet with Denis Villeneuve on the set while he was filming. I had to pitch my ideas in front of his entire crew…without ever having read the script! I guess he liked them.
With a film like Blade Runner 2049, I'm assuming that you and your team had to start from scratch when it came to building the sound design in that film. How did you know where to start?
We did, indeed, start from scratch. We wanted Blade Runner 2049 to occupy its own unique sonic universe. It is 30 years hence, and we felt it required a fresh approach while being "loyal" to the original. We listened to Ridley's Blade Runner a great deal to deconstruct what made it tick. We then embarked on a nine month journey to create our own textures in the spirit of the first film, without ever copying or even using a single sound from it. "Starting from scratch" is, quite literally, what we did. There is very little in this film that was recorded on set. Every single sound from the smallest irradiated bee buzz to the biggest sonic boom was created, designed, and edited for this film. No library sound at all. 2,850 original compositions.
In that regard, I think good science fiction sound has a special challenge to do what we call "world building." Nothing exists and it all has to be manufactured. Traditional and historical films have the benefit of living in a sonic universe we all understand and have heard before. They are familiar to our ears. Our film, and most good science fiction, have to go that extra mile to create a sonic "believability" to everything the audience hears it for the first time.
Did you use Ridley Scott's original Blade Runner as a reference while building the sound design for Blade Runner 2049?
Yes, but only as a reference. What Ridley and his sound team did so brilliantly was immerse the audience in these quasi-musical textures as atmosphere throughout the film. Almost anywhere you go in the original, you are surrounded by these ambient mood-textures that aren't music and aren't sound design. They work on a meta-level that displaces the audience to a very foreign or unknown place. We don't know if these sounds are sculptural, architectural, or even musical. They work to create this other "world" that doesn't exist except in the mind of the filmmakers.
Around awards season, I get a lot of people asking me to explain the difference between sound editing and sound mixing. As a sound designer, how would you explain the difference between the two?
I am so glad you asked this. The sound disciplines are not well understood outside the small circle of its practitioners. Here's a couple of ways of looking at the differences using disciplines all filmmakers understand as an analogy:
The relationship between the sound editor and the sound mixer closely tracks the relationship between the cinematographer and the film editor. The sound editor creates the sound content for a film (the thousands of individual sounds one hears in a film) and the Sound Mixer organizes all that sound content (those thousands of pieces) by mixing it into a seamless and beautiful final soundtrack. So too does the director of photography create the visual content by filming thousands of individual pieces or shots that require the skills of the film editor to organize all those individual pieces into a seamless and cohesive whole, final film.
Another comparison might be illustrated by the relationship between writer and actor. The writer creates the content: the story, the words, the script. The writer creates what you will experience. But it is the actor that brings this content to life through his or her interpretation of that content. Remember, the words in and of themselves are not a performance. The actor takes the content provided by the writer and interprets them, arranges them for the screen, and creates living, breathing performances. The writer determines what the actor will perform, while the actor determines how that content will be interpreted for the screen.
2017 was a fantastic year for sound design in film. In addition to Blade Runner 2049, some of the other films that stick out in my mind are Phantom Thread, Call Me by Your Name, and mother! What were some of your personal favorites?
I love that you chose very non-traditional movies for their deft use of sound. I, too, loved movies one would not expect. I really liked Three Billboards and All the Money in the World this year. Both used sound as an effective narrative tool: sound that told the story without bludgeoning or forcing itself on the audience. It's a shame that nuance isn't as appreciated in our discipline as it might be in others. All too often sound is judged but its density and loudness; two techniques which are often the hallmarks of filmmakers bereft of better storytelling ideas. Our awards are given for best sound. Not most sound. Billboards and All the Money both constantly engaged the audience with sound to create mood, geography, displacement, and engagement for the audience. They did it with beautiful subtlety as well as high craft, recording and choosing unique and memorable sounds while never bludgeoning or coercing the audience to react to them.
The final 'Antlers' trailer further reveals Scott Cooper's Guillermo del Toro-produced horror film
While Scott Cooper's last film was a bit of a dud, it appears the Hostiles director is looking to redeem himself with Antlers, a Guillermo del Toro-produced horror flick starring the terrific pairing of Keri Russell and Jesse Plemons.
Based on Nick Antosca's short story The Quiet Boy, the film centers around a small-town Oregon teacher (Russell) and her brother (Plemons), the local sheriff, as they discover a young student (Jeremy T. Thomas) is harboring a dangerous secret with so-called "frightening consequences."
Though the latest trailer for Antlers certainly shines a bit more light on the plot than the previous marketing we've received, the overall mysterious quality of the film is still very much there and I can't wait to see what kind of crazy shit unfolds, because you already know some wild stuff is going to go down in this thing if the trailers are any indication.
Graham Greene, Scott Haze, Rory Cochrane, and Amy Madigan also star in Antlers, which is set to hit theaters via Fox Searchlight on April 17.
The film and television nominations for the 2020 Golden Globe Awards are officially in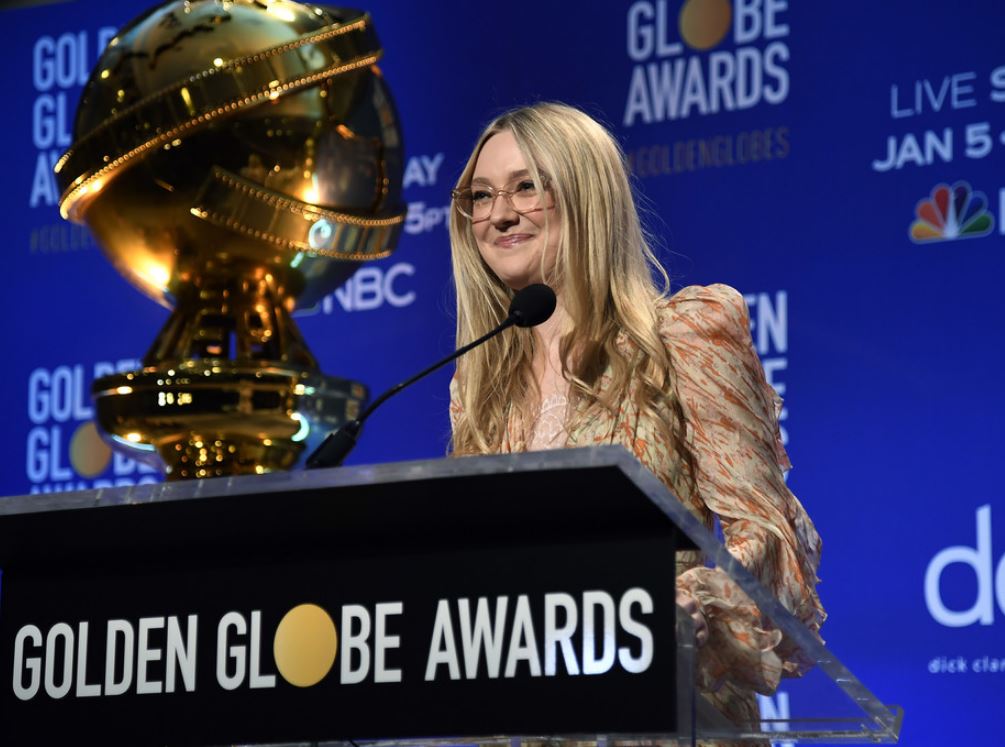 The, uh, rather strange trio of Tim Allen, Dakota Fanning, and Susan Kelechi Watson were on hand this morning to announce the nominations for the 77th Golden Globes, which will be held in Hollywood next month on January 5.
Topping the film nominations is Noah Baumbach's Marriage Story, which scored six nods, and Martin Scorsese's The Irishman and Quentin Tarantino's Once Upon a Time in Hollywood, which picked up five nods each.
On the television side of things, HBO's Chernobyl, Barry, Succession, and Big Little Lies secured nominations in several different categories, as did Netflix's The Crown, Unbelievable, and The Kominsky Method.
You can check out the complete list of nominations for the 2020 Golden Globes below.
Best Motion Picture — Drama
1917
The Irishman
Joker
Marriage Story
The Two Popes
Best Motion Picture — Musical or Comedy
Dolemite Is My Name
Jojo Rabbit
Knives Out
Once Upon a Time in Hollywood
Rocketman
Best Foreign-Language Motion Picture
The Farewell
Les Misérables
Pain and Glory
Parasite
Portrait of a Lady on Fire
Best Limited Series or TV Movie
Catch-22
Chernobyl
Fosse/Verdon
The Loudest Voice
Unbelievable
Best Television Series — Drama
Big Little Lies
The Crown
Killing Eve
The Morning Show
Succession
Best Comedy Series
Fleabag
Barry
The Kominsky Method
The Marvelous Mrs. Maisel
The Politician
Best Motion Picture — Animated
Frozen II
How to Train Your Dragon: The Hidden World
Missing Link
Toy Story 4
The Lion King
Best Director — Motion Picture
Bong Joon-ho, Parasite
Sam Mendes, 1917
Todd Phillips, Joker
Martin Scorsese, The Irishman
Quentin Tarantino, Once Upon a Time in Hollywood
Best Performance by an Actor in a Limited Series or Movie
Christopher Abbott, Catch-22
Sacha Baron Cohen, The Spy
Russell Crowe, The Loudest Voice
Jared Harris, Chernobyl
Sam Rockwell, Fosse/Verdon
Best Performance by an Actress in a Limited Series or Movie
Kaitlyn Dever, Unbelievable
Joey King, The Act
Helen Mirren, Catherine the Great
Merritt Wever, Unbelievable
Michelle Williams, Fosse/Verdon
Best Performance by a Supporting Actor in a Series, Limited Series, or TV Movie
Alan Arkin, The Kominsky Method
Kieran Culkin, Succession
Andrew Scott, Fleabag
Stellan Skarsgård, Chernobyl
Henry Winkler, Barry
Best Performance by a Supporting Actress in a Series, Limited Series, or TV Movie
Patricia Arquette, The Act
Helena Bonham Carter, The Crown
Toni Collette, Unbelievable
Meryl Streep, Big Little Lies
Emily Watson, Chernobyl
Best Score for a Motion Picture
Little Women
Joker
Marriage Story
1917
Motherless Brooklyn
Best Original Song
"Beautiful Ghosts," Cats
"(I'm Gonna) Love Me Again," Rocketman
"Into the Unknown," Frozen II
"Spirit," The Lion King
"Stand Up," Harriet
Best Performance by an Actor in a Comedy Series
Michael Douglas, The Kominsky Method
Bill Hader, Barry
Ben Platt, The Politician
Paul Rudd, Living With Yourself
Ramy Youssef, Ramy
Best Performance by an Actress in a Comedy Series
Christina Applegate, Dead to Me
Kirsten Dunst, On Becoming a God in Central Florida
Rachel Brosnahan, The Marvelous Mrs. Maisel
Natasha Lyonne, Russian Doll
Phoebe Waller-Bridge, Fleabag
Best Performance by an Actor in a Drama Series
Brian Cox, Succession
Kit Harington, Game of Thrones
Rami Malek, Mr. Robot
Tobias Menzies, The Crown
Billy Porter, Pose
Best Performance by an Actress in a Drama Series
Jennifer Aniston, The Morning Show
Jodie Comer, Killing Eve
Olivia Colman, The Crown
Nicole Kidman, Big Little Lies
Reese Witherspoon, The Morning Show
Best Performance by a Supporting Actor in a Motion Picture
Tom Hanks, A Beautiful Day in the Neighborhood
Anthony Hopkins, The Two Popes
Al Pacino, The Irishman
Joe Pesci, The Irishman
Brad Pitt, Once Upon a Time in Hollywood
Best Screenplay
Marriage Story
Parasite
The Two Popes
Once Upon a Time in Hollywood
The Irishman
Best Performance by a Supporting Actress in a Motion Picture
Kathy Bates, Richard Jewell
Annette Bening, The Report
Laura Dern, Marriage Story
Jennifer Lopez, Hustlers
Margot Robbie, Bombshell
Best Performance by an Actor in a Motion Picture — Musical or Comedy
Daniel Craig, Knives Out
Taron Egerton, Rocketman
Roman Griffin Davis, Jojo Rabbit
Eddie Murphy, Dolemite Is My Name
Leonardo DiCaprio, Once Upon a Time in Hollywood
Best Performance by an Actor in a Motion Picture — Drama
Christian Bale, Ford v Ferrari
Antonio Banderas, Pain and Glory
Adam Driver, Marriage Story
Joaquin Phoenix, Joker
Jonathan Pryce, The Two Popes
Best Performance by an Actress in a Motion Picture — Musical or Comedy
Ana de Armas, Knives Out
Cate Blanchett, Where'd You Go, Bernadette
Beanie Feldstein, Booksmart
Emma Thompson, Late Night
Awkwafina, The Farewell
Best Performance by an Actress in a Motion Picture — Drama
Cynthia Erivo, Harriet
Scarlett Johansson, Marriage Story
Saoirse Ronan, Little Women
Charlize Theron, Bombshell
Renée Zellweger, Judy
More than 17 million people have watched Martin Scorsese's 'The Irishman' on Netflix
In what should come as a surprise to absolutely no one, Martin Scorsese's masterful gangster epic The Irishman has been hugely successful drawing viewers to Netflix, where more than 17.1 million people in the US watched it within the first five days of its release.
When The Irishman first debuted on the streaming platform on November 27, the film had an average minute audience — which basically means how long people watched — of 2.6 million and 3.9 million total unique viewers.
And, despite the film's three-and-a-half-hour runtime, more than 751,000 viewers watched The Irishman in its entirety that same day, while 930,000 tuned in a couple days later on November 29 to watch the film in full.
Those are not official statistics from Netflix itself, but rather Nielsen SVOD Content Ratings, which offers estimates and analysis of US viewership on various streaming and on-demand services.
In the past, Netflix hasn't been shy about sharing viewership data for films like Bird Box, which the streamer claims more than 45 million people watched in its first week, and Triple Frontier, which is said to have had 52 million viewers within its first month.
That being said, it shouldn't be long before Netflix offers their own internal viewership numbers for The Irishman and it should certainly be interesting to see whether or not those statistics bear any resemblance to the ones released today by Nielsen.