From 'First Reformed' to 'Sorry to Bother You': A midway state of affairs on cinema in 2018
"Maybe it won't be OK."
The world is hell right now. My life is hell right now. So talking about art, let alone participating in such an insular and silly in-fighting realm as film journalism, can feel futile, let alone irrelevant. But out of ritual, or obsession, or survival, we continue to do it anyway. By some weird sort of coincidence of thought, a collision of confirmation bias and larger anthropological forces invisible without hindsight, 2018's cinematic output thus far has echoed these fears and frustrations. This is either a gift or an overgeneralized lens through which to view contemporary art. Likely, it's both.
Paul Schrader's First Reformed is perhaps the most direct and obvious film to tackle this sort of fiery personal apocalypse; Ethan Hawke's grieving pastor in Upstate New York reckoning with eco-radical terrorism. It's a fittingly preachy, obsessively Catholic baby boomer descent into the almost mythic purgatory of the very real, very mundane world—a tribute to Bresson's coarse neo-realism and a necessary referendum on Taxi Driver's existential bullshit. Hawke gives his first performance to appear distinctly un-theatrical, blending in with the ashes at a toxic waste dump. It is an old man's film, the sum of its influences, and an aggressively uncomplacent staring contest with global deterioration and communal apathy.
The only other film to match that fury would be Sorry to Bother You, Boots Riley's authentic, imperfect surrealist deep-dive into racial tensions under late capitalism. Yet, for all its political voracity and infectious wit, I wish the film had been equally as ambitious in its comedic stylings. There should be more memes, more Vines, more Twitter. Despite being miles above pretty much every comedy in recent years, and carrying an undeniably distinctive visual vernacular, the humor feels discordantly grouchy. It is urgent, radical, and exhilarating, but it lacks a certain vitality.
If it feels odd to draw comparisons between such an anti-establishment battle cry and a movie borne from Pepsi commercials, so be it. The excellent Uncle Drew is unapologetically branded content and also a personal, golden-age romp, pragmatic and dumb and oddly affecting. The two films each welcome the audience into their world with ease and clarity of vision. Listen, late capitalism and eccentric, goofy passion projects are weird but fun—just like basketball.
Further radical visions of blackness come to life in essay films like Khalik Allah's revolutionary, jaw-dropping Black Mother, or the black queer nightclubs of Leilah Weinraub's Shakedown, to the sprawling and ever-elusive rhythms and livelihood of Donald Glover's Atlanta. Even Zama, Lucretia Martel's grimly funny, shell-shocked revisionist epic deconstruction of colonialist literature offers something totally separate from the traditional historical visions that so often dominate the multiplex.
Yet the most exciting work I've come across this year is Josephine Decker's Madeline's Madeline, her first bonafide masterpiece. Comparisons to Rivette are easy to view shallowly (potentially obtuse, kinetic, theatrically self-consumers), but this goes deeper; Decker is genuinely the first of his descendants, so to speak, to carry on a double-barreled head-trip into aesthetics and dramatics equally. This is as much about performance as it is cinema's bastard child status as a medium as it is about the state of indie cinema, a first wave of Generation Z, and, above all, a grand bildungsroman. I have genuinely never seen anything like what Helena Howard does here, willing to hone in with a specificity not even granted to the best sociologists on her identity. Through all the film's engaging with Greek Tragedy (including Caroline Shaw's mystically composed score), the battles of authorship, exploitation, maternity, and madness, there is a sensitivity and openness, an unmistakable modernity. Madeline's Madeline is remarkable not just for the facts of what it does, but for how it teaches you to view its slipperiness, how its vibrancy manifest temporally, how it takes those most sensual and concrete pleasures and pushes them towards a work that argues for itself through an intense love and belief into and coming from every single person involved. I've rarely seen something so confident and smart and multifaceted and essential out of American cinema.
Paddington 2 and Black Panther are two excellent, classically-minded slices of entertainment, both conservative in their soothing reaffirmations of the troubling and fucked systems of government and societal standards, while still providing deeply progressive, optimistic, and rigorously anti-oppressive sentiment. On top of all that, a portion of Black Panther is set in Oakland, and Paddington 2 has a finale that recalls silent Lubitsch, and those two facts are absolute magic.  
If the aforementioned films are given more leeway in their politik because they so delightfully fulfill their role as pop escapism, the horror genre cannot be afforded that same luxury. Horror is so built on distortions, on the beyond-natural, that it's rare that a work can be built on that. Something like Hereditary offers a level of disconnect with the real world—as if it exists in old horror movie posters, and no sense of terror, of dread, of inescapable trauma. The First Purge derives all its catharsis from distressingly omnipresent concerns over fascism, liberal passivity, divergence within progressive groups. It's a "black body genre" film, almost radically militant and still cynically exploitative and messy.
My other sociopolitical horror film of choice from the year came out of nowhere. The wonderfully electric stupidity coursing through Gaspar Noe's Cannes barnburner Climax comes as one of the more unexpected treats of the year's festival circuit. Dizzying and dull in equal measure, Noe's pansexual nightmare treatise on the dissolution of France's multicultural dream is just smart enough to be both authentically avant-garde and authentically exploitative, an exhausting and trippy dance party that has no right being anywhere near as good as it is. Get woke, fuckers, or the blood will flood the cold wintry streets and blockade the raves inside.
An apocalyptic doom is even echoed in the worst film I've seen this year, let alone this decade. Avengers: Infinity War is excruciating, demoralizing, nihilistic, senseless, completely without stakes, basic competence, or a semblance of humanity. I cannot recall the last time I left the theater fuming. The first half of a supposed cumulation of the mostly bland Marvel Cinematic Universe, rarely has a picture been produced with so little internal logic, or a comic book project carried such flagrant disregard for the saga on which it is built. There is not one moment, not one plot point or character arc, not one gesture or shot, with any close to grace or mere functionality. It goes from unpleasant, to baffling, to infuriating, to deflatingly numb, with a climax without gravity or consequence. It is a film that conditions the viewer to feel nothing when presenting the ostensible end of the world. I have rarely seen a crueler picture.
Hong Sang-Soo is experiencing something of a renaissance in the public eye—or as much the prolific Korean writer-director has ever seen in the Western art world. Following the scandalous affair with Kim Min-Hee and last year's scraggly and ravaging travel opus On the Beach at Night Alone, sandwiched between Grass and Claire's Camera (both of which are wonderful if minor), The Day After is a film of swirling perspective and internal purgatory. With only a tinny, haunting motif to offer relief on the wonderfully dynamic black and white photography, Hong offers a post-Rohmerian melodrama that avoids self-deprecation and hagiography. Though its conceits are perhaps less explicitly fantastical than, say, the bifurcated dishonesty of Right Now Wrong Then, the slippery timeline creeps through, as characters shift in and out of focus, and parallels within relationships multiply and fracture, infidelity shifting from a classic moral conundrum to a sobering frisson between internal and public perception.
On the other end of the spectrum lies Lars von Trier's bombastic The House That Jack Built. A cinematic exorcism and gloriously self-indulgent and at least a good bit phony discourse on art as personal violence, the film is meticulously constructed and a total scorcher. Perhaps von Trier is too giddily self-loathing to allow for anything beyond an ego trip, or so unwilling to change—in his art or persona—that this interrogation of von Trier's filmic grammar plays shallow and tedious. This is to say nothing of the fact that von Trier's miserabilism, corny humor, and proto-externalist philosophy plays better on a dramatic level than an abstract argument, his body-genre-cum-melodrama power trip. Whatever, though, I still loved it. I found its anguish deeply resonant even more for its irony, its structure continuously evolving and almost meditative, if it weren't for the amorphous and galvanizing rhythms, a total re-sensitization watch and a fitting eulogy/celebration of the toxic tradition in whose footsteps von Trier has walked, and the shit he's carried smeared on his shoes.
The male gaze in power, violence, sex, and trauma receives a blow to an already fractured skull with Lynne Ramsay's razor-thin You Were Never Really Here, an increasingly abstracted deep dive into the dissolution of a culture's seedy underbelly. Nothing here is empty or fetishistic. Ramsay's anger fuels a worldview that doesn't provide moral scolds as much as an inditement of our failure to reckon with pain as a cyclical tragedy. The impressionistic editing hacks the narrative down to only the essential pieces as if you're witnessing the wake of a film-cum-hurricane. The physicality and abstraction here align nicely with the hyperviolence, creating an experience something close to dissociation. Just to hear "Angel Baby" from Rosie & the Originals cut out with the security cameras, one realizes that You Were Never Really Here is the first of Ramsay's films to fully encapsulate her full artistic manifesto. Joaquin Phoenix's central hero, his walk, his torso, his body willing towards sleep. The refusal of present tense and the collateral damage of genre trappings. This is a film that collapses in on itself from practically the first frame.
For all this, the best film I've seen is Leave No Trace; Debra Granik's return to cinema after eight years is quietly a perfect movie. Not a moment loses its touch with humanity, even as it becomes a. The ghosts of Kelly Reichardt and Monte Hellman populate the sparse cross-section between the natural world, childhood development, and class-consciousness as Granik's gentle warm subjective document on the details of parental relationships tessellates outwards into nothing less than a monumental eulogy to how girls learn the world through men, and so much more. Leave No Trace provides neither respite nor release. It is simple here, and now, in a world of a billion little windows with not enough binoculars. We sure as hell don't need nice right now, or contentment, but a moment of transitory serenity and strength doesn't hurt.
2018 (alphabetical):
ATLANTA
THE DAY AFTER
FIRST REFORMED
THE HOUSE THAT JACK BUILT
LEAVE NO TRACE
MADELINE'S MADELINE
YOU WERE NEVER REALLY HERE
ZAMA
Universal has two new projects from M. Night Shyamalan coming our way in 2021 and 2023
M. Night Shyamalan and Universal Pictures seem to be getting along pretty nicely with each other as the studio announced yesterday that it will be continuing its relationship with the director and has dated his next two films from February 26, 2021 and February 17, 2023.
"M. Night Shyamalan continues to create exciting, highly original stories that keep global audiences on the edge of their seats," said Universal Pictures president Peter Cramer. "There is no one like him: he is a master filmmaker working at the height of his powers, and we are honored that he has once again chosen Universal to be the home for his next two incredible projects."
Shyamalan added, "There are wonderful studios out there, but Universal has made it a mandate to release original films. They are the best at finding an audience for new stories with unexpected tones. I believe original films are crucial to the longevity of the theatrical experience."
While any and all details about these two films — with the exception of the release dates, of course — are being kept tightly under wraps for the time being, we can't help but think Shyamalan will be pulling another Split-type secret sequel stunt and has something pretty exciting in store for us, though that's just pure speculation on our part.
Matt Damon and Christian Bale attempt to pull off the impossible in this new 'Ford v Ferrari' trailer
Fresh off its stops at festivals like Telluride and Toronto, 20th Century Fox has released a brand new trailer for James Mangold's Ford v Ferrari and it looks like this thing is shaping up to be one of hell a contender this awards season.
Ford v Ferrari tells "the remarkable true story of the visionary American car designer Carroll Shelby (Matt Damon) and the fearless British-born driver Ken Miles (Christian Bale)," who, believe it or not, does not seem to have undergone any drastic transformations for his role here.
Together, the duo "battled corporate interference, the laws of physics, and their own personal demons to build a revolutionary race car for Ford Motor Company and take on the dominating race cars of Enzo Ferrari at the 24 Hours of Le Mans in France in 1966."
At press time, Ford v Ferrari boasts an impressive 88% approval rating on Rotten Tomatoes based on 43 reviews, and something tells me that percentage isn't going to change too much over the next couple of months. I mean, even the "negative" reviews aren't even that negative!
Jon Bernthal, Caitriona Balfe, Tracy Letts, Josh Lucas, Noah Jupe, Remo Girone, and Ray McKinnon also star in Ford v Ferrari, which hits theaters on November 15.
Phoenix: Put on a happy face and come see Joaquin Phoenix in 'Joker' early and for free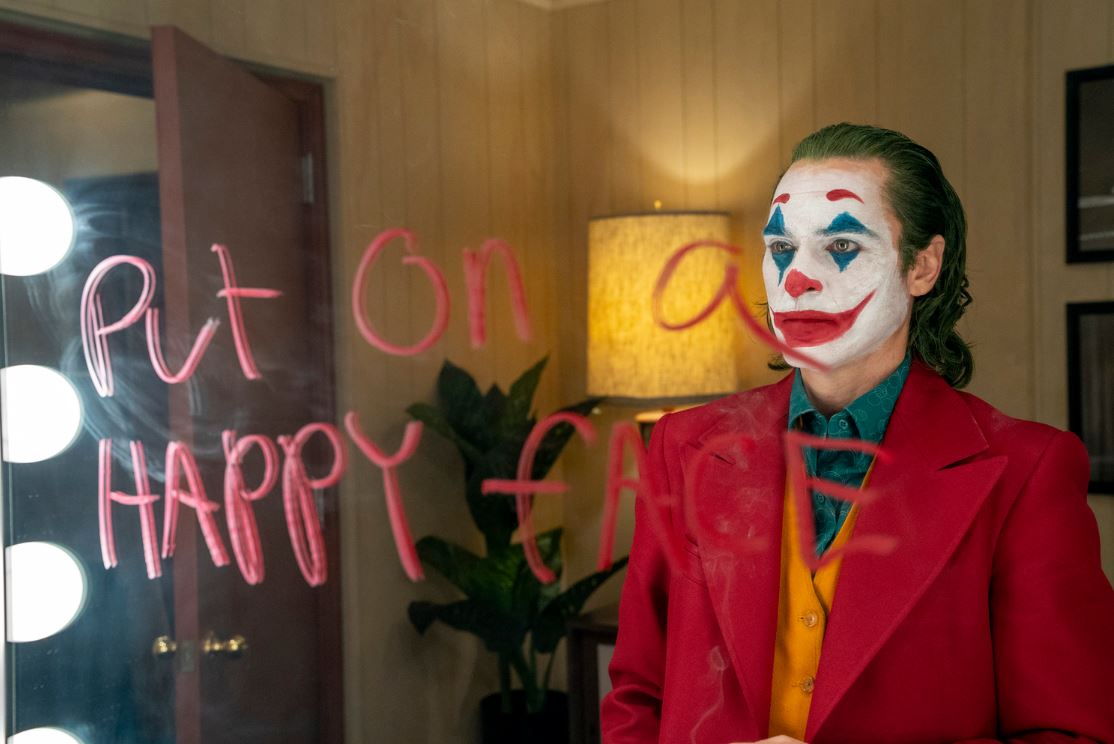 Warner Bros. will release Joker, Todd Phillips' take on the iconic DC villain's origin starring Joaquin Phoenix, on September 6 and they're giving Silver Screen Beat readers in Phoenix a chance to attend an advance screening of the film before it officially opens in theaters.
Our readers in the Phoenix area can click on this link to enter to win passes — good for you and one guest — to attend an advance screening of Joker happening Tuesday, October 1 at Harkins Arizona Mills IMAX at 7:00 p.m.
Winners of this contest will be selected and notified on Saturday, September 29 after 12:00 p.m. PT via email, so good luck! Below is the official trailer for Joker as well as some additional details about the film.
Directed by: Todd Phillips
Cast: Joaquin Phoenix, Robert De Niro, and Zazie Beetz
Opens: Friday, October 4
Rating: R for disturbing violent content and bloody images throughout, pervasive language, and some crude sexual material
Synopsis: Director Todd Phillips Joker centers around the iconic arch nemesis and is an original, standalone fictional story not seen before on the big screen. Phillips' exploration of Arthur Fleck, who is indelibly portrayed by Joaquin Phoenix, is of a man struggling to find his way in Gotham's fractured society. A clown-for-hire by day, he aspires to be a stand-up comic at night…but finds the joke always seems to be on him. Caught in a cyclical existence between apathy and cruelty, Arthur makes one bad decision that brings about a chain reaction of escalating events in this gritty character study.