Darren Aronofsky describes his mysterious psychological thriller 'mother!' as 'a very intense ride'
I mentioned last week that, in a day and age where it feels as though the marketing for Hollywood's biggest films are a little too revealing, Paramount Pictures has does a rather impressive job of keeping details surrounding Darren Aronofsky's new film mother! to a bare minimum while still piquing the interests of even the most casual of moviegoers.
So far, with two trailers and a teaser having been released, we still don't know much about mother! aside from the fact that it centers on a couple whose relationship is tested "when uninvited guests arrive at their home, disrupting their tranquil existence," and Aronofsky is thrilled about the secrecy surrounding the project.
"It's a cruise missile shooting into a wall, this film," Aronofsky said during a recent interview Vulture's Abraham Riesman, who had to turn in a nondisclosure agreement before attending a screening of the film. "I want audiences to be prepared for that and prepped that it's a very intense ride."
That last sentence isn't particularly surprising, especially when given the fact that my heart was about to begin beating out of my chest after watching the first trailer we received a couple of weeks ago, but what is surprising is a little bit of behind the scenes info Aronofsky shared in which he revealed that Jennifer Lawrence channeled her inner Leonardo DiCaprio and truly went all in for this performance.
"I think she hyperventilated and also kind of threw a rib out," Aronofsky continued. "During the big climax of the movie, I mean, she started…She really went there. The producers were freaking out. We had to sort of calm it down and then go for it again. And the thing is, there's so much ability there that somehow she can summon it again and again."
If you're just as ready for this "very intense ride" as I am, you won't have to wait too much longer, as mother! will have a brief run on the festival circuit with the Venice Film Festival and Toronto International Film Festival, before opening in theaters nationwide on September 15, 2017.
Matt Damon and Christian Bale attempt to pull off the impossible in this new 'Ford v Ferrari' trailer
Fresh off its stops at festivals like Telluride and Toronto, 20th Century Fox has released a brand new trailer for James Mangold's Ford v Ferrari and it looks like this thing is shaping up to be one of hell a contender this awards season.
Ford v Ferrari tells "the remarkable true story of the visionary American car designer Carroll Shelby (Matt Damon) and the fearless British-born driver Ken Miles (Christian Bale)," who, believe it or not, does not seem to have undergone any drastic transformations for his role here.
Together, the duo "battled corporate interference, the laws of physics, and their own personal demons to build a revolutionary race car for Ford Motor Company and take on the dominating race cars of Enzo Ferrari at the 24 Hours of Le Mans in France in 1966."
At press time, Ford v Ferrari boasts an impressive 88% approval rating on Rotten Tomatoes based on 43 reviews, and something tells me that percentage isn't going to change too much over the next couple of months. I mean, even the "negative" reviews aren't even that negative!
Jon Bernthal, Caitriona Balfe, Tracy Letts, Josh Lucas, Noah Jupe, Remo Girone, and Ray McKinnon also star in Ford v Ferrari, which hits theaters on November 15.
Phoenix: Put on a happy face and come see Joaquin Phoenix in 'Joker' early and for free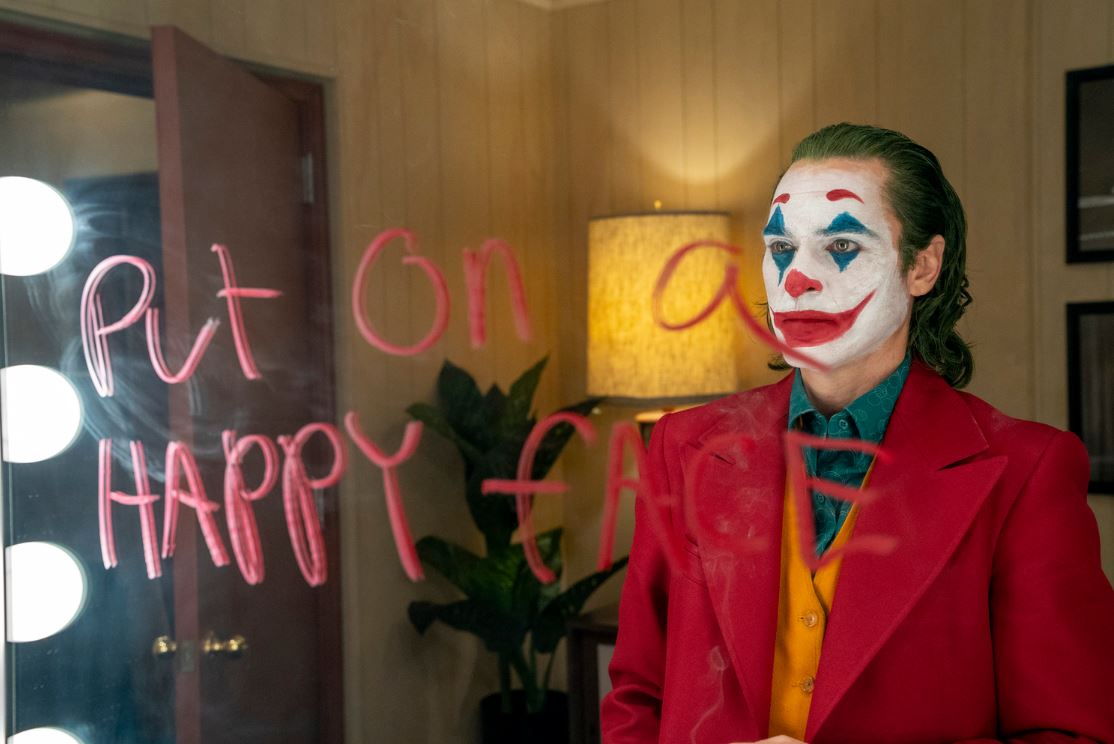 Warner Bros. will release Joker, Todd Phillips' take on the iconic DC villain's origin starring Joaquin Phoenix, on September 6 and they're giving Silver Screen Beat readers in Phoenix a chance to attend an advance screening of the film before it officially opens in theaters.
Our readers in the Phoenix area can click on this link to enter to win passes — good for you and one guest — to attend an advance screening of Joker happening Tuesday, October 1 at Harkins Arizona Mills IMAX at 7:00 p.m.
Winners of this contest will be selected and notified on Saturday, September 29 after 12:00 p.m. PT via email, so good luck! Below is the official trailer for Joker as well as some additional details about the film.
Directed by: Todd Phillips
Cast: Joaquin Phoenix, Robert De Niro, and Zazie Beetz
Opens: Friday, October 4
Rating: R for disturbing violent content and bloody images throughout, pervasive language, and some crude sexual material
Synopsis: Director Todd Phillips Joker centers around the iconic arch nemesis and is an original, standalone fictional story not seen before on the big screen. Phillips' exploration of Arthur Fleck, who is indelibly portrayed by Joaquin Phoenix, is of a man struggling to find his way in Gotham's fractured society. A clown-for-hire by day, he aspires to be a stand-up comic at night…but finds the joke always seems to be on him. Caught in a cyclical existence between apathy and cruelty, Arthur makes one bad decision that brings about a chain reaction of escalating events in this gritty character study.
An eerie new trailer for 'The Lighthouse' is here to send you into a world of nautical madness
One simple question arises in the latest trailer for Robert Eggers' new film The Lighthouse, the "hypnotic and hallucinatory tale" starring Robert Pattinson and Willem Dafoe as two lighthouse keepers driving each other mad, and, quite frankly, it's a pretty good one: "what?"
That one simple question pretty much sums up my feelings about The Lighthouse, which seems to be appealing to my very particular brand of weird with all these peculiar trailers where Robert Pattinson and Willem Dafoe go at each other's throats and talk about spilling beans and shit.
Needless to say, all of the raves The Lighthouse has received over the past few months following its debuts at festivals like Cannes and, most recently, TIFF have also piqued my interest — right now the film boasts an impressive 94% on Rotten Tomatoes, based on 70 reviews.
I suppose we'll find out what all the buzz is about when The Lighthouse hits theaters October 18.