Check out the complete list of everything coming and going on Netflix in October 2018
In honor of the Halloween season, Netflix will be serving up plenty of spooky programming (both original and not) when October, which is inarguably the best month of the year, finally begins next week. Whether you're into movies, television, or both, it appears they'll have a little something for everyone on the menu.
Personally, I'm really curious to see what they have to offer with The Chilling Adventures of Sabrina, a dark coming-of-age story that looks absolutely nothing like the original sitcom from the 90s. If you haven't seen the trailer yet, which is filled with all sorts of witchy goodness and weird-looking goat-headed dudes, check it out here.
If that's not really your groove, there will be plenty of other dark, creepy shit to stream next month including The Shining, Apostle, The Haunting of Hill House, Truth or Dare, and The Babadook and Donnie Darko, both of which will be leaving the streaming service around mid-October, so be sure to watch those two while you still can.
You can check out the complete list of everything coming and going on Netflix in October below.
Available October 1:
Angel Eyes
Anger Management
Billy Madison
Black Dynamite
Blade
Blade II
Blazing Saddles
Empire Records
Gotham: Season 4
Kevin Hart: Laugh at My Pain
Kevin Hart: Seriously Funny
Must Love Dogs
My Little Pony Equestria Girls: Rollercoaster of Friendship
Mystic River
New York Minute
Once Upon a Time in America
Pay It Forward
Pee-wee's Big Adventure
Robin Hood: Prince of Thieves
Rumble in the Bronx
She's Out of My League
Sommersby
The Dead Pool
The Devil's Advocate
The Green Mile
The Lake House
The NeverEnding Story
The Shining
V for Vendetta
Zack and Miri Make a Porno
Available October 2:
Joe Rogan: Strange Times
MeatEater: Season 7
Monty Python: The Meaning of Live

Monty Python's Life of Brian
Available October 3:
Truth or Dare (2017)
Available October 4:
Creeped Out

The Haunting of Molly Hartley

Violet Evergarden: Special: Extra Episode
Available October 5:
Big Mouth: Season 2
Dancing Queen

Élite

Empire Games

Little Things: Season 2
Malevolent

Private Life

Super Monsters Save Halloween

Super Monsters: Season 2
The Rise of Phoenixes

YG Future Strategy Office

Available October 6:
Little Things: Season 1
Available October 8:
Disney's Sofia the First: Season 4
Mo Amer: The Vagabond
Available October 9:
Terrace House: Opening New Doors: Part 4
Available October 10:
22 July

Pacto de Sangue

Available October 11:
Salt Fat Acid Heat

Schitt's Creek: Season 4
Available October 12:
Apostle

Errementari: The Blacksmith and the Devil

Feminists: What Were They Thinking?

FightWorld

ReMastered: Who Shot the Sheriff

Tarzan and Jane: Season 2
The Boss Baby: Back in Business: Season 2
The Curious Creations of Christine McConnell
The Haunting of Hill House
The Kindergarten Teacher
Available October 15:
Octonauts: Season 4
The Seven Deadly Sins: Revival of The Commandments
Available October 16:
Ron White: If You Quit Listening, I'll Shut Up
Available October 19:
Accidentally in Love
Ask the Doctor
Best.Worst.Weekend.Ever.: Limited Series
Derren Brown: Sacrifice
Distrito salvaje
Gnome Alone
Haunted
Hip-Hop Evolution: Season 2
Illang: The Wolf Brigade
Larva Island
Making a Murderer: Part 2
Marvel's Daredevil: Season 3
The Night Comes For Us
Wanderlust
Available October 21:
Robozuna
Available October 23:
ADAM SANDLER 100% FRESH
Available October 24:
Bodyguard
Available October 25:
Great News: Season 2
Available October 26:
Been So Long
Castlevania: Season 2
Chilling Adventures of Sabrina
Dovlatov
Jefe
Shirker
Terrorism Close Calls
Available October 27:
Girl from Nowhere
Available October 28:
Patriot Act with Hasan Minhaj
Available October 30:
Fate/EXTRA Last Encore: Illustrias Geocentric Theory
The Degenerates
Available October 31:
Goldie & Bear: Season 2
GUN CITY
Leaving October 1:
21

Adventureland
Akira
Bad Boys
Boogie Nights
Cinderella Man
Curse of Chucky
Eyes Wide Shut
Freaks and Geeks: Season 1
Full Metal Jacket
Guess Who
Inside Man
Let Me In
Life Is Beautiful
Menace II Society
Red Dragon
Scream 2
Sin City
Stealth
The Adventures of Tintin
The Clan
The Family Man
The Human Centipede 2: Full Sequence
The Lost Boys
The Rugrats Movie
Trading Places
White Collar: Seasons 1-6
Leaving October 2:
The Human Centipede: First Sequence

Leaving October 6:
The BFG

Leaving October 8:
90210: Seasons 1-5
Kubo and the Two Strings
Leaving October 10:
Leap Year

Leaving October 13:
The Nut Job

Leaving October 14:
About a Boy: Seasons 1-2
The Babadook
Leaving October 17:
Donnie Darko

Leaving October 22:
The Secret Life of Pets

Leaving October 24:
V/H/S/2

Leaving October 25:
Big Eyes

Queen of Katwe
Leaving October 26:
Southside with You

Leaving October 28:
Bridget Jones's Baby
Zoe Saldana to star in, executive produce Netflix limited series with Reese Witherspoon
Zoe Saldana and Reese Witherspoon are teaming up at Netflix for a limited series based on Tembi Locke's best-selling memoir From Scratch, Silver Screen Beat has learned.
Saldana will star in and executive produce the series, which tells the story of an American woman who falls in love with a Sicilian man while studying abroad in Italy and then builds a life with him in the United States. When she unexpectedly loses him to illness, she is challenged to pull herself through grief so she can raise their daughter as they would have raised her together: with hope, joy and infinite love.
"This is a profound true story of love and family, deprivation and nourishment, that needs to be brought to life on the screen as Tembi Locke brought it vividly to life for me on the page," Saldana said. "We are grateful to Netflix and thrilled to be working with Reese, Lauren, Attica and 3 Arts on this wonderful project."
Tembi Locke's sister, Attica Locke, will adapt the memoir and serve as showrunner, with Witherspoon, Lauren Neustadter, Richard Abate, Jermaine Johnson, Will Rowbotham, and Cisely and Mariel Saldana serving as executive producers.
"Tembi's memoir is a raw and tender exhibition of life in all its pieces," Witherspoon said. "She brings you into her love, her loss and her resilience with such vulnerability and strength. We immediately fell for Attica and Tembi's vision and feel honored to have the opportunity to help bring it to life onscreen. We could not imagine more perfect partners for this than Zoe and her sisters and 3 Arts Entertainment, along with the incredible team at Netflix."
Adam McKay developing limited series based on Julie K. Brown book about Jeffrey Epstein
Adam McKay is developing a limited series based on Miami Herald investigative reporter Julie K. Brown's upcoming book about the well-connected, highly influential financier and convicted sex offender Jeffrey Epstein for HBO, Silver Screen Beat can confirm.
The untitled series will be the first that McKay is producing under his newly established label Hyperobject Industries, which just inked a five-year, first-look television deal with HBO to produce content for the premium cable network and its upcoming streaming service HBO Max.
"We are delighted to continue our longtime collaboration with Adam McKay with this new deal," said HBO president of programming Casey Bloys. "Adam is a uniquely talented director and producer, and we are looking forward to working with him and the team at Hyperobject on many projects to come."
McKay will executive produce the series along with his longtime collaborator Kevin Messick and Brown, whose riveting investigative series ultimately led to the disgraced money manager's arrest on sex trafficking charges in July.
On August 10, Epstein was found dead in his cell at the Metropolitan Correctional Center in Manhattan, with the New York City chief medical examiner ruling the cause of death suicide by hanging despite the suspicious circumstances surrounding Epstein's untimely demise.
HBO gives straight-to-series order to 'Game of Thrones' prequel 'House of the Dragon'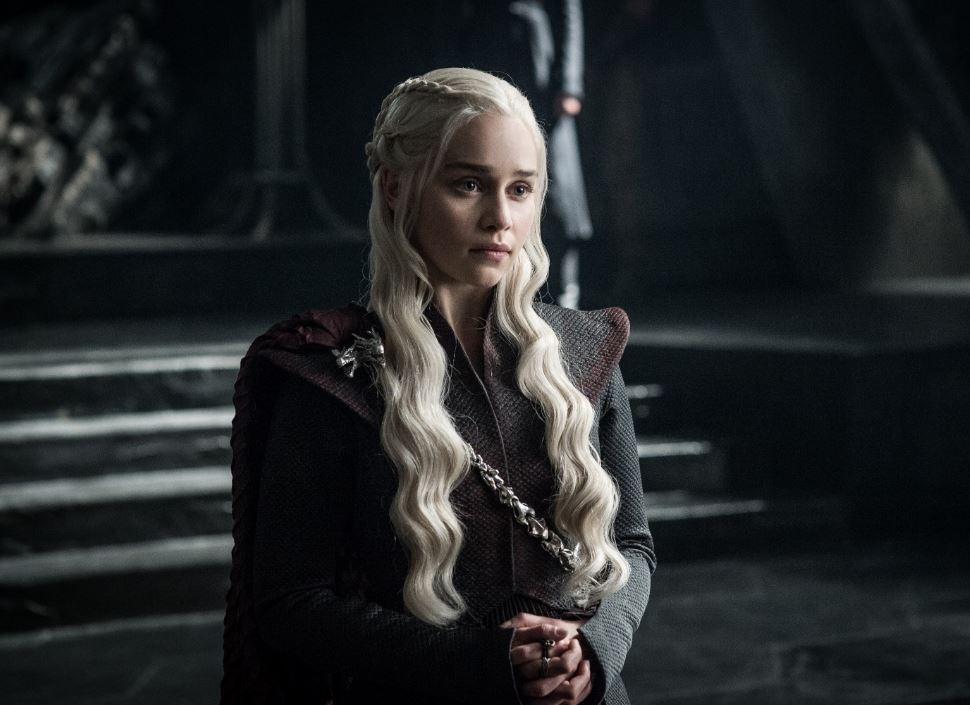 HBO has given a 10-episode, straight-to-series order to House of the Dragon, the Game of Thrones prequel created by George R.R. Martin and Ryan Condal, the network announced during WarnerMedia Day on Wednesday.
The series, which is based on Martin's Targaryen history book Fire & Blood, is set 300 years before the events of Thrones and details the story of House Targaryen.
Miguel Sapochnik and Ryan Condal will serve as showrunners on the series and will executive produce along with Martin and Vince Gerardis. Sapochnik will also direct the pilot and additional episodes, all of which are being written by Condal.
"The Game of Thrones universe is so rich with stories," said president of HBO programming Casey Bloys. "We look forward to exploring the origins of House Targaryen and the earlier days of Westeros along with Miguel, Ryan, and George."
House of the Dragon is the first project Sapochnik is developing and producing as part of an overall deal he signed at HBO earlier this year.