NETFLIX: Here is everything coming and going in June
Netflix has released a complete list of what is coming and going on the streaming service in June.
Fans of Jurassic Park will be excited as the trilogy will arrive on June 1. The fourth season of the extremely popular Orange is the New Black will be released on June 17. One of our favorite additions to Netflix for the month of June is 2016 Oscar-Best Picture-winner, Spotlight, which will be available to stream beginning June 22.
You can see the full list of everything that is coming and going on Netflix in June below:
Coming to Netflix in June
June 1
7 Chinese Brothers (2015)
72 Cutest Animals, season 1
72 Dangerous Places, season 1
A Walk to Remember (2002)
Big Stone Gap (2014)
Bob Ross: Beauty is Everywhere (1990)
Breaking the Magician's Code: Magic's Biggest Secrets Finally Revealed, seasons 1-2
Cold in July (2014)
Conspiracy Theory: Did We Land On The Moon? (2001)
Cuba: The Forgotten Revolution (2015)
(Dis)Honesty: The Truth About Lies (2015)
El Libro de Piedra (1969)
Elizabeth: The Golden Age (2007)
Extraordinary Tales (2015)
The Fear of 13 (2015)
Gabo: The Creation of Gabriel García Márquez (2015)
Gentlemen and Gangsters, season 1
The Good Witch, season 1
The Great Alone (2015)
Hadwin's Judgement (2015)
J. Edgar (2011)
Jaco (2015)
Janis: Little Girl Blue (2015)
Jurassic Park (1993)
Jurassic Park III (2001)
Lion Heart (2013)
The Lost World: Jurassic Park (1997)
Meadowland (2015)
The Odd Couple II (1998)
Off Camera: Series 1
Pokémon the Movie: Hoopa and the Clash of Ages (2015)
Pokémon: XY: Kalos Quest, season 2
Portrait of a Serial Monogamist (2015)
The Resurrection of Jake the Snake (2015)
Rock the Kasbah (2015)
Sam Klemke's Time Machine (2015)
Second Coming (2014)
Tab Hunter Confidential (2015)
UFOs: The Best Evidence Ever (Caught on Tape) (1997)
Underdogs (2013)
What Our Fathers Did: A Nazi Legacy (2015)
Wildlike (2014)
June 2
Beauty & the Beast, season 3
Hibana: Spark
Pretty Little Liars, season 6
June 3
June 6
June 7
Every Thing Will Be Fine (2015)
Jarhead 3: The Seige (2016)
June 10
Lego Friends: The Power of Friendship, season 2
Voltron: Legendary Defender, season 1
June 11
Me Him Her (2016)
Scandal, season 5
June 12
Already Tomorrow in Hong Kong (2015)
June 14
June 15
After The Spill (2015)
Boom Bust Boom (2016)
The Giver (2014)
In the Shadow of the Moon (2007)
Naz & Maalik (2015)
Night Owls (2015)
Poverty, Inc. (2014)
Top Spin (2015)
TransFatty Lives (2015)
June 16
Being Mary Jane, season 3
Marvel's Agents of S.H.I.E.L.D., season 3
The Unborn (2009)
June 17
All Hail King Julien, season 3
Orange is the New Black, season 4
June 18
Cedar Cove, season 3
Grey's Anatomy, season 12
June 19
Bunk'd, season 1
I Am Thor (2015)
June 20
Life Story: Series 1
The Making of Life Story
June 21
Best Friends Whenever, season 1
June 22
Sin City: A Dame to Kill For (2014)
Spotlight (2015)
June 24
Dragons: Race to the Edge, season 3
The Fundamentals of Caring (2016)
Justin Time GO!
June 27
June 29
June 30
A Very Secret Service, season 1
Palio (2015)
(T)ERROR (2015)
Leaving Netflix in June
June 1
A Wrinkle in Time (2003)
About a Boy (2002)
Bounce (2000)
Bridget Jones's Diary (2001)
The Chronicles of Riddick: Dark Fury (2004)
Clear and Present Danger (1994)
Click (2006)
Darkman (1990)
Disney Animation Collection: Vol. 5: Wind in the Willows
Dude, Where's My Car? (2000)
Duplex (2003)
Elias: Rescue Team Adventures, season 1
The Faculty (1998)
Far from Home: The Adventures of Yellow Dog (1995)
Ghost (1990)
Groundhog Day (1993)
Hamlet (2000)
Hercules (1997)
In the Bedroom (2001)
Jersey Girl (2004)
Kinky Boots (2005)
Lassie (2005)
Losing Isaiah (1995)
Madonna: Truth or Dare (1991)
Marvin's Room (1996)
Music of the Heart (1999)
My Boss's Daughter (2003)
Nine Months (1995)
The Others (2001)
Paris Is Burning (1990)
Private Parts (1997)
Proof (2005)
Schoolhouse Rock!: Earth (2009)
The Sisterhood of the Traveling Pants (2005)
The Station Agent (2003)
The Stepford Wives (2004)
Stir of Echoes (1999)
Stir of Echoes 2: The Homecoming (2007)
The Super Hero Squad Show, seasons 1-2
Velvet Goldmine (1998)
View from the Top (2003)
Wayne's World (1992)
The Yards (2000)
June 2
Eureka Seven, seasons 1-2
June 14
June 15
June 18
A Late Quartet (2012)
The Wubbulous World of Dr. Seuss, season 1
June 21
June 24
Elaine Stritch: Shoot Me (2013)
The Hunchback of Notre Dame (1996)
The Hunchback of Notre Dame II (2002)
Marvel's Avengers Assemble, season 1
Mulan (1998)
Who Framed Roger Rabbit (1988)
June 30

Rockstar Games announces 'Red Dead Redemption 2' will actually be released this October
While it's a bit disappointing to see that Rockstar Games will be delaying the long-awaited Red Dead Redemption 2 for the third time, it's promising to see that the beloved video game publisher has finally set an official release date for the upcoming sequel rather than just giving us a typical "Fall 2018" timeframe.
"We are excited to announce that Red Dead Redemption 2 will be released on October 26th, 2018," Rockstar said in a statement released today. "We apologize to everyone disappointed by this delay. While we had hoped to have the game out sooner, we require a little extra time for polish. We sincerely thank you for your patience and hope that when you get to play the game, you will agree the wait will have been worth it."
As someone who is a huge fan of the original Red Dead Redemption and stills sheds the occasional tear over that game's ending, it's wonderful to hear that Rockstar is taking their time on the sequel in hopes of delivering a game that can live up to its predecessor. I mean, remember that trailer they put out a few months ago? The game looks absolutely stunning, and Rockstar just dropped a whole bunch of new images from it, too.
While we don't know much about Red Dead Redemption 2's plot, Rockstar describes it as an "epic tale of life in America's unforgiving heartland" that has a "vast and atmospheric world" that will also provide the foundation for what they call a brand new online multiplayer experience. Sounds good to me! Let us know your thoughts on the release date change by sounding off in the comments section below.
Box office: 'Alien: Covenant' bursts into theaters with $40 million opening weekend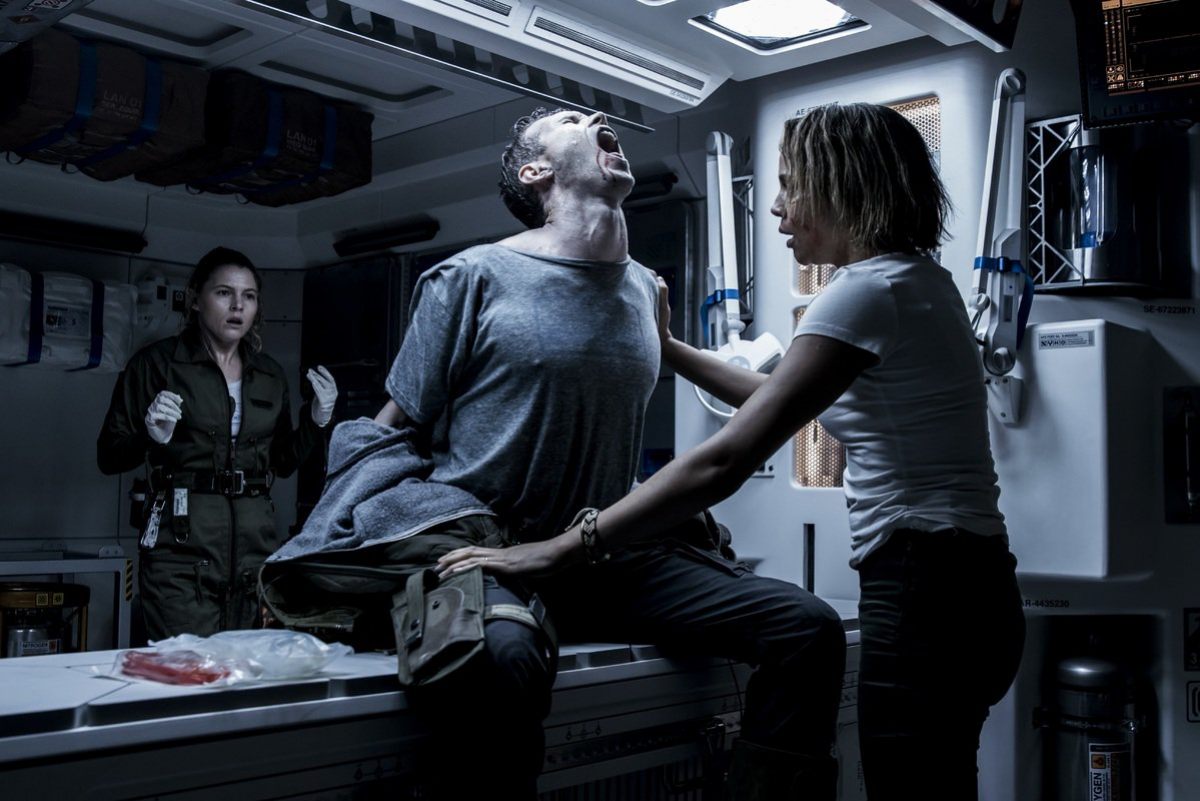 After remaining at the top of the box office for the past two weekends straight, Guardians of the Galaxy Vol. 2 is going to have to move over to make room for Ridley Scott's Alien: Covenant which had an impressive $15.35 million opening day in addition to its $4.2 million from Thursday night previews.
According to box office analysts, Alien: Covenant is poised to pull in an estimated $40 million from 3,761 theaters this weekend which, when paired with it's $46.7 million overseas earnings, brings its worldwide total to a massive $86.7 million. While these numbers are certainly nothing to give a cold shoulder to, it's a bit surprising that they aren't higher considering the film's extensive marketing campaign, which reportedly cost $22.35 million.
As Deadline pointed out in their own box office report, Alien: Covenant is playing much like a sequel with its domestic opening down nearly 22% from Prometheus' $51 million debut in 2012. However, despite the box office comparisons, Alien: Covenant is going over just as good, if not a little better than Prometheus did with both critics and audiences, boasting a B CinemaScore and 73% certified fresh rating on Rotten Tomatoes.
Alien: Covenant takes moviegoers along for a ride with the Covenant crew as they embark on a journey to a remote planet on the far side of the galaxy where they discover what appears to be an uncharted paradise. However, they soon learn that it is actually a dark, dangerous world whose sole inhabitant is the synthetic David, the one and only survivor of the doomed Prometheus expedition. When they uncover a threat beyond their imagination, they must attempt a harrowing escape.
Directed by Scott from a screenplay penned by Skyfall and Spectre scribe John Logan, Alien: Covenant features a diverse cast which includes Katherine Waterson alongside Michael Fassbender, Billy Crudup, Danny McBride, Demián Bichir, Carmen Ejogo, Amy Seimetz, Jussie Smollett, Callie Hernandez, Nathaniel Dean, Alexander England, and Benjamin Rigby.
Interview: Demetri Martin on new film 'Dean' and trying to find yourself in your forties
For Demetri Martin, Dean is something much deeper than just a story about an illustrator whose unwillingness to deal with the recent death of his mother leads to him practically abandoning his quiet life as an illustrator in his hometown of New York to seek new opportunities in Los Angeles. It's a tale of love, loss, and everything in between.
When I sat down with the writer-director in a cozy little cafe in Scottsdale, Arizona last month, I had the pleasure of discussing the personal issues his new film, which Martin stars in opposite the Oscar-winning Kevin Kline, touches on, while simultaneously reflecting on how shitty it can be to not able to find your true self, even when you're in your forties (for the record, Demetri doesn't look a day over 30).
One of the things that really stuck out to me about Dean was the split screen effect we see repeated throughout the film between what's actually happening within the story itself and the drawings that represent those moments. How did you come up with the idea for the split screen effect, and are those illustrations that you created yourself? 
They are my actual drawings. Some of them pre-dated the movie because I did a book of drawings that came out a couple of years ago where there's one-per-page, pretty much, mostly just little single panel drawings. When I started writing the script, I thought, "You know, if I made my character an illustrator, this would be an interesting experiment for me as a first-time filmmaker, because I'll have this other device that I can use in telling the story and also how he feels and, more specifically, where he starts and ends up more or less as he moves through this story emotionally." So I said, "Yes! I'll put the drawings in."
When we shot the movie, I got to the edit and I had ideas for some of the drawings and then I was surprised to find moments where I'm like, "Oh, I need a drawing right here." You get a sense of the rhythm. You're putting together the assembly and you say, "Yeah, I'm going to have to come up with something for that part," or "Ooh! Maybe a drawing will save me here. I can transition more easily to that scene." With the split screen, I thought it would be cool to have the screen split during certain moments in the film with a drawing to see how they relate to each other. But, it was only after getting to the edit that I started to realize that I truly needed to figure out how this works because I don't want to distract the viewer. You don't want it to be a gimmick or something like that.
In success, I thought, "This will really show you what it's like to be this guy or, at least, this type of creative person dealing with something that he's not usually used to dealing with." For me, there's a parallel because in my stand-up, I usually just do jokes and I don't really talk about deep, emotional things and I'm trying to learn how to. So, it's kind of similar where I have a certain language as a comedian but it's more intellectual. It's not usually emotional. But I'm trying to dig a little deeper now because I feel like that's where the world is at, and I feel like the split screen was a way to achieve that. However, I really had to fiddle with it because, initially, a drawing would just pop-up. But then, if you noticed, the drawing just kind of slides in, so it's much more gentle. Sort of like an unseen hand.
In the film, Dean deals with some very personal issues such as his mother dying and a somewhat broken relationship with his father. Was Dean a personal film for you, or was it something that you just kind of had in your head for awhile and thought, "Hey, I think this might work really well for a movie?" 
It's really personal. It's all fiction, but, emotionally, it's all my real experience, which is to say, I lost a parent when I was 20, my dad passed away when I was 20, and he was only 46, so we were all very surprised, and I'm not sure if my family has ever really recovered from it in a lot of ways. You know, that's the thing; I've never really found a way to do that in stand-up. It's never been appealing to me to go up there and say, "Hey, my dad…" So, I thought, "If I'm going to try and make a movie, I'm personally often drawn to movies that are a little bit more, I guess you can say, heartfelt, or have a certain sincerity to them. I love ironic, sarcastic comedies as much as anybody, but maybe it's getting a little bit old or something. But I want to feel what the characters on the screen feel. I want to be pulled in.
When it came time to make my first movie, I knew I needed to start with something that I know, at least emotionally, but also make it fiction. So, there's nothing in the movie that actually happened to me, but there are some lines that sort of actually came from my real life. Like, the idea is the first thing that you never really get over. For me, that happened to me when I was 20 when my dad died. I think everybody has that at a different age and, maybe, if you're luckier, you're older when that happens, and maybe it's losing a parent or just something else terrible, like a divorce.
I know this might be a bit of a simple, easy question, but what makes Dean such a relatable film? Is it the subject matter that the story deals with or could it be something else? 
It's an honest film. That's probably going to be its strength and vulnerability which is to say, in the Internet age, I'm just preparing to get myself pummeled by people for this thing. It's not sarcastic, it's not cool. It's just sincere, you know? I think that makes it relatable for people who have had any kind of experience losing something that really changed them. Also, I think I got lucky. I got good people to be in it.
Speaking of which, how did you get some of the talents in the film involved? Did you go to them or did they come to you first? 
I didn't know Kevin Kline but my agents got the script to him and he liked it enough to meet with me, and then when we met we got to know each other a little bit and he agreed to be in the movie. So, I really have him to thank for getting most of the other people. He kind of made the movie happen. I even got most of my financing after Kevin agreed to do the movie. He really did me a favor. He and Mary [Steenburgen] knew each other, and she was like, "Oh, Kevin! I love him," and then she agreed to be in the movie, too. Gillian [Jacobs] knew my comedy a little bit so she was up for it, and then Kevin was just like this calling card where he gave it legitimacy. It just filtered down from there.
A few key, very awkward moments in this film reminded me of some of my favorite TV shows like Seinfeld and Curb Your Enthusiasm. Did you draw any inspiration from Larry David's strange sense of humor? 
You know, I hadn't thought about it that way, but when you mention Curb, and I guess Seinfeld…I'm trying to think of other touchstones for that. But, yeah! Maybe one of the reason shows like that are such hits were because there's something that's very relatable and real about them, and that transitions back into our own lives. I mean, I'm definitely not the most graceful person. It's funny, I've been talking about this a lot on stage lately because I'm now in my forties and, in some ways, I thought I'd have it all figured out by now. Like, "Cool, this is who I am now. I'm comfortable in my own skin." But, I'm just not, you know? It just sucks.
I'm kind of just accepting it now but in the movie, it was certainly very useful to just be like, "Cool. I'm often more awkward then I want to be," and it just pisses me off. If you're not a smooth person, to try and make a movie about a guy who is a smooth, I would probably just die a terrible death. Luckily, I'm just trying to make comedies because, when I look at some of the handsome movie star type guys who are like action heroes and stuff, who doesn't want to be that at some point? You get the girl, you're in control, you do your own stunts. I'm just like, "I was on the math team. That shit's not happening for me."
After making the rounds on the festival circuit, the award-winning Dean will hit select theaters around the nation on June 2, 2017.