Stephen Daldry is in talks to direct a standalone Obi-Wan Kenobi movie at Lucasfilm
In an effort to continue to expand their ever-growing Star Wars franchise, it appears Lucasfilm has entered early development on a standalone movie centering on what is perhaps one of their most popular and beloved characters, the Jedi master Obi-Wan Kenobi.
According to The Hollywood Reporter, Stephen Daldry, the Oscar-nominated filmmaker best known for Billy Elliott and The Hours, is in early talks to direct the standalone Obi-Wan Kenobi project, while it's still unknown as to whether or not Ewan McGregor will reprise his role as the iconic character first played by Alec Guinness in the original 1974 Star Wars movie.
If a deal between Daldry and the studio is reached, the director would also oversee the development and screenwriting process along with "Lucasfilm brass," though no writers are currently attached to the film. In the past, McGregor has mentioned that he "would be open to playing" Obi-Wan Kenobi again, which, in all honesty, is rather surprising considering its been nearly twelve years since he last stepped into the role. However, as mentioned several times throughout the original report, there are no actors in talks to star yet.
With Rogue One: A Star Wars Story seeing more than enough success at the box office this past December, and the untitled Han Solo movie, which has seen its fair share of production issues in recent months, beginning to wrap up shooting in the next couple of weeks, Lucasfilm will begin to explore other potential standalone options, Yoda and Boba Fett being two of the other ideas being thrown around at the moment.
A potential release date for the Obi-Wan Kenobi standalone movie has not been announced.
'Big Little Lies' star Zoe Kravitz to take on the role of Catwoman in Matt Reeves' 'The Batman'
Zoe Kravitz is headed to Gotham as the Big Little Lies star has been set to play the iconic role of Catwoman in Matt Reeves' upcoming The Batman, Silver Screen Beat has learned.
Kravitz joins a cast that already includes the likes of Robert Pattinson as the titular Caped Crusader, Jeffrey Wright as Commissioner Gordon, and Jonah Hill as the yet-to-be-named villain. Reeves is expected to round out the rest of the cast before the year's end in anticipation of an early 2020 production start.
Other actresses including Ana de Armas, Ella Balinska, and Eiza Gonzalez went through what was described as a "rigorous testing process," for the role of Catwoman last month, according to The Hollywood Reporter, but it was ultimately Kravitz — who read opposite Pattinson — that was seen as the right fit for the job.
Reeves, who first boarded The Batman in early 2017 following the unsurprising departure of Ben Affleck, is directing the film from a script he wrote, in addition to producing along with his Planet of the Apes collaborator Dylan Clark.
Kravitz, still riding high off a well-reviewed performance in HBO's second season of the star-studded drama Big Little Lies this past summer, can be seen next in Hulu's High Fidelity, which is due out later this year.
The Batman is slated to be released by Warner Bros. June 25, 2021.
Dwayne Johnson, Emily Blunt set sail on an Amazonian adventure in Disney's 'Jungle Cruise' trailer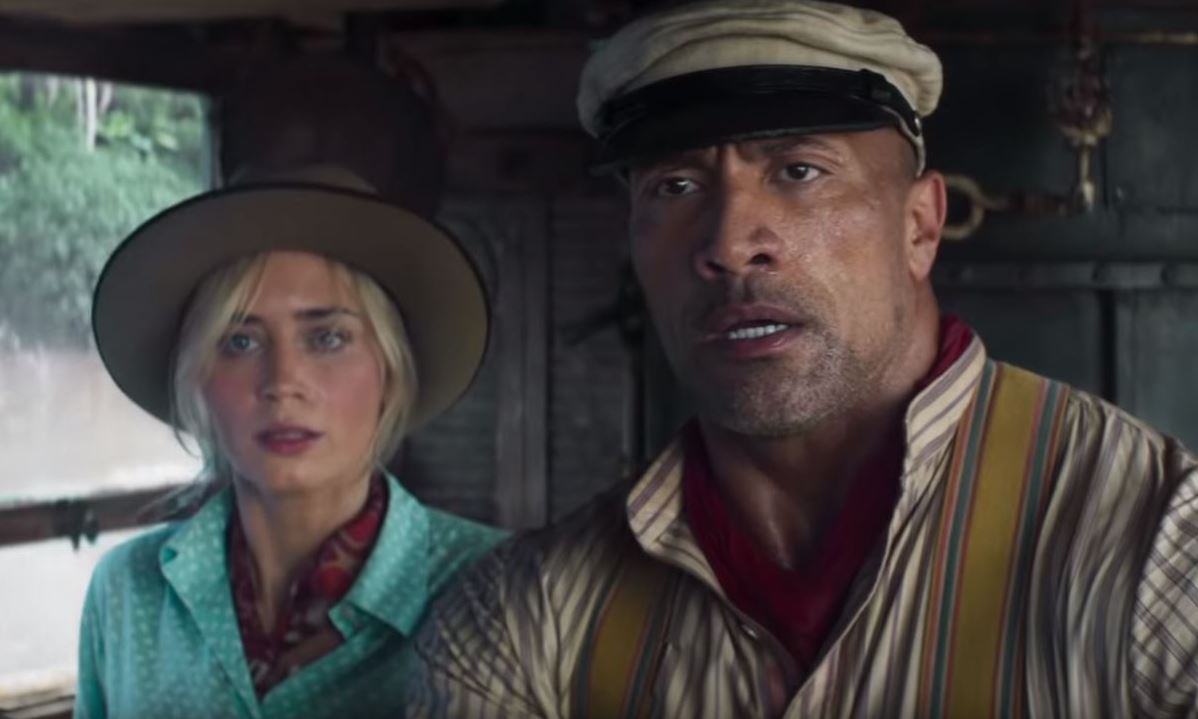 Disney has released the first trailer for Dwayne Johnson and Emily Blunt's Jungle Cruise, which finds the beloved Disneyland ride of the same name brought to life in the vein of such films as Indiana Jones and The African Queen.
The film, directed by Jaume Collet-Serra, follows a charismatic riverboat captain (Johnson) and a determined explorer on a research mission (Blunt) as they set sail on an adventure-filled expedition through the Amazon-jungle in hopes of finding a tree that is believed to possess healing powers.
"We were just so moved, so honored to be in a movie like this because we both grew up just madly in love with Indiana Jones and obsessed with those kinds of movies," Blunt said at the D23 Expo in August. "To be part of something like this, with this same spirit, makes my heart race."
Added Johnson, "We wanted to make a movie that was big, that was epic, that had romance, big comedy, big action. But most important; it's got me."
In addition to Johnson and Blunt, the film's ensemble cast also includes Jack Whitehall, Edgar Ramirez, Jesse Plemons, and Paul Giamatti.
John Davis, John Fox, Johnson, Hiram Garcia, Dany Garcia, and Beau Flynn produced the film, with Doug Merrifield serving as executive producer.
Jungle Cruise will sail into theaters on July 24, 2020.
Disney-Pixar's 'Onward' trailer finds Tom Holland, Chris Pratt summoning their dead father's legs
Disney and Pixar have released a new trailer for Onward, the upcoming animated feature starring Tom Holland and Chris Pratt as two teenage elf brothers, Ian and Barley Lightfoot, who embark on an extraordinary quest to discover if there is still a little magic out there.
And by magic, we're talking like actual, literal magic. Set in a suburban fantasy world, Onward follows Ian and Barley as they try to summon their dead father back to life. Having never encountered magic before, though, the spell doesn't completely work and only summons half their father — the bottom half, that is.
So, with their dad's legs in tow, the boys set out on a road trip to try to find out how to bring the rest of him back to life, encountering all sorts of creatures, magical spells, and mysterious lands along the way.
The film, which was directed by Dan Scanlon and produced by Kori Rae, features a star-studded voice cast that also includes the likes of Julia Louis-Dreyfus as Ian and Barely's mom, Laurel Lightfoot, and Octavia Spencer as the voice of the Manticore.
Onward will hit theaters on March 6, 2020.