Quentin Tarantino's 'Once Upon a Time in Hollywood' gets a very unfortunate new poster
Just before the weekend, word broke that we would be getting the long-awaited first trailer for Quentin Tarantino's Once Upon a Time in Hollywood on Monday morning. However, it appears those initial rumors were mistaken, and we won't be getting the trailer until later this week. But we do have a very unfortunate new poster to hold us over until then!
In what is perhaps one of the most "graphic design is my passion"-looking posters ever, we see Brad Pitt and Leonardo DiCaprio leaning on…something? I mean, they're standing out in the open. What the hell could they possibly be leaning on? And what exactly is going on with Brad Pitt's head? Did they photoshop it onto someone else's body? I have so many questions and not very many answers.
Regardless of this weird ass one-sheet, I'm still extremely psyched for whatever Tarantino has in store for us with his ninth feature, which stars Pitt and DiCaprio as a stuntman-actor duo struggling to make it in a Hollywood that they don't really recognize anymore. But DiCaprio's character has a very famous next-door neighbor…Sharon Tate (Margot Robbie).
The film's star-studded cast also includes the likes of Al Pacino, Damian Lewis, Dakota Fanning, Nicholas Hammond, Clifton Collins, Keith Jefferson, Emile Hirsch, and the late Luke Perry in what will be one of his final roles.
Once Upon a Time in Hollywood will hit theaters this summer on July 26. Check out that newly released one-sheet below and be sure to stay tuned for the trailer later this week.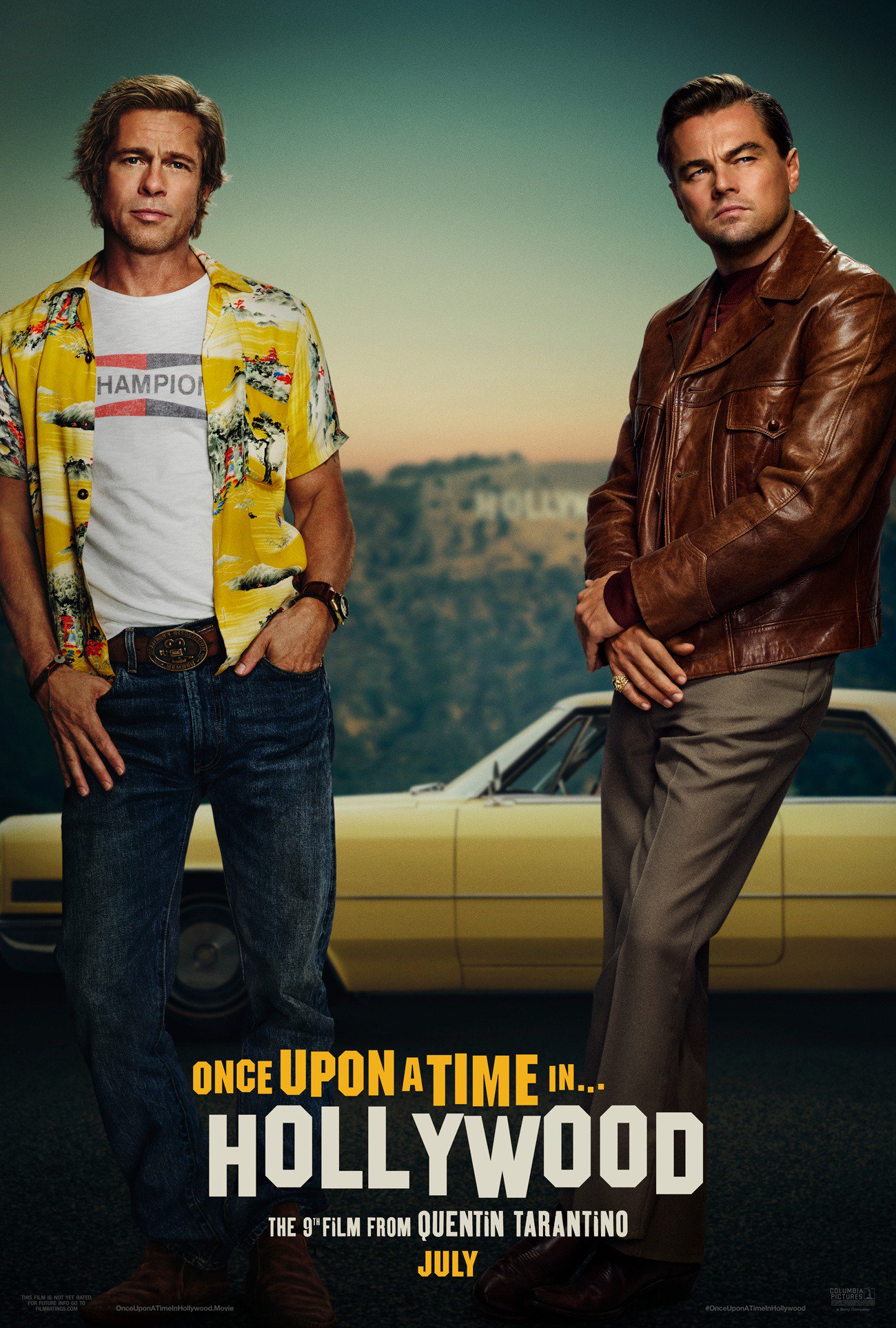 Clint Eastwood is in talks once again to direct 'The Ballad of Richard Jewell' for Disney-Fox
Four months after the release of his last film The Mule, 88-year-old Clint Eastwood has already set his sights on a new project to tackle: The Ballad of Richard Jewell, a film that once had the likes of Jonah Hill and Leonardo DiCaprio attached to star.
While both Hill and DiCaprio are now no longer a part of the cast, Deadline reports that the duo will be staying on board as producers and Eastwood will begin assembling a new cast over the course of the next few months in hopes that he can begin production this summer.
Based on the 1997 Vanity Fair article of the same name, The Ballad of Richard Jewell is based on the true story of a security guard who was incorrectly identified by the media as the F.B.I.'s prime suspect in the Olympic Park bombing during the 1996 Atlanta Olympics.
Eastwood, who was previously attached to direct the film back in 2015 before ultimately parting ways with the project, will be working from a script written by Billy Ray, whose most recent work includes Ang-Lee's Gemini Man and Tim Miller's Terminator reboot.
DiCaprio is producing under his Appian Way banner along with Jennifer Davisson, with Misher Film's Kevin Misher, Andy Berman, and Hill also serving as producers. Mike Ireland is overseeing the production of the film for Disney-Fox.
Dwayne Johnson and Jason Statham team-up against Idris Elba in new 'Hobbs & Shaw' trailer
Universal Pictures has released a new trailer for Hobbs & Shaw, the upcoming Fast & Furious spinoff which finds Dwayne Johnson and Jason Statham having to team-up to take down a villainous Idris Elba before he wipes out humanity as we know it.
Directed by David Leitch, the film follows Hobbs (Johnson), a loyal agent of America's Diplomatic Security Service, and lawless outcast Shaw (Statham), a former British military elite operative, as they embark on a mission to stop the cyber-genetically enhanced anarchist Brixton (Elba), who has gained control of an insidious bio-threat.
Along the way, they'll need help from the brilliant and fearless rogue MI6 agent who just happens to be Shaw's sister (Vanessa Kirby), as well as Hobbs' family, who seems to know a thing or two when it comes to fighting, judging by some of the footage showcased in the trailer.
Chris Morgan, the Fast & Furious franchise veteran who has written each and every installment to date since 2006's Tokyo Drift, returns to write this one, in addition to producing along with Johnson, Statham, and Hiram Garcia.
Hobbs & Shaw also stars Eiza Gonzalez, Helen Mirren, Eddie Marsan, Roman Reigns, Cliff Curtis, Josh Mauga, and John Tui, and will hit theaters on August 2.
Cannes 2019: Terrence Malick, Xavier Dolan, and a record number of women in competition
The lineup for the 72nd Cannes Film Festival was unveiled in Paris on Thursday morning, with this year's selection including competition entries from the likes of Terrence Malick, Xavier Dolan, Pedro Almodovar, and Ken Loach. The event will take place May 14-May 25.
Among the titles that will be playing Cannes this year, 13 of them were directed by women, with a record number of four competing for the prestigious Palme d'Or, including Jessica Hausner's Little Joe, Mati Dipo's Atlantique, Celine Sciamma's Portrait of a Young Lady on Fire, and Justine Triet's Sibyl.
Thierry Frémaux, artistic director for Cannes, said at this morning's press conference that this year's selection includes "beautiful portraits of women, not only by female directors, but also by men," which seems appropriate given that this year's festival will pay tribute to the late Agnès Varda.
Cannes will also feature plenty of star power this year as Jim Jarmusch's zombie horror satire The Dead Don't Die starring Bill Murray, Adam Driver, Tilda Swinton, and Chloe Sevigny is set to kick off the festival on opening night.
A few nights later, on May 16, the Taron Edgerton-led Elton John biopic Rocketman, which Frémaux described as "a signal of the return of major studios" to the festival, will hold its world premiere, with John himself scheduled to be in attendance.
The complete lineup for the 2019 Cannes Film Festival is as follows:
Competition
Pain and Glory, Pedro Almodovar
The Traitor, Marco Bellocchio
Wild Goose Lake, Yinan Diao
Parasite, Bong Joon-ho
Young Ahmed, The Dardenne Brothers
Oh Mercy!, Arnaud Desplechin
Atlantique, Mati Diop
Matthias and Maxime, Xavier Dolan
Little Joe, Jessica Hausner
Sorry We Missed You, Ken Loach
Les Miserables, Ladj Ly
A Hidden Life (previously known as Radegund), Terrence Malik
Nighthawk, Kleber Mendonca Filho, Juliano Dornelles
The Whistlers, Corneliu Porumboiu
Frankie, Ira Sachs
The Dead Don't Die, Jim Jarmusch
Portrait of a Lady on Fire, Celine Sciamma
It Must Be Heaven, Elia Suleiman
Sybil, Justine Triet
Out of Competition
Rocketman, Dexter Fletcher
The Best Years of Life, Claude Lelouch
Maradona, Asif Kapadia
La Belle Epoque, Nicolas Bedos
Too Old to Die Young, Nicolas Winding Refn (TV series screening 2 episodes)
Special Screenings
Share, Pippa Bianco
Family Romance LLC, Werner Herzog
Tommaso, Abel Ferrara
To Be Alive and Know It, Alain Cavalier
For Sama, Waad Al Kateab and Edward Watts
Midnight Screenings
The Gangster, The Cop, The Devil, Lee Won-Tae
Un Certain Regard
Invisible Life, Karim Aïnouz
Beanpole, Kantemir Balagov
The Swallows of Kabul, Zabou Breitman & Eléa Gobé Mévellec
A Brother's Love, Monia Chokri
The Climb, Michael Covino
Joan of Arc, Bruno Dumont
A Sun That Never Sets, Olivier Laxe
Chambre 212, Christophe Honoré
Port Authority, Danielle Lessovitz
Papicha, Mounia Meddour
Adam, Maryam Touzani
Zhuo Ren Mi Mi, Midi Z
Liberte, Albert Serra
Bull,  Annie Silverstein
Summer of Changsha, Zu Feng
EVGE, Nariman Aliev