Quentin Tarantino's 'Once Upon a Time in Hollywood' gets a very unfortunate new poster
Just before the weekend, word broke that we would be getting the long-awaited first trailer for Quentin Tarantino's Once Upon a Time in Hollywood on Monday morning. However, it appears those initial rumors were mistaken, and we won't be getting the trailer until later this week. But we do have a very unfortunate new poster to hold us over until then!
In what is perhaps one of the most "graphic design is my passion"-looking posters ever, we see Brad Pitt and Leonardo DiCaprio leaning on…something? I mean, they're standing out in the open. What the hell could they possibly be leaning on? And what exactly is going on with Brad Pitt's head? Did they photoshop it onto someone else's body? I have so many questions and not very many answers.
Regardless of this weird ass one-sheet, I'm still extremely psyched for whatever Tarantino has in store for us with his ninth feature, which stars Pitt and DiCaprio as a stuntman-actor duo struggling to make it in a Hollywood that they don't really recognize anymore. But DiCaprio's character has a very famous next-door neighbor…Sharon Tate (Margot Robbie).
The film's star-studded cast also includes the likes of Al Pacino, Damian Lewis, Dakota Fanning, Nicholas Hammond, Clifton Collins, Keith Jefferson, Emile Hirsch, and the late Luke Perry in what will be one of his final roles.
Once Upon a Time in Hollywood will hit theaters this summer on July 26. Check out that newly released one-sheet below and be sure to stay tuned for the trailer later this week.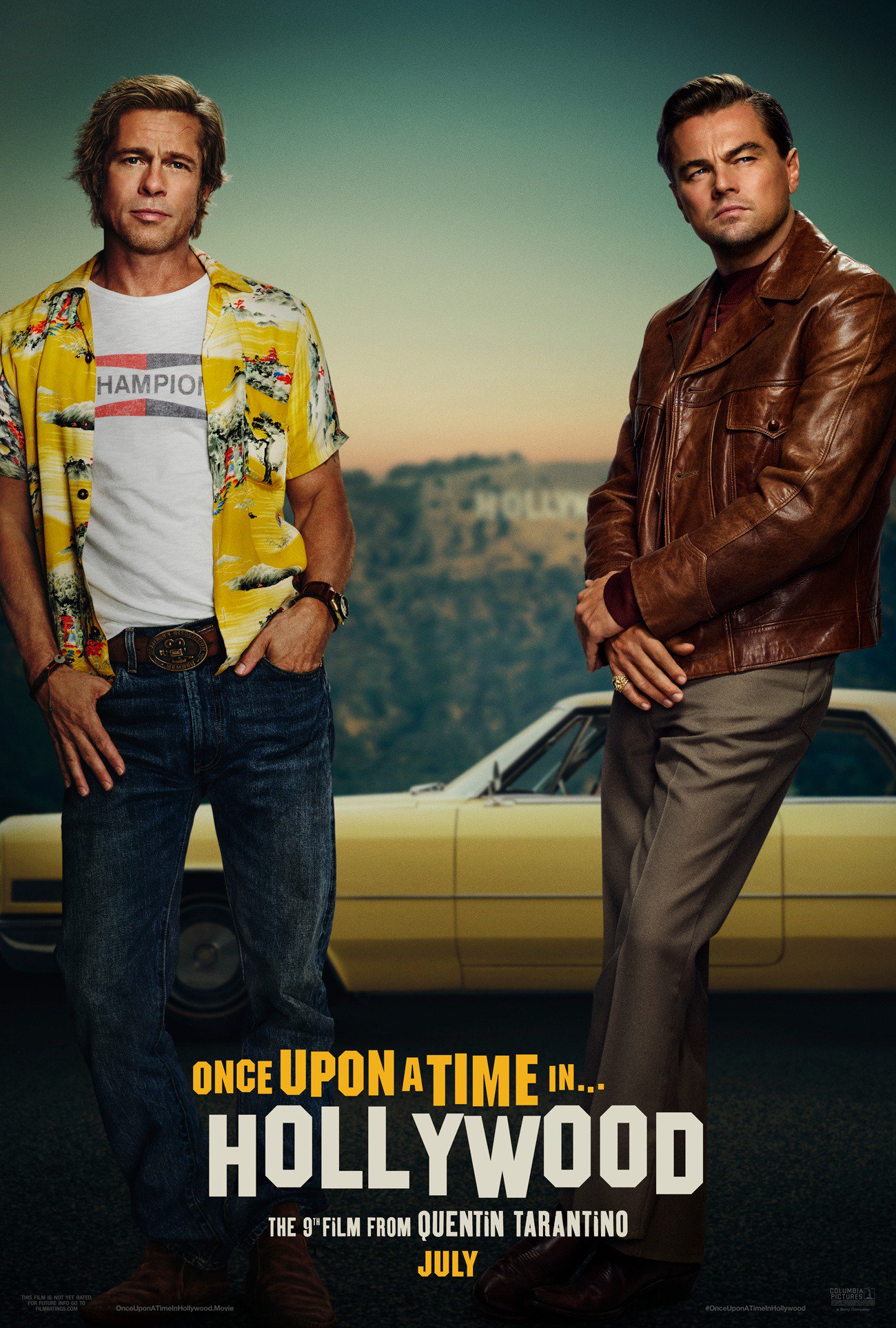 The 'Uncharted' movie is probably just one of those things that's never actually going to get made
Between Spider-Man parting ways with the Marvel Cinematic Universe and now this new development regarding the long-in-the-works film adaptation of Uncharted, it's been a pretty eventful and rather unfortunate week for Tom Holland.
Dan Trachtenberg, the fifth director to be attached to Uncharted, has reportedly exited the project for unspecified reasons, though it's likely it had to do with creative differences or whatever bullshit excuse it is that these studios manage to pull out of their asses whenever a director leaves a high-profile project.
Again, Trachtenberg was not the first, second, third, or fourth director to be attached to be Uncharted, but the FIFTH. David O. Russell, Neil Burger, Seth Gordon, and Shawn Levy were all attached to the project at one point or another but ended up leaving for various different reasons.
On the bright side (?), however, Sony is already looking to lock down a replacement for Trachtenberg and a new director should be in place soon in anticipation of the film's early 2020 production start.
But, like, let's be real here for a second; what are the chances of the Uncharted movie actually happening at this point? This is a truly cursed production and if it does actually ever get made, I vow to release my tax returns.
Adam Driver and Annette Bening work to expose the CIA's torture program in 'The Report' trailer
Another day, another trailer for a movie starring Adam Driver; a few days after Netflix blessed us with two teasers trailers for Noah Baumbach's Marriage Story, Amazon Studios has released the first trailer Scott Z. Burns' The Report.
Driver stars here as idealistic staffer Daniel J. Jones, who is tasked by his boss Senator Dianne Feinstein (Annette Bening) to lead an investigation of the CIA's inhumane Detention and Interrogation Program, which was formed in the wake of 9/11 and used "enhanced interrogation techniques" — that's government codeword for torture.
"Jones' relentless pursuit of the truth leads to explosive findings that uncover the lengths to which the nation's top intelligence agency went to destroy evidence, subvert the law, and hide a brutal secret from the American public," reads the synopsis.
In addition to Driver and Bening, The Report features one hell of an impressive ensemble cast that includes the likes of Jon Hamm, Sarah Goldberg, Michael C. Hall, Douglas Hodge, Fajer Kaisi, Ted Levine, Jennifer Morrison, Tim Blake Nelson, Linda Powell, Matthew Rhys, T. Ryder Smith, Corey Stoll, and Maura Tierney.
The film premiered at and was purchased out of the Sundance Film Festival in January and currently boasts a 94% approval rating on Rotten Tomatoes, so it sounds like we're going to be in for quite a treat when The Report hits theaters on November 15 and Prime Video on November 29.
Charlize Theron, Nicole Kidman & Margot Robbie glare intensely at each other in the 'Bombshell' trailer
Despite taking place entirely in a hot, stuffy elevator and featuring little to no dialogue, the first trailer for Jay Roach's Fox News drama Bombshell about the downfall of Roger Ailes does a pretty damn good job of showcasing what is likely to be a serious contender this awards season.
Written by Charles Randolph, Bombshell chronicles the inevitable collapse of Ailes' reign at Fox News, where he served as chairman and CEO up until his resignation in 2016 amid dozens of sexual harassment and abuse allegations from several female employees at the conservative media empire.
Among the many women who accused Ailes of misconduct were former Fox News hosts Megyn Kelly and Gretchen Carlson, who are played here by Charlize Theron and Nicole Kidman, respectively, while Margot Robbie plays as a fictional associate producer named Kayla Pospisil.
As if those three stars weren't enough, the film's ensemble cast also includes the likes of John Lithgow (who plays Ailes), Allison Janney, Kate McKinnon, Malcolm McDowell, Mark Duplass, Rob Delaney, and Stephen Root.
I don't know about you, but I dig everything about this trailer (I could literally watch Nicole Kidman, Charlize Theron, and Margot Robbie glaring at each other in an elevator all day) and I'm actually pretty excited to see how Bombshell turns out when it drops in December.