Philadelphia readers: The line-up for the 26th Philadelphia Film Festival has been announced
With the Philadelphia Film Film Festival set to return for its 26th edition later this month, the Philadelphia Film Society has revealed the full line-up of titles that will be playing the festival including Craig Gillespie's I, Tonya, which will open the 11-day event on October 19, and Martin McDonagh's Three Billboards Outside Ebbing, Missouri, the closing night film.
"Coming off our 25th Anniversary, we entered this year with a certain amount of trepidation as to how we could match what was arguably our strongest Festival program ever built upon one of the best years for film in recent memory. After traveling the Festival circuit and watching a record number of submissions, we're thrilled with this year's line-up, which again represents the best of film from around the world," said J. Andrew Greenblatt, the festival's executive director.
He continued, "From crowd pleasers like our Opening Night film I, Tonya to award contenders like Closing Night film Three Billboards Outside Ebbing, Missouri; from thought-provoking documentaries like The New Radical to cutting-edge foreign films like The Square and experimental indies like Flesh and Blood from Philly-born director Mark Webber, there's something for everyone in this year's Philadelphia Film Festival."
The 26th Philadelphia Film Festival runs from Thursday, October 19 to Sunday, October 29. Tickets will go on-sale for Philadelphia Film Society members on Friday, October 6 and to the general public beginning Monday, October 9. You can check out the full line-up below:
Opening Night Film
I, Tonya, Director Craig Gillespie. 2017, USA.
Closing Night Film
Three Billboards Outside Ebbing, Missouri, Director Martin McDonagh. 2017, USA.
Centerpiece Screenings
Darkest Hour, Director Joe Wright. 2017, UK.
The Florida Project, Director Sean Baker. 2017, USA.
Lady Bird, Director Greta Gerwig. 2017, USA.
Last Flag Flying, Director Richard Linklater. 2017, USA.
From the Vaults: Film history comes alive as it was meant to be seen – on the big screen. Come see old favorites bigger than life once again.
"Demme in Philly" Retrospective
Beloved, Director Jonathan Demme. 1998, USA.
Neil Young Trunk Show, Director Jonathan Demme. 2009, USA.
Philadelphia, Director Jonathan Demme. 1993, USA.
Ichi the Killer, Director Takashi Miike. 2001, Japan.
The Last Detail, Director Hal Ashby. 1973, USA.
Spotlights, Presented by Philadelphia Style: Highly–anticipated movies from some of the biggest names in the industry, these films shine a spotlight on top talent from around the world.
Borg/McEnroe, Director Janus Metz. 2017, Sweden.
Breathe, Director Andy Serkis. 2017, UK.
The Ballad of Lefty Brown, Director Jared Moshé. 2017, USA.
Chappaquiddick, Director John Curran. 2017, USA.
Thoroughbreds, Director Cory Finley. 2017, USA.
Where is Kyra?, Director Andrew Dosunmu. 2016, USA.
Wonderstruck, Director Todd Haynes. 2017, USA.
Masters of Cinema, Presented by aka: These new films exemplify the masterful work of world-renowned filmmakers as they continue to thrill and inspire audiences with cutting-edge features.
Faces Places, Director Agnès Varda, JR. 2017, France.
In The Fade, Director Fatih Akin. 2017, Germany.
Ismael's Ghosts, Director Arnaud Desplechin. 2017, France.
Jane, Director Brett Morgen. 2017, USA.
The Other Side of Hope, Director Aki Kaurismäki. 2017, Finland, Germany
Radiance, Director Naomi Kawase. 2017, Japan.
Spoor, Director Agnieszka Holland. 2017, Poland, Germany, Czech Republic, Sweden, Slovakia.
World Narratives, Presented by 6ABC: Explore the world through film with this diverse selection of international cinema that features distinct perspectives and images from around the globe.
A Ciambra, Director Jonas Carpignano. 2017, Italy, USA, France, Sweden, Germany.
Beauty and the Dogs, Director Kaouther Ben Hania. 2017, Tunisia, France, Sweden.
Bye Bye Germany, Director Sam Garbarski. 2017, Germany.
The Divine Order, Director Petra Volpe. 2017, Switzerland.
Have a Nice Day, Director Liu Jian. 2017, China.
Holy Air, Director Shady Srour. 2017, Israel.
In Syria, Director Philippe Van Leeuw. 2017, Belgium, France, Lebanon.
Marlina the Murderer in Four Acts, Director Mouly Surya. 2017, Indonesia, France, Malaysia, Thailand.
Mobile Homes, Director Vladimir de Fontenay. 2017, Canada, France.
Newton, Director Amit V Masurkar. 2017, India.
On Body and Soul, Director Ildikó Enyedi. 2017, Hungary.
Scaffolding, Director Matan Yair. 2017, Israel, Poland.
The Square, Director Ruben Östlund. 2017, Sweden, Germany, France, Denmark.
Sweet Country, Director Warwick Thornton. 2017, Australia.
Thelma, Director Joachim Trier. 2017, Norway, Sweden, France, Denmark.
Under the Tree, Director Hafsteinn Gunnar Sigurðsson. 2017, Iceland, Denmark, Poland, Germany.
Walking Past the Future, Director Li Ruijun. 2017, China.
The Wound, Director John Trengove. 2017, South Africa.
New French Films, Presented by TV5Monde: The birthplace of cinema, France continues to produce some of the best movies in the world with films that are funny, daring, sexy and uniquely French.
Bloody Milk, Director Hubert Charuel. 2017, France.
BPM (Beats Per Minute), Director Robin Campillo. 2017, France.
Custody, Director Xavier Legrand. 2017, France.
Just to Be Sure, Director Carine Tardieu. 2017, France.
Montparnasse Bienvenue, Director Léonor Serraille. 2017, France.
The Workshop, Director Laurent Cantet. 2017, France.
Spanish and Latin American Cinema Now: Offering gripping stories and unique perspective, these Spanish-language films explore a multitude of subjects ranging from the culturally specific to the universal.
The Desert Bride, Director Cecilia Atán, Valeria Pivato. 2017, Argentina, Chile.
The Invisible Guest, Director Oriol Paulo. 2017, Spain.
Sister of Mine, Director Pedro Aguilera. 2017, Spain, Colombia.
A Sort of Family, Director Diego Lerman. 2017, Argentina, Brazil, France, Poland.
American Independents, Presented by Xfinity (Part of PFS on Us presented by PNC Arts Alive): Featuring powerful new voices in American cinema, these fresh, gritty films explore a variety of subjects through the filmmaker's uncompromising vision.
Blame, Director Quinn Shephard. 2017, USA.
The Endless, Director Justin Benson, Aaron Moorhead. 2017, USA.
Gemini, Director Aaron Katz. 2017, USA.
Most Beautiful Island, Director Ana Asensio. 2017, USA.
Oh Lucy!, Director Atsuko Hirayanagi. 2017, USA, Japan.
Princess Cyd, Director Stephen Cone. 2017, USA.
Sollers Point, Director Matt Porterfield. 2017, USA.
Greater Filmadelphia, Presented by PGW: Featuring work from some of our finest homegrown filmmakers, this category brings our city and its talent to the big screen.
11/8/16, Director Jeff Deutchman. 2017, USA.
Alaska Is a Drag, Director Shaz Bennett. 2017, USA.
AlphaGo, Director Greg Kohs. 2017, UK, South Korea, France, USA.
At the Drive-In, Director Alexander Monelli. 2017, USA.
Flesh and Blood, Director Mark Webber. 2017, USA.
Golden Exits, Director Alex Ross Perry. 2017, USA.
Love Means Zero, Director Jason Kohn. 2017, USA.
Documentary Showcase, Presented by Sidney Kimmel Cancer Center and Jefferson Health (Part of PFS on Us presented by PNC Arts Alive): Comprising the best in documentary filmmaking, these compelling films feature everything from stirring character studies to fascinating looks at current global issues.
Bobbi Jene, Director Elvira Lind. 2017, USA, Denmark, Israel.
Brimstone and Glory, Director Viktor Jakovleski. 2017, USA, Mexico.
The Cage Fighter, Director Jeff Unay. 2017, USA.
Ghost Hunting, Director Raed Andoni. 2017, France, Palestine, Switzerland, Qatar.
Gilbert, Director Neil Berkeley. 2017, USA.
The New Radical, Director Adam Bhala Lough. 2016, USA.
One of Us, Director Heidi Ewing, Rachel Grady. 2017, USA.
Sight and Soundtrack, Presented by iHeart Media: Featuring rockumentaries, musician biopics, and films that are centered on the unifying power of music.
Bad Lucky Goat, Director Samir Oliveros. 2017, Colombia.
Django, Director Étienne Comar. 2017, France.
Living on Soul, Director Jeff Broadway, Cory Bailey. 2017, USA.
Sammy Davis Jr.: I've Gotta be Me, Director Sam Pollard. 2017, USA.
Souvenir, Director Bavo Defurne. 2016, Belgium, Luxembourg, France.
The Graveyard Shift: Horror, action, suspense, and the downright weird, these films will keep you awake during the graveyard shift.
Bad Day for the Cut, Director Chris Baugh. 2017, UK.
The Bar, Director Álex de la Iglesia. 2017, Spain.
Blade of the Immortal, Director Takashi Miike. 2017, Japan.
Let the Corpses Tan, Director Hélène Cattet, Bruno Forzani. 2017, Belgium, France.
Animated and Live Action Shorts:
Aria, Director Myrsini Aristidou. 2017, Cyprus, France.
The Bald Future, Director Paul Cabon. 2016, France.
Broken: The Women's Prison at Hoheneck, Director Alexander Lahl, Volker Schlecht. 2016, Germany.
The Burden, Director Niki Lindroth. 2017, Sweden.
Call Your Father, Director Jordan Firstman. 2016, USA.
Catherine, Director Britt Raes. 2016, Belgium.
Cerulia, Director Sofía Carrillo. 2017, Mexico.
Close Ties, Director Zofia Kowalewska. 2016, Poland.
Deer Squad: The Movie, Director Pipus Larsen, Kenneth Gug, Scott J. Ross. 2016, USA.
Fish Story, Director Charlie Lyne. 2017, UK.
Fucking Bunnies, Director Teemu Niukkanen. 2016, Finland.
A Gentle Night, Director Qui Yang. 2017, China.
Goddess, Director Karishma Dube. 2017, India.
Great Choice!, Director Robin Comisar. 2017, USA.
Hi Stranger, Director Kirsten Lepore. 2016, USA.
Legal Smuggling with Christine Choy, Director Lewie Kloster. 2016, USA.
Lucia Before and After, Director Anu Valia. 2016, USA.
Nighthawk, Director Špela Čadež. 2016, Slovenia, Croatia.
Nobody Loves Me, Director Jeff Reichert, Farihah Zaman. 2017, Bolivia, USA.
Pussy, Director Renata Gasiorowska. 2016, Poland, Germany, Czech Republic, Sweden, Slovakia.
Retouch, Director Kaveh Mazaheri. 2017, Iran.
Slapper, Director Luci Schroder. 2016, Australia.
The Tesla World Light, Director Matthew Rankin. 2017, Canada, France.
Victor & Isolina, Director William Caballero. 2016, USA
Special Programs:
Before Hollywood: Philadelphia and the Invention of the Movies, Director Andrew Ferrett. 2017, USA.
The Eyeslicer, 2017.
We regret to inform you that Neill Blomkamp is no longer directing the 'Robocop' sequel
In a very, very disappointing turn of events, Neill Blomkamp took to Twitter late last night to break the news that he is no longer directing the eagerly awaited sequel to Robocop, which he first signed on to direct for MGM last year.
Blomkamp wrote that he is "off Robocop" due to the fact that he's "shooting [a] new horror/thriller and MGM can't wait" and needs cameras to start rolling on Robocop sooner rather than later. "Excited to watch it in theaters with other fans," he added.
While we can only imagine what a Blomkamp-directed Robocop movie would've looked like at this point, I guess there are a couple of silver linings in this rather unfortunate development, depending on how you look at it.
On one hand, it's good to know that the Robocop sequel, which is said to be based on a script from original Robocop writers Ed Neumeier and Michael Miner, isn't off the table altogether and is still going to get made — let's just keep our fingers crossed MGM finds a suitable replacement that can fill Blomkamp's shoes.
And on the other hand, I'm really looking forward to seeing what this mysterious horror/thriller Blomkamp is working on right now turns out to be. To the best of my knowledge, this project was previously unheard of before and I'm hoping we'll get some more details on it in the very near future.
Off Robocop. I am shooting new horror/thriller and MGM can't wait/ need to shoot Robocop now. Excited to watch it in theaters with other fans. N

— Neill Blomkamp (@NeillBlomkamp) August 15, 2019
Please let Henry Golding show off all of his charm and handsomeness in the 'Snake Eyes' movie
Well, here's something I certainly have mixed feelings about: THR is reporting that Crazy Rich Asians heartthrob Henry Golding is in negotiations to star in Paramount's G.I. Joe spinoff Snake Eyes, which will aim to tell the story of the mysterious sword-wielding ninja commando.
The movie, which was written by Evan Spiliotopoulos and is being directed by Robert Schwentke, will reportedly "center on Snake Eyes seeking revenge for his father's death by joining [the] ninja clan, in the process finding acceptance."
Let me be clear: my reservations with this project have absolutely positively nothing to do with Henry Golding, who is charming and handsome as hell, but the rather the fact that he'll be playing a character who usually just wears a mask that covers his entire and doesn't really have a whole lot to say.
My hope is that Spiliotopoulos' script doesn't stick too close to the source material and will allow Golding to have the opportunity to showcase all of those incredible qualities he has about himself, otherwise it seems like this project will be wasting such an immense talent. (I also just want an excuse to look at and be charmed by Henry Golding for two hours.)
Another thing I'm a little concerned about here is Schwentke's involvement. The dude is more than capable of making a decent movie (e.g. The Captain, Red), but he always seems to fumble these big-budget studio projects (e.g. that godforsaken Divergent: Allegiant movie), but I suppose I'll remain cautiously optimistic about this one for the time being — only because of Golding's involvement, though.
The US trailer for Bong Joon-ho's Palme d'Or-winner 'Parasite' is finally here to infect your mind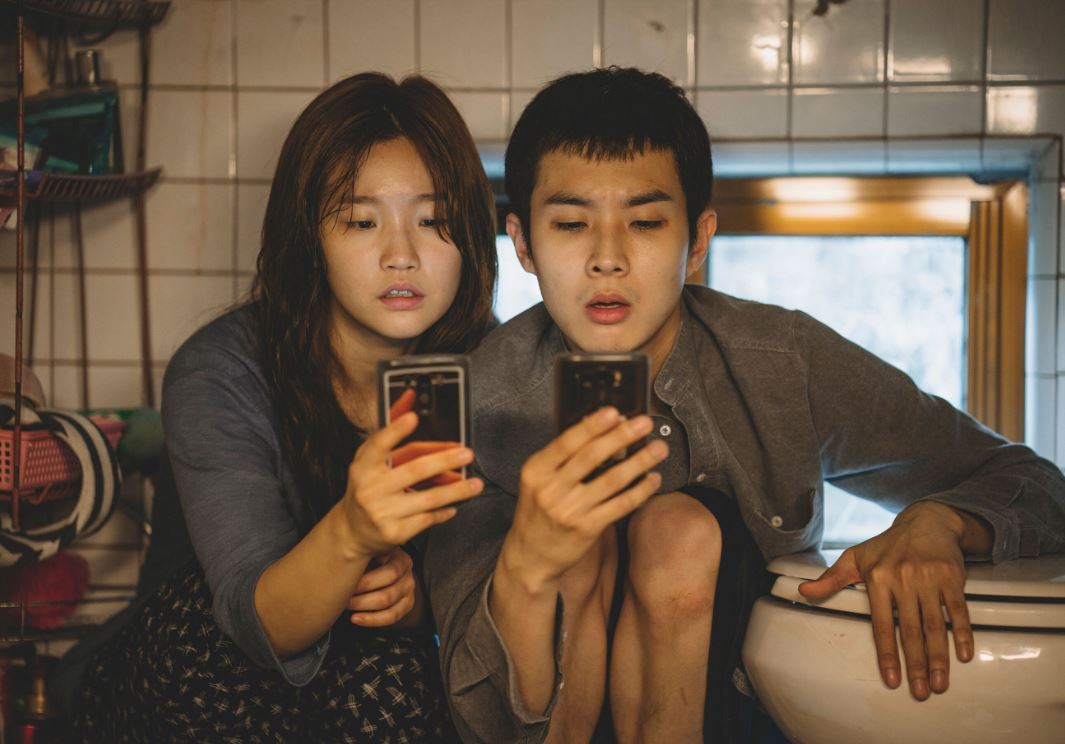 Ever since it premiered at Cannes back in May, I've been hearing nothing but the highest of praise for Bong Joon-ho's Palme d'Or-winner Parasite, which Neon debuted the official US trailer for this morning, and boy oh boy does this thing look like one hell of a rollercoaster ride of a film.
Described as a "pitch-black modern fairytale," Parasite tells the story of the Park and Kim families, who, despite their differences in class, end up crossing paths and forming a symbiotic relationship between themselves.
However, their relationship slowly begins to unravel "when a parasitic interloper threatens the Kims' newfound comfort" and "a savage, underhanded battle for dominance breaks out, threatening to destroy the fragile ecosystem between the Kims and the Parks."
The less you know about Parasite, the better, so if you're sensitive to spoilers, you may want to avoid this particular trailer and check out the Korean one instead, which does a pretty good job of staying fairly ambiguous and doesn't give away nearly as much as the US trailer does.
Parasite reunites Bong with actor Song Kang-ho, who stars in the film alongside Lee Sun-kyun, Cho Yeo-jeong, Choi Woo-shik, Park So-dam, Jang Hye-jin, and Lee Jung-eun. The film is set to hit US theaters on October 11, so mark your calendars accordingly, Bonghive.