Of course the teaser trailer for 'Rambo: Last Blood' is set to the tune of the 'Old Town Road' remix
The first teaser trailer for Rambo: Last Blood dropped this morning and it offers plenty of shots of Sylvester Stallone holding some very large and very sharp weapons, brutal melees, dramatic explosions, and booby trap kills all set to the tune of a slowed-down version of the "Old Town Road" remix!
So, uh, yeah, the song choice here was definitely an interesting decision, but I suppose it fits the trailer rather well, especially given the film's setting on the Southwest plains, where Vietnam War vet John Rambo now lives a quiet, peaceful life in retirement.
Well, he was living a quiet, peaceful life in retirement up until he somehow gets caught up with a bunch of Mexican gangsters who want to invade his ranch for whatever reason and he ends up having to kill all of them Home Alone-style. Welp.
Is this movie going to be controversial as hell? Absolutely. Is Sylvester Stallone a Trump supporter? It sure does sound like it. Will Donald Trump ask Sly to screen this movie at the White House? Probably. Is the sight of a PTSD-inflicted war vet killing fictional Mexican boogeymen going to make Republicans everywhere cream in their shorts? Definitely.
Rambo: Last Blood will hit theaters on September 20.
David Fincher, Robert Towne begin development on 'Chinatown' prequel series at Netflix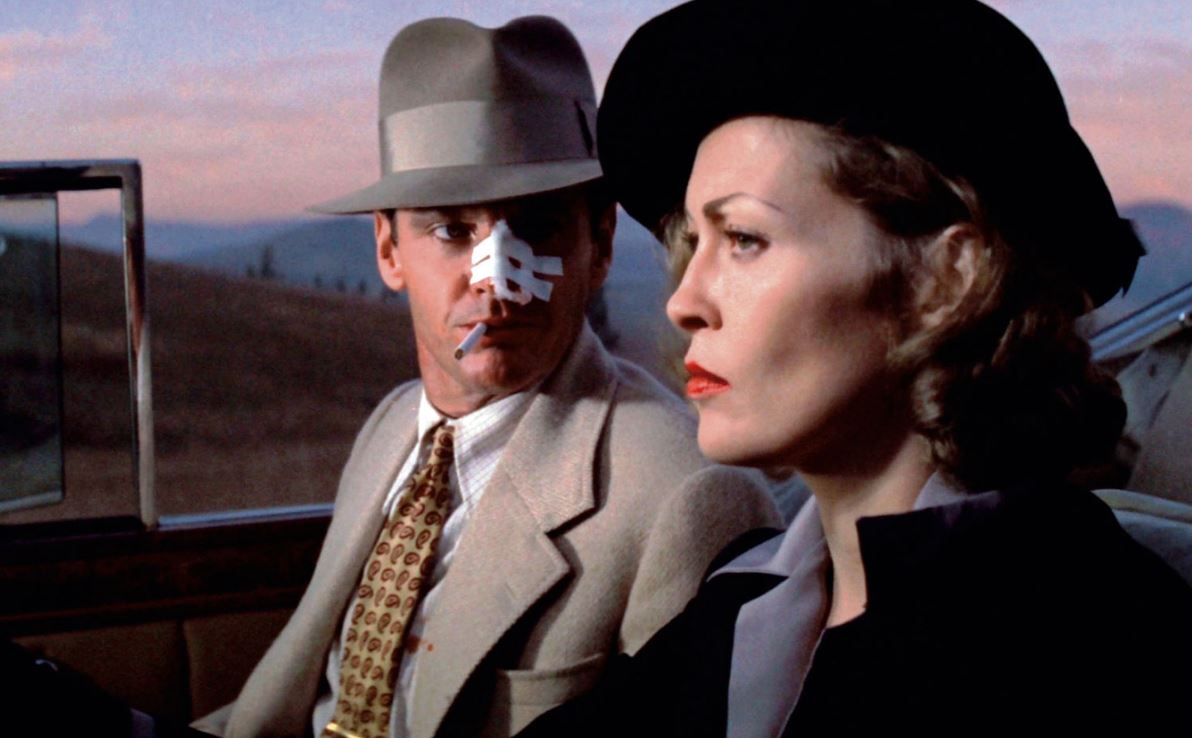 A prequel series to Roman Polanski's 1974 neo-noir classic Chinatown from David Fincher and Robert Towne is in early development at Netflix, Silver Screen Beat has learned.
Per Deadline, Fincher and Towne — the latter of the two having won an Oscar for his screenplay for the film starring Jack Nicholson and Faye Dunaway — have closed deals to begin working on a pilot script for the series.
The duo will also executive produce the project, which centers around "a young Jake Gittes (played by Nicholson in Polanski's film) as he plies his business in a town where the wealthy and corruption involves areas like land, oil, and gangs."
Fincher has reportedly expressed interest in directing an episode of the yet-to-be-titled series, though his current deal with the streamer only includes the pilot script and his handling of directorial duties would have to be negotiated into the agreement.
Netflix has developed quite a relationship with Fincher over the past several years, having collaborated with the director on series such as Love, Death & Robots, House of Cards, and Mindhunter.
Fincher's latest collaboration with Netflix — a feature film about the life of Hollywood screenwriter Herman J. Mankiewicz titled Mank — stars Gary Oldman, Amanda Seyfried, and Lily Collins, and is expected to begin shooting in Los Angeles later this month.
Scarlett Johansson, Adam Driver to be honored with acting award at Santa Barbara Film Festival
The Santa Barbara International Film Festival announced Monday that it has selected Scarlett Johansson and Adam Driver as the recipients of this year's Outstanding Performers of the Year award for their work in Noah Baumbach's Marriage Story.
The two stars — both of whom are considered to be major players this awards season — will be honored during a ceremony at the Arlington Theatre in Santa Barbara on January 17, where Martin Scorsese and Renée Zellweger are also set to receive awards.
"Scarlett and Adam have had such admirable arcs to their careers — making smart choices between independent films and big Hollywood franchises. They both are such lyrical performers, imbuing their acting with keen sensitivity and intellect. Together in Baumbach's Marriage Story, they regaled us with their best work to date," SBIFF executive director Roger Durling said.
Previous recipients of the award include Rami Malek for Bohemian Rhapsody, Margot Robbie and Allison Janney for I, Tonya, and Ryan Gosling and Emma Stone for La La Land.
Marriage Story, which features an ensemble cast that also includes that likes of Laura Dern, Alan Alda, Ray Liotta, Julie Hagerty, and Merritt Wever, is currently playing in theaters in select cities and will begin streaming on Netflix next month on December 6.
Nicolas Cage to play Nicolas Cage in meta drama 'The Unbearable Weight of Massive Talent'
In a rather extremely unexpected development, Lionsgate is close to nearing a deal to acquire the rights to The Unbearable Weight of Massive Talent, a film that will find Nicolas Cage playing none other than Nicolas Cage, according to The Hollywood Reporter.
The film, written by Tom Gormican and Kevin Etten, centers on a fictionalized version of Cage who "is desperate to get a role in a new Tarantino movie while also dealing with a strained relationship with his teenage daughter."
The plot only gets more bizarre from there, however, as Cage "is also under a mountain of debt and finds himself forced to make an appearance at the birthday party of a Mexican billionaire, who happens to be a fan of Cage's work."
It isn't long, though, before Cage finds out that the billionaire "is actually a drug cartel kingpin who has kidnapped the daughter of a Mexican presidential nominee," and that he will need to go undercover for the United States government to gather intelligence.
Gormican and Etten's script reportedly features references to Cage classics such as Face-Off, Leaving Las Vegas, and Gone in 60 Seconds, and is tonally similar to JCVD starring John Claude Van Damme and Get Shorty starring John Travolta.
Cage is currently in talks to join the meta movie project, which has Gromican attached to direct and Kevin Turen to produce along with Cage and Mike Nilon.