'The Last Jedi' director Rian Johnson is developing an entirely new 'Star Wars' trilogy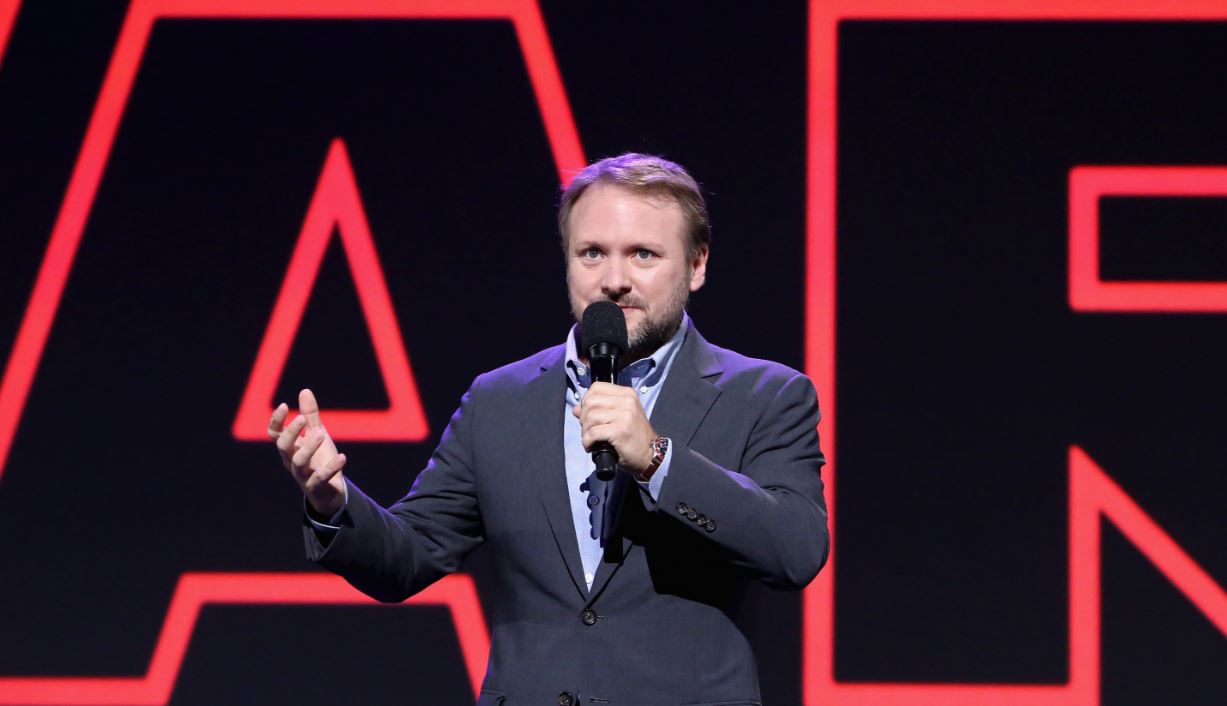 On what continues to be an eventful Thursday afternoon, Lucasfilm just announced that Star Wars: The Last Jedi director Rian Johnson is creating a brand new Star Wars trilogy, the first of which he will be writing and directing, that will take place in a whole new part of the galaxy far, far away that we have never seen before.
"We all loved working with Rian on The Last Jedi," Lucasfilm president Kathleen Kennedy said. "He's a creative force, and watching him craft The Last Jedi from start to finish was one of the great joys of my career. Rian will do amazing things with the blank canvas of this new trilogy."
In a joint statement issued by Johnson and his longtime collaborator Ram Bergman, who produced The Last Jedi and team-up with Johnson once again for the first installment in the new trilogy, the duo expressed their love and immense amount of enthusiasm for the Star Wars franchise.
"We had the time of our lives collaborating with Lucasfilm and Disney on The Last Jedi," Johnson and Bergman said. "Star Wars is the greatest modern mythology and we feel very lucky to have contributed to it. We can't wait to continue with this new series of films."
While Star Wars fans will undoubtedly, and rightfully, stay cautiously optimistic about Lucasfilm's plans for a new trilogy until after they see how The Last Jedi turns out on December 15, this is a big move on the studio's behalf and only goes to show how confident they are in Johnson as a filmmaker and someone that can truly help evolve this long-running franchise.
A release date for the first film in the new Star Wars trilogy has not been announced.
M. Night Shyamalan's sequel 'Glass' heading towards $50 million opening weekend
M. Night Shyamalan's eagerly awaited sequel Glass is off to a solid start at the North American box office, raking in more than $3.7 million from 3,200 theaters on Thursday, putting it on track to have the second-largest debut ever for a January release.
The film, which expands into 3,841 theaters today, is expected to earn just over $50 million over the course of the Martin Luther King Jr. holiday weekend, putting it behind only American Sniper, which opened to $89.2 million over the same holiday weekend in 2014.
Glass, which brings together the narratives of Shyamalan's 2000 film Unbreakable and his 2016 film Split, was written and directed by Shyamalan, who also produced along with Jason Blum, Marc Bienstock, and Ashwin Rajan.
The sequel sees Bruce Willis and Samuel L. Jackson reprise their respective roles as David Dunn and Elijah Price from Unbreakable, while James McAvoy and Anya Taylor-Joy return as Kevin Wendell Crumb and Casey Cooke from Split, respectively.
While many critics were hoping Glass would be another step in the right direction for Shyamalan, whose career has suffered from multiple critically-panned misfires, it seems most of them left largely unimpressed by the filmmaker's latest offering, earning the film a measly 36% approval rating on Rotten Tomatoes.
However, despite the disapproval of critics, Glass does seem to be performing exceptionally well with audiences, who have given the film an 80% approval rating on the review aggregator—a significantly higher number than the critic score.
Kumail Nanjiani and Issa Rae to star in the romantic comedy 'The Lovebirds' from Paramount
Following the surprise success of the sleeper hit rom-com The Big Sick in the summer of 2017, THR is reporting that Kumail Nanjiani is reteaming with director Michael Showalter for The Lovebirds, a new romantic comedy in which the comedian will star opposite Issa Rae.
According to the film's logline, The Lovebirds follows a couple on the brink of a breakup when they suddenly find themselves caught in the middle of a bizarre, hijinks-filled murder mystery, forcing them to figure out how they, and their relationship, can ultimately survive the night.
Showalter will direct the film, which Paramount recently acquired the rights to and has decided to put on the fast-track to production, from a script written by Aaron Abrams, Brendan Gall, and Martin Gero.
Tom Lassally, Oly Obst, Todd Shulman, Jordana Mollick and Gero are producing The Lovebirds along with executive producers Nanjiani, Rae, and Showalter. MRC is co-producing and co-financing the project.
Nanjiani, who is also set to begin shooting the eagerly awaited next season of the HBO comedy Silicon Valley later this year, earned an Oscar nomination in 2018 for his screenplay for The Big Sick, which he co-wrote with his wife Emily V. Gordon.
Rae recently starred in the social justice drama The Hate U Give and will next appear in Black-ish star Marsai Martin's upcoming comedy Little. She is also the co-creator, writer, executive producer, and star of the HBO comedy Insecure, which was recently renewed for a fourth season.
Keanu Reeves is on the run from a gang of bounty-hunters in the 'John Wick: Chapter 3' trailer
Lionsgate has released the first trailer for John Wick: Chapter 3 – Parabellum, the eagerly awaited next installment in the action series, which finds Keanu Reeves' titular hitman on the run from an onslaught of bounty-hunters in New York City.
Indeed, the hunter becomes the hunted in Parabellum as John Wick returns with a $14 million price tag on his head and a group of assassins hot on his trail, hoping to get their reward.
After killing a member of the shadowy international assassin's guild known as the High Table, Wick is excommunicado, but some of the world's most ruthless hit men and women are around every corner, awaiting his every turn.
Parabellum finds Chad Stahelski, who co-directed the first John Wick along with David Leitch before going solo on the second movie, back behind the camera, working from a script written by Derek Kolstad.
In addition to Reeves, Parabellum's all-star cast includes the likes of Halle Berry, Mark Dacascos, Ian McShane, Lance Reddick, Laurence Fishburne, Anjelica Huston, Robin Lord Taylor, Asia Kate Dillon, Jason Mantzoukas, John Leguizamo, and Jerome Flynn.
John Wick: Chapter 3 – Parabellum will hit theaters on May 17.