'The Last Jedi' director Rian Johnson is developing an entirely new 'Star Wars' trilogy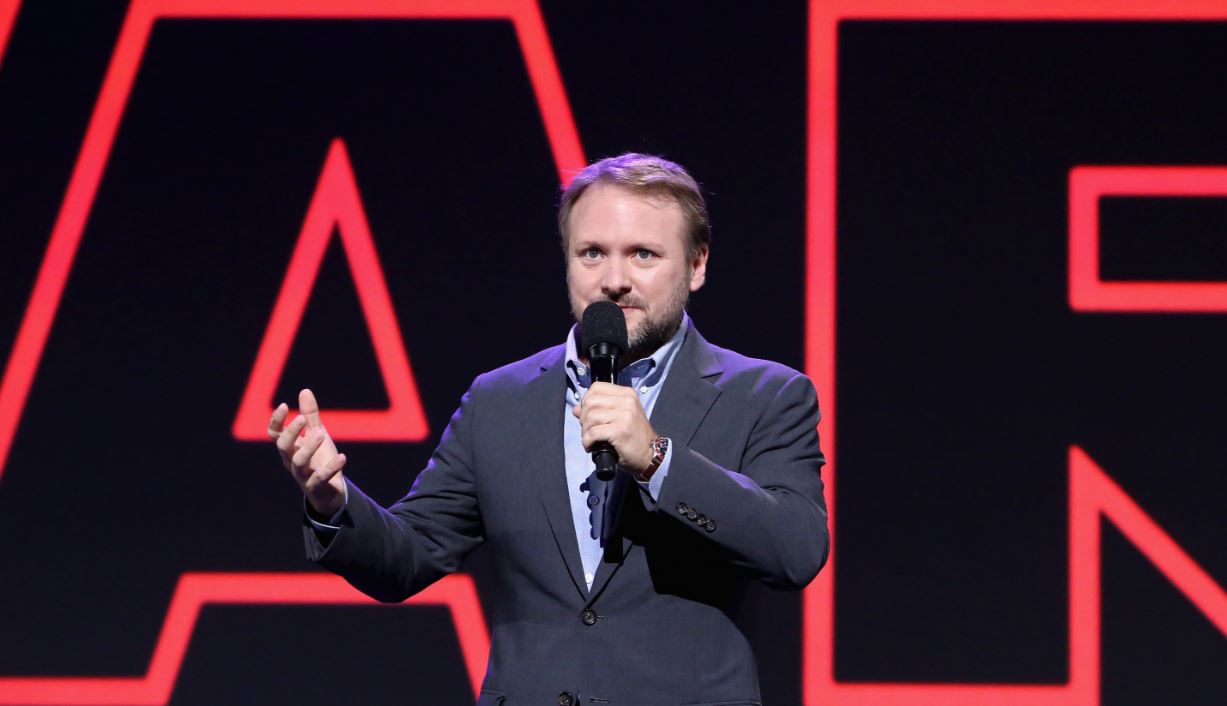 On what continues to be an eventful Thursday afternoon, Lucasfilm just announced that Star Wars: The Last Jedi director Rian Johnson is creating a brand new Star Wars trilogy, the first of which he will be writing and directing, that will take place in a whole new part of the galaxy far, far away that we have never seen before.
"We all loved working with Rian on The Last Jedi," Lucasfilm president Kathleen Kennedy said. "He's a creative force, and watching him craft The Last Jedi from start to finish was one of the great joys of my career. Rian will do amazing things with the blank canvas of this new trilogy."
In a joint statement issued by Johnson and his longtime collaborator Ram Bergman, who produced The Last Jedi and team-up with Johnson once again for the first installment in the new trilogy, the duo expressed their love and immense amount of enthusiasm for the Star Wars franchise.
"We had the time of our lives collaborating with Lucasfilm and Disney on The Last Jedi," Johnson and Bergman said. "Star Wars is the greatest modern mythology and we feel very lucky to have contributed to it. We can't wait to continue with this new series of films."
While Star Wars fans will undoubtedly, and rightfully, stay cautiously optimistic about Lucasfilm's plans for a new trilogy until after they see how The Last Jedi turns out on December 15, this is a big move on the studio's behalf and only goes to show how confident they are in Johnson as a filmmaker and someone that can truly help evolve this long-running franchise.
A release date for the first film in the new Star Wars trilogy has not been announced.
'Shazam!' trailer introduces Zachary Levi's playful superhero to the DC Extended Universe
During today's Warner Bros. presentation in Hall H at San Diego Comic-Con, director David F. Sandberg and stars Zachary Levi, Asher Angel, and Jack Dylan Grazer were all on hand to debut the first trailer for Shazam!, the origin story that will introduce the title character to the DC Extended Universe.
Shazam! follows Billy Batson (Angel), a 14-year-old kid who can turn into the adult superhero Shazam (Levi) by shouting out one word—SHAZAM!—courtesy of an ancient wizard. Shazam sets out to test the limits of his abilities with the joyful recklessness of a child, but he will need to master his abilities quickly as he is forced to go up against the deadly forces of evil controlled by Dr. Thaddeus Sivana (Mark Strong).
The film also stars also stars Grazer as Billy's best friend and ultimate superhero enthusiast, Freddy, part of the foster family that includes Mary, played by Grace Fulton; Darla, played by Faithe Herman; Eugene, played by Ian Chen; and Pedro, played by Jovan Armand. Cooper Andrews and Marta Milans play foster parents Victor and Rosa Vasquez, with Djimon Hounsou as the Wizard.
"I'm mostly just excited about trying something different," Sandberg, whose previous work includes Lights Out and Annabelle: Creation, told Siver Screen Beat in an interview last year when asked if making the switch from the horror genre to the comic book genre could prove difficult for him as a filmmaker. "I'll definitely be making a return to horror at one point or another. I'm just really excited to try something different."
Shazam! will hit theaters on April 5, 2019. You can check out the newly released trailer for the film in the embedded player below.
'Fantastic Beasts 2' Comic-Con trailer further reveals Jude Law's young Albus Dumbledore
Warner Bros. has released the official Comic-Con trailer for Fantastic Beasts: The Crimes of Grindelwald, the latest adventure in J.K. Rowling's ever-evolving Wizarding World, which further introduces us to Jude Law's young Albus Dumbledore.
Indeed, Fantastic Beasts 2 picks up just after the events of Fantastic Beasts and Where to Find Them and follows Dumbledore as he enlists his former student Newt Scamander (Eddie Redmayne) to help him thwart Gellert Grindelwald's (Johnny Depp) plan to raise pure-blood wizards up to rule over all non-magical beings.
In attendance at today's Hall H panel were many of the film's stars, including Redmayne, Law, Katherine Waterson, Dan Fogler, Alison Sudol, Ezra Miller, Callum Turner, Zoë Kravitz, and Claudia Kim. Depp made a surprise appearance during the panel while in character as Grindelwald.
"Every single aspect of this movie is a geek-out fiasco," said Miller, who showed up to the panel in a fantastic Toadette cosplay, complete with a corset and lingerie stockings. "I mean, Hogwarts?! Dumbledore?! Nifflers? More nifflers! Give me a break. I could go on."
Fantastic Beasts: The Crimes of Grindelwald is set to be released on November 16. You can check out the official Comic-Con trailer for the film in the embedded player below.
The worlds of 'Unbreakable' and 'Split' collide in the first trailer for M. Night Shyamalan's 'Glass'
Universal Pictures has released the first official trailer for Glass, the upcoming comic-book thriller from writer-director M. Night Shyamalan, which brings together the narratives of his 2000 film Unbreakable and 2016's Split. The trailer was first shown to a huge crowd that gathered in San Diego Comic-Con's Hall H for the studio's buzzworthy presentation.
Glass picks up just after the shocking ending of Split and finds David Dunn (Bruce Willis) pursuing the superhuman figure of The Beast (James McAvoy) in a series of escalating encounters, while the shadowy presence of Elijah Price (Samuel L. Jackson) emerges as an orchestrator who holds secrets critical to both men.
The sequel will also see the return of Split's Anya Taylor-Joy as Casey Cooke, the only captive to survive an encounter with The Beast, as well as Unbreakable's Spencer Treat Clark and Spencer Treat Clark and Charlayne Woodard, who reprise their roles as Dunn's son and Price's mother, respectively. Sarah Paulson joins the cast as Dr. Ellie Staple.
"I've been dreaming about being in Hall H since forever. This is the Mecca right here," Shyamalan when he first walked out on stage with stars Willis, Jackson, Taylor-Joy, and Paulson. "Split was created right here at Comic-Con," he said, describing how he first met McAvoy at a party at the convention a few years ago and that's how they came to work together.
Glass, which Shyamalan is also producing along with Jason Blum and Marc Bienstock, is set to be released by Universal next year on January 18, 2019. You can check out the newly released trailer for the film below.