Robert Pattinson's career-defining performance in the Safdies' 'Good Time' is simply outstanding
Josh and Benny Safdie dive head-first into a ruthless and unrelenting New York City borough of Queens in their head-spinning, adrenalized fifth feature Good Time, headlined by marquee talent, including Robert Pattinson of Twilight saga fame, who is nearly unrecognizable in the lead role of Constantine Nikas, a determined, ingenious criminal destined to bail his brother out of jail over the course of one long, twisted night.
Before the Safdie brothers propel us into their neon-drenched crime thriller scored to the pulsating, mind-bending sounds of Oneohtrix Point Never, we're introduced to Nick (Benny Safdie), Connie's mentally challenged brother who finds himself being interviewed by his psychiatrist Peter (Peter Verby) in the middle of an uncomfortable therapy session. As a single tear slowly begins to form and rush down Nick's face, in walks Connie, there to extricate his brother and bring him along on an early morning bank robbery that goes so very wrong the moment they escape into the back of their unsuspecting Uber driver's getaway vehicle.
As an exploding dye pack infuses the car with a bright red cloud, suffocating its occupants and sending the tiny black sedan into a row of parked vehicles on a quiet Queens street, Connie and Nick eventually escape as the former reassures the latter that he's "not going to throw up," before running into the bathroom of a Pizza Hut to stash their $20,000 take in the ceiling and get washed up. However, it's not long before an NYPD officer becomes suspicious of the duo, which sends them on a tension-filled foot chase.
Good Time reunites the Safdie brothers with their Heaven Knows What cinematographer Sean Price Williams, perhaps one of the most innovative and well-known DPs working in independent cinema, who does a superb job of not exhausting the viewer in scenes like the one mentioned above where Connie and Nick are having the run of their life. Through Williams' lens, the audience is captivated by Williams hypnotic, unforgettable imagery, with detailed, intimate close-ups that help us learn more about the thuggish underdogs taking over the screen.
The real chaos begins, though, when the two brothers find themselves separated from each other during the pursuit, and Nick lands himself in jail at NYC's main jail complex, Rikers Island. In a desperate attempt to quickly bail his brother out of jail, Connie retrieves the stolen, ink-soaked $20,000 from the Pizza Hut bathroom and brings it to a bail bondsman who says he cannot do anything with the money because it's "dirty" and "filthy." Thankfully, for Connie, he isn't shit out of luck just yet and learns that he'll be able to get his brother out of jail with just $10,000 that he doesn't have.
Pattison is inarguably at his best in Good Time, disappearing into the role of Connie by wearing oversized Ecko Unlimited hoodies, dark hats, and a sporting a spot on borough accent that would have the viewer believe he was actually born and raised in New York if they weren't already familiar with his British background. Perhaps one of the most memorable scenes in the film is when, after swindling, or rather sweet-talking, his way into the home of Gladys, an elderly Haitian woman Connie meets in a hospital ambulette, the thuggish lead dyes his hair bleach blonde in an effort to disguise himself from authorities.
Crystal (Taliah Webster), Gladys' 16-year-old granddaughter, walks in on a shirtless Connie sitting in front of a television, his hair still damp from the cheap, pharmacy-quality cosmetic settling in, before she promptly asks, "You dyed your hair?" Connie hesitates for a brief moment, looking down and thinking about god knows what, before slowly nodding his head, laughing, and simply saying, "Yeah. I'm just kind of a weirdo."
Yes, Connie is indeed a weirdo, and a creep, and an asshole. Yet, for some strange reason, we as the viewer still find ourselves rooting for him at times, despite witnessing all of the awful, cruel things he's done over the course of this horrendous night. He lies, he cheats, and, at one point, even gets brutally violent with Dash the Park Security Guard (Barkhad Abdi), whom he attacks after breaking into an amusement park in search of a Sprite bottle filled with acid.
There's a lot to take in once the end credits, scored to the sweet sounds of "The Pure and the Damned," begin to roll over the final scene in Good Time. Of course, I won't spoil that for you here. However, what I will say is that Connie's true intentions become clear by the end of the film, and Oneohtrix Point Never's haunting, beautiful score makes that known and, I suppose one could argue that Connie himself knows it too.
The film and television nominations for the 2020 Golden Globe Awards are officially in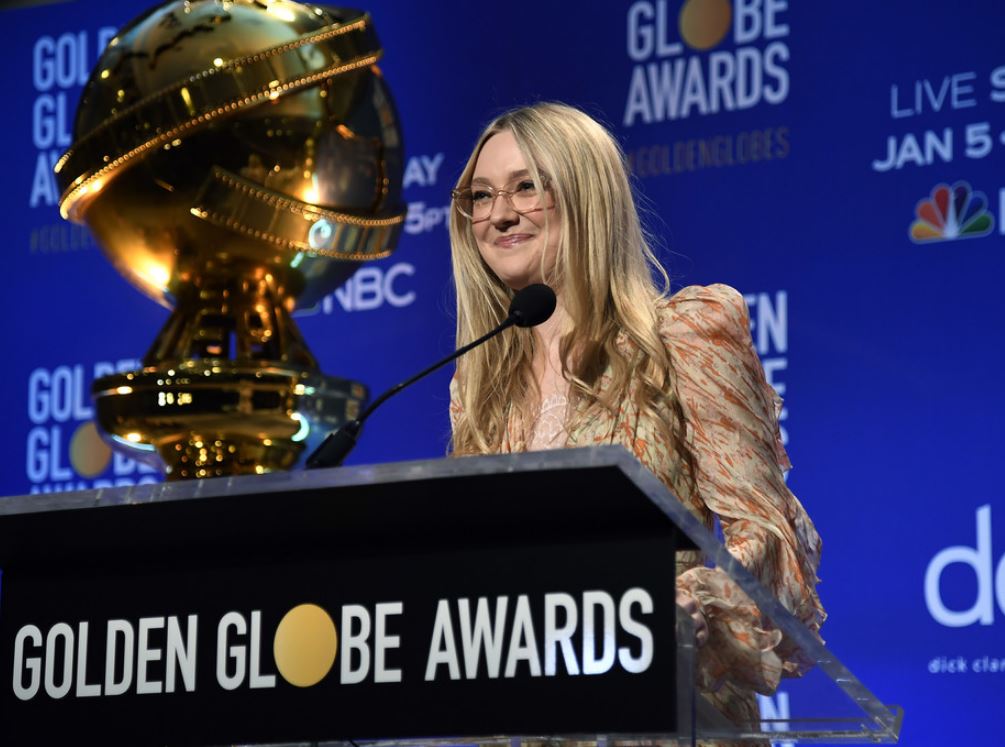 The, uh, rather strange trio of Tim Allen, Dakota Fanning, and Susan Kelechi Watson were on hand this morning to announce the nominations for the 77th Golden Globes, which will be held in Hollywood next month on January 5.
Topping the film nominations is Noah Baumbach's Marriage Story, which scored six nods, and Martin Scorsese's The Irishman and Quentin Tarantino's Once Upon a Time in Hollywood, which picked up five nods each.
On the television side of things, HBO's Chernobyl, Barry, Succession, and Big Little Lies secured nominations in several different categories, as did Netflix's The Crown, Unbelievable, and The Kominsky Method.
You can check out the complete list of nominations for the 2020 Golden Globes below.
Best Motion Picture — Drama
1917
The Irishman
Joker
Marriage Story
The Two Popes
Best Motion Picture — Musical or Comedy
Dolemite Is My Name
Jojo Rabbit
Knives Out
Once Upon a Time in Hollywood
Rocketman
Best Foreign-Language Motion Picture
The Farewell
Les Misérables
Pain and Glory
Parasite
Portrait of a Lady on Fire
Best Limited Series or TV Movie
Catch-22
Chernobyl
Fosse/Verdon
The Loudest Voice
Unbelievable
Best Television Series — Drama
Big Little Lies
The Crown
Killing Eve
The Morning Show
Succession
Best Comedy Series
Fleabag
Barry
The Kominsky Method
The Marvelous Mrs. Maisel
The Politician
Best Motion Picture — Animated
Frozen II
How to Train Your Dragon: The Hidden World
Missing Link
Toy Story 4
The Lion King
Best Director — Motion Picture
Bong Joon-ho, Parasite
Sam Mendes, 1917
Todd Phillips, Joker
Martin Scorsese, The Irishman
Quentin Tarantino, Once Upon a Time in Hollywood
Best Performance by an Actor in a Limited Series or Movie
Christopher Abbott, Catch-22
Sacha Baron Cohen, The Spy
Russell Crowe, The Loudest Voice
Jared Harris, Chernobyl
Sam Rockwell, Fosse/Verdon
Best Performance by an Actress in a Limited Series or Movie
Kaitlyn Dever, Unbelievable
Joey King, The Act
Helen Mirren, Catherine the Great
Merritt Wever, Unbelievable
Michelle Williams, Fosse/Verdon
Best Performance by a Supporting Actor in a Series, Limited Series, or TV Movie
Alan Arkin, The Kominsky Method
Kieran Culkin, Succession
Andrew Scott, Fleabag
Stellan Skarsgård, Chernobyl
Henry Winkler, Barry
Best Performance by a Supporting Actress in a Series, Limited Series, or TV Movie
Patricia Arquette, The Act
Helena Bonham Carter, The Crown
Toni Collette, Unbelievable
Meryl Streep, Big Little Lies
Emily Watson, Chernobyl
Best Score for a Motion Picture
Little Women
Joker
Marriage Story
1917
Motherless Brooklyn
Best Original Song
"Beautiful Ghosts," Cats
"(I'm Gonna) Love Me Again," Rocketman
"Into the Unknown," Frozen II
"Spirit," The Lion King
"Stand Up," Harriet
Best Performance by an Actor in a Comedy Series
Michael Douglas, The Kominsky Method
Bill Hader, Barry
Ben Platt, The Politician
Paul Rudd, Living With Yourself
Ramy Youssef, Ramy
Best Performance by an Actress in a Comedy Series
Christina Applegate, Dead to Me
Kirsten Dunst, On Becoming a God in Central Florida
Rachel Brosnahan, The Marvelous Mrs. Maisel
Natasha Lyonne, Russian Doll
Phoebe Waller-Bridge, Fleabag
Best Performance by an Actor in a Drama Series
Brian Cox, Succession
Kit Harington, Game of Thrones
Rami Malek, Mr. Robot
Tobias Menzies, The Crown
Billy Porter, Pose
Best Performance by an Actress in a Drama Series
Jennifer Aniston, The Morning Show
Jodie Comer, Killing Eve
Olivia Colman, The Crown
Nicole Kidman, Big Little Lies
Reese Witherspoon, The Morning Show
Best Performance by a Supporting Actor in a Motion Picture
Tom Hanks, A Beautiful Day in the Neighborhood
Anthony Hopkins, The Two Popes
Al Pacino, The Irishman
Joe Pesci, The Irishman
Brad Pitt, Once Upon a Time in Hollywood
Best Screenplay
Marriage Story
Parasite
The Two Popes
Once Upon a Time in Hollywood
The Irishman
Best Performance by a Supporting Actress in a Motion Picture
Kathy Bates, Richard Jewell
Annette Bening, The Report
Laura Dern, Marriage Story
Jennifer Lopez, Hustlers
Margot Robbie, Bombshell
Best Performance by an Actor in a Motion Picture — Musical or Comedy
Daniel Craig, Knives Out
Taron Egerton, Rocketman
Roman Griffin Davis, Jojo Rabbit
Eddie Murphy, Dolemite Is My Name
Leonardo DiCaprio, Once Upon a Time in Hollywood
Best Performance by an Actor in a Motion Picture — Drama
Christian Bale, Ford v Ferrari
Antonio Banderas, Pain and Glory
Adam Driver, Marriage Story
Joaquin Phoenix, Joker
Jonathan Pryce, The Two Popes
Best Performance by an Actress in a Motion Picture — Musical or Comedy
Ana de Armas, Knives Out
Cate Blanchett, Where'd You Go, Bernadette
Beanie Feldstein, Booksmart
Emma Thompson, Late Night
Awkwafina, The Farewell
Best Performance by an Actress in a Motion Picture — Drama
Cynthia Erivo, Harriet
Scarlett Johansson, Marriage Story
Saoirse Ronan, Little Women
Charlize Theron, Bombshell
Renée Zellweger, Judy
More than 17 million people have watched Martin Scorsese's 'The Irishman' on Netflix
In what should come as a surprise to absolutely no one, Martin Scorsese's masterful gangster epic The Irishman has been hugely successful drawing viewers to Netflix, where more than 17.1 million people in the US watched it within the first five days of its release.
When The Irishman first debuted on the streaming platform on November 27, the film had an average minute audience — which basically means how long people watched — of 2.6 million and 3.9 million total unique viewers.
And, despite the film's three-and-a-half-hour runtime, more than 751,000 viewers watched The Irishman in its entirety that same day, while 930,000 tuned in a couple days later on November 29 to watch the film in full.
Those are not official statistics from Netflix itself, but rather Nielsen SVOD Content Ratings, which offers estimates and analysis of US viewership on various streaming and on-demand services.
In the past, Netflix hasn't been shy about sharing viewership data for films like Bird Box, which the streamer claims more than 45 million people watched in its first week, and Triple Frontier, which is said to have had 52 million viewers within its first month.
That being said, it shouldn't be long before Netflix offers their own internal viewership numbers for The Irishman and it should certainly be interesting to see whether or not those statistics bear any resemblance to the ones released today by Nielsen.
Phoenix: 20th Century Fox invites you to an advance screening of Will Smith's 'Spies in Disguise'
20th Century Fox will release Spies in Disguise, the new animated feature starring Will Smith and Tom Holland, on December 25 and it's giving Silver Screen Beat readers in Phoenix a chance to attend an advance screening of the film before it officially opens in theaters.
Our readers in Phoenix can click on this link right now to claim their free passes — good for you and one guest — to attend an advance screening of Spies in Disguise happening at Harkins Scottsdale 101 on Saturday, December 14 at 10:00 a.m.
Keep in mind that these free passes are distributed on a first-come, first-served basis, so be sure to claim yours as soon as possible before they run out. Below is the official trailer for Spies in Disguise as well as some additional details about the film.
Directed by: Troy Quane, Nick Bruno
Cast: Will Smith, Tom Holland, Rashida Jones, Ben Mendelsohn, Reba McEntire, Rachel Brosnahan, Karen Gillan, and DJ Khaled
Opens: Wednesday, December 25
Rating: PG for action, violence, and rude humor
Synopsis: Super spy Lance Sterling (Will Smith) and scientist Walter Beckett (Tom Holland) are almost exact opposites. Lance is smooth, suave and debonair. Walter is … not. But when events take an unexpected turn, this unlikely duo are forced to team up for the ultimate mission that will require an almost impossible disguise – transforming Lance into the brave, fierce, majestic… pigeon. Walter and Lance suddenly have to work as a team, or the whole world is in peril.