We present film critic Sam Mauro's immensely subject to change top 10 films of 2017 list
A note before we begin: I wrestled with how I wanted to go about this list. 2017 isn't a particularly lackluster year for film—it just seems that way.
Most of the movies worth talking about are old news to anyone who saw them at their 2016 premieres (Personal Shopper), or hold-overs into the new year (First Reformed), or arguably not even any of the films at all (ahem, we'll get to that). Four of the films ranked below are 2016 premieres, and compared to my concurrent world premiere top ten, I only share four titles.
Regardless of my sometimes brutal film criticism and wantonly erratic change of taste, I present my immensely subject to change top ten of 2017:

10. On the Beach at Night Alone
A great climate change movie, among other things, which is cool, because it's a cold, dark world out there. A staggering work on what chases you when you travel to get some "alone time." Hong Sang-soo's shaggiest and most straight-forward film in a minute, but it's also a raging, shattering bleeding heart of a motion picture. People hurt each other and the world thinks you're a star. There are a million ways to tell the same story, as per the usual with Hong: when a stranger comes to town, you want to be littler.
9. Good Time
"Untwisting and untangling these strings I'm in." A desperate, dread-inducing rollercoaster, all flailing limbs, and bug-eyed glances. The emotional vulnerability here is shoved right up against the vicious sociopolitical climate until it feels suffocating. This is 70s New York (and 70s cinema) brought face to face with its bastard offspring. The kind of confrontational, invigorating cinema that brings you to your knees, a contradictory troll game of privilege and raging political relevance. New York City is a garbage city that will chew you up and spit you out and make you thank your lucky stars that you're white. It's a macho wistful crazy fucked micro tragedy epic. An island of 8 million people. A blotter-acid, massive interrogation into the nature of care – for one's self-preservation, for those closest to us, for those numbed within bureaucratic systems, and those institutionally pushed aside and objectified, in both our art and our politic. A bleak, contradictory, magnum film.
8. The Ornithologist
Anti-anthropocentric cinema at its finest. A great parable of Christian belief and Biblical storytelling, which forms a wonderful joke of pulling triple-duty as a personal meta-treatise for director João Pedro Rodrigues. High canon queer cinema, and a rich document of modern Portugal. I also really like birds.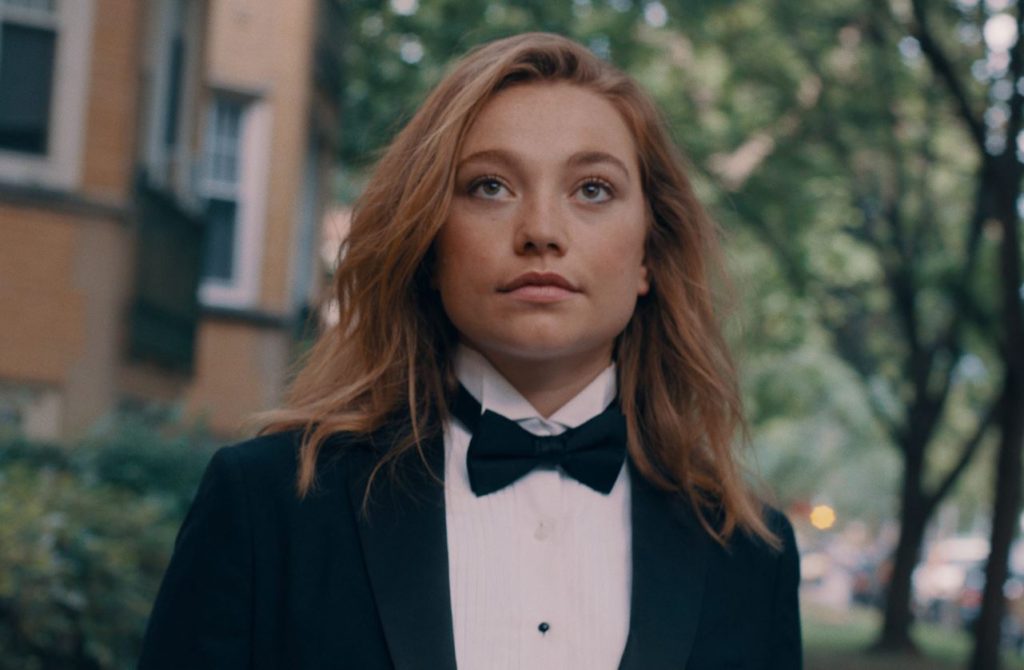 7. Princess Cyd
The most generous, exposed-heart sort of humanism; the kind with novelistic integrity and a fullness of vision, a work concerned with all sorts of intimacy, a visually and structurally mature gift feels light and pleasant and easy. Stephen Cone's modern classic is an ode to Marilynne Robinson and Jonathan Demme, to be sure, but it is full of such clean air, and back-kisses, and a voice so utterly unique in today's cinematic landscape, and so winning seventeen different ways over. It's healing, empowered art, and a radical rejiggering of the prototypical American indie towards something more…considered. It is a film of fluidity (a work of genuine queerness, a utopian view of acceptance and a bleary-eyed, quiet catharsis) and also specificity. Having been born and partially raised in suburban Chicago, I saw myself in this movie. But moreover, I saw so many people I loved.
6. Nocturama
Won't somebody think of the children! Precision-engineered formalism (the opening half hour is so technically perfect, and the shot of the two teenagers hands slinking away just as the light of the tunnel hits them, A sleek film of muddied philosophy: These children enact reactionary comforts and genre gestures so completely informed by a capitalist mentality that the film never shakes, a frisson of genuinely uncomfortable, terrifying ideas. This may well be an empty film of tragic things made clean. It is still probably as good an indicator as any as to how good and important movies are right now, an authentically progressive film with no answers and all questions, an obsessive and obsessively confounding object.
5. Dawson City: Frozen Time
A secret history, an entire town's life at the movies, a rewriting and affirmation of cinema's transistors pleasures and otherworldly power. Super-sad love story thesis ephemera. Movies are a reproduction of life imagined and life gone by, all the ways it was and could have been. It's an exceptional an archival powerhouse and a cinephilic master text.
4. Personal Shopper
This is a movie where Kristen Stewart says the word ectoplasm multiple times and there are many references to Hilma af Klint and there is ghost texting and bondage and I have many other thoughts. A very sad, very lame movie, right down to the goofy-ass CGI and an A+ obnoxious murder scene. Stewart is at her best, a movie star incapable of not being herself, and a queer icon in a film that doesn't fully do her justice. Assayas never quite nails it, but the films brushes and falls from perfection create an intangibly endearing, earnest, and truthful quality never before present in his work. I flipping love this messy mumbo jumbo movie. It helps that I believe in ghosts. Grief is a motherfucker.
3. Song to Song
A string of perfect moments (thinking about right now: the kazoo sounds of Ryan Gosling and Michael Fassbender at the table morph into monkey howls as Fassbender chases Rooney Mara to the sounds of seagull above them on the beach). Silly and old-person youthful, biblical and freewheeling and something of an arthouse playlist, a panoramic view of Terrence Malick's obsessions and delights, sprawling with Malick's strongest storytelling yet (amazingly, this film feels like it could be edited in any order, and that this is, essentially, the best possible edit), an unabashedly graceful ode to the foolish pursuit of freedom above all else. Above all, it's about how much Malick loves Patti Smith. It's really sweet.
2. Columbus
Cigarettes and meth. Kogonada's debut is a great examination of displacement in the Western inland of America, a quietly devastating ode to Ozu's family dramas, a great work of architecture, modernism, and the notion of permanence. It is a film where every character supports each other, quietly. Haley Lu Richardson is, no exaggeration, the greatest actress of our generation, and her performance here is all-time. She walks like she dances and her performance is as camouflaged as it is calibrated and utterly recognizable. A movie about loving and learning to be familiar and still be awestruck. Admittedly, this is about as close as you come to a movie made specifically for me, but I still cry a lot whenever I watch it, and it makes the day good.
1. Twin Peaks: The Return
What is it like to spend 18 hours in a single moment of irresolution? The history of American iconography, a diatribe on film versus detail, television versus cinema, narrative versus conceptual art. Kyle McLaughlin gives six or seven of the year's best performances. A total diatribe on genre in all its forms, on soap operas, and Sarah Palmer, and the history of electricity. So monumental, so clearly better than anything this year, in any medium, so full of hidden secrets, so unlike in feeling and amalgam, and it has total re-watchability (I have seen it four times through). An artistic event unparalleled in its ambition, success, and unifying yet diversely productive discourse this year.
Honorable Mentions (listed in alphabetical order): A Quiet Passion, Beach Rats, The Death of Louis XIV, Heal the Living, The Last Jedi, Roman J. Israel Esq., Wonderstruck
Clint Eastwood is in talks once again to direct 'The Ballad of Richard Jewell' for Disney-Fox
Four months after the release of his last film The Mule, 88-year-old Clint Eastwood has already set his sights on a new project to tackle: The Ballad of Richard Jewell, a film that once had the likes of Jonah Hill and Leonardo DiCaprio attached to star.
While both Hill and DiCaprio are now no longer a part of the cast, Deadline reports that the duo will be staying on board as producers and Eastwood will begin assembling a new cast over the course of the next few months in hopes that he can begin production this summer.
Based on the 1997 Vanity Fair article of the same name, The Ballad of Richard Jewell is based on the true story of a security guard who was incorrectly identified by the media as the F.B.I.'s prime suspect in the Olympic Park bombing during the 1996 Atlanta Olympics.
Eastwood, who was previously attached to direct the film back in 2015 before ultimately parting ways with the project, will be working from a script written by Billy Ray, whose most recent work includes Ang-Lee's Gemini Man and Tim Miller's Terminator reboot.
DiCaprio is producing under his Appian Way banner along with Jennifer Davisson, with Misher Film's Kevin Misher, Andy Berman, and Hill also serving as producers. Mike Ireland is overseeing the production of the film for Disney-Fox.
Dwayne Johnson and Jason Statham team-up against Idris Elba in new 'Hobbs & Shaw' trailer
Universal Pictures has released a new trailer for Hobbs & Shaw, the upcoming Fast & Furious spinoff which finds Dwayne Johnson and Jason Statham having to team-up to take down a villainous Idris Elba before he wipes out humanity as we know it.
Directed by David Leitch, the film follows Hobbs (Johnson), a loyal agent of America's Diplomatic Security Service, and lawless outcast Shaw (Statham), a former British military elite operative, as they embark on a mission to stop the cyber-genetically enhanced anarchist Brixton (Elba), who has gained control of an insidious bio-threat.
Along the way, they'll need help from the brilliant and fearless rogue MI6 agent who just happens to be Shaw's sister (Vanessa Kirby), as well as Hobbs' family, who seems to know a thing or two when it comes to fighting, judging by some of the footage showcased in the trailer.
Chris Morgan, the Fast & Furious franchise veteran who has written each and every installment to date since 2006's Tokyo Drift, returns to write this one, in addition to producing along with Johnson, Statham, and Hiram Garcia.
Hobbs & Shaw also stars Eiza Gonzalez, Helen Mirren, Eddie Marsan, Roman Reigns, Cliff Curtis, Josh Mauga, and John Tui, and will hit theaters on August 2.
Cannes 2019: Terrence Malick, Xavier Dolan, and a record number of women in competition
The lineup for the 72nd Cannes Film Festival was unveiled in Paris on Thursday morning, with this year's selection including competition entries from the likes of Terrence Malick, Xavier Dolan, Pedro Almodovar, and Ken Loach. The event will take place May 14-May 25.
Among the titles that will be playing Cannes this year, 13 of them were directed by women, with a record number of four competing for the prestigious Palme d'Or, including Jessica Hausner's Little Joe, Mati Dipo's Atlantique, Celine Sciamma's Portrait of a Young Lady on Fire, and Justine Triet's Sibyl.
Thierry Frémaux, artistic director for Cannes, said at this morning's press conference that this year's selection includes "beautiful portraits of women, not only by female directors, but also by men," which seems appropriate given that this year's festival will pay tribute to the late Agnès Varda.
Cannes will also feature plenty of star power this year as Jim Jarmusch's zombie horror satire The Dead Don't Die starring Bill Murray, Adam Driver, Tilda Swinton, and Chloe Sevigny is set to kick off the festival on opening night.
A few nights later, on May 16, the Taron Edgerton-led Elton John biopic Rocketman, which Frémaux described as "a signal of the return of major studios" to the festival, will hold its world premiere, with John himself scheduled to be in attendance.
The complete lineup for the 2019 Cannes Film Festival is as follows:
Competition
Pain and Glory, Pedro Almodovar
The Traitor, Marco Bellocchio
Wild Goose Lake, Yinan Diao
Parasite, Bong Joon-ho
Young Ahmed, The Dardenne Brothers
Oh Mercy!, Arnaud Desplechin
Atlantique, Mati Diop
Matthias and Maxime, Xavier Dolan
Little Joe, Jessica Hausner
Sorry We Missed You, Ken Loach
Les Miserables, Ladj Ly
A Hidden Life (previously known as Radegund), Terrence Malik
Nighthawk, Kleber Mendonca Filho, Juliano Dornelles
The Whistlers, Corneliu Porumboiu
Frankie, Ira Sachs
The Dead Don't Die, Jim Jarmusch
Portrait of a Lady on Fire, Celine Sciamma
It Must Be Heaven, Elia Suleiman
Sybil, Justine Triet
Out of Competition
Rocketman, Dexter Fletcher
The Best Years of Life, Claude Lelouch
Maradona, Asif Kapadia
La Belle Epoque, Nicolas Bedos
Too Old to Die Young, Nicolas Winding Refn (TV series screening 2 episodes)
Special Screenings
Share, Pippa Bianco
Family Romance LLC, Werner Herzog
Tommaso, Abel Ferrara
To Be Alive and Know It, Alain Cavalier
For Sama, Waad Al Kateab and Edward Watts
Midnight Screenings
The Gangster, The Cop, The Devil, Lee Won-Tae
Un Certain Regard
Invisible Life, Karim Aïnouz
Beanpole, Kantemir Balagov
The Swallows of Kabul, Zabou Breitman & Eléa Gobé Mévellec
A Brother's Love, Monia Chokri
The Climb, Michael Covino
Joan of Arc, Bruno Dumont
A Sun That Never Sets, Olivier Laxe
Chambre 212, Christophe Honoré
Port Authority, Danielle Lessovitz
Papicha, Mounia Meddour
Adam, Maryam Touzani
Zhuo Ren Mi Mi, Midi Z
Liberte, Albert Serra
Bull,  Annie Silverstein
Summer of Changsha, Zu Feng
EVGE, Nariman Aliev