We present film critic Sam Mauro's immensely subject to change top 10 films of 2017 list
A note before we begin: I wrestled with how I wanted to go about this list. 2017 isn't a particularly lackluster year for film—it just seems that way.
Most of the movies worth talking about are old news to anyone who saw them at their 2016 premieres (Personal Shopper), or hold-overs into the new year (First Reformed), or arguably not even any of the films at all (ahem, we'll get to that). Four of the films ranked below are 2016 premieres, and compared to my concurrent world premiere top ten, I only share four titles.
Regardless of my sometimes brutal film criticism and wantonly erratic change of taste, I present my immensely subject to change top ten of 2017:

10. On the Beach at Night Alone
A great climate change movie, among other things, which is cool, because it's a cold, dark world out there. A staggering work on what chases you when you travel to get some "alone time." Hong Sang-soo's shaggiest and most straight-forward film in a minute, but it's also a raging, shattering bleeding heart of a motion picture. People hurt each other and the world thinks you're a star. There are a million ways to tell the same story, as per the usual with Hong: when a stranger comes to town, you want to be littler.
9. Good Time
"Untwisting and untangling these strings I'm in." A desperate, dread-inducing rollercoaster, all flailing limbs, and bug-eyed glances. The emotional vulnerability here is shoved right up against the vicious sociopolitical climate until it feels suffocating. This is 70s New York (and 70s cinema) brought face to face with its bastard offspring. The kind of confrontational, invigorating cinema that brings you to your knees, a contradictory troll game of privilege and raging political relevance. New York City is a garbage city that will chew you up and spit you out and make you thank your lucky stars that you're white. It's a macho wistful crazy fucked micro tragedy epic. An island of 8 million people. A blotter-acid, massive interrogation into the nature of care – for one's self-preservation, for those closest to us, for those numbed within bureaucratic systems, and those institutionally pushed aside and objectified, in both our art and our politic. A bleak, contradictory, magnum film.
8. The Ornithologist
Anti-anthropocentric cinema at its finest. A great parable of Christian belief and Biblical storytelling, which forms a wonderful joke of pulling triple-duty as a personal meta-treatise for director João Pedro Rodrigues. High canon queer cinema, and a rich document of modern Portugal. I also really like birds.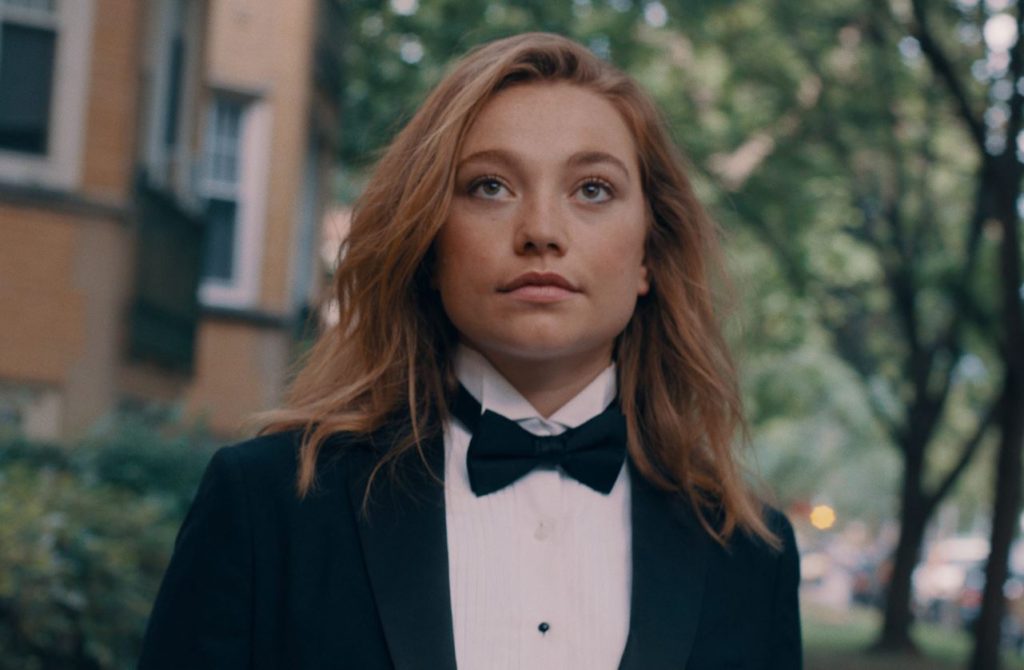 7. Princess Cyd
The most generous, exposed-heart sort of humanism; the kind with novelistic integrity and a fullness of vision, a work concerned with all sorts of intimacy, a visually and structurally mature gift feels light and pleasant and easy. Stephen Cone's modern classic is an ode to Marilynne Robinson and Jonathan Demme, to be sure, but it is full of such clean air, and back-kisses, and a voice so utterly unique in today's cinematic landscape, and so winning seventeen different ways over. It's healing, empowered art, and a radical rejiggering of the prototypical American indie towards something more…considered. It is a film of fluidity (a work of genuine queerness, a utopian view of acceptance and a bleary-eyed, quiet catharsis) and also specificity. Having been born and partially raised in suburban Chicago, I saw myself in this movie. But moreover, I saw so many people I loved.
6. Nocturama
Won't somebody think of the children! Precision-engineered formalism (the opening half hour is so technically perfect, and the shot of the two teenagers hands slinking away just as the light of the tunnel hits them, A sleek film of muddied philosophy: These children enact reactionary comforts and genre gestures so completely informed by a capitalist mentality that the film never shakes, a frisson of genuinely uncomfortable, terrifying ideas. This may well be an empty film of tragic things made clean. It is still probably as good an indicator as any as to how good and important movies are right now, an authentically progressive film with no answers and all questions, an obsessive and obsessively confounding object.
5. Dawson City: Frozen Time
A secret history, an entire town's life at the movies, a rewriting and affirmation of cinema's transistors pleasures and otherworldly power. Super-sad love story thesis ephemera. Movies are a reproduction of life imagined and life gone by, all the ways it was and could have been. It's an exceptional an archival powerhouse and a cinephilic master text.
4. Personal Shopper
This is a movie where Kristen Stewart says the word ectoplasm multiple times and there are many references to Hilma af Klint and there is ghost texting and bondage and I have many other thoughts. A very sad, very lame movie, right down to the goofy-ass CGI and an A+ obnoxious murder scene. Stewart is at her best, a movie star incapable of not being herself, and a queer icon in a film that doesn't fully do her justice. Assayas never quite nails it, but the films brushes and falls from perfection create an intangibly endearing, earnest, and truthful quality never before present in his work. I flipping love this messy mumbo jumbo movie. It helps that I believe in ghosts. Grief is a motherfucker.
3. Song to Song
A string of perfect moments (thinking about right now: the kazoo sounds of Ryan Gosling and Michael Fassbender at the table morph into monkey howls as Fassbender chases Rooney Mara to the sounds of seagull above them on the beach). Silly and old-person youthful, biblical and freewheeling and something of an arthouse playlist, a panoramic view of Terrence Malick's obsessions and delights, sprawling with Malick's strongest storytelling yet (amazingly, this film feels like it could be edited in any order, and that this is, essentially, the best possible edit), an unabashedly graceful ode to the foolish pursuit of freedom above all else. Above all, it's about how much Malick loves Patti Smith. It's really sweet.
2. Columbus
Cigarettes and meth. Kogonada's debut is a great examination of displacement in the Western inland of America, a quietly devastating ode to Ozu's family dramas, a great work of architecture, modernism, and the notion of permanence. It is a film where every character supports each other, quietly. Haley Lu Richardson is, no exaggeration, the greatest actress of our generation, and her performance here is all-time. She walks like she dances and her performance is as camouflaged as it is calibrated and utterly recognizable. A movie about loving and learning to be familiar and still be awestruck. Admittedly, this is about as close as you come to a movie made specifically for me, but I still cry a lot whenever I watch it, and it makes the day good.
1. Twin Peaks: The Return
What is it like to spend 18 hours in a single moment of irresolution? The history of American iconography, a diatribe on film versus detail, television versus cinema, narrative versus conceptual art. Kyle McLaughlin gives six or seven of the year's best performances. A total diatribe on genre in all its forms, on soap operas, and Sarah Palmer, and the history of electricity. So monumental, so clearly better than anything this year, in any medium, so full of hidden secrets, so unlike in feeling and amalgam, and it has total re-watchability (I have seen it four times through). An artistic event unparalleled in its ambition, success, and unifying yet diversely productive discourse this year.
Honorable Mentions (listed in alphabetical order): A Quiet Passion, Beach Rats, The Death of Louis XIV, Heal the Living, The Last Jedi, Roman J. Israel Esq., Wonderstruck
M. Night Shyamalan's sequel 'Glass' heading towards $50 million opening weekend
M. Night Shyamalan's eagerly awaited sequel Glass is off to a solid start at the North American box office, raking in more than $3.7 million from 3,200 theaters on Thursday, putting it on track to have the second-largest debut ever for a January release.
The film, which expands into 3,841 theaters today, is expected to earn just over $50 million over the course of the Martin Luther King Jr. holiday weekend, putting it behind only American Sniper, which opened to $89.2 million over the same holiday weekend in 2014.
Glass, which brings together the narratives of Shyamalan's 2000 film Unbreakable and his 2016 film Split, was written and directed by Shyamalan, who also produced along with Jason Blum, Marc Bienstock, and Ashwin Rajan.
The sequel sees Bruce Willis and Samuel L. Jackson reprise their respective roles as David Dunn and Elijah Price from Unbreakable, while James McAvoy and Anya Taylor-Joy return as Kevin Wendell Crumb and Casey Cooke from Split, respectively.
While many critics were hoping Glass would be another step in the right direction for Shyamalan, whose career has suffered from multiple critically-panned misfires, it seems most of them left largely unimpressed by the filmmaker's latest offering, earning the film a measly 36% approval rating on Rotten Tomatoes.
However, despite the disapproval of critics, Glass does seem to be performing exceptionally well with audiences, who have given the film an 80% approval rating on the review aggregator—a significantly higher number than the critic score.
Kumail Nanjiani and Issa Rae to star in the romantic comedy 'The Lovebirds' from Paramount
Following the surprise success of the sleeper hit rom-com The Big Sick in the summer of 2017, THR is reporting that Kumail Nanjiani is reteaming with director Michael Showalter for The Lovebirds, a new romantic comedy in which the comedian will star opposite Issa Rae.
According to the film's logline, The Lovebirds follows a couple on the brink of a breakup when they suddenly find themselves caught in the middle of a bizarre, hijinks-filled murder mystery, forcing them to figure out how they, and their relationship, can ultimately survive the night.
Showalter will direct the film, which Paramount recently acquired the rights to and has decided to put on the fast-track to production, from a script written by Aaron Abrams, Brendan Gall, and Martin Gero.
Tom Lassally, Oly Obst, Todd Shulman, Jordana Mollick and Gero are producing The Lovebirds along with executive producers Nanjiani, Rae, and Showalter. MRC is co-producing and co-financing the project.
Nanjiani, who is also set to begin shooting the eagerly awaited next season of the HBO comedy Silicon Valley later this year, earned an Oscar nomination in 2018 for his screenplay for The Big Sick, which he co-wrote with his wife Emily V. Gordon.
Rae recently starred in the social justice drama The Hate U Give and will next appear in Black-ish star Marsai Martin's upcoming comedy Little. She is also the co-creator, writer, executive producer, and star of the HBO comedy Insecure, which was recently renewed for a fourth season.
Keanu Reeves is on the run from a gang of bounty-hunters in the 'John Wick: Chapter 3' trailer
Lionsgate has released the first trailer for John Wick: Chapter 3 – Parabellum, the eagerly awaited next installment in the action series, which finds Keanu Reeves' titular hitman on the run from an onslaught of bounty-hunters in New York City.
Indeed, the hunter becomes the hunted in Parabellum as John Wick returns with a $14 million price tag on his head and a group of assassins hot on his trail, hoping to get their reward.
After killing a member of the shadowy international assassin's guild known as the High Table, Wick is excommunicado, but some of the world's most ruthless hit men and women are around every corner, awaiting his every turn.
Parabellum finds Chad Stahelski, who co-directed the first John Wick along with David Leitch before going solo on the second movie, back behind the camera, working from a script written by Derek Kolstad.
In addition to Reeves, Parabellum's all-star cast includes the likes of Halle Berry, Mark Dacascos, Ian McShane, Lance Reddick, Laurence Fishburne, Anjelica Huston, Robin Lord Taylor, Asia Kate Dillon, Jason Mantzoukas, John Leguizamo, and Jerome Flynn.
John Wick: Chapter 3 – Parabellum will hit theaters on May 17.