We present film critic Sam Mauro's immensely subject to change top 10 films of 2017 list
A note before we begin: I wrestled with how I wanted to go about this list. 2017 isn't a particularly lackluster year for film—it just seems that way.
Most of the movies worth talking about are old news to anyone who saw them at their 2016 premieres (Personal Shopper), or hold-overs into the new year (First Reformed), or arguably not even any of the films at all (ahem, we'll get to that). Four of the films ranked below are 2016 premieres, and compared to my concurrent world premiere top ten, I only share four titles.
Regardless of my sometimes brutal film criticism and wantonly erratic change of taste, I present my immensely subject to change top ten of 2017:

10. On the Beach at Night Alone
A great climate change movie, among other things, which is cool, because it's a cold, dark world out there. A staggering work on what chases you when you travel to get some "alone time." Hong Sang-soo's shaggiest and most straight-forward film in a minute, but it's also a raging, shattering bleeding heart of a motion picture. People hurt each other and the world thinks you're a star. There are a million ways to tell the same story, as per the usual with Hong: when a stranger comes to town, you want to be littler.
9. Good Time
"Untwisting and untangling these strings I'm in." A desperate, dread-inducing rollercoaster, all flailing limbs, and bug-eyed glances. The emotional vulnerability here is shoved right up against the vicious sociopolitical climate until it feels suffocating. This is 70s New York (and 70s cinema) brought face to face with its bastard offspring. The kind of confrontational, invigorating cinema that brings you to your knees, a contradictory troll game of privilege and raging political relevance. New York City is a garbage city that will chew you up and spit you out and make you thank your lucky stars that you're white. It's a macho wistful crazy fucked micro tragedy epic. An island of 8 million people. A blotter-acid, massive interrogation into the nature of care – for one's self-preservation, for those closest to us, for those numbed within bureaucratic systems, and those institutionally pushed aside and objectified, in both our art and our politic. A bleak, contradictory, magnum film.
8. The Ornithologist
Anti-anthropocentric cinema at its finest. A great parable of Christian belief and Biblical storytelling, which forms a wonderful joke of pulling triple-duty as a personal meta-treatise for director João Pedro Rodrigues. High canon queer cinema, and a rich document of modern Portugal. I also really like birds.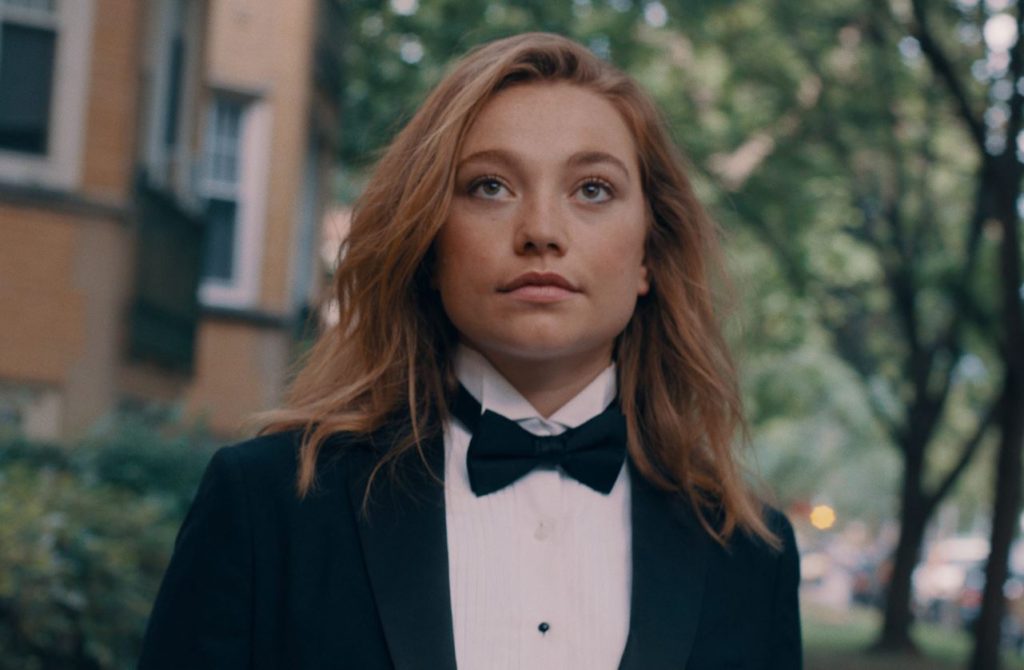 7. Princess Cyd
The most generous, exposed-heart sort of humanism; the kind with novelistic integrity and a fullness of vision, a work concerned with all sorts of intimacy, a visually and structurally mature gift feels light and pleasant and easy. Stephen Cone's modern classic is an ode to Marilynne Robinson and Jonathan Demme, to be sure, but it is full of such clean air, and back-kisses, and a voice so utterly unique in today's cinematic landscape, and so winning seventeen different ways over. It's healing, empowered art, and a radical rejiggering of the prototypical American indie towards something more…considered. It is a film of fluidity (a work of genuine queerness, a utopian view of acceptance and a bleary-eyed, quiet catharsis) and also specificity. Having been born and partially raised in suburban Chicago, I saw myself in this movie. But moreover, I saw so many people I loved.
6. Nocturama
Won't somebody think of the children! Precision-engineered formalism (the opening half hour is so technically perfect, and the shot of the two teenagers hands slinking away just as the light of the tunnel hits them, A sleek film of muddied philosophy: These children enact reactionary comforts and genre gestures so completely informed by a capitalist mentality that the film never shakes, a frisson of genuinely uncomfortable, terrifying ideas. This may well be an empty film of tragic things made clean. It is still probably as good an indicator as any as to how good and important movies are right now, an authentically progressive film with no answers and all questions, an obsessive and obsessively confounding object.
5. Dawson City: Frozen Time
A secret history, an entire town's life at the movies, a rewriting and affirmation of cinema's transistors pleasures and otherworldly power. Super-sad love story thesis ephemera. Movies are a reproduction of life imagined and life gone by, all the ways it was and could have been. It's an exceptional an archival powerhouse and a cinephilic master text.
4. Personal Shopper
This is a movie where Kristen Stewart says the word ectoplasm multiple times and there are many references to Hilma af Klint and there is ghost texting and bondage and I have many other thoughts. A very sad, very lame movie, right down to the goofy-ass CGI and an A+ obnoxious murder scene. Stewart is at her best, a movie star incapable of not being herself, and a queer icon in a film that doesn't fully do her justice. Assayas never quite nails it, but the films brushes and falls from perfection create an intangibly endearing, earnest, and truthful quality never before present in his work. I flipping love this messy mumbo jumbo movie. It helps that I believe in ghosts. Grief is a motherfucker.
3. Song to Song
A string of perfect moments (thinking about right now: the kazoo sounds of Ryan Gosling and Michael Fassbender at the table morph into monkey howls as Fassbender chases Rooney Mara to the sounds of seagull above them on the beach). Silly and old-person youthful, biblical and freewheeling and something of an arthouse playlist, a panoramic view of Terrence Malick's obsessions and delights, sprawling with Malick's strongest storytelling yet (amazingly, this film feels like it could be edited in any order, and that this is, essentially, the best possible edit), an unabashedly graceful ode to the foolish pursuit of freedom above all else. Above all, it's about how much Malick loves Patti Smith. It's really sweet.
2. Columbus
Cigarettes and meth. Kogonada's debut is a great examination of displacement in the Western inland of America, a quietly devastating ode to Ozu's family dramas, a great work of architecture, modernism, and the notion of permanence. It is a film where every character supports each other, quietly. Haley Lu Richardson is, no exaggeration, the greatest actress of our generation, and her performance here is all-time. She walks like she dances and her performance is as camouflaged as it is calibrated and utterly recognizable. A movie about loving and learning to be familiar and still be awestruck. Admittedly, this is about as close as you come to a movie made specifically for me, but I still cry a lot whenever I watch it, and it makes the day good.
1. Twin Peaks: The Return
What is it like to spend 18 hours in a single moment of irresolution? The history of American iconography, a diatribe on film versus detail, television versus cinema, narrative versus conceptual art. Kyle McLaughlin gives six or seven of the year's best performances. A total diatribe on genre in all its forms, on soap operas, and Sarah Palmer, and the history of electricity. So monumental, so clearly better than anything this year, in any medium, so full of hidden secrets, so unlike in feeling and amalgam, and it has total re-watchability (I have seen it four times through). An artistic event unparalleled in its ambition, success, and unifying yet diversely productive discourse this year.
Honorable Mentions (listed in alphabetical order): A Quiet Passion, Beach Rats, The Death of Louis XIV, Heal the Living, The Last Jedi, Roman J. Israel Esq., Wonderstruck
Phoenix: Warner Bros. invites you to a screening of Edward Norton's 'Motherless Brooklyn'
Warner Bros. will release Motherless Brooklyn, the new crime drama from writer, director, and star Edward Norton, on October 19 and its giving Silver Screen Beat readers in Phoenix a chance to attend an advance screening of the film before it officially opens in theaters.
Our readers in Phoenix can click on this link right now to claim their free passes — good for you and one guest — to attend an advance screening of Motherless Brooklyn happening at Harkins Scottsdale 101 on Monday, October 28 at 6:30 p.m.
Keep in mind that these free passes are distributed on a first-come, first-served basis, so be sure to claim yours as soon as possible before they run out. Below is the official trailer for Motherless Brooklyn as well as some additional details about the film.
Directed by: Edward Norton
Cast: Edward Norton, Bruce Willis, Gugu Mbatha-Raw, Alec Baldwin, and Willem Dafoe
Opens: Friday, November 1
Rating: R for language throughout, including some sexual references, brief drug use, and violence
Synopsis: Set against the backdrop of 1950s New York, Motherless Brooklyn follows Lionel Essrog (Edward Norton), a lonely private detective living with Tourette Syndrome, as he ventures to solve the murder of his mentor and only friend, Frank Minna (Bruce Willis). Armed only with a few clues and the engine of his obsessive mind, Lionel unravels closely-guarded secrets that hold the fate of the whole city in the balance. In a mystery that carries him from gin-soaked jazz clubs in Harlem to the hard-edged slums of Brooklyn and, finally, into the gilded halls of New York's power brokers, Lionel contends with thugs, corruption and the most dangerous man in the city to honor his friend and save the woman who might be his own salvation.
Final trailer for 'The Rise of Skywalker' teases a bittersweet ending to a beloved saga
Disney has released the final trailer for Star Wars: The Rise of Skywalker, the latest chapter in the intergalactic franchise from writer-director J.J. Abrams that will — supposedly — mark the conclusion of the long-running Skywalker saga that began in 1977.
The Rise of Skywalker will see the return of much of the principal cast, including Daisy Ridley, Adam Driver, Mark Hamill, John Boyega, Oscar Isaac, Kelly Marie Tran, Joonas Suotamo, Anthony Daniels, as well as the late Carrie Fisher, who will appear in the film by way of unused footage from the 2015 film Star Wars: The Force Awakens.
"You can't recast that part and you can't suddenly have her disappear," Abrams said at the Star Wars Celebration event in April. "The weird miracle of having a number of scenes from The Force Awakens that had got unused, looking at those scenes and starting to understand that there was actually a way to use those scenes and continue her story so that it would be her. The idea of having a CG character was off the table."
The film will also see Ian McDiarmid reprise his role as the villainous Emperor Palpatine and Billy Dee Williams as the iconic scoundrel Lando Calrissian.
"In addition to being the end of three trilogies, it also has to work as its own movie," Abrams also said. "It's about this new generation and what they've inherited the light and the dark, and asking the question as they face the greatest evil, are they prepared? Are they ready?"
Star Wars: The Rise of Skywalker opens December 20.
Sam Raimi reteaming with Columbia Pictures to direct, produce new untitled horror project
Columbia Pictures confirmed Friday that it has acquired the rights to an untitled horror project that is set to be directed and produced by Sam Raimi, making it the genre maestro's first directorial effort on a horror film 2009's Drag Me to Hell.
"I am thrilled to be reunited with Columbia Pictures and re-teaming with Sanford [Panitch] and Ange [Giannetti]," Raimi said in a statement. "I have been a fan of Shannon and Swift and we have found the perfect adventure to share with the world."
While details about the project are being kept tightly under wraps, the film — which was written by Mark Swift and Damian Shannon, based on an original idea they conceived — is comparable to Misery and Cast Away in terms of its tone, according to The Hollywood Reporter.
Raimi and Zainab Azizi are producing the film via their Raimi Productions label, while Giannetti is overseeing the production for Columbia Pictures, which moved quickly to acquire the rights to the project before other studios even had a chance to make a bid on it.
Production on the film is expected to get underway in 2020.