We present film critic Sam Mauro's immensely subject to change top 10 films of 2017 list
A note before we begin: I wrestled with how I wanted to go about this list. 2017 isn't a particularly lackluster year for film—it just seems that way.
Most of the movies worth talking about are old news to anyone who saw them at their 2016 premieres (Personal Shopper), or hold-overs into the new year (First Reformed), or arguably not even any of the films at all (ahem, we'll get to that). Four of the films ranked below are 2016 premieres, and compared to my concurrent world premiere top ten, I only share four titles.
Regardless of my sometimes brutal film criticism and wantonly erratic change of taste, I present my immensely subject to change top ten of 2017:

10. On the Beach at Night Alone
A great climate change movie, among other things, which is cool, because it's a cold, dark world out there. A staggering work on what chases you when you travel to get some "alone time." Hong Sang-soo's shaggiest and most straight-forward film in a minute, but it's also a raging, shattering bleeding heart of a motion picture. People hurt each other and the world thinks you're a star. There are a million ways to tell the same story, as per the usual with Hong: when a stranger comes to town, you want to be littler.
9. Good Time
"Untwisting and untangling these strings I'm in." A desperate, dread-inducing rollercoaster, all flailing limbs, and bug-eyed glances. The emotional vulnerability here is shoved right up against the vicious sociopolitical climate until it feels suffocating. This is 70s New York (and 70s cinema) brought face to face with its bastard offspring. The kind of confrontational, invigorating cinema that brings you to your knees, a contradictory troll game of privilege and raging political relevance. New York City is a garbage city that will chew you up and spit you out and make you thank your lucky stars that you're white. It's a macho wistful crazy fucked micro tragedy epic. An island of 8 million people. A blotter-acid, massive interrogation into the nature of care – for one's self-preservation, for those closest to us, for those numbed within bureaucratic systems, and those institutionally pushed aside and objectified, in both our art and our politic. A bleak, contradictory, magnum film.
8. The Ornithologist
Anti-anthropocentric cinema at its finest. A great parable of Christian belief and Biblical storytelling, which forms a wonderful joke of pulling triple-duty as a personal meta-treatise for director João Pedro Rodrigues. High canon queer cinema, and a rich document of modern Portugal. I also really like birds.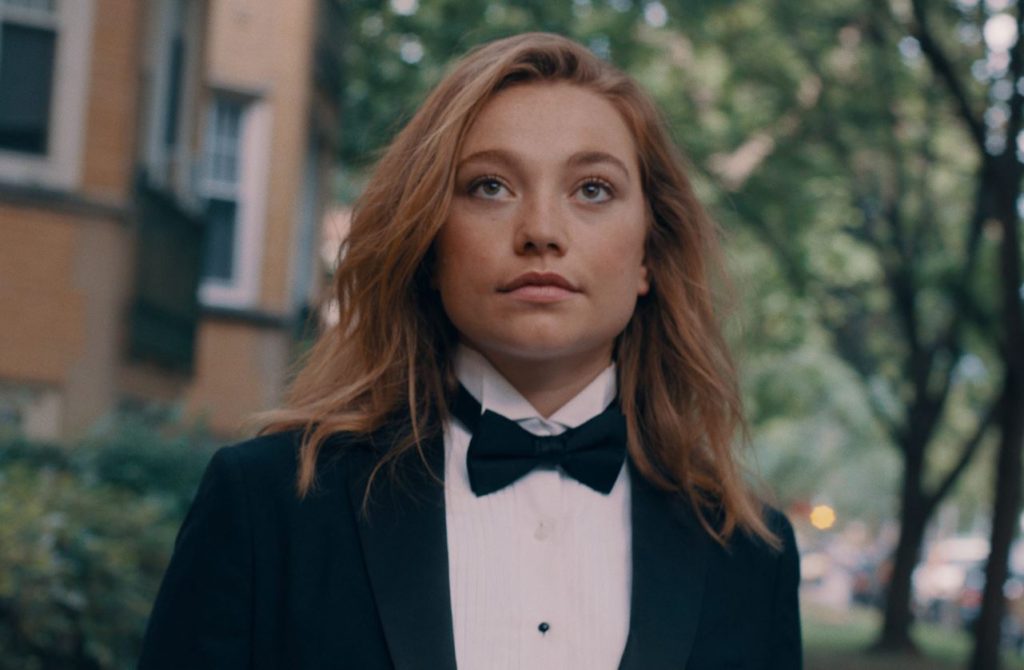 7. Princess Cyd
The most generous, exposed-heart sort of humanism; the kind with novelistic integrity and a fullness of vision, a work concerned with all sorts of intimacy, a visually and structurally mature gift feels light and pleasant and easy. Stephen Cone's modern classic is an ode to Marilynne Robinson and Jonathan Demme, to be sure, but it is full of such clean air, and back-kisses, and a voice so utterly unique in today's cinematic landscape, and so winning seventeen different ways over. It's healing, empowered art, and a radical rejiggering of the prototypical American indie towards something more…considered. It is a film of fluidity (a work of genuine queerness, a utopian view of acceptance and a bleary-eyed, quiet catharsis) and also specificity. Having been born and partially raised in suburban Chicago, I saw myself in this movie. But moreover, I saw so many people I loved.
6. Nocturama
Won't somebody think of the children! Precision-engineered formalism (the opening half hour is so technically perfect, and the shot of the two teenagers hands slinking away just as the light of the tunnel hits them, A sleek film of muddied philosophy: These children enact reactionary comforts and genre gestures so completely informed by a capitalist mentality that the film never shakes, a frisson of genuinely uncomfortable, terrifying ideas. This may well be an empty film of tragic things made clean. It is still probably as good an indicator as any as to how good and important movies are right now, an authentically progressive film with no answers and all questions, an obsessive and obsessively confounding object.
5. Dawson City: Frozen Time
A secret history, an entire town's life at the movies, a rewriting and affirmation of cinema's transistors pleasures and otherworldly power. Super-sad love story thesis ephemera. Movies are a reproduction of life imagined and life gone by, all the ways it was and could have been. It's an exceptional an archival powerhouse and a cinephilic master text.
4. Personal Shopper
This is a movie where Kristen Stewart says the word ectoplasm multiple times and there are many references to Hilma af Klint and there is ghost texting and bondage and I have many other thoughts. A very sad, very lame movie, right down to the goofy-ass CGI and an A+ obnoxious murder scene. Stewart is at her best, a movie star incapable of not being herself, and a queer icon in a film that doesn't fully do her justice. Assayas never quite nails it, but the films brushes and falls from perfection create an intangibly endearing, earnest, and truthful quality never before present in his work. I flipping love this messy mumbo jumbo movie. It helps that I believe in ghosts. Grief is a motherfucker.
3. Song to Song
A string of perfect moments (thinking about right now: the kazoo sounds of Ryan Gosling and Michael Fassbender at the table morph into monkey howls as Fassbender chases Rooney Mara to the sounds of seagull above them on the beach). Silly and old-person youthful, biblical and freewheeling and something of an arthouse playlist, a panoramic view of Terrence Malick's obsessions and delights, sprawling with Malick's strongest storytelling yet (amazingly, this film feels like it could be edited in any order, and that this is, essentially, the best possible edit), an unabashedly graceful ode to the foolish pursuit of freedom above all else. Above all, it's about how much Malick loves Patti Smith. It's really sweet.
2. Columbus
Cigarettes and meth. Kogonada's debut is a great examination of displacement in the Western inland of America, a quietly devastating ode to Ozu's family dramas, a great work of architecture, modernism, and the notion of permanence. It is a film where every character supports each other, quietly. Haley Lu Richardson is, no exaggeration, the greatest actress of our generation, and her performance here is all-time. She walks like she dances and her performance is as camouflaged as it is calibrated and utterly recognizable. A movie about loving and learning to be familiar and still be awestruck. Admittedly, this is about as close as you come to a movie made specifically for me, but I still cry a lot whenever I watch it, and it makes the day good.
1. Twin Peaks: The Return
What is it like to spend 18 hours in a single moment of irresolution? The history of American iconography, a diatribe on film versus detail, television versus cinema, narrative versus conceptual art. Kyle McLaughlin gives six or seven of the year's best performances. A total diatribe on genre in all its forms, on soap operas, and Sarah Palmer, and the history of electricity. So monumental, so clearly better than anything this year, in any medium, so full of hidden secrets, so unlike in feeling and amalgam, and it has total re-watchability (I have seen it four times through). An artistic event unparalleled in its ambition, success, and unifying yet diversely productive discourse this year.
Honorable Mentions (listed in alphabetical order): A Quiet Passion, Beach Rats, The Death of Louis XIV, Heal the Living, The Last Jedi, Roman J. Israel Esq., Wonderstruck
Charlize Theron, Nicole Kidman, and Margot Robbie glare intensely at each other in the 'Bombshell' trailer
Despite taking place entirely in a hot, stuffy elevator and featuring little to no dialogue, the first trailer for Jay Roach's Fox News drama Bombshell about the downfall of Roger Ailes does a pretty damn good job of showcasing what is likely to be a serious contender this awards season.
Written by Charles Randolph, Bombshell chronicles the inevitable collapse of Ailes' reign at Fox News, where he served as chairman and CEO up until his resignation in 2016 amid dozens of sexual harassment and abuse allegations from several female employees at the conservative media empire.
Among the many women who accused Ailes of misconduct were former Fox News hosts Megyn Kelly and Gretchen Carlson, who are played here by Charlize Theron and Nicole Kidman, respectively, while Margot Robbie plays as a fictional associate producer named Kayla Pospisil.
As if those three stars weren't enough, the film's ensemble cast also includes the likes of John Lithgow (who plays Ailes), Allison Janney, Kate McKinnon, Malcolm McDowell, Mark Duplass, Rob Delaney, and Stephen Root.
I don't know about you, but I dig everything about this trailer (I could literally watch Nicole Kidman, Charlize Theron, and Margot Robbie glaring at each other in an elevator all day) and I'm actually pretty excited to see how Bombshell turns out when it drops in December.
This whole Spider-Man dilemma between Sony and Disney is extraordinarily fucking complicated
As you may have heard yesterday, Tom Holland's Spider-Man has essentially left the Marvel Cinematic Universe due to the fact that Disney and Sony were unable "to reach new terms that would have given the former a co-financing stake going forward," according to Deadline.
Disney, after originally agreeing to receive just 5% of the box office gross of Sony's Spider-Man movies, wanted to renegotiate a new deal that would allow them to take a much larger 50% cut because they would also be putting up half the funding under the new terms.
In other words, Disney, which basically controls half of the entertainment industry at this point, wanted to gain even more control over what is inarguably Sony's most successful franchise to date and the latter wasn't going to let that happen. Or so we thought?
A statement released by Sony late last night seems to pin the blame for this entire dilemma on Disney, claiming that they are the ones preventing any further involvement of Spider-Man in the MCU, furthering complicating what was already a pretty fucking complicated scenario.
"Much of today's news about Spider-Man has mischaracterized recent discussions about Kevin Feige's involvement in the franchise. We are disappointed, but respect Disney's decision not to have him continue as a lead producer of our next live-action Spider-Man film," the statement reads.
It goes on to say, "We hope this might change in the future, but understand that the many new responsibilities that Disney has given him – including all their newly added Marvel properties – do not allow time for him to work on IP they do not own. Kevin is terrific and we are grateful for his help and guidance and appreciate the path he has helped put us on, which we will continue."
So, uh, what's really going on here? Is Disney actually to blame? Did Sony (rightfully) turn down the Mouse House's astonishingly greedy 50/50 offer? Are we going to have to witness another godforsaken Spider-Man origin story? It seems a little too early to tell at this point, but time will certainly tell.
Keanu Reeves, Carrie-Anne Moss, and Lana Wachowski are returning for a fourth 'Matrix' movie
In a truly shocking development, Variety is reporting that the Matrix 4 is officially in the works (!) with Lana Wachowski returning to the director's chair and Keanu Reeves and Carie-Anne Moss reprising their respective roles as Neo and Trinity.
"We could not be more excited to be re-entering The Matrix with Lana," said Warner Bros. Pictures Group chairman Toby Emmerich. "Lana is a true visionary—a singular and original creative filmmaker—and we are thrilled that she is writing, directing and producing this new chapter in The Matrix universe."
Production on the film is scheduled to begin as early as the beginning of next year with Wachowski helming from a script she co-wrote the script along with Aleksander Hemon and David Mitchell, so it shouldn't be too long of a wait before we can finally get this thing in front of our eyeballs.
"Many of the ideas Lilly and I explored 20 years ago about our reality are even more relevant now. I'm very happy to have these characters back in my life and grateful for another chance to work with my brilliant friends," Wachowski said.
We've been hearing rumblings about a potential reboot of the Matrix franchise for a while now, so the fact that Warner Bros. seems to have abandoned that idea altogether in favor of moving forward with a true sequel with Wachowski, Reeves, and Moss all set to return is pretty damn exciting.