Can someone tell the Sony Pictures marketing department to hire a new graphic designer, please
I don't know what the hell is going on over at the Sony Pictures marketing department, but some graphic designer who is probably severely underpaid keeps making these god-awful movie posters and for whatever reason the studio is always just like, "Yeah, that looks good enough. Send it out."
I mean, just take a gander at this new one-sheet they put out for Spider-Man: Far From Home earlier today: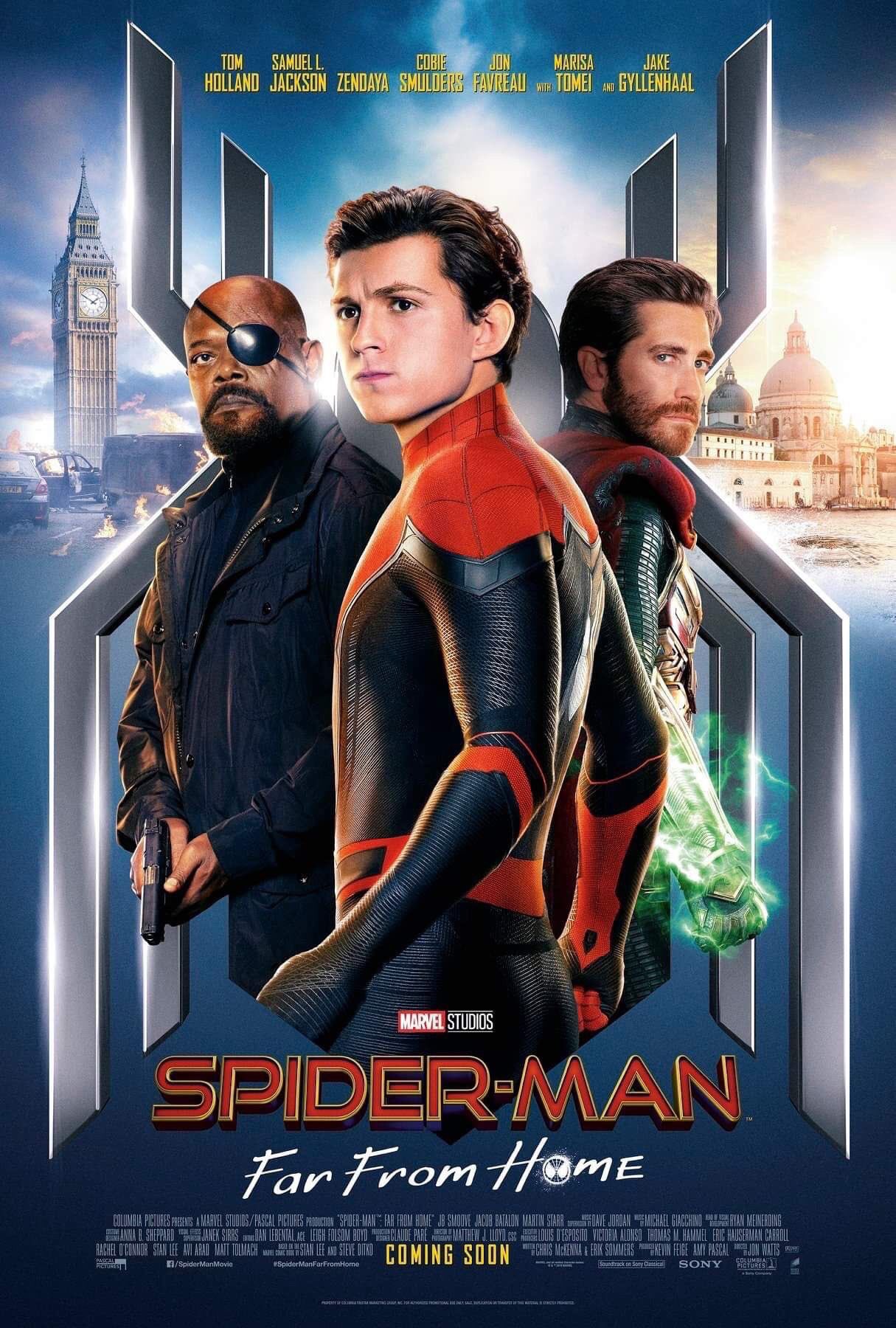 Now, I love the Spider-Man franchise as much as the next guy and I love Tom Holland as Spider-Man and I hate to clown on things I love, but holy shit that poster is hilariously bad and I want it framed and put on the wall in front of my desk immediately so I can look up and laugh at it whenever I want.
All jokes aside, though, a poster is not indicative of a movie's quality and I'm sure Far From Home is going to be just fine. Remember that very unfortunate international poster Sony released for Spider-Man: Homecoming back in 2017? Yeah, sorry I had to bring that up.
But, the point is, that poster looked like complete and utter shit and yet the movie turned out to be great and was critically acclaimed and went on to make a ton of money at the box office, and I'm sure that will also be the case for Far From Home when it hit theaters on July 2.
Contest: Enter to win 'Rambo: Last Blood' on Blu-ray from Lionsgate Home Entertainment
Lionsgate Home Entertainment will release Rambo: Last Blood on Blu-ray/DVD on December 17 and it's giving Silver Screen Beat readers a chance to win a Blu-ray combo pack (plus DVD and digital) of the film.
Our readers can click this link right now to enter to win a Rambo: Last Blood combo pack, which includes a couple of behind the scenes featurettes detailing the production and scoring of the film.
The contest is currently ongoing and will end Wednesday, December 18, at which point winners will be selected and notified. Below is the official trailer for Rambo: Last Blood as well as some additional details about the film.
Directed by: Adrian Grunberg
Cast: Sylvester Stallone, Paz Vega, Sergio Peris-Mencheta, Adriana Barraza, Yvette Monreal, Genie Kim, Joaquin Cosio, and Oscar Jaenada
Rating: R for strong graphic violence, grisly images, drug use, and language
4K UHD / BLU-RAY / DVD / DIGITAL SPECIAL FEATURES
"Drawing Last Blood: Multipart Production Diary" Featurette
"From First Note to Last Blood: Music for the Massacres" Featurette
Theatrical Trailer
Keanu Reeves will have 'The Matrix 4' and 'John Wick 4' both coming out on May 21, 2021
May 21, 2021 is poised to be a very big day for Keanu Reeves as the actor will have not one but two films hitting theaters: John Wick 4 and The Matrix 4.
It's curious as to why Warner Bros. chose this particular date for the Matrix sequel given the fact that Lionsgate had already announced months ago that John Wick 4 would be coming out on that very day.
Regardless, it seems likely that either one studio or the other — Lionsgate, I'm guessing, even though they had the slot first — will adjust their calendar accordingly so as not to cause too much of a conflict for our boy Keanu.
Production on The Matrix 4 is scheduled to get underway next year with Lana Wachowski returning to the director's chair with a script she co-wrote along with Aleksander Hemon and David Mitchell.
Reeves, Carrie-Anne Moss, and Jada Pinkett Smith will all be reprising their roles from the previous Matrix movies, while Neil Patrick Harris and Yahya Abdul-Mateen II will be joining the franchise for the very first time.
'Once Upon a Time in Hollywood' tops the 2020 Screen Actors Guild Awards nominations
The 2020 Screen Actors Guild (SAG) Awards nominations were announced this morning with Quentin Tarantino's Once Upon a Time in Hollywood and Martin Scorsese's The Irishman unsurprisingly — and very rightfully — leading the nominees.
Both Once Upon a Time and Irishman are up for Outstanding Performance by a Cast in a Motion Picture, as is Jay Roach's Bombshell, Taika Waititi's Jojo Rabbit, and Bong Joon Ho's Parasite.
In the acting categories, Leonardo DiCaprio is nominated for Outstanding Performance by a Male Actor in a Leading Role along with Adam Driver for Marriage Story, Christian Bale for Ford v Ferrari, Taron Egerton for Rocketman, and Joaquin Phoenix for Joker.
Meanwhile, the Outstanding Performance by a Female Actor in a Leading Role category includes Scarlett Johansson for Marriage Story, Lupita Nyong'o for Us (!), Charlize Theron for Bombshell, Cynthia Erivo for Harriet, and Renée Zellweger for Judy.
You can check out the complete list of nominations for the 2020 SAG Awards below.
Outstanding Performance by a Male Actor in a Supporting Role
Jamie Foxx, Just Mercy
Tom Hanks, A Beautiful Day in the Neighborhood
Al Pacino, The Irishman
Joe Pesci, The Irishman
Brad Pitt, Once Upon a Time in Hollywood
Outstanding Performance by a Female Actor in a Supporting Role
Laura Dern, Marriage Story
Scarlett Johansson, Jojo Rabbit
Nicole Kidman, Bombshell
Jennifer Lopez, Hustlers
Margot Robbie, Bombshell
Outstanding Performance by a Male Actor in a Leading Role
Christian Bale, Ford v Ferrari
Leonardo DiCaprio, Once Upon a Time in Hollywood
Adam Driver, Marriage Story
Taron Egerton, Rocketman
Joaquin Phoenix, Joker
Outstanding Performance by a Female Actor in a Leading Role
Cynthia Erivo, Harriet
Scarlett Johansson, Marriage Story
Lupita Nyong'o, Us
Charlize Theron, Bombshell
Renée Zellweger, Judy
Outstanding Performance by a Cast in a Motion Picture
Bombshell
The Irishman
Jojo Rabbit
Once Upon a Time in Hollywood
Parasite
Outstanding Male Actor in a TV Movie or Limited Series
Mahershala Ali, True Detective
Russell Crowe, The Loudest Voice
Jared Harris, Chernobyl
Jharrel Jerome, When They See Us
Sam Rockwell, Fosse/Verdon
Outstanding Female Actor in a TV Movie or Limited Series
Patricia Arquette, The Act
Toni Collette, Unbelievable
Joey King, The Act
Emily Watson, Chernobyl
Michelle Williams, Fosse/Verdon
Outstanding Male Actor in a Comedy Series
Alan Arkin, The Kominsky Method
Michael Douglas, The Kominsky Method
Bill Hader, Barry
Andrew Scott, Fleabag
Tony Shalhoub, The Marvelous Mrs. Maisel
Outstanding Female Actor in a Comedy Series
Christina Applegate, Dead to Me
Alex Borstein, The Marvelous Mrs. Maisel
Rachel Brosnahan, The Marvelous Mrs. Maisel
Catherine O'Hara, Schitt's Creek
Phoebe Waller-Bridge, Fleabag
Outstanding Comedy Ensemble
Barry
Fleabag
The Kominsky Method
The Marvelous Mrs. Maisel
Schitt's Creek
Outstanding Male Actor in a Drama Series
Sterling K. Brown, This Is Us
Steve Carell, The Morning Show
Billy Crudup, The Morning Show
Peter Dinklage, Game of Thrones
David Harbour, Stranger Things
Outstanding Female Actor in a Drama Series
Jennifer Aniston, The Morning Show
Helena Bonham Carter, The Crown
Olivia Colman, The Crown
Jodie Comer, Killing Eve
Elisabeth Moss, The Handmaid's Tale
Outstanding Drama Ensemble
Big Little Lies
The Crown
Game of Thrones
The Handmaid's Tale
Stranger Things