'Star Wars: The Last Jedi' review: Rian Johnson delivers a riveting intergalactic spectacle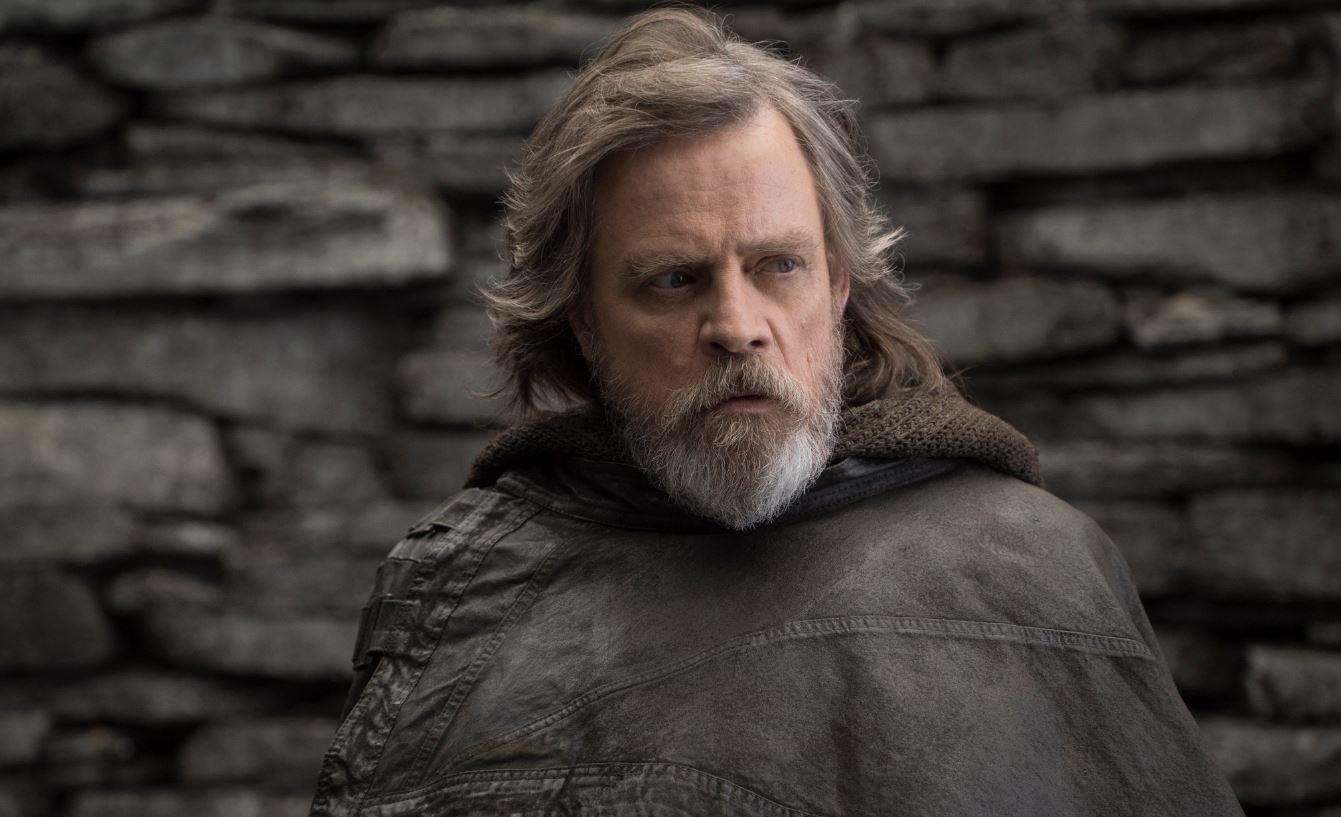 Star Wars: The Last Jedi begins just like any other installment in George Lucas' long-running intergalactic franchise: A static blue text that reads "A long time ago in a galaxy far, far away," followed by that rousing, iconic theme song composed by John Williams and a brief, yet informative opening crawl, teasing the adventures to come over the course of the next 150 minutes (making it the longest Star Wars movie to date).
But look a little closer and you'll see that The Last Jedi is as unique and special as the diverse cast of characters it showcases, and writer-director Rian Johnson looks to take this series to a whole new level with the latest chapter in the seemingly never-ending Skywalker-saga that finds not one, but two central characters grappling with the Light and Dark sides of the Force.
As we see in that unforgettable The Force Awakens finale (the best part of a rather lackluster film), Rey (Daisy Ridley) has traveled to the gorgeous, Porg-infested island of Ahch-To to deliver Luke Skywalker's (Mark Hamill) long-lost blue-bladed lightsaber and to convince him to join the Resistance in order to help defeat the First Order. However, a weary, worn-out-looking Luke doesn't seem to have much interest in doing so, telling Rey that "it's time for the Jedi to end" once and for all.
Meanwhile, the First Order, led by General Hux (Domhnall Gleeson), hot on the tail of the Resistance, is ready to strike again in retaliation for the destruction of its Starkiller Base. With General Leia Organa (Carrie Fisher) and Vice Admiral Holdo (Laura Dern) calling the shots, the Rebel army must act quick, as both time and fuel are running out fast. However, Poe Dameron (Oscar Isaac), takes matters into his own hands and enlists the help of Finn (John Boyega) and Rose (Kelly Marie Tran) to help carry out his rather dangerous plan of infiltrating the First Order's fleet and disabling their tracking system.
Though the pacing could certainly be a bit tighter at times, Johnson does a more than impressive job of balancing multiple storylines in The Last Jedi (three, to be exact), and they all eventually come full circle by the time the credits start to roll and the age-old mysteries of the Force and shocking revelations of the past have finally been unlocked. Chances are, though, fans will be too lost in this riveting, visual feast of a film to even notice (or care about) something such as minor pacing issues or out of place humor.
Much like he did in The Force Awakens, the scar-faced Kylo Ren (Adam Driver) practically steals the show and reveals a much different side to his character than we've previously seen. "Forget the Jedi! Forget the Sith! Forget the First Order!" he exclaims at one point in the film, revealing his desire to start an entirely new order. But it's whether or not he can convince Rey to join him that will keep audiences on the edge of their seat for the duration of the film.
A dazzling, gorgeously put-together sci-fi action extravaganza, The Last Jedi was obviously handled with much love and care by Johnson in both his writing and direction and that certainly translates on screen. The multiple storylines are exciting, while the characters, both the newcomers and the veterans, are simply wonderful to watch develop over the course of the film.
It's no wonder why Walt Disney and Lucasfilm decided to give Johnson an entirely new Star Wars trilogy to create; the franchise is in exceptionally good hands as indicated by The Last Jedi.
'Toy Story 4' review: Pixar's iconic franchise is back and it's warped, weird, and better for it
Let me tell you about Benson. Deep in the recesses of America, off a mysterious back highway, next to a carnival and a trailer park, there is an antique shop haunted by a doll called Benson. He marches around standing awkwardly erect, Frankenstein-style, and swivels his head 270 degrees like a demented owl. Benson performs impromptu surgeries on visitors to the antique shop. He never says a word. And there are four of him. He's only a supporting character in Toy Story 4, but a symbol of where it's gone: weirder, darker, more twisted. And more enjoyable for it.
First, it's important to point out that this is a still Toy Story movie. It has a big heart beating inside, the same one that's powered the three films before. With Andy and his sister grown, the gang of anthropomorphic toys we've come to know and love has been handed down to Bonnie, a shy girl who's having trouble adjusting to kindergarten. Her newest comfort is Forky, a dirty spork with red pipe cleaner arms, popsicle stick feet, and some googly eyes. The problem is that Forky—voiced by Tony Hale, who delivers peak Tony Hale manic bewilderment—doesn't think he's a toy; Forky thinks he's trash, and wants to get back to his "warm, cozy, safe" trash origins. Woody, dedicated to protecting Bonnie's feelings, is determined to wrangle the despondent utensil, hoping to convince him that he is, in fact, a toy—and that Bonnie needs him. (Cue Randy Newman singing "I can't let you throw yourself away.")
As the trailer implied, Forky's cartoonish, zero-waste life—and Toy Story 4 as a whole—is a meditation on existential purpose. Particularly, Woody's. The aging cowboy reckons with letting go, his own obsolescence, and the tension of navigating between loyalty and personal happiness. Does Bonnie really need him, or does he just need to be needed? Does Woody deserve to run off with the love of his life, Bo Peep (Annie Potts)? Toy Story 4 doesn't so much give an answer as some advice: listen to yourself, and you'll know where you belong.
It's a conventional message, delivered explicitly and often, throughout the movie. But Toy Story feels special because here, in its fourth go-round, because it gutsily wraps that motivational poster bromide in Benson-level absurdity. Besides the demented mute surgeon-toy, there's Carl, the party boy action figure (voiced by Carl Weathers); Duke Caboom, a Canadian daredevil toy in the mold of Evel Knievel (Keanu Reeves); Bunny and Ducky, two carnival-prize stuffed animals attached at the hand (Jordan Peele and Keegan-Michael Key). These sideshow characters contribute sly sexual innuendos, brilliant meta jokes, elaborately violent fantasies. They espouse deep, absurd insecurities. (Try not to feel things during Keanu Reeves'—wait, Duke Caboom's—emotional monologue about his former kid, Rajon.) As a whole, the freaky dolls and ruthless humor tug the Disney aesthetic toward Adult Swim territory, cutting through the sugar-sweetness with jolting acidity.
Which in itself feels a bit staggering. Rather than treat Toy Story as an investment portfolio that needs to be managed conservatively, Pixar heeded its own advice about what to do in moments of existential quandary, and listened to its heart. And Pixar's heart whispered: get weirder.
'Men in Black: International' review: You'll want to erase this movie from your mind after its over
If Hollywood studios are content to cannibalize the vaults in search of new hits, the first thing they should remember is why the original films were hits in the first place. For all the bells and whistles that went along with the original 1997 Men in Black, with its cutting-edge alien effects, the reason it works is extremely old-fashioned, rooted in an effective cross-pollination between fish-out-of-water comedy and mismatched buddy comedy.
There were plenty of laughs in Will Smith's knockabout reactions to a secret agency tasked with containing the alien underground, and more still in the back-and-forth between him and his crusty counterpart, played by Tommy Lee Jones. No matter how expensive films get, it's the cheapest business that matter most.
Though the awful Men in Black: International is technically a sequel to Men in Black 3, it's unlikely that many are immersed enough in the mythology to recall Emma Thompson's Agent O as the thin connective tissue between them, especially without Smith or Jones in the picture. So it's really more a stealth reboot with Tessa Thompson in the Smith role of a charismatic new recruit and Chris Hemsworth as the seasoned veteran in the Jones mold, though neither is doing an imitation. Their roles have been reimagined to where there's hardly any sharp contrasts between them — her confidence is never buffoonish, his experience is never ornery — so the best they can manage is a little light teasing and the occasional moony glance.
Yet the true thrust of Men in Black: International is suggested by its title: What if there were MIB branches around the world? That would mean that the agents are not mere American beat officers, like the Smith/Jones duo, but globe-trotting James Bond types who get whisked from London to Paris to Marrakesh, Morocco, and back again. There's nothing funny about the concept, but like a 007 thriller, there's a generous assortment of fashionable outfits, souped-up luxury vehicles and the latest in alien-zapping weaponry, all managed by those cool translucent swipe-screen computers from Minority Report. More bells and whistles.
In a reversal of the Men in Black origin story, Thompson's Agent M isn't discovered by MIB. It is the other way around, as part of a 20-year quest to find the agency that visited her home as a child. Admiring her initiative, Agent O sends her from New York to the London branch, which is immersed in intrigue surrounding a threat called The Hive. Hemsworth's Agent H and his former partner, High T (Liam Neeson), saved the world from this same alien species a couple of years before, and now their enemies have taken the form of Les Twins (Laurent and Larry Bourgeois), two shape-shifting siblings from Morocco who are on a trail of destruction. Agent H and Agent M are on the case, joined by a pocket-sized alien wiseacre named Pawny (Kumail Nanjiani), but they begin to suspect that MIB's house is not in order.
There's a lot of plotting in Men In Black: International, which makes room for a diabolical three-armed seductress (Rebecca Ferguson) and a compact weapon of planet-destroying power, but the more the story unfurls, the deeper the film sinks into quicksand. Director F. Gary Gray and his screenwriters, Art Marcum and Matt Holloway, have made the crucial mistake of believing the franchise needs complex world-building instead of streamlined comedy. Even if the events in the film made any kind of sense, they were never going to matter as much as the good time Hemsworth, Neeson and the two Thompsons are supposed to be showing us. And yet that's where the emphasis lies.
Hemsworth and Tessa Thompson are a proven commodity, having teamed up briefly in Thor: Ragnarok, perhaps the funniest of all the Marvel movies, but they are too busy hustling around to expensive set pieces to spark off each other. Though Nanjiani's super-cute alien seems like a leftover from Batteries Not Included, at least he has some room to toss around insults and witticisms, and improvise his way out of trouble. Whether the franchise can survive without Smith and Jones is an open question, but it can't live on gadgetry and spy games and an influx of Mos Eisley cantina denizens alone. There has to be chemistry, too.
'Rocketman' review: Elton John's biopic is so much better (and gayer) than 'Bohemian Rhapsody'
I don't want to ruffle any peacock feathers, rattle sequins, or get anyone's codpiece in a twist, but it does have to be said: Gay people have sex.
Apologies if this isn't news, but you wouldn't know when heading to the cinema, in the year 2019, whether or not a movie about the life of Elton John in which he says the phrase, "I have fucked everything that moves," depicts actual gay sex. Again, a movie about Elton John. Elton John!
Imagine having spent a lifetime delighting in the star's flamboyant performances and reading the gossip rag stories about his life, then purchasing a ticket for a movie not expecting or, worse, not wanting to see gay sex scenes. Elton John!!!
Yet there was much talk leading up to Rocketman's release this Friday over whether different parties that be—the studio, the actors, the director—were going to acquiesce to a late-stage panic about the film's one explicit sex scene and tame it down, if not remove it completely.
It was an infuriating report about a movie about a LGBTQ rock icon being released so soon after Bohemian Rhapsody, which not only blushed at the idea of showing Rami Malek's Freddie Mercury in the throes of passion with other men but treated his sexuality as a predatory gateway drug to a destructive lifestyle. It was also not a surprise, as that movie, despite and maybe because of this, went on to be a big fat hit and win Academy Awards.
Well, there is gay sex in Rocketman. That fact was heralded like a hosannah from the shores of the Croisette when the film premiered to a lengthy standing ovation at the Cannes Film Festival earlier this month. The gleeful reaction was a breath of relief, but also, it turns out, an indictment of how little we're willing to settle for and even celebrate.
There's been so much press after Cannes breathlessly praising Rocketman for being the first studio movie to include a gay sex scene. That's not entirely true, though this is certainly the biggest movie pitched to a mass audience to do so. And it's all over one (very short!) scene in which Egerton's Elton and Richard Madden's John Reid, his former lover and manager, aggressively make out and begin stripping off their clothes. The camera shifts away just as they are about to have sex, giving a blink-and-miss-it view of a butt. Rude.
(Whatever "nude cuddle" was the subject of so many reports is not to be found.)
It's hot, yes. It's also so brief, and the lone example, to the point that when John later in the film boasts about having "fucked everything that moves," you can't help but think, has he though?
It's a small point to complain about in a movie that is about far more than the sex this man had. Except that so much of the movie, which is centered around an addict at his breaking point looking back at all his vices and how they've shaped him, is very much about the sex this man had.
The most explicitly gay thing about the film is the character of Elton John thinking that he's fat when he's played by Taron Egerton. Still, the movie is sufficiently gayer than Bohemian Rhapsody—and, yes, that matters. It's far more concerned with capturing John's spirit than Rhapsody was with anything besides making the other members of Queen seem cool, certainly not doing right by Mercury.
Because of this, Rocketman is infinitely better in almost every way than Bohemian Rhapsody, to the point that people will inevitably wonder that, if it doesn't perform as well at the box office, its "gayness" will be one of the reasons why.
The film opens with Elton John bursting through a door in a flaming-red bodysuit with flared bell bottoms, a headpiece with devil horns, heart-shaped sunglasses, and a pair of red wings so massive and ornate a Victoria's Secret model would shed a single tear at the sight. He looks fabulous. It is the lowest moment of his life.
The glam-rock couture is brought down to earth by the fittingly sober surroundings: a group counseling session at a rehab, where John is finally checking himself in after a cocktail of addictions—alcohol, sex, cocaine, pills, and even shopping—has proven too potent for him to handle.
It's a clever introduction to the film's framing device: John at rehab answering counselors' questions about his past relationships with his parents, lovers, and longtime writing partner and best friend Bernie Taupin (Jamie Bell) as a way of unlocking a series of flashbacks by way of fantasias. From there, we look back at his childhood, coming out, and surging career, each with surreal breaks from reality in which characters break into song, break the fourth wall, or, in some cases, break the rules of physics and gravity and start levitating.
The whole thing is fittingly unconventional, fantastical, and campy. This is a biopic about Elton John; it bloody hell should be.
But the visual tricks and dreamlike set pieces—an entire British suburb falling into step for a song-and-dance rendition of "The Bitch Is Back," John floating above his piano, an entire number performed in a pool underwater—are an illusion. In terms of structure, storytelling, and cliches, this is very much your traditional biopic.Rocketman is proof that there can be all kinds of flair and flourish in the brush strokes, but a film can still be paint-by-numbers.
From the start, the beats are familiar. He's a child music prodigy, and performance is his ticket out of a humdrum life. He has a mercurial, withholding father (Steven Mackintosh) who chastises him, "Don't be soft." His mother (Bryce Dallas Howard) swills martinis and chases each gesture of love toward her son with a stinger. "You're choosing a life of being alone forever," she tells him when he comes out to her, punctuating her initial insistence that she didn't care with a dagger to the heart. "You'll never be loved."
All the substance abuse, the dysfunctional relationship with Reid, the outlandish costumes, the fake name (John was born Reginald Dwight), the sexual angst: It's all because he doesn't know what it means to be himself. "You gotta kill the person you were born as in order to become the person you want to be," a musician he meets early in his career says. At one point, Reginald thought he knew who that was. All this fame and all these struggles later, Elton isn't so sure.
That's Rocketman's revelation. Imagine an entertainer so boisterous and legendary, with that much bravery—rocking out in those costumes all those decades ago—and outlandish charisma, not being in tune with who he is.
The comparisons to Rhapsody are both maybe a little unfair but also entirely relevant. It would be reductive to measure the films against each other just because they are major rockstar biopics released close together, and especially egregious to do so just because their two subjects are queer.
But there is the unignorable trivia that Rocketman's director, Dexter Fletcher, was brought in to finish shooting and rescue the Bohemian Rhapsody production after Bryan Singer was fired, inextricably tying the two films together. Then there's the shared cultural impact of both, tapping into what made Bohemian Rhapsody such a phenomenon, and charging Rocketman with course-correcting the elements of that phenomenon that were so problematic.
To that regard, Rocketman lends a dignity to John's feelings about his sexuality where Rhapsody disgraces and even demonizes Mercury's struggle. And whileRhapsody manipulated facts of Mercury's sexuality and AIDS diagnosis to manufacture an emotional climax in the Live Aid finale, there's no such bastardizing in Rocketman.
In Rhapsody, Malek made inhabiting Mercury seem effortless, wearing his physicality and magnetism with ease. If Egerton seems to be working harder in Rocketman, one might argue it's because he is: He does his own singing! There are people in both camps when it comes to whether it matters that an actor records his own vocals when playing a singer on screen, but there's no debating that what Egerton accomplishes here is nothing less than a sensational movie star turn.
It's true that no number in Rocketman lives up to the exhilaration of that Live Aid performance. But it also doesn't have to rely on the thrill of that ending to justify enjoying the rest of a sluggishly paced, superficial, and poorly edited production. Rocketman is a blast from beginning to end, boasting enough Baz Luhrmann-esquerazzle-dazzle and inventiveness to surprise and spellbound audiences who remember when rock was young—and still magical.