'Star Wars: The Last Jedi' review: Rian Johnson delivers a riveting intergalactic spectacle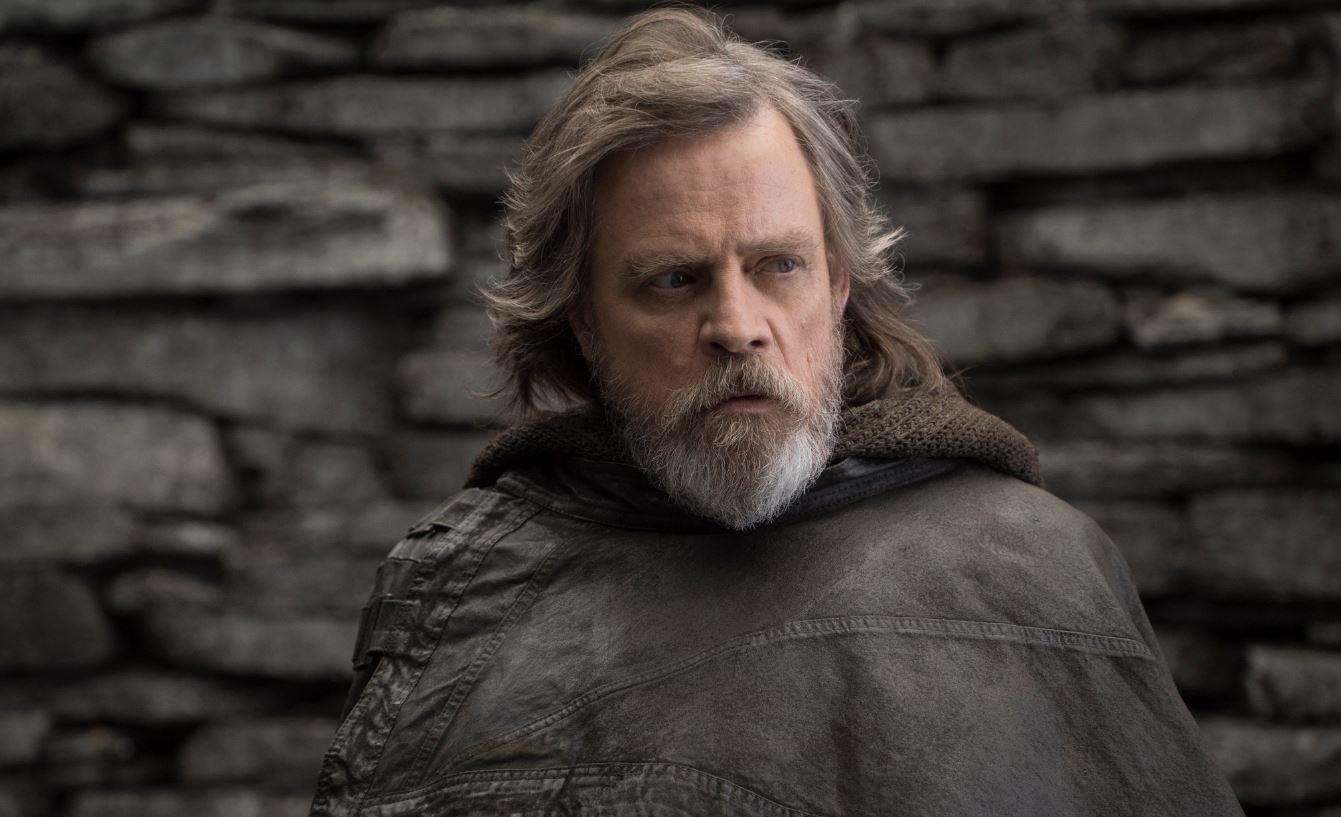 Star Wars: The Last Jedi begins just like any other installment in George Lucas' long-running intergalactic franchise: A static blue text that reads "A long time ago in a galaxy far, far away," followed by that rousing, iconic theme song composed by John Williams and a brief, yet informative opening crawl, teasing the adventures to come over the course of the next 150 minutes (making it the longest Star Wars movie to date).
But look a little closer and you'll see that The Last Jedi is as unique and special as the diverse cast of characters it showcases, and writer-director Rian Johnson looks to take this series to a whole new level with the latest chapter in the seemingly never-ending Skywalker-saga that finds not one, but two central characters grappling with the Light and Dark sides of the Force.
As we see in that unforgettable The Force Awakens finale (the best part of a rather lackluster film), Rey (Daisy Ridley) has traveled to the gorgeous, Porg-infested island of Ahch-To to deliver Luke Skywalker's (Mark Hamill) long-lost blue-bladed lightsaber and to convince him to join the Resistance in order to help defeat the First Order. However, a weary, worn-out-looking Luke doesn't seem to have much interest in doing so, telling Rey that "it's time for the Jedi to end" once and for all.
Meanwhile, the First Order, led by General Hux (Domhnall Gleeson), hot on the tail of the Resistance, is ready to strike again in retaliation for the destruction of its Starkiller Base. With General Leia Organa (Carrie Fisher) and Vice Admiral Holdo (Laura Dern) calling the shots, the Rebel army must act quick, as both time and fuel are running out fast. However, Poe Dameron (Oscar Isaac), takes matters into his own hands and enlists the help of Finn (John Boyega) and Rose (Kelly Marie Tran) to help carry out his rather dangerous plan of infiltrating the First Order's fleet and disabling their tracking system.
Though the pacing could certainly be a bit tighter at times, Johnson does a more than impressive job of balancing multiple storylines in The Last Jedi (three, to be exact), and they all eventually come full circle by the time the credits start to roll and the age-old mysteries of the Force and shocking revelations of the past have finally been unlocked. Chances are, though, fans will be too lost in this riveting, visual feast of a film to even notice (or care about) something such as minor pacing issues or out of place humor.
Much like he did in The Force Awakens, the scar-faced Kylo Ren (Adam Driver) practically steals the show and reveals a much different side to his character than we've previously seen. "Forget the Jedi! Forget the Sith! Forget the First Order!" he exclaims at one point in the film, revealing his desire to start an entirely new order. But it's whether or not he can convince Rey to join him that will keep audiences on the edge of their seat for the duration of the film.
A dazzling, gorgeously put-together sci-fi action extravaganza, The Last Jedi was obviously handled with much love and care by Johnson in both his writing and direction and that certainly translates on screen. The multiple storylines are exciting, while the characters, both the newcomers and the veterans, are simply wonderful to watch develop over the course of the film.
It's no wonder why Walt Disney and Lucasfilm decided to give Johnson an entirely new Star Wars trilogy to create; the franchise is in exceptionally good hands as indicated by The Last Jedi.
'Us' review: The latest horrifying nightmare from the mind of Jordan Peele is his best one yet
A little more than two years after the release of Get Out, the Oscar-winning directorial debut from Jordan Peele that served as a creepy, satirical social commentary about race relations in America, the writer-director is back again with Us, his audacious sophomore effort that so desperately wants us to know that, despite what we may think, we are our own worst enemies.
The film opens with a brief, chilling prologue set in 1986 before fast forwarding to the present day where we meet the Wilsons, an upper-middle-class black family visiting their Santa Cruz beach house for what is expected to be an idyllic summer getaway.
Santa Cruz also happens to be the hometown of Adelaide (Lupita Nyong'o), who is as charming as she is overprotective of her family, which includes the fun-loving Gabe (Winston Duke), phone-tethered teenage daughter Zora (Shahadi Wright Joseph), and mask-wearing young son Jason (Evan Alex).
Perhaps it's her motherly instincts that cause her to be the way she is, but it's probably more so due to the fact that she experienced a traumatizing incident as a child that still continues to haunt her to this day. And you can't really blame her for that.
So when Gabe offers to take the family to the beach for the day, the site where Adelaide experienced her childhood trauma, she understandably refuses. But after some convincing from Gabe, she agrees to go, but only under the condition that they leave before nightfall.
Oddly enough, though, the moment the Wilsons arrive at the beach, a number of strange events and coincidences begin to unfold; we see a dead body being loaded into the back of an ambulance, a frisbee with a pentagram-like design land perfectly aligned with a polka dot on a beach towel, and a bloodied man standing motionless in the middle of the beach, hands out, as if he's waiting for someone to come and join him.
These strange occurrences, in addition to Jason wandering off without telling Adelaide, put her on edge. And when the Wilsons arrive home that night, things don't necessarily get any better. There's a family standing in their driveway. Four of them. Who is it? It's the Wilsons themselves.
While the concept of the evil doppelgänger is certainly nothing new to the horror genre, Us always feels wholly fresh and original, and never once dares to fall back on the typical genre tropes or clichés that audiences have grown so very tired of over the years.
Peele's script, much like the one that won him an Oscar for Get Out, is wickedly smart, funny, and witty, and is packed with so many genuinely shocking surprises that you never fully know for certain when he's going to be throwing another curve ball your way.
The cast acts it all out in such incredible fashion too, especially when you consider the fact that they're pulling double duty here with dual performances. Nyong'o is particularly impressive though. Whether she's playing the charming superheroine that is Adelaide or her terrifying, raspy-voiced doppelgänger, it's hard not to rank her up there with Toni Collette in Hereditary as one of the best horror performances in recent memory.
By the time the Us is over, things may not be clear right away. And that's OK. With all of the various imagery and symbolism spread throughout, there's no doubt that this is a film that demands more than just one repeat viewing. But the main message at the heart of the film is evident, and it's as important as ever—especially in Trump's America.
'Aquaman' review: James Wan manages to deliver a satisfying underwater superhero origin story
Well, it appears that audiences will be forced to find another superhero to make the butt of a joke.
James Wan's Aquaman is a spectacular comic book film that proves itself a leap in the right direction for the DC Extended Universe. This incredibly well-crafted underwater adventure creates a spectacular world that truly has no match in visual delight, making it one of the most vibrant and colorful stories in the DC film series yet that demands to be seen in theaters. Flawlessly traversing genres and providing a little bit of something for everyone, Wan has given audiences the perfect comic book experience.
Aquaman is the story of Arthur Curry (Jason Momoa), the half-bred Prince of Atlantis, born to a surface-dwelling lighthouse keeper named Tom (Temuera Morrison) and the queen herself, Atlanna (Nicole Kidman). Arthur is raised knowing about his Atlantean heritage, but not aware that his half-brother Orm (Patrick Wilson) has been declared king in his absence. When Princess Mera (Amber Heard) seeks out Arthur to stop Orm from declaring war on the surface world, Arthur must reluctantly challenge him to claim his rightful throne as the king that the seven seas needs.
The pure passion for a character that was seen in Patty Jenkins' direction of Wonder Woman in 2017 is similarly seen in how James Wan handled Aquaman. Wan embraces the fact that this fish-talking superhero has been a joke for decades, but instead of taking an unnecessarily dark look at this hero's origin story, he has boundless fun with its potential. This film is the splash of creativity and liveliness that was desperately needed in the midst of audience's other favorite heroes going through some rough times after a certain snap of the fingers. Where Wan exceeds most, however, is his ability to take this story in so many different directions without making it appear sloppy. It is quite difficult to place a genre on this movie, as it seamlessly transitions from science-fiction to comedy to horror to romance and everything in between without missing a beat. Throughout the film, Wan seems to take inspiration from his own experience in horror, as well as iconic franchises like Star Wars, Indiana Jones, and Lord of the Rings, just to name a few, while blending them all together beautifully.
Comic book purists will be very satisfied with this film as well, as Wan has certainly done his research on that front. Aquaman is a perfect culmination of the Aquaman mythos that has been constantly built upon since his first appearance in 1941. Paired with an undeniably catchy, synth-pop soundtrack, the balance between this character's original story and its modernity for the current scene in cinema is fantastic. Since the character of Aquaman was introduced in 2016's Batman v Superman: Dawn of Justice and brought back for last year's Justice League, he has evolved to truly make his own film the best entry into this shared universe. There still exists a bit of Zack Snyder's signature polish in this movie as he is an executive producer, but not much of his directorial influence is seen, which is undoubtedly for the best. Wan was the greatest possible choice to helm this character's wild solo film in its vividly royal, underwater setting, making for a picture perfect fantasy adventure.
David Leslie Johnson-McGoldrick and Will Beall's script is the one unfortunate aspect of this film that fails to deliver the same amount of epic quality. This type of story has been told before and much of the dialogue throughout this film was consistently weak. While effective, the majority of this script is full of tropes and one-liners that can venture into painful and cheesy screenwriting territory. The surprising benefit of this, however, is how self-aware the writing is. These two screenwriters knew that they were writing a film about one of the most ridiculed heroes in pop culture history and because of that, the story does not take itself too seriously. This film knows that it doesn't have to pretend to be something that it's not and it has no need to try either. Knowing there is nothing to lose means that the writers are simply there to please moviegoers with a purely entertaining story. Despite the generic writing, Momoa, Heard, and the rest of the ensemble have an absolute blast with their characters. Each actor and actress emits passion and energy through their performances and it is obvious that they put so much care and effort into creating something special.
This film is wonderfully done in all of its technical parts as well. The colors and visuals that entranced the world of the undersea kingdoms were simply stunning as visual effects supervisor Kelvin McIlwain has a tremendous eye for not just beauty, but fantasy world-building too. While DC's previous films have had quite a lack of color and even Marvel films stick to a certain grading, this movie breaks that formula in the most appealing ways possible. The fight choreography, coordinated by Jon Valera, was very exciting and brilliantly utilized the different powers and abilities that the various characters had. These action sequences were also aided by the very fluid cinematography from Don Burgess; his use of wide shots and lots of twisting of the camera created some mesmerizing scenes. Regardless of how much CGI was used throughout this movie, there were also many fantastic shots that aimed to establish the absolutely wild tone of whatever genre Wan was switching to next.
Aquaman is an unapologetically fun thrill ride that is the epitome of a great adventure movie. James Wan holds nothing back in terms of gorgeous visuals and relentless entertainment value and the entire cast and crew make this underrated superhero one of the best fantasy films ever. There's also a scene where an octopus plays the drums, so make of that what you will.
'Roma' review: Alfonso Cuarón's black-and-white family drama is nothing short of a masterpiece
As someone who has long championed Alfonso Cuarón's 2006 dystopian thriller Children of Men as being the best film in the Oscar-winning Mexican filmmaker's career, I was astonished when I slowly began to realize about halfway through watching Roma, Cuarón's latest offering, that my opinion about Children of Men was no longer the same.
Roma, Cuarón's semi-autobiographical black-and-white love letter to his hometown of Mexico City and the women who raised him, is arguably his best work to date for an assortment of different reasons, mostly because it's a stunning achievement not only in Cuarón's personal filmography, but rather cinema as a whole.
Set in the early 1970s in the bustling, upper-middle-class neighborhood of Colonia Roma, Cuarón's most personal project to date follows the day-to-day life of Cleo (played extraordinarily by newcomer Yalitza Aparicio), who is based on Cuarón's actual real-life nanny, Liboria "Libo" Rodríguez, to whom the film is dedicated to.
Cleo is relatively quiet and mostly keeps to herself as she does chores around the house of the family she works for like picking up laundry, cleaning up dog poop, and making sure all of the bedrooms in the house are tidy. She even puts the children to bed late at night and is there to wake them up bright and early in the morning when it's time to start getting ready for school.
In her off hours, Cleo enjoys gossiping and reminiscing with Adela (Nancy Garcia), the family's cook, and going to the local movie theater with Fermin (Jorge Antonio Guerrero), a martial-arts enthusiast with whom Cleo shares somewhat of a distant relationship with—a relationship that will eventually set them even further apart as the film goes on.
It's somewhat of a shame that not every person will have the pleasure of experiencing Roma, which is currently playing in theaters in select cities before launching globally on Netflix later this month, the same way I did, in a theater, to fully absorb Cuarón's masterpiece for the remarkable piece of work that is truly is.
Cuarón's exquisite 65mm black-and-white photography beautifully captures every detail that comes into frame, making excellent use of long takes and wide shots, while Cuarón's equally impressive editing allows the story to unfold with an incredible amount of patience, yet it does so with efficiency, never letting the film lag for even a second.
There's also something to be said about Skip Lievsay's marvelously complex sound design, whether it's the sound of a splash of water hitting the ground or gunshots ringing out as a student protest turns deadly, and Eugenio Caballero's meticulous production design, which utilizes sets that are so simple, yet so intricate at the same time.
A film that is packed with an overwhelming amount of beauty, emotion, and intimacy, Roma is a mighty impressive feat on the part of Cuarón and evidently sets forth a new standard when it comes to this type of personal filmmaking. Or perhaps just filmmaking in general.
Roma's limited theatrical run is currently ongoing in select cities including New York, Los Angeles, and London. Find out if it's playing in your city here. The film will launch globally on Netflix on December 14.