A familiar interdimensional foe is back and ready to attack in the final 'Stranger Things 3' trailer
In the final trailer for Stranger Things 3, the hit Netflix show's eagerly awaited third season, the kids are introduced to a dangerous new threat and learn a pretty valuable and important lesson: evil never actually ends—it evolves.
Despite thinking she closed the gate to the Upside Down with the Mind Flayer trapped inside at the end of season two, Eleven (Millie Bobby Brown) realizes in the trailer for Stranger Things 3 that she may have done just the opposite, meaning the Shadow Monster has been lurking around Hawkins entire time.
To make matters much, much, worse, it's already inhabited a new vessel to use as a host, and the trailer indicates that it has set its sights on Billy (Dacre Montgomery), Max's douchey older brother who we were introduced to in season two.
Between the blossoming romances, complicated friendships, interdimensional monsters, possessed dude-bros, predatory middle-aged women, and what appear to be some really well-staged action sequences, this new season of Stranger Things seems to have a lot in store for us.
Stranger Things 3 will hit Netflix on July 4. You can check out the newly released trailer below.
Final trailer for 'The Rise of Skywalker' teases a bittersweet ending to a beloved saga
Disney has released the final trailer for Star Wars: The Rise of Skywalker, the latest chapter in the intergalactic franchise from writer-director J.J. Abrams that will — supposedly — mark the conclusion of the long-running Skywalker saga that began in 1977.
The Rise of Skywalker will see the return of much of the principal cast, including Daisy Ridley, Adam Driver, Mark Hamill, John Boyega, Oscar Isaac, Kelly Marie Tran, Joonas Suotamo, Anthony Daniels, as well as the late Carrie Fisher, who will appear in the film by way of unused footage from the 2015 film Star Wars: The Force Awakens.
"You can't recast that part and you can't suddenly have her disappear," Abrams said at the Star Wars Celebration event in April. "The weird miracle of having a number of scenes from The Force Awakens that had got unused, looking at those scenes and starting to understand that there was actually a way to use those scenes and continue her story so that it would be her. The idea of having a CG character was off the table."
The film will also see Ian McDiarmid reprise his role as the villainous Emperor Palpatine and Billy Dee Williams as the iconic scoundrel Lando Calrissian.
"In addition to being the end of three trilogies, it also has to work as its own movie," Abrams also said. "It's about this new generation and what they've inherited the light and the dark, and asking the question as they face the greatest evil, are they prepared? Are they ready?"
Star Wars: The Rise of Skywalker opens December 20.
A new 'Bombshell' trailer finds the walls beginning to close in on Fox News mogul Roger Ailes
On the heels of the film's Los Angeles premiere earlier this week, Lionsgate has debuted a new trailer for Bombshell, the Fox News drama from director Jay Roach about the rise and fall of disgraced cable news mogul Roger Ailes.
The film, which was scripted by Charles Randolph, chronicles the inevitable collapse of Ailes' reign at Fox News, the conservative media empire where he served as chairman and CEO up until his resignation in 2016 amid dozens of sexual harassment and abuse allegations from several of his female employees.
Among those who accused Ailes of misconduct were former Fox News hosts Megyn Kelly and Gretchen Carlson, who are played here by Charlize Theron and Nicole Kidman, respectively, while Margot Robbie plays a fictional associate producer named Kayla Pospisil.
Also starring is John Lithgow — who plays Ailes — as well as Allison Janney, Kate McKinnon, Malcolm McDowell, Mark Duplass, Rob Delaney, and Stephen Root.
Bombshell opens in theaters December 20.
Dwayne Johnson, Emily Blunt set sail on an Amazonian adventure in Disney's 'Jungle Cruise' trailer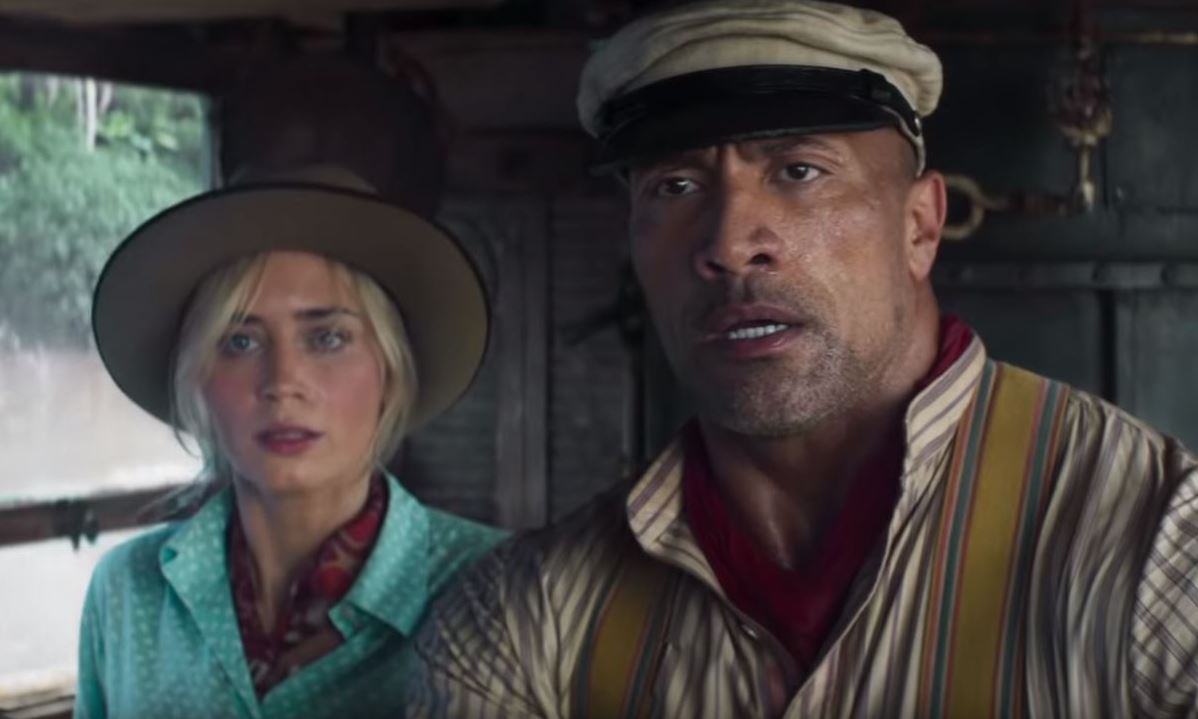 Disney has released the first trailer for Dwayne Johnson and Emily Blunt's Jungle Cruise, which finds the beloved Disneyland ride of the same name brought to life in the vein of such films as Indiana Jones and The African Queen.
The film, directed by Jaume Collet-Serra, follows a charismatic riverboat captain (Johnson) and a determined explorer on a research mission (Blunt) as they set sail on an adventure-filled expedition through the Amazon-jungle in hopes of finding a tree that is believed to possess healing powers.
"We were just so moved, so honored to be in a movie like this because we both grew up just madly in love with Indiana Jones and obsessed with those kinds of movies," Blunt said at the D23 Expo in August. "To be part of something like this, with this same spirit, makes my heart race."
Added Johnson, "We wanted to make a movie that was big, that was epic, that had romance, big comedy, big action. But most important; it's got me."
In addition to Johnson and Blunt, the film's ensemble cast also includes Jack Whitehall, Edgar Ramirez, Jesse Plemons, and Paul Giamatti.
John Davis, John Fox, Johnson, Hiram Garcia, Dany Garcia, and Beau Flynn produced the film, with Doug Merrifield serving as executive producer.
Jungle Cruise will sail into theaters on July 24, 2020.