From 'The Shape of Water' to 'Blade Runner 2049': The 10 best movie trailers of 2017
It's almost as if the movie trailer is no longer just an essential piece of a film's marketing campaign but rather a movie in itself. Really, just take a moment to step back and think about it: how many teasers for a trailer have you seen this year? Plenty of them. How many times has a trailer debut taken over the top trending spot on Twitter? Too many times to count. In this day and age, the movie trailer has become just as important as the film it is marketing.
As we begin to wrap this journey of a year that was 2017 and find ourselves getting closer and closer to the much-anticipated 90th Academy Awards in February, where some of the films featured below very well could be taking home a golden statue, we would like to look back and reflect on this magnificent year for cinema. In this particular list, we'll showcase the top ten movie trailers of 2017.
Though a trailer may sometimes be better than the film it is marketing (we're looking at you, Atomic Blonde), or perhaps a bit misleading (we're looking at you, mother!), we should still appreciate the immense amount of time and effort it takes to craft together a well-edited piece of advertising perfection. Here are our top ten movie trailers of 2017:
10. Star Wars: The Last Jedi
Snoke's voiceover in the beginning, Rey opening Luke's lightsaber, Kylo Ren debating whether or not he should kill his mother; the first trailer for Rian Johnson's intergalactic spectacle Star Wars: The Last Jedi is riveting as fuck, to say the least. Say what you will about the film itself, but there's no denying that this is an exceptional trailer.
9. Columbus
"There's this belief that if you're not there when a family member dies, your spirit will roam aimlessly and become a ghost." Not only was Kogonada's debut one of the best films of the year, but it also had one of the best trailers of the year, too. Much love for John Cho and Haley Lu Richardson.
8. Blade Runner 2049
Denis Villeneuve's sequel to Ridley Scott's 1982 original Blade Runner was simply breathtaking and so was its trailer. Hans Zimmer and Benjamin Wallfisch's original score accompanies the Roger Deakins' gorgeous footage so very well, while the editing is simply masterful.
7. The Shape of Water
Set against the backdrop of Cold War-era America, the first trailer Guillermo del Toro's fairytale love story The Shape of Water, scored to the sweet, melodious sounds of "La Javanaise" by Madeline Peyroux, is stylish, magical, and, by the time its over, pretty intense.
6. Lady Bird
Oh my god—how great is A24's marketing team? I've watched the trailer for Greta Gerwig's outstanding directorial debut many times over the past three months, even after I watched the film, and I still can't get enough of it. The scene when Lady Bird unbuckles her seatbelt and rolls out of the car gets me every single time.
5. The Florida Project
"The man who lives in here gets arrested a lot." The trailer for writer-director Sean Baker's The Florida Project is adorable, heartwarming, and so visually stunning thanks to Alexis Zabe's magnificent 35mm cinematography and Baker's outstanding location scouting team.
4. mother!
While I seem to have a bit of a love-hate relationship with Darren Aronofsky's audacious psychological horror tale mother! for various different reasons, there's no denying that Paramount Pictures' delivered one of the best (and most misleading) trailers of the year with this film.
3. Good Time
If you follow me on Twitter, then you'll know that I've reaped more than enough praise for Josh and Benny Safdie's head-spinning, adrenalized fifth feature Good Time starring Robert Pattinson. It's a hypnotic crime-thriller like no other and will chew you up and spit you back out over the course of its 99-minute runtime. Oh, and it has a pretty good trailer, too.
2. Call Me by Your Name
Remember that time when the Call Me by Your Name trailer dropped and Moonlight director Barry Jenkins tweeted out "OMG" with the eyes emoji? That was pretty much my reaction, too. It's just as lovely as the film itself and will leave Sufjan Stevens' original song "Mystery of Love" stuck in your head for the rest of the day.
1. It
"We all float down here." There's a reason why Andy Muschietti's film adaptation of Stephen King's beloved horror novel It set a record for the most-watched trailer online in a single day: it's that fucking good. Am I the only one who suddenly gets a headache every time I see Georgie hit his head on that road sign?
Honorable Mentions (listed in alphabetical order): Annihilation, Atomic Blonde, Avengers: Infinity War, Baby Driver, The Beguiled, Black Panther, Deadpool 2, The Disaster Artist, Ingrid Goes West, Isle of Dogs, It Comes At Night, The Killing of a Sacred Deer, The Meyerowitz Stories (New and Selected), Three Billboards Outside Ebbing, Missouri.
Dwayne Johnson, Emily Blunt set sail on an Amazonian adventure in Disney's 'Jungle Cruise' trailer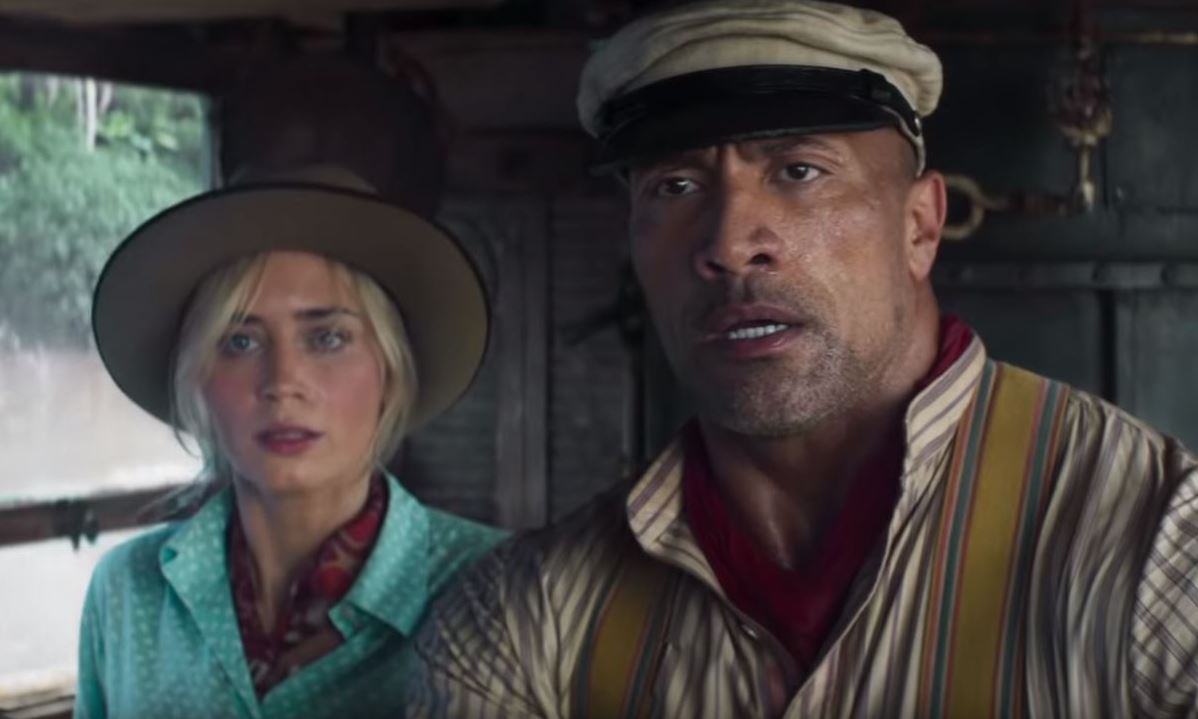 Disney has released the first trailer for Dwayne Johnson and Emily Blunt's Jungle Cruise, which finds the beloved Disneyland ride of the same name brought to life in the vein of such films as Indiana Jones and The African Queen.
The film, directed by Jaume Collet-Serra, follows a charismatic riverboat captain (Johnson) and a determined explorer on a research mission (Blunt) as they set sail on an adventure-filled expedition through the Amazon-jungle in hopes of finding a tree that is believed to possess healing powers.
"We were just so moved, so honored to be in a movie like this because we both grew up just madly in love with Indiana Jones and obsessed with those kinds of movies," Blunt said at the D23 Expo in August. "To be part of something like this, with this same spirit, makes my heart race."
Added Johnson, "We wanted to make a movie that was big, that was epic, that had romance, big comedy, big action. But most important; it's got me."
In addition to Johnson and Blunt, the film's ensemble cast also includes Jack Whitehall, Edgar Ramirez, Jesse Plemons, and Paul Giamatti.
John Davis, John Fox, Johnson, Hiram Garcia, Dany Garcia, and Beau Flynn produced the film, with Doug Merrifield serving as executive producer.
Jungle Cruise will sail into theaters on July 24, 2020.
Disney-Pixar's 'Onward' trailer finds Tom Holland, Chris Pratt summoning their dead father's legs
Disney and Pixar have released a new trailer for Onward, the upcoming animated feature starring Tom Holland and Chris Pratt as two teenage elf brothers, Ian and Barley Lightfoot, who embark on an extraordinary quest to discover if there is still a little magic out there.
And by magic, we're talking like actual, literal magic. Set in a suburban fantasy world, Onward follows Ian and Barley as they try to summon their dead father back to life. Having never encountered magic before, though, the spell doesn't completely work and only summons half their father — the bottom half, that is.
So, with their dad's legs in tow, the boys set out on a road trip to try to find out how to bring the rest of him back to life, encountering all sorts of creatures, magical spells, and mysterious lands along the way.
The film, which was directed by Dan Scanlon and produced by Kori Rae, features a star-studded voice cast that also includes the likes of Julia Louis-Dreyfus as Ian and Barely's mom, Laurel Lightfoot, and Octavia Spencer as the voice of the Manticore.
Onward will hit theaters on March 6, 2020.
Phoenix: See Benedict Cumberbatch as Thomas Edison in 'The Current War' early and for free
101 Studios will release The Current War, the epic story of the cutthroat competition that literally lit up the modern world, on October 25 and they're giving Silver Screen Beat readers in Phoenix a chance to attend an advance screening of the film before it officially opens in theaters.
Our readers in the Phoenix area can click on this link right now to claim their free passes — good for you and one guest — to an advance screening of The Current War happening at Harkins Scottsdale 101 on Tuesday, October 22 at 7:00 p.m.
Keep in mind that these free passes are distributed on a first-come, first-served basis, so be sure to claim yours as soon as possible before they run out. Below is the official trailer for The Current War as well as some additional details about the film.
Directed by: Alfonso Gomez-Rejon
Cast: Benedict Cumberbatch, Michael Shannon, Katherine Waterston, Tom Holland, Tuppence Middleton, Matthew Macfayden, and Nicholas Hoult
Opens: Friday, October 25
Rating: PG-13 for some disturbing/violent images, and thematic elements
Synopsis: Benedict Cumberbatch is Thomas Edison, the celebrity inventor on the verge of bringing electricity to Manhattan with his radical new DC technology. On the eve of triumph, his plans are upended by charismatic businessman George Westinghouse (Michael Shannon), who believes he and his partner, the upstart genius Nikolai Tesla (Nicholas Hoult), have a superior idea for how to rapidly electrify America: with AC current. As Edison and Westinghouse grapple for who will power the nation, they spark one of the first and greatest corporate feuds in American history, establishing for future Titans of Industry the need to break all the rules.