'When They See Us' trailer reveals Ava DuVernay's limited series about the Central Park Five
Netflix has released the full-length trailer for Ava DuVernay's When They See Us, a four-part limited series which chronicles the notorious case of five teenagers of color, labeled the Central Park Five, who were convicted of a rape that they did not commit.
Created, directed, and co-written by DuVernay, When They See Us begins in the spring of 1989 and follows the five teens from Harlem—Antron McCray, Kevin Richardson, Yusef Salaam, Raymond Santana, and Korey Wise—into adulthood, highlighting their exoneration in 2002 and the settlement reached with the city of New York in 2014.
"On this exact day 30 years ago, a woman was raped in Central Park," DuVernay wrote in a tweet Friday morning. "Five black + brown boys were framed for her rape. The story you know is the lie that police, prosecutors and Donald Trump told you. When They See Us is the story of the boys from their eyes and their hearts."
Despite their exoneration by DNA evidence, and a confession from a man separate from the Central Park Five who took credit for the crime, Trump has continued to push a baseless theory that the five men are guilty over the years, most recently during the 2016 presidential election cycle.
The series stars Michael K. Williams, Vera Farmiga, John Leguizamo, Felicity Huffman, Niecy Nash, Blair Underwood, Christopher Jackson, Joshua Jackson, Omar J. Dorsey, Adepero Oduye, Famke Janssen, Aurora Perrineau, William Sadler, Jharrel Jerome, Jovan Adepo, Aunjanue Ellis, Kylie Bunbury, Marsha Stephanie Blake, Storm Reid, Dascha Polanco, Chris Chalk, Freddy Miyares, Justin Cunningham, Ethan Herisse, Caleel Harris, Marquis Rodriguez and Asante Blackk.
Jeff Skoll and Jonathan King from Participant Media, Oprah Winfrey from Harpo Films, and Jane Rosenthal, Berry Welsh and Robert De Niro from Tribeca Productions executive produced alongside DuVernay through her Forward Movement banner. Attica Locke, Robin Swicord, and Michael Starrbury also served as writers on the series.
When They See Us will debut in full on Netflix on May 31.
A new 'Bombshell' trailer finds the walls beginning to close in on Fox News mogul Roger Ailes
On the heels of the film's Los Angeles premiere earlier this week, Lionsgate has debuted a new trailer for Bombshell, the Fox News drama from director Jay Roach about the rise and fall of disgraced cable news mogul Roger Ailes.
The film, which was scripted by Charles Randolph, chronicles the inevitable collapse of Ailes' reign at Fox News, the conservative media empire where he served as chairman and CEO up until his resignation in 2016 amid dozens of sexual harassment and abuse allegations from several of his female employees.
Among those who accused Ailes of misconduct were former Fox News hosts Megyn Kelly and Gretchen Carlson, who are played here by Charlize Theron and Nicole Kidman, respectively, while Margot Robbie plays a fictional associate producer named Kayla Pospisil.
Also starring is John Lithgow — who plays Ailes — as well as Allison Janney, Kate McKinnon, Malcolm McDowell, Mark Duplass, Rob Delaney, and Stephen Root.
Bombshell opens in theaters December 20.
Dwayne Johnson, Emily Blunt set sail on an Amazonian adventure in Disney's 'Jungle Cruise' trailer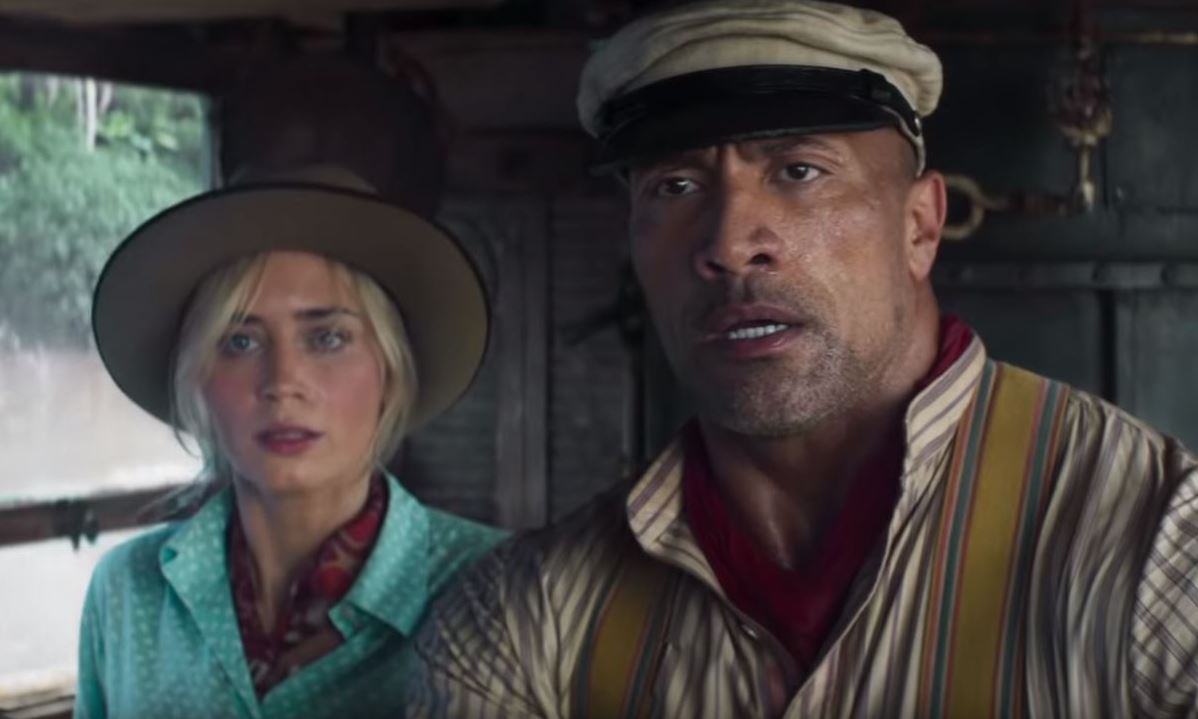 Disney has released the first trailer for Dwayne Johnson and Emily Blunt's Jungle Cruise, which finds the beloved Disneyland ride of the same name brought to life in the vein of such films as Indiana Jones and The African Queen.
The film, directed by Jaume Collet-Serra, follows a charismatic riverboat captain (Johnson) and a determined explorer on a research mission (Blunt) as they set sail on an adventure-filled expedition through the Amazon-jungle in hopes of finding a tree that is believed to possess healing powers.
"We were just so moved, so honored to be in a movie like this because we both grew up just madly in love with Indiana Jones and obsessed with those kinds of movies," Blunt said at the D23 Expo in August. "To be part of something like this, with this same spirit, makes my heart race."
Added Johnson, "We wanted to make a movie that was big, that was epic, that had romance, big comedy, big action. But most important; it's got me."
In addition to Johnson and Blunt, the film's ensemble cast also includes Jack Whitehall, Edgar Ramirez, Jesse Plemons, and Paul Giamatti.
John Davis, John Fox, Johnson, Hiram Garcia, Dany Garcia, and Beau Flynn produced the film, with Doug Merrifield serving as executive producer.
Jungle Cruise will sail into theaters on July 24, 2020.
Disney-Pixar's 'Onward' trailer finds Tom Holland, Chris Pratt summoning their dead father's legs
Disney and Pixar have released a new trailer for Onward, the upcoming animated feature starring Tom Holland and Chris Pratt as two teenage elf brothers, Ian and Barley Lightfoot, who embark on an extraordinary quest to discover if there is still a little magic out there.
And by magic, we're talking like actual, literal magic. Set in a suburban fantasy world, Onward follows Ian and Barley as they try to summon their dead father back to life. Having never encountered magic before, though, the spell doesn't completely work and only summons half their father — the bottom half, that is.
So, with their dad's legs in tow, the boys set out on a road trip to try to find out how to bring the rest of him back to life, encountering all sorts of creatures, magical spells, and mysterious lands along the way.
The film, which was directed by Dan Scanlon and produced by Kori Rae, features a star-studded voice cast that also includes the likes of Julia Louis-Dreyfus as Ian and Barely's mom, Laurel Lightfoot, and Octavia Spencer as the voice of the Manticore.
Onward will hit theaters on March 6, 2020.