Patty Jenkins unveils an extremely vibrant new teaser poster for 'Wonder Woman 1984'
With exactly one year to go until Wonder Woman 1984 hits theaters, Patty Jenkins took to Twitter today to unveil an extremely vibrant new teaser poster for the eagerly awaited sequel that isn't really a sequel. (Honestly, just click on the hyperlink there to understand the last part of that sentence. It's a long and confusing fucking story.)
Anyway, have a look at the one-sheet below: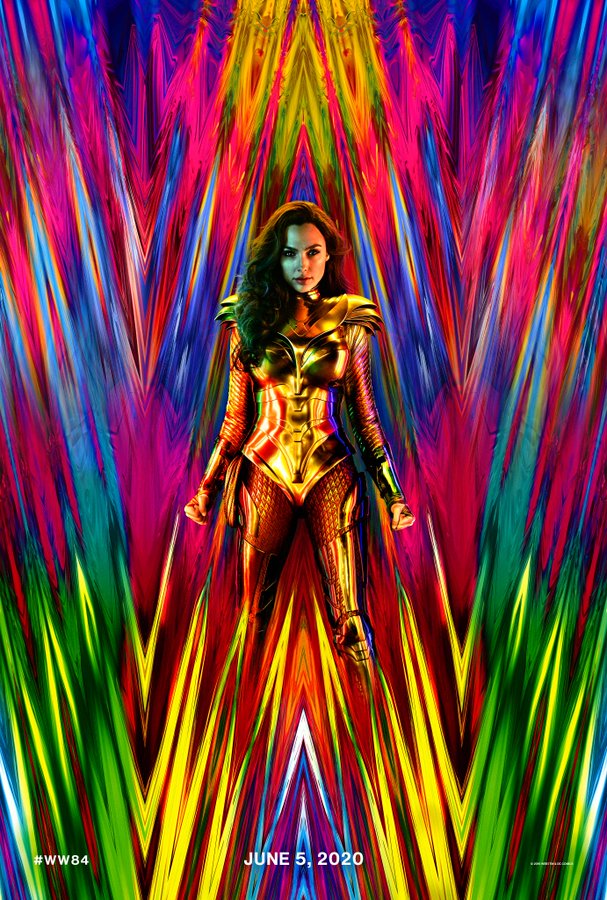 I don't know about you, but I think that looks great! The colors that form a giant "W," Diana's sleek new armor, the somewhat minimalist approach to the design. Perhaps Sony's marketing department should ask Warner Bros. who their graphic designer is.
In her tweet, Jenkins says that Warner Bros. will be sitting out San Diego Comic-Con's Hall H this year for some unspecified reason and that they'll be waiting until December to officially kick off the marketing campaign for Wonder Woman 1984.
That's unfortunate news for those of you attending Comic-Con next month, but, on the bright side, at least we know when we can expect to see our first look at footage from the new Wonder Woman, which we still don't know a whole lot about.
All we really know at this point is that Gal Gadot and Chris Pine will be reprising their respective roles as Diana Prince and Steve Trevor respectively, with Kristen Wiig and Pedro Pascal joining the cast as the film's two main villains. Oh, and it takes place in 1984. We know that too.
Wonder Woman 1984 will fly into theaters on June 5, 2020. Let us know what you think about that vibrant new one-sheet by sounding off in the comments section below.
How the hell do these 'Spider-Man: Far From Home' posters keep managing to get worse?
I really, really hate to keep bringing this up, but the Spider-Man: Far From Home posters are fucking atrocious. Every single one of them. Actually, maybe these ones weren't all that bad. However, I would say that the vast majority of the one-sheets Sony has put out for this otherwise good-looking movie so far have been straight up hideous.
What's even more baffling than the fact that someone is actually getting paid to design these things that look like they were created using Microsoft PowerPoint 2013 is that they somehow keep managing to get progressively worse and worse.
Case in point, take a look at this new poster Sony put out the other day to promote Spider-Man: Far From Home's release in IMAX:
I mean, they can't be serious with this shit, right? What exactly is going on down there at the bottom with Samuel L. Jackson and Jake Gyllenhaal? Why does it look like they were copied and pasted in from some very poorly lit still images? And did they really need to throw in that gigantic blue rectangle around Spider-Man that completely throws off the whole red color scheme of the entire poster? I just have so many damn questions.
At this rate, I don't know if I can take another bad Spider-Man: Far From Home poster. Please just make it stop.
Bradley Cooper might be replacing Leonardo DiCaprio in Guillermo del Toro's 'Nightmare Alley'
Fresh off his breakup with Irina Shayk that definitely didn't have anything to do with Lady Gaga, Variety is reporting that Bradley Cooper is in talks to take on the leading role in Guillermo del Toro's adaptation of Nightmare Alley.
While the talks are still early and nothing has been set in stone quite yet, Cooper is looking to play Stanton "Stan" Carlisle, a young and ambitious con man who joins forces with a female psychiatrist for a mentalist act only to realize that she's even more corrupt than he is.
Indeed, this is the same role that Leonardo DiCaprio was attached to play just a couple of months ago, but the Once Upon a Time in Hollywood actor reportedly "ended up passing on the project after a deal could not be reached."
Say what you will about Cooper, but there's no denying that the guy is most definitely at the top of his game right now despite not having much luck this past awards season and I think a collaboration between him and Del Toro will make for one hell of an exciting project.
No word yet on when we can expect to see Nightmare Alley hit theaters, but production on the film is expected to get underway this fall, so a 2020 release date seems more than likely at this point assuming no delays get in the way of things.
Blumhouse is remaking Bob Clark's horror classic 'Black Christmas' with Imogen Poots set to star
Folks, I'm happy to report that Christmas came early this year and, honestly, I couldn't have asked for a better gift than this: a remake of the genre classic Black Christmas is coming our way via Blumhouse on December 13, 2019.
The latest remake of the Bob Clark classic is being directed Sophia Takal from a script she co-wrote along with April Wolfe and follows a group of sorority girls who are, one by one, being killed off by an unknown stalker at Hawthorne College.
However, as the film's official logline so greatly puts it, "the killer is about to discover that this generation's young women aren't willing to become hapless victims as they mount a fight to the finish."
Green Room star Imogen Poots will lead the film's cast, which also includes the likes of Aleyse Shannon, Brittany O'Grady, Lily Donoghue, and Caleb Eberhardt. Jason Blum, the producer behind Jordan Peele's Get Out and David Gordon Green's Halloween, also serves as a producer here along with Ben Cosgrove and Adam Hendricks.
Notably, this will be one of the first Blumhouse features to be directed by a woman (the studio is also developing a remake of The Craft with Zoe Lister-Jones set to write and direct) and it's also the second time Black Christmas is being remade.
As you may remember, Glen Morgan's 2006 remake (which took on the abbreviated title of Black X-Mas) starred Katie Cassidy, Michelle Trachtenberg, and Mary Elizabeth Winstead, and was a complete and utter mess thanks to creative geniuses Bob and Harvey Weinstein, who had more than one issue with Morgan's script.
Given everyone involved here, though, it seems to safe say that Blumhouse's take on Black Christmas is going to be fucking great and I can't wait to see it hit theaters on its very appropriate Friday the 13th release date later this year.
Christmas just came early 😈 #BlackChristmas pic.twitter.com/y56o26Mnwu

— Blumhouse (@blumhouse) June 13, 2019